Monday, February 08, 2010
"Anyone can be a father, but it takes someone SPECIAL to be a DADDY" and that is MY DADDY. Today is my Dad's 90th birthday, I may be 52 and he may be 90, but he still is my Daddy! I am so very blessed that he is still with us today, he has undergone so many heart surgeries, he had prostate cancer and overcame that, he is a border line diabetic and he is on oxygen almost 24/7. He still looks forward to making the trip from Central NY to Eastern New Hampshire to my house every year and getting to see his 2 great grandsons. He is fortunate to be close to 2 of his 4 grandchildren and 1 of his 3 GREAT GRANDsons. He doesn't get around very well and he doesn't drive much anymore. I hope he will be around for many more years!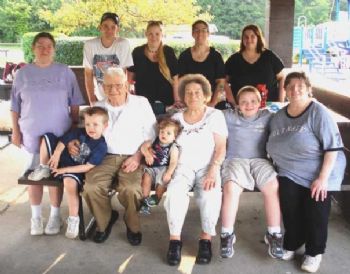 This is our family picture from July 2009, My parents in the front with the 3 great grandsons and my sister
the back row are the Grandchildren, that's me in the purple shirt.