| | |
| --- | --- |
| | RD03875's Recent Blog Entries |


Tuesday, February 09, 2010
I entered this recipe this morning but it won't share it on my friend feed or anyplace else that shows up when I add a recipe. I did not know what to fix for supper last night. My Good Housekeeping magazine (with the SparkPeople aricle) was in the "reading room". I told DH to think about what he wanted for supper while he was taking a shower after his workout. He ran right back out with the magazine and showed me the picture and the recipe. It may not be all that healthy, but with changes it can be. It wasn't bad and it can be a vegetarian dish, you can add meat if you want to, it can be a side dish or whatever. I'll have to add a picture later.
recipes.sparkpeople.com/recipe-detai
l.asp?recipe=935279

I was so tired last night, I went to bed at 11 - VERY early for me and I had trouble getting up at 8:30 this morning. (Yeah, I know it must be nice to sleep all day) Apparently I can't get a full 8 - 9 hours sleep and feel rested, I can only sleep 6-7 hours. I only did 2 laps for 1.5 miles today because I got up late and it was already warm. (My walking route is 3/4 in full sun so I duck under trees when they come along. I will do more cardio as well as strength training.






Monday, February 08, 2010
"Anyone can be a father, but it takes someone SPECIAL to be a DADDY" and that is MY DADDY. Today is my Dad's 90th birthday, I may be 52 and he may be 90, but he still is my Daddy! I am so very blessed that he is still with us today, he has undergone so many heart surgeries, he had prostate cancer and overcame that, he is a border line diabetic and he is on oxygen almost 24/7. He still looks forward to making the trip from Central NY to Eastern New Hampshire to my house every year and getting to see his 2 great grandsons. He is fortunate to be close to 2 of his 4 grandchildren and 1 of his 3 GREAT GRANDsons. He doesn't get around very well and he doesn't drive much anymore. I hope he will be around for many more years!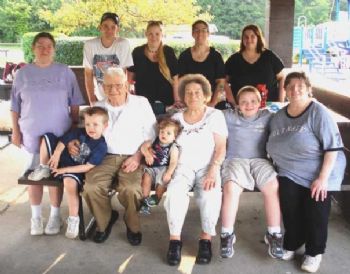 This is our family picture from July 2009, My parents in the front with the 3 great grandsons and my sister
the back row are the Grandchildren, that's me in the purple shirt.





Sunday, February 07, 2010
Today is like Tuesday in the real world, the second day of our work week. I went for another nice walk outside this morning, it was 67F when I went out and about 75 when I got back 50 minutes later. That is the only exercise I got in today. My legs were a little sore from yesterday, plus I am finding that I need 2 days rest anymore.

Tonight is the super bowl in the US but I am not getting up at 3AM to watch the game. They don't have the commercials here, only local ones.





Saturday, February 06, 2010
A is for Age: 52

B is for Butt: yes I have one

C is for Career - mother, grandmother, domestic engineer

D is for Dad: he will be 90 Feb. 8

E is for Essential items to bring to a party: me

F is for Favourite song or music: I will Survive by Gloria Gaynor

G is for Goof off thing to do: play mindless games on the computer

H is for Hometown: born/raised Utica, NY, live near Conway, NH

I is for Instrument you play: piano

J is for Jam or Jelly you like: blueberry

K is for Kids: Daughter is 32, Son is 28

L is for Living arrangement: live with husband and 2 cats

M is for Mom's name: Doris

N is for Name of best friend: too many to pick 1

O is for Overnight Stay in a Hospital: 2 kids births, emergency bronchial spasm

P is for Phobias: bugs, mice, snakes

Q is for Quote you like: If it ain't broke, don't fix it.

R is for Relationship that lasted longest: 33 years with husband

S is for Siblings: 1 sister

T is for Texas, ever been? Nope and I don't care to, unless you count an airplane layover

U is for Unique trait : none that i know of

V is for vegetable you love: green beans

W is for Worst traits: attitude

X- is for X-rays you've had: not a whole lot.

Y is for Yummy food you make: Southwestern lasagna

Z is for Zodiac sign: Libra

Copy and paste this into a blog and lets all your spark friends get to know you :)





Thursday, February 04, 2010
This is an article a friend found and posted on her facebook page so I am posting it here. It is a huge long article about what to eat/drink for different parts of your body so I will post this in parts.

I DO NOT AGREE NOR DISAGREE WITH ANYTHING IN THIS ARTICLE, I AM POSTING IT FOR INFORMATION PURPOSES. Use it however you see fit.

Your Personal Power Foods Plan
New research into everyday foods reveals what you should specifically eat to reach any health goal.
By Nancy Kalish, Prevention


Protect your heart

Fill up on these

Barley. This grain can blast LDL ("bad" cholesterol) and triglycerides, lowering your total cholesterol an average of 13 points—without affecting your HDL ("good" cholesterol) levels, according to a 2009 research review. Barley contains beta-glucan, a type of soluble fiber that binds with cholesterol to whisk it from the body, explains David Grotto, RD, the author of 101 Optimal Life Foods. A cup and a half of cooked pearled barley contains 3 g of soluble fiber, the daily amount recommended by the FDA.

Pinto beans. Like barley, pinto beans contain cholesterol-fighting beta-glucan. In one study, participants with mild insulin resistance (a precursor to high cholesterol) who ate ½ cup of pinto beans daily dropped 19 points from their total count in 8 weeks, including a 13-point decrease in LDL.

Grapes. Consuming just 1¼ cups of grapes can prevent the damaging effects of a high-fat meal that can slow circulation and increase risk of coronary heart disease, say researchers at Nation-wide Children's Hospital in Columbus, Ohio. A daily dose of grapes improves blood vessel health in general, scientists believe, because the fruit contains high levels of antioxidants called polyphenols.

Macadamia nuts. An Australian study published in the Journal of Nutrition found that when men with high cholesterol ate between 1 and 3 ounces of macadamia nuts per day for 1 month, their LDL dropped by 5.3 percent, while their HDL rose by 7.9 percent. The nuts, researchers concluded, increased the amount of healthy monounsaturated fatty acids (MUFAs) in the blood. One ounce is adequate for most people.

Mineral water. The magnesium and calcium plentiful in most mineral waters (like San Pellegrino, which has 56 mg magnesium and 208 mg calcium) are both potential blood pressure reducers. In a Swedish study, 70 men and women ages 45 to 64 with borderline hypertension experienced a significant decrease in blood pressure after 4 weeks of drinking 1 liter of mineral (not seltzer) water daily.

Avoid these

Energy drinks. The caffeine and guarana that are often added to energy drinks can make your blood pressure skyrocket, says John La Puma, M.D., the author of Chef MD's Big Book of Culinary Medicine.

health.msn.com/nutrition/articlepage
.aspx?cp-documentid=100251282



First Page
1
2
3
4
5
6
7
8
9
10
11
12
13
14
15
16
17
18
19
20
21
22
23
24
25
26
27
28
29
30
31
32
33
34
35
36
37
38
39
40
41
42
43
44
45
46
47
48
49
50
51
52
53
54
55
56
57
58
59
60
61
62
63
64
65
66
67
68
69
70
71
72
73
74
75
76
77
78
79
80
81
82
83
84
85
86
87
88
89
90
91
92
93
94
95
96
97
98
99
100
101
102
103
104
105
106
107
108
109
110
111 112 113 114 115 116 117 118 119 120 121 122 123 124 125 126 127 128 129 130 131 132 133 134 135 136 137 138 139 140 141 142 143 144 145 146 147 148 149 150 151 152 153 154 155 156 157 158 159 160 161 162 163 164 165 166 167 168 169 170 171 172 173 174 175 176 Last Page

Get An Email Alert Each Time RD03875 Posts