Sunday, December 25, 2011
NOTE: I do not live in the USA, I am in Saudi Arabia-I am American and married to an American.
It's 85F at 1:30PM December 25. It's a normal work day for my husband, the work week here is Saturday-Wednesday. Christmas is forbidden here, against the law so there are no bright, twinkling lights, no decorated trees, no christmas music in stores, nothing. We do have celebrations in the privacy of our own homes, behind closed doors and drapes, the "locals" do know what the days is but to them it's nothing. I do have a tree up and a few decorations, but not like I used to when I had my young children here and there were more "western" families. He will come home around 3PM, go for his daily 5K run then do another hour workout with weights, then we'll have dinner and open our gifts around 8PM. Not very exciting anymore.
We had our Large Christmas dinner on Thursday-our weekend . We had a friend over for our meal.
I had Roast beef, mashed potatoes, green beans, cranberry sauce, a squash and cranberry dish that didn't turn out good, jello cabbage salad, our riend brought sweet potatoes, pickled cabbage, home made rolls. For our desserts we had Apple cranberry tart, blueberry cheese cake, gingerbread muffins, pecan bars, cherry pie, jello salad, deviled eggs, spiced apple rings.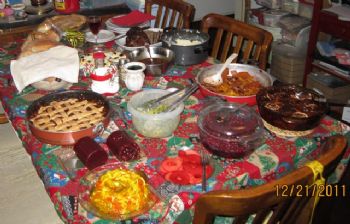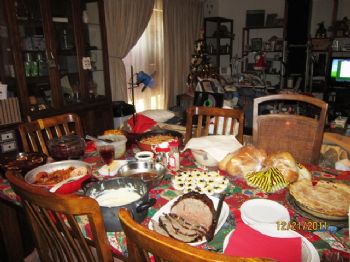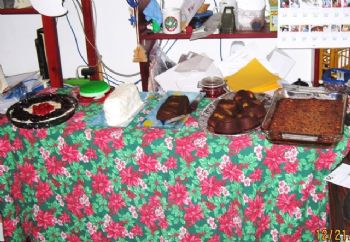 I put up the tree such as it is, 42 inches tall and falling apart. The branches are squashed so it's not round. I have home made ornaments and ornaments that were gifts. I have a couple other decorations out along with my cross stitch projects.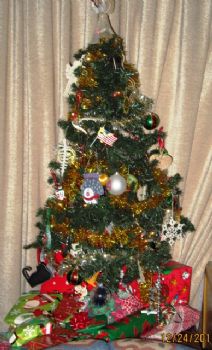 Santa came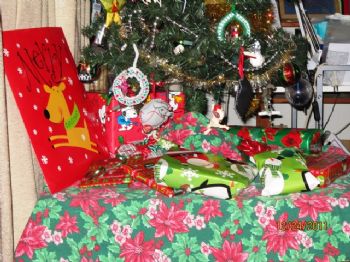 My entry table: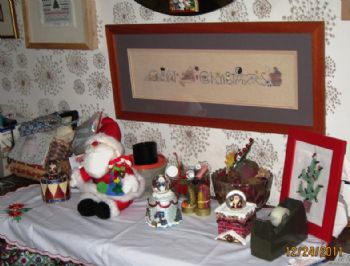 For dinner today I am going to make roast chicken with stuffing, left over mashed potatoes, left over sweet potatoes, carrots, Don't need dessert.
I'll post more pictures as I take them.

Hope you all have a great day,