| | |
| --- | --- |
| | RAYLINSTEPHENS's Recent Blog Entries |


Friday, March 11, 2011
Gotcha!

If it is to be, it is up to me!
quote: William Johnson

This was all I could see from the "spotlight" thumbnail in my spark email this morning - but I recognized a blog!

Each of us is on a personal journey. It doesn't matter what the DH, DW, sibling, children, in-laws, neighbors, "fill in the blank" thinks!

This is MY Journey and I get to decide what direction I take!

I get to decide to win by losing or lose by quitting!!

If it is to be, it IS up to me!








Tuesday, March 08, 2011
Accentuate the Positive! Eliminate the Negative!!

This will be a constant "battle" if we allow it. I am changing my vocabulary to more positive phrases!

Less than optimal food choices instead of slipping, sliding or binges. I am not on a wagon, therefore I cannot fall off it!

Fluctuations instead of weight gains.

3-5 pound weight range instead of expecting the weight to remain constant.

I was a closet eater for too long! Now I enjoy myself and the next morning I face the consequences of my actions (scale).

This is a lifestyle change - but I refuse to be on a diet for the rest of my life - I am more than willing to continue tracking though!

**MARTY728 says:
If you encounter a "3-5 pound weight range" just lift your arms.
WARNING: Do not lift your arms if you having been sweating recently or it is late in day and you have not shower, bathed or applied deodorant recently.

I believe this is going to be with me for a long time! (looking thinner by lifting my arms!)








Monday, March 07, 2011
I had a comment recently on my overalls picture and when I went to see the comment I had to really look at that picture. I can still remember Ray coming out in those striped overalls and then he made me try them on. We thought I looked so hot in them! I wore them all day!!



You can see in the picture how happy we both are - but I looked at my face and I can see a tremendous difference.

I am 120 today and adjusting nicely to it!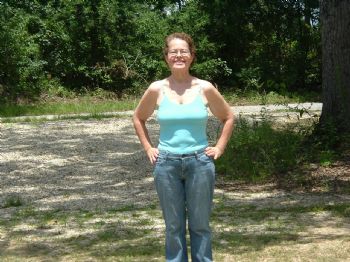 I am not afraid to indulge myself and I get back on track within a few days generally so I feel pretty darn good about it.

During the weight-loss part of my program, a slip meant about 3000 calories for the day. Now a slip means about 2000 calories for the day. My binges now tend to be peanut butter via teaspoon or a handful of nuts instead of whatever I can cram into my mouth.

I am feeling comfortable in my new lifestyle, even with the occasional slips. I have been told by thin people that this is maintaining my weight.






Friday, March 04, 2011
God Bless my DH - I was shook up more than I wanted to admit yesterday and went into a peanut butter binge.

It took a lot of guts for this 59 year old to put up a bikini blog - and YES, I knew that putting my arms up would hide a few sins. But I have never lied about my weight, measurements or the fact I still have loose skin.

I am accepting the new me "as is". This includes wrinkles, baggy-saggy thighs, and "wings" under my arms. I wouldn't recognize myself without the extra chins.

I am thankful for every one of you that has been here and been supportive and I am doing my best to be just as supportive of y'all. I am thanking everyone that has commented on my bikini blog - I haven't gotten to today's yet - phew, being a popular blog is really something! If I miss thanking somebody I am apologizing right now. I started at the oldest post and worked my way back and with the pages changing, I could have missed someone.

Back to my DH and why I am blessed with him. He came into the room as I was getting dressed this morning and said, "gosh but you're fat! put your arms up!" and when I did he said, "that's much better! you look so thin now!!"

Who couldn't love him!

This is the picture that "didn't make the cut"



Thank you all for your continued support - We really are all in this together and together we cannot fail!








Sunday, February 27, 2011
Ok, here goes nothing! I was fresh from the shower so my hair doesn't look too swift, but here I am in all my glory! Thank you Cathy for the Bikini!!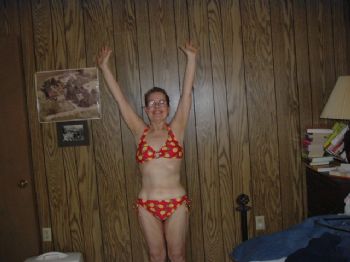 Whoopee!


No 6-pack, but flat!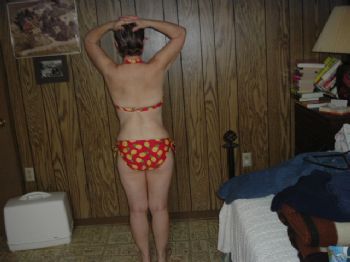 Not a lot of "muffin"



179.8 on July 17, 2008 (My first 'before' photo taken after losing 30.2 lbs)

16 months at SP to lose 90 lbs. 5 more the next year.
I am 59 now and 5'1.5" and maintain 115-120
How funny about "yellow polka-dot bikini" - nope, they're pineapples!

edit:
Nope - no crunches, no sit-ups, no gym - I did use Walk Away The Pounds and give them most of the credit for my thighs! I also practice T T I daily, constantly, whether sitting, standing, walking - T T I - something so simple that anyone can do it.

As an obese youngster, my mother would constantly whisper in my ear, "T T I, Linda" - Tuck your Tummy In. I can now suck it in with the best of them! This works your core gently and naturally and is the only abs workout that I do and I do it faithfully, it is habit.

Start today, right now, it really does help. Every one of Leslie Sansone's WATP videos has her telling you to "suck it in" or "suck your bellybutton back to your spine" and it really does work. BTW, WATP gets all the credit for my thighs shrinking!

**Here is a picture with my arms down - I still like the one with them up - it stretches out the skin better!

This is the shot that didn't make the cut - still not really too awful.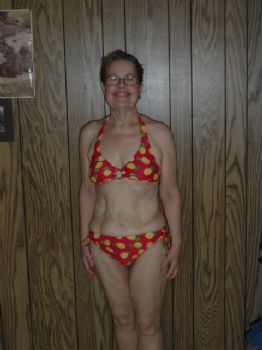 First Page
1
2
3
4
5
6
7
8
9
10
11
12
13
14
15
16
17
18
19
20
21
22
23
24
25
26
27
28
29
30
31
32
33 34 35 36 37 38 39 40 41 42 43 44 45 46 47 48 49 50 51 52 53 54 55 56 57 58 59 60 61 62 63 64 65 66 67 68 69 70 71 72 73 74 75 76 77 78 79 80 81 82 83 84 85 86 87 88 89 90 91 92 93 94 95 96 97 98 99 100 101 102 103 104 105 106 107 108 109 110 111 Last Page

Get An Email Alert Each Time RAYLINSTEPHENS Posts