| | |
| --- | --- |
| | PUMPKINPHD's Recent Blog Entries |


Wednesday, October 02, 2013
On Day 3 (Fri night), we went to a friend's birthday party. Luckily, there was no cake. There were small bowls of different flavors of Hershey's Kisses. I limited myself to just three.

On Day 4 of Week 1, I came down with a cold. Being stuffed up helps with stopping cravings for sweets! I barely had any cravings for the rest of the week. I was doing great not eating sweets until last night when my husband plopped some See's candy in front of me. He had bought it a couple weeks ago and I guess he got tired of seeing it there. All that were left were a couple of things he bought for me (I didn't ask for them)--one of them was something he likes, too. I should have just said I'll get to them some other time, but he made comments about it's more fun to eat them together and I didn't want to deal with him being whiny. It was a small piece of chocolate, so I just ate it. I felt a little bad, but I was too tired to care much. I just had a serious craving for sweets, but I'm slogging through it. Only 30 minutes until I can go home.

Last night, I noticed DH had also bought himself some Hostess cupcakes and was munching on one. I REALLY wish he would eat healthier. He snacks very poorly and is always buying cookies or pie or something. I wish he would just eat a piece of fruit instead. He has a lot of extra weight and knows it, but he doesn't bother to put in real effort. He'll go off soda or sweets and eat healthy for a day or two, but never long-term. He only exercises sporadically. I worry about his health. So far, his vitals have been OK, but I still worry. And if I say anything, or even just suggest something healthier, he gets very defensive.

Since, I've barely been online until today and haven't even read what Week 2's goals are yet, I'm going to start Week 2 tomorrow (Thursday).




Friday, September 27, 2013
As I left the first day, I was worried that DH might buy one of The Stand's yummy brownies and it would tempt me. Well, he did buy one. As we were ordering, he set it on the counter and LO grabbed it without us noticing and took a bite -- right through the plastic wrap! She's only got two teeth, but they poked right through. We noticed her chewing and saw the bite missing from the brownie. We've never given her any sort of cake or cookies (other than teething biscuits), and never any chocolate. We were worried she was eating plastic wrap, too, but I couldn't find it when I tried to fish it out of her mouth. She got upset about me sticking my fingers in her mouth. Sigh.

Anyways, DH never opened the brownie in front of me, so I went to bed without even thinking about it. Then, yesterday morning, I saw the leftover half a brownie on the counter. I couldn't resist taking a taste. Damn, it was SOO good! I had a little more, but controlled myself from eating too much of it. As usual, I was craving something in the late afternoon, but didn't have anything around & didn't want to buy anything, so I managed to muddle through it.

I was super tired, so I went to bed soon after I put LO down in her crib for the night. Late night is usually another craving time, especially when I keep myself up when I'm tired because I'm trying to get something done. Last night I skipped all that and was in bed by 10pm.




Wednesday, September 25, 2013
Just started this because my cravings for chocolate and other sweet things has been bad lately. To-do for week 1 is to keep track of what I eat and note cravings. Well, I had been keeping a running tab of all of this in an open "add a blog entry" window. I added to it throughout the day. Unfortunately, when I hit the post button just now, I got a "timed out" message and everything I had been typing all day disappeared into the ether. Sigh.

I'll just write a quick summary here instead. The only sweets I've had so far today are a few pieces of candied ginger. I was craving sweets after lunch, but fought through it. I had a small lunch today, so I kept getting hungry all afternoon, but I was craving something more substantial than sweets. I had a teaspoon of sugar in my morning coffee, and the teriyaki turkey jerky I snacked on had sugar as the second ingredient (yikes!), but that's not too bad.

Heading off now to meet DH and LO for dinner at a hot dog place -- it's a fundraiser for the Valley Moms Meetup I belong to, so I'm splurging on the calories and fat for a good cause :). I ate pretty healthy all day so far, so I'm not going to worry about it. My only worry is that DH will buy one of their yummy brownies and tempt me to share it with him. That's a little more splurging than I want to do today.





Sunday, December 02, 2012
Here's her birth story: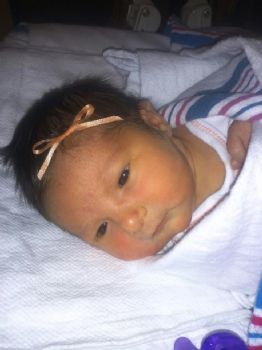 Aja Josephine Acosta was born Sunday, November 25, 2012 at 10:24 pm. She was 6 lbs 4 oz and 20 inches long. She's still in the NICU until tomorrow, but is doing well and is (of course) super cute.

On Friday, Nov 23, I felt like the baby had dropped. I noticed a trickle of fluid, but also had to pee, so I figured the baby was squishing my bladder. Also, DH somehow got bad food poisoning and was throwing up most of the night. On Sat, I felt more trickling and started having second thoughts that it might be amniotic fluid. I looked it up and still was not convinced entirely, but DH was still recovering and, as he puts it, that made it easy to dismiss or ignore the possibility of trouble. Turns out my water did indeed break Friday or even earlier. It is bad to let it go more than 24 hours, so I got an infection.

I went into labor Sunday morning, with contractions coming on very hard and fast right away, like from none to two minutes apart and horrible pain within a couple hours. When they started having no break in between, just a 7 instead of 9 out of 10 pain, I asked for an epidural. Over the next several hours (maybe more), I dilated from 1cm to 8cm and she dropped to -2. I was running a slight fever due to the infection. Then two hours later, there were no changes in position or dilation and the doctor told me that indicated the baby might not fit through my pelvic bone or there may be other issues. He suggested and I agreed to a C-section at that point. I should have done it much ealier, it turns out.

I went into surgery and it seemed the doctors (not my reg OB, the one on call for that weekend, plus one other doctor) seemed to be pulling and pushing much harder than I would have expected. Then I heard one say he'd never seen "that" before and the other one saying "only in textbooks". There was increased pulling and pushing, more "I've never seen this before" and then I heard the OB say he would have to cut my uterus farther up and pull baby out breech. More tugging and pulling. Something about my cervix tearing, They called in a third doctor who was not even at the hospital that day and he rushed over. At some point, I started to feel a little something and they put me under. That's all I remember. Before that, though, my DH brought the baby over for me to see. I had zoned out by then because I did not want to know what was happening.

I later learned that I had Bandl's ring, a very rare condition where the uterus is split into upper and lower halves with a ring in between. The top half contracts normally and the bottom half contracts way more than it should and can trap the baby's head and possibly shoulders. Apparently poor Aja's neck was getting trapped. Also, there was danger of my uterus rupturing and apparently my cervix did tear a little. These doctors saved both Aja's and my life! Aja managed to come out with only slight bruising on her shoulder and an infection (from the water breaking early). Once they got her out, they focused on me. They flushed out my insides very well and took a long time carefully sewing me up. My poor husband was in the OR and saw everything up until after the baby was born. Then they had him accompany her to the NICU and would not let him back in. He was extremely freaked out and scared because he had seen the doctors working in an increasingly frantic manner and had seen all the cutting and pulling and everything. He was scared I would die. Thankfully, I survived and just came home from the hospital today, six days post-op.

It took a few days for my kidneys to function normally again. I was anemic for several days (lost two units of blood during surgery). My fever went down quickly. I am still retaining a lot of fluid, though. And my abdomen will take a while to heal. I'm slowly getting around. My milk is finally coming in, though not enough yet to keep up with Aja's appetite (she's been chugging bottles of formula!). The NICU nurses and lactation consultants have been helping me get Aja to latch on. She did a little better today. I'm going to take advantage of the hospital's free lactation consulting services and am determined that we'll get the hang of that soon. Insurance covered a hospital-grade pump for 30 days and I've got a good one (hand-me-down) for after that. Aja will be coming home tomorrow after her last dose of antibiotics. I'm excited to have our family together at home, but also know it will be tiring and possibly a little overwhelming at first. I'm looking forward to finding our groove.





Wednesday, August 08, 2012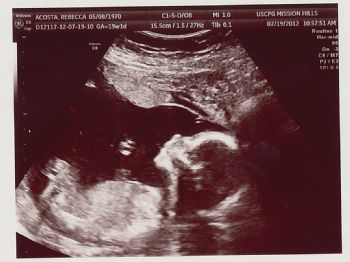 I'm now offiically 5 months pregnant! It's hard to believe my pregnancy is half over already. Seems like it's going fast. It's been an easy pregnancy so far - no morning sickness, only a few headaches. The fatigue in the 1st trimester has mostly subsided. I'm enjoying being pregnant, especially when I feel my little girl move around inside me. DH hasn't been able to feel her move yet, but he will soon. We're both so excited!

All the tests and ultrasound exams have been good. My age is the only risk factor at this point. I've been eating mostly healthy (with some splurges) and have continued going to belly dance class with only a few modifications (like no more moves on tip toes). And I've been still going on (almost) weekly walks, though I can usually only make it 2 miles before pooping out rather than the usual 4.

I'm happy with the way my body is changing. DH is loving that I've gone up a whole cup size in bras :P And I love my round baby bump. It showed up fast b/c I'm so short & petite. People keep asking if I'm having twins b/c it's so big already. Hopefully, I'll still like it when I'm 8 months and it's twice as huge :O.

While I can't wait to meet and hold my baby girl, I'm also wishing the second trimester would last longer. I'm treasuring it while I can!



1 2 3 4 5 6 7 Last Page

Get An Email Alert Each Time PUMPKINPHD Posts