Friday, January 01, 2010
I know, I know, two blogs in one day - that is kind of excessive. Also, not everyone can understand the joy - I think chickens may be an acquired appreciation. BUT - I am excited. A few years ago, coyotes broke into our chicken coop and ate every one of our sweet hens. The coop was an old one and hard to secure; unfortunately the door blew open one blustery night and that resulted in the demise of our chickens. We got rid of the coop, and never got around to replacing it.

Now for me, there never was a question of which came first. The chicken did. I grew up hating eggs, and would hide when my mother cooked them. But, I loved chickens. As a child growing up in the Lower East Side of Manhattan, a chicken was an unusual pet, but ...

My father used to stop and a bar on his way home from work and put down a few with his drinking buddies. One of them had a chicken that he kept with him, brought to the bar, and fed on corn soaked in whiskey. One night my father found him crying into his whiskey. His wife had told him that either the chicken left, or she would. My father, being the kind soul and animal lover that he was, brought home to his children, an alcoholic barred rock chicken. We were the only kids on the block with a chicken for a pet, and I would carry her around like a baby doll, lying on her back in my arms with her legs sticking up. Half the Bubbes in the neighborhood would have loved to pop it in their stock pots.





In the 70's, during my Back-to-the -Land, Mother Earth News phase of life, and long after our alcoholic chicken had lived her short life, I raised laying hens and discovered for the first time how delicious a fresh egg tasted. I came to realize that I do like eggs, but only fresh ones from free range chickens.

This spring, I'll order some chicks

and let them grow up for a while in my classroom. Then they can move into their cute little coop.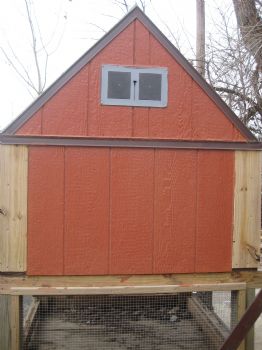 Back View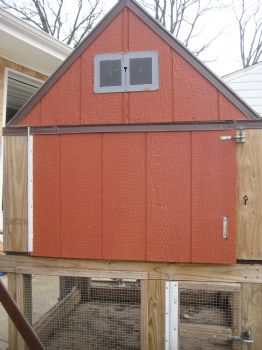 Front View

At the moment, the coop is still on the trailer, but it has a rickshaw arrangement so it can be moved around the yard. Woo hoo! Darling chickens and fresh organic eggs!