Sunday, January 17, 2010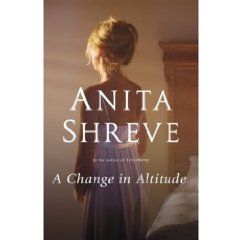 "A Change in Altitude" is set in Africa in the 1970's. The novel centers on Margaret, who follows her husband, Patrick, to Africa from New England. Patrick is a doctor studying disease. Margaret is a photographer. Early on in the story, Margaret and Patrick join a British couple on a climb of Mt. Kenya. The climb ends in disaster and since this event. Margaret and Patrick lose ground on their marriage. The story continues with Patrick and Margaret's strife. At one point, they think their marriage is better and then it is not.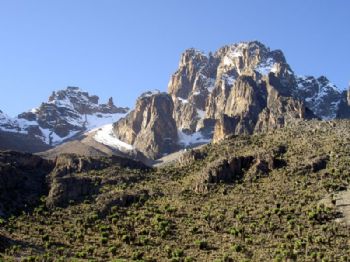 (Mt Kenya)

I decided to read this book because I had enjoyed many of this author's other books. I must say that I am disappointed with this one in comparison to her other work.

One thing Shreve usually does so well is to get us involved and caring about the characters early on. That didn't happen for me in this book. Her last novel "Testimony" reeled me in from the get-go, as some of her others have also done, but with this one I just couldn't find myself caring one way or the other whether they made it up the mountain or not (and later on whether their marriage survived or not).

Granted, reading about Africa, especially the Nairobi area is not one of my favorite settings. The thievery, the poverty, filth, disrespect of women and violence toward women and children is depressing. Additionally the main gist of the novel, a young recently married couple trying to stay connected in strange circumstances, is not the most enthralling subject matte. If I had cared more about the characters or felt more connected to them perhaps I would have been able to rise above my initial dislike of the subject matter. However, Shreve was unable to work her usual magic and I was left feeling rather disconnected from the characters and as a result I just did not care what happened to them. The ending was a little odd too… it left some loose ends and just seemed to come to a sudden stop. I couldn't believe that I read the story only to be left with an ending that didn't resolve anything and seemed too abrupt. I don't want to give any spoilers so I will leave it at that.

In short, I would skip this book…if you want to try anything by this author I would recommend "Testimony" or "The Pilots' Wife" which are both excellent.