| | |
| --- | --- |
| | PRIMALMICHAEL's Recent Blog Entries |


Monday, September 06, 2010
Sometimes before I blog, I look around for inspiration - I see what my friends are dealing with, I look on the message boards and see what the recurring themes are - I consider many things, then I write. As I go through the process of finding a topic, I often say to myself, "I know there is a blog around here somewhere..."

Its my way of saying that I'm sure to find a topic if I just look around a bit.

Well, not today. Nope. I really didn't find a topic that jumped out and said, "WRITE ABOUT THIS!"

So, today's blog is all about me.

It's a running day but it's raining. I'm not sure that's going to stop me though. I'm sort of blah and I want to run. That's a big change from what I used to do when I was blah (I used to eat of course). I like it that when I feel blah or bored or frustrated I had the urge to run instead of the urge to eat. That's a real lifestyle change.

I ran Friday and should have rested Saturday. However, I got really down on Saturday and needed to run, so I did. I ran hard, too. I didn't do week 4 of c25k when I ran, even though that is what I am working on currently. I didn't use the program, I just went and ran.

I covered the same distance I would have covered had I used the program, and I covered it faster. In fact I had been running at a pace of a quarter mile in 3 to 3.5 minutes. Saturday I did a quarter mile in 2 min 45 seconds. I can't sustain either pace for more than a quarter mile, but that may come in time.

I'm not one to push for speed. It's just an added bonus to see myself moving a little faster. I'm trying for time (endurance) and good form - that's the main focus.

Now here's what I'm wondering - I enjoyed my run Saturday more than usual and I got a fantastic workout. I want to go do that again. I want to throw c25k out the window and just start doing my own thing. I think I may be able to just listen to my own body and train by doing my own thing. However, I don't want to be setting myself up for injury. If anyone has any thoughts on it, I'd be glad to hear them.

On another topic, I went to a barbecue at a friend's house this weekend. I made really healthy choices and I was very mindful of my portions. I know I didn't guess exactly right portion-wise but I was mindful to err on the side of caution. I passed on the beer and wine completely.

I had intended to have a beer while I was there, but when the alcohol was being poured, my first thought was, "Is this consistent with my goals?" Before I even knew what I was saying, I had politely passed on the beer. I've been practicing that for a while now, asking myself about my goals while shopping, cooking, eating, and drinking. Just like I said in a previous blog, practice. I practiced and apparently it is coming naturally now.

You know the only thing that's more fun than drinking at a barbecue? Being the only one sober at the barbecue. I sipped my water (from my inspirational travel mug) and watched the shenanigans of those who had drank everything BUT the water. It was so much fun. The next day when my friend called (hungover) I counted myself very lucky to not have drank a drop. Not only did I not do anything unhealthy and stayed within my calorie range for the day, I still had fun, and I wasn't hungover the next day. Although I felt bad for my friend, it felt good to know I had taken really good care of myself.

Another non sequitur -
I am involved with the CASA / GAL program in my county. I'm in week 3 of training (in a 12 week program) and I've got a ton of studying to do. It's going to be a very busy week - Josh goes back to school on Tuesday, I have dependency hearings on Thursday, and training class on Friday, plus I'm working a lot of hours this week and studying. However, I am determined to stay right on track fitness / nutrition wise.

Oh, I didn't mention it, but I strained my back last week and it's still not right. I've put my regular strength training on hold until it gets better. I found a really good DVD called "Rehab your Body at Home" by JB Berns. It seems to be helping. JB's DVD has sections for every body part and was designed specifically for rehabilitation of muscles and joints. Most of the work outs are less than 20 minutes and there are two series for each body part - one series for starting out, and a second series for after you regain some strength, flexibility, movement, whatever, of the part you are trying to recondition.

For not having anything to write, I sure have gone on a long time. I'd better either go run or go study.

Until next time...
Michael






Friday, August 27, 2010
The old joke goes: A man asked a cab driver in New York, 'How do I get to Carnegie Hall?' The cab driver answered, 'Practice, practice, practice.'

The urge to binge hit me today. It hit hard. This morning I woke up sick and couldn't eat breakfast or lunch. Late in the afternoon I felt better and that's when it hit. I wasn't queasy anymore, I really was hungry, and because it's my day off and I didn't have anything planned, I was bored. Hungry and bored can lead me right into mindless eating.

The Doritos called my name, the Popsicles were paging me, my car keys were jangling out the McDonald's tune, and my stomach was growling in harmony.

It is my sincere belief that we may become good at whatever we practice.

I want to be good at encouraging others, so I practice it. I keep going on and on in message board posts about how we really are in control and living healthy is all about choices. When the urge to binge hit me today, I had a choice to make.

I could have just eaten whatever I wanted. I was sick after all. I could have just looked at this as just one bad day. I could have just chalked this up to a minor setback and started again tomorrow...
...but is that what I want to be good at doing?

I want to become good at maintaining an attitude of appreciation and optimism. I also want to become good at making healthy choices.

I stood in the middle of my kitchen and thought to myself, "Do you want to be good at avoiding a binge? You are being given an opportunity to practice."

With that attitude, I was able to mindfully consider all the food in my house and ask myself what would be in line with my goals.

I really was hungry, so I put a broccoli and cheese Lean Pocket in the microwave. While they are processed food, they are not completely out of alignment with my goals. While it cooked, I disposed of the box of Popsicles, melting them all down the drain in the kitchen sink. I want to get really good at eliminating those things that serve no good purpose in my life. I ate my Lean Pocket and still felt like a binge was waiting.

I want to be good at remaining organized, so I cleaned out one of my kitchen cabinets. In the process, I threw out a bunch of junk that serves no purpose in my life. Then I drank a glass of water.

I want to become good at maintaining relationships, so I distracted myself from food by emailing a friend. After that I still felt hungry. I decided to eat a crunchy granola bar. It would give me something healthy to chew. After that I still felt every food in the pantry calling to me. So, I put my favorite show on the TV and distracted myself some more. By the time it was over, so was my desire to binge. I had outlasted it. It was over.

We've all heard that 'we are what we eat'. I also believe that we are who we practice being. Once we determine who it is that we want to become, we only have to practice and in the practicing, it becomes reality.

I do not believe we can wait until we are good at running before we start running. We can't wait until we are in good shape to go to the gym. We can't wait until we are good cooks to begin cooking healthy meals. We can't wait until we have momentum to begin moving.

If we are to be runners, gym-goers, cooks of healthy food - if we are to have momentum, motivation - if we are to be dynamic, we must first practice.

Practice, practice, practice.

I'm on my way to my own, personal, Carnegie Hall.

I hope I see you all there.





Thursday, August 26, 2010
Oh I am miserable! I can't believe I did this to myself!

That darned smoothie, that's what did it. I'm learning about smoothies this week. Don't you just hate those learning experiences?

I'm not talking about the sort of learning that takes place when you read about internet security. I'm talking about the kind of learning that takes place after that clip of you doing the chicken dance in your underwear has already been posted on you tube.

Now I've never done smoothies before, never took them seriously. I thought of smoothies as some sort of trendy-gone-wrong yuppie thing or perhaps belonging only to the realm of militant vegetarians. I would no sooner think about drinking smoothies than I would think about ordering a drink with a little umbrella in it. In short, I didn't see smoothies as my "thing" - not manly enough for this carnivore. I mean, just look at the word for goodness sakes! Any food that ends in an "ie" and sounds cute should probably only be consumed by small children.

I don't know why I thought that. Any guy who is as handy with a textile fastening device as I am has no business being so pig-headedly macho about his food, right?

So I figured I really should give it a try.
This evening I started dinner and then got to work on that smoothie. I put a peeled orange, a banana, some coconut, some coconut milk, and some greens into the mangler (my food processor) and let it mangle for a while. It made a huge glass of tasty concoction. It was so good that I was actually impressed and began to think that I could get into this whole smoothie thing. I thought that it would be something that would digest quickly so I drank the whole thing and about 15 minutes later I sat down to dinner.

I was a little behind on my calories for the day, so, being the brainiac that I am, I decided to make a bigger dinner than usual. I had a double turkey burger with cheese. I felt a little full, but hey that smoothie isn't macho enough to stick around for long, right?

Oh I was wrong. I was so very wrong. Now I'm so full I feel sick. I have no problems eating a double turkey burger, so I know it was the smoothie that got me. I can't tell you how miserable I am. I had to change pants. It's Death by Smoothie, or Smoothie's Revenge, or something like that. That'll teach me to not take it seriously. I feel like some vegetarian version of the Alien is gonna bust out of my stomach at any moment - only my Alien is gonna be ripped like a young Arnold Schwarzenegger from all the nutrition in that smoothie. He's gonna bust out, do 20 one handed push ups and run off to raid my refrigerator, only I won't care because I don't ever want to eat again.

Lessons learned:
1) A smoothie is not just a cute little fruit drink.
2) A smoothie is not to be confused with juice which can digest rapidly.
3) A smoothie can contain a serious amount of calories and nutrition. It is a darned tasty way to consume more fruits and vegetables.
4) My dog loves coconut.
and most importantly,
5) A smoothie, when combined with a turkey burger, has the ability to spawn Aliens.






Tuesday, August 24, 2010
I wanted a new vision collage, but what to put.....?

I thought about athletes and various sports, I thought about sports legends, historical figures, heros...

Then I asked myself who really inspires me. That answer was simple: My Spark Friends. They are more important to me than any celebrity or world famous athlete. These are real people, just like me, who are succeeding, winning, conquering, overcoming, falling and getting back up - these people are dedicated, brave, and more powerful than they sometimes give themselves credit for. These are the real deal!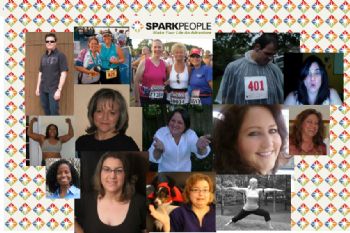 I arranged them like that so that they would fit on my travel mug: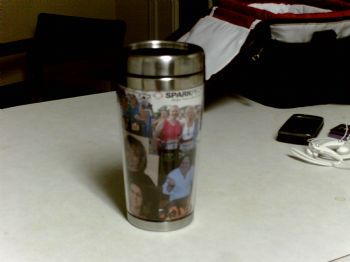 Now some of the people who are most inspiring to me can go with me anywhere. Thank you Spark Friends for being there for me!







Sunday, August 22, 2010
Here is a short video on proper form....

www.youtube.com/watch?v=rkUqkdPQHis&
featur%20e=related


My C25K podcast actually said that I should be landing on my heels and should avoid landing on the balls of my feet.

So when I started I did what the podcast said. I wish I hadn't. I do have some trouble with my left knee and I have to take good care of it if I want to be able to keep running.

If you are new to running, like I am, it's a good idea to learn good form now before bad habits are made. I've found that running with the form described in the video makes my run much easier. I think that I've done it right when the soreness is in my muscles and not in my joints.

New runners - how much attention do you pay to form?

Experienced runners - am I on the right track here?



First Page
1
2
3
4
5
6
7
8
9
10
11
12
13
14
15
16
17
18
19
20
21
22
23 24 25 26 27 28 29 30 31 32 33 34 35 36 37 38 Last Page

Get An Email Alert Each Time PRIMALMICHAEL Posts