| | |
| --- | --- |
| | PRIMALMICHAEL's Recent Blog Entries |


Sunday, January 10, 2010

I've come a long way from bouncing off the walls and door frames in my hallway.

Sorry about the video quality, there is simply no sunlight in Washington this time of year.





Thursday, January 07, 2010
That's right! New fitness toy for me!

This is a door gym. You can use it to do pull ups, chin ups, dips, push ups, and sit ups.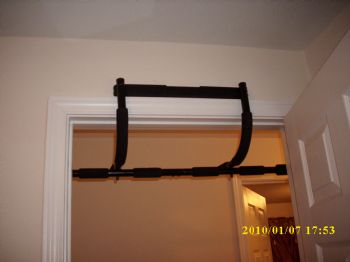 That's the back.

My awesome wife got that for me.

Now I have never been able to do a pull up or chin up, not ever in my life. A few months back when I blogged about some goals of mine, I mentioned unicycle riding and pull ups.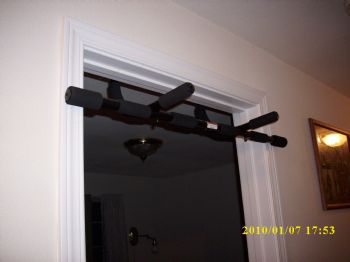 That's the front.

Well now I am going to start working toward that first pull up! I'm really excited about this. The unicycle has been great for my legs and core, but my upper body wasn't getting enough attention.

Besides, I'm just a sucker for gadgets. Any gadget that can serve more than one purpose and be really handy is cool by me. This fitness tool hangs in the door way with no hardware what so ever. It installs and un-installs in literally one second. That's a cool gadget!

It's right there in my hall way, and whenever I walk by it, I'm going to use it. I wonder how long it will be before I do that first complete pull up.





Thursday, December 31, 2009
Look at these little guys!

www.youtube.com/watch?v=SMWi7CLoZ2Q

Let's make like these little critters and eat our veggies!






Wednesday, December 30, 2009
I was reading a message board post today from someone who said she was ďout of controlĒ with her eating, and in fact, said she has never been in control of her eating, not ever in her life.

Reading that message really took my mind back to a time when I felt that very same thing. I found a way to liberate myself from that way of thinking and take real control of my fitness, nutrition, and life. I thought I would share it with you, dear SparkFriends, in case it could help someone. Iím not saying that this would work for everyone, but hereís how it worked for me:

The truth that I didnít want to admit is that I WAS in control. I had been in control all along. On those days when I ate an entire package of Oreos, on the evenings that I kept stuffing my face until I felt sick, on the day that I ate a meal at Burger King and then immediately went to Taco Bell and ate again, yes, even then I was in control.

Those Oreos didnít tackle me, force their way between my lips, and crawl down my throat. I picked each of them up, one by one, put each one in my mouth, I chewed, and I swallowed - all voluntary muscle movements. I was not forced, tricked, coerced - not once was I at gunpoint, the devil didnít make me do it.

ďThe truth will set you freeĒ but first itís gonna hurt. It hurt to realize that I WAS in control, that I was deciding to continue my unhealthy habits, that I was making horrible choices. If I admitted that I was in control, didnít that mean that I deserved to be fat?

At that point I put on my big boy britches and thought logically about the whole thing. No, admitting that I was, in fact, in control did not mean that I deserved to be fat. I donít subscribe to the theory that over eating is a sin and that fatness is punishment from God. When I drive my car, does that I mean that I deserve to have the parts wear out?

I donít view eating habits as a moral issue any more than I see driving my car as a moral issue. I see simple cause and effect. Drive your car long enough and something will break. Maintain unhealthy habits long enough and health issues will arise. There is no ďdeservingĒ - only cause and effect.

Once I realized this, the sting was gone from my admittance that I was in control. Thatís when I was, truly, set free. I told myself that itís okay if I over eat, as long I know that I made that decision. I can eat anything I choose, but I need to own that decision. When I was truly honest with myself and knew that I was in control of the junk I was consuming, it was much harder to consume the junk. I was no longer the victim of food. I was suddenly empowered to put away the food, trade it for something healthier, or go do something else instead of eating.

Admitting that I was in control did bring on some new responsibilities, and they were mighty heavy at first. Admitting that I was in control meant that I would need to be more conscientious when I shopped. I would actually have to plan ahead a bit, read labels, cook more, etc. I might have to throw away some things that were in my pantry. I might have to exercise a bit of self discipline. Well, I do all those things now, and not one of them is going to kill me. I canít say the same of those unhealthy habits I use to have.

Today I can say that I am liberated, I am in control, I am empowered, and it feels REALLY GREAT!

When I do something unhealthy, I take responsibility for having abused myself and that is what makes it possible to stop doing it. I donít beat myself up over it, that would be adding insult to injury. Beating myself up for having abused myself is simply trading one sort of abuse for another. It's redundant and makes no sense. No good will come from that. Instead, I simply remember that I chose my action, and that means I can chose a different one next time.

Admitting that I had been in control all along removed the pain from my nutrition ups and downs. Admitting that I had been in control all along was what made it possible for me to change my habits, my life, my body. It was the first step in being consciously in control of my entire life. It was the first step in being truly happy and finding peace. It did hurt for a moment and it does come with a new set of responsibilities, but it also comes with wings!





Saturday, December 26, 2009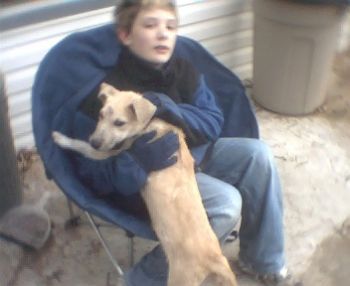 That's Josh and Moose, December 26th, 2007.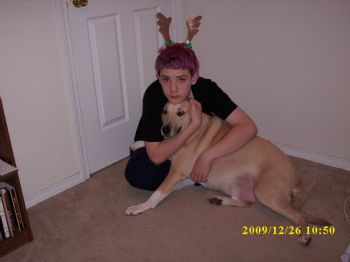 That's Josh and Moose, December 26th, 2009.


This is a special time of year, the time we celebrate the arrival of our Dog, Moose. Our Moose arrived at our house on December 26th 2007, and we declared it a family holiday. It is Christmoose Day.

I've posted the story before, but, like all great traditions, it's worth repeating every year.

Once upon a time, in the tiny town of Boyd, a humble family gathered in a humble home.The home was 480 square feet and the family had no privacy. This led to many long hours of daydreaming about personal space and fantasies of being alone - kind of like that episode of the Twilight Zone where the character is locked in a small room so he goes crazy and hallucinates that he is the last person left on Earth and has the whole planet to himself.

Anyway, once upon a time a very special dog wandered about, looking for a warm place to sleep and some food for his belly. Of all the large homes scattered along the countryside, that special dog chose the smallest and most humble of them. Cautiously he approached the house.

That humble family in that very small home saw this very special dog and, being of open heart and mind, knew that they were looking at a very special dog. They also knew that this dog must also be of an open mind and heart to have chosen to visit them when he could have visited any number of others instead.

Yes, this dog was the most special of all special dogs. He was the Moose-iah.

The humble family invited the Moosiah in and, due to the dog's very special smell, they anointed him in the kitchen sink with plenty of water and special soaps.

After the special ritual, the Moosiah shook himself in a special way to sprinkle the humble family with the special water so that all shared in the anointing, and both dog and family knew that this day was special indeed and should be celebrated from now on.

They began celebrating that very moment, making offerings of special dog food to the Moose, and Moose blessed them by never leaving their sides from that day forth.

The Moose accompanied the family when they went outside, he accompanied them when they went in the car (Dog is my co-pilot), he accompanied them when they didn't even want him to (the Moose is my shepherd that I shall not want.)

(Okay, he's more greyhound than shepherd, but you get my drift.)

On Christmoose Day we celebrate all the special blessings that the Moosiah brought that special family:

He taught them diligence by piddling on the carpet for a while (cleanliness is next to dogliness.) Although the family did not think of him as the Moosiah when he soiled the carpet, and at those moments referred to him as Moose-ifer instead.

He taught them patience by constantly staying under foot while they worked in the kitchen.

He taught them humility by having them stand in the pouring rain waiting for him to do his doggy business in the yard.

He taught them unconditional love by forgiving them when they took him to the vet and had his privates whacked off.

He tried to teach them to wag their tails, but it didn't work out. The humans were too caught up in that whole opposable thumb thing to bother growing tails. "Oh well, no one is perfect," thought the Moosiah.

Most of all, he taught them to celebrate by using the smallest event as a excuse to run and jump and spin around in circles in a joyous display of ...well...joy.

So, on this special day we should all take the time to spin around in a circle three times before sitting, lick the face of someone special, and celebrate all the moose-teries of life!

Merry Christmoose everyone!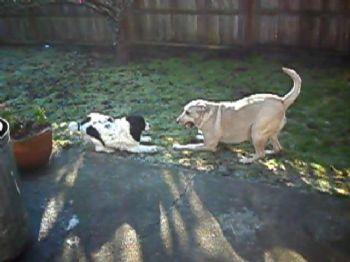 First Page
1
2
3
4
5
6
7
8
9
10
11
12
13
14
15
16
17
18
19
20
21
22
23
24
25
26 27 28 29 30 31 32 33 34 35 36 37 38 Last Page

Get An Email Alert Each Time PRIMALMICHAEL Posts