| | |
| --- | --- |
| | PORGY_58's Recent Blog Entries |


Wednesday, September 04, 2013
I have had a lot of great feedback on my previous blog. So, felt compelled to expand my thoughts into a regular blog.


Diets are just diets unless you make them fit into your lifestyle. Paleo is a lifestyle choice worth adapting to fit my and my family's needs.

This past weekend, Labor Day, was hectic to say the least, but I find myself looking forward to the challenge of making the right choices "paleo-wise." Hmmmmm wise. I like that.

So, on a weekend filled with BBQs and family get-togethers, I found myself in a starring role when it came to food and meals ... my way.

BBQs are easy ... just throw a steak & some veggies on the grill, and we are on our way to the land of Yum!

I got a few jeers and eyebrows raised when I walked in with a healthy spinach salad and an inconspicuous bundle under my arm.

You see, the family knows that I am not much of a red-meat eater. So they are always speculating just what I will bring to a family gathering. Well, eyebrows were raised, and I think I heard a few stomachs growling when I tossed those lobster tails on the grill, and then generously basted them with a little clarified garlic butter! Oh, yeah, heads were turning! Yup ... people sat a little closer to me in hopes that they might get a taste of those luscious tails! And, of course there were quite a few folks eyeing my grilled peaches, too! Yup ... went there, too. What's a BBQ without dessert!

Breakfast the next morning around the campfiret ... scrambled eggs with sautéed onions and portabello mushrooms surrounded by a ring of sweet tater home fries. Oh, yeah, buddy! I did go there.

Then we returned home to the land of "what's for supper" and "I really, really want pizza tonight." What to do ... what to do ... what to do.

Well, make a pizza ... paleo style ... of course. Yes, folks it can be done and it is scrumptious, too!

Paleo Crust:

1 1/2 cups almond flour (packed)
3 1/2 T starch (tapioca or arrowroot)
1 tsp baking powder
1/8 tsp salt
1/3 cup flax meal
1/2 cup warm water
1/2 T oil

1. Preheat oven 375.
2. In a bowl or mixer add almond flour, starch, and baking powder.
3. In a separate bowl combine flax, warm water, & oil. Wisk together until it thickens.
4. Add Flax mixture to the dry ingredients and knead until well-mixed.
5. Place between two pieces of parchment paper and roll out until 1/16 inch thick.
6. Bake for 20-25 minutes.

Reset oven to 400 degrees.

Top crust with toppings of choice and heat until toppings are done. (about 15 minutes)

Vegan Parmesan (note it will not melt)

1/2 cup pine nuts
1/2 cup almonds or cashews
1/4 cup nutritional yeast
1 tsp. salt





Oh ... yeah ... I went there! And, lost a pound in the process!




Thursday, August 29, 2013
Well, a year or so ago, I would have (and did) scoff at the idea of the paleo/caveman diet. That is because I didn't take the time to learn about it. I thought that it was a fad, a bad idea, and altogether unhealthy ... after all cavemen ate only raw meat and a few nuts and berries, right?

Wrong ... I was so wrong! I have been on just about every diet there is on God's green earth, and had to make some pretty drastic decisions to literally save my life. But, finding that "lifestyle" choice of diets just wasn't coming easily to me. Dukan was the closest thing that I could find that took care of most of my body's needs. But, it was way to restrictive ... I missed eating fruit.

Then a few months ago, I saw something on tv about the Paleo Diet and decided to research it out. And research I did ... and came out even more confused because there were so many takes on the diet depending on whose book you read. So, I decided to give it a Duck's try with a Duck's twist.

The one thing the books all agree on for the most part is that Paleo is:

1. grain-free (thus it is gluten-free)
2. legume free
3. dairy-free w/exception of clarified butter or ghee
4. sugar-free w/exception of honey & dates in their natural forms
5. soy free
6. alcohol-in-moderation (wine ok, hard liqueurs must be grain-free)

So, one would think that this is probably the most difficult of all diets and lifestyle approaches to nutrition that one could possibly attempt.

Yet, I find myself nearly 2 months into being a modern cavewoman and finding myself more focused and grounded than I have been in years. This is a program that you must put your time and energy into in order to reap the benefits.

Finding and experimenting with food alternatives, pushing the limits in restaurants by asking for variations, for instance:

Order a Shrimp Cocktail and ask if they could bring you a side of tomato paste, horseradish, lemon, and if you like your cocktail sauce on the sweeter side ask for a little honey ... and then mix the ingredients together at the table. Here is where I modernize paleo a bit, I love a glass of wine with shrimp cocktail and will pour a little of the wine I am drinking into the cocktail sauce ... NomNomNom!

I have always been one who pushes the limits in a restaurant, after all I am paying for what I am eating, so why not get it my way?

Bread ... now, I know what many of you are saying, here. "No way ... No how ... Are you crazy?" Give up bread? Easier said than done, yes. But, if you are creative and willing to figure out alternatives, there are options.

Almond flour has become a staple in my kitchen ... as are the Almond Flour Pancakes I have perfected from a recipe found online. Note that my husband, who is health conscious, loves them and gets a little upset if I run out of almond flour. So, here is my recipe:

LoLo's Almond Flour Pancakes

1 3/4 Cups Almond Flour
3 eggs
1 Cup water
1 Tbs. pure vanilla extract
1/2 tsp. salt
1/2 tsp. cinnamon
1/4 tsp. nutmeg

1. Measure all ingredients into high powered blender. Note this will smooth out the graininess of the almond flour giving you lighter and fluffier pancakes. You may add more water if you like thinner pancakes.

2. Pour onto a hot, lightly-oiled skillet (unless skillet is well-seasoned) and cook approximate 2 minutes on each side.

Note that paleo recommends the use of coconut oil, olive oil, clarified butter or ghee. I use coconut oil.

These pancakes are eaten with relish (no, not pickle relish)! They stand up to all the condiments a regular gluten filled pancake would, or as a snack slathered with almond butter and wrapped around a frozen banana, or hey use your imagination, I did!

So, this is the beginning of my journey. I have been a modern cavewoman for nearly two months and I have lost 10 pounds, lost the always present water retention, lost my congestion, and, this morning my husband said that my body is changing for the good. In the past whenever I lost weight too quickly, my skin would sag (especially my arms) but he has noticed they are slimming down with definition and no sag.

As a modern cavewoman loaded with the knowledge of many different ideas of what paleo is, I am venturing out on my own. Some books agree that fermented dairy, like kefir or greek yogurt are authorized, where some spell out the evils of alcohol. For me, it is a weighing the knowledge and how it fits in with your lifestyle and what works best with your system. Paleo is all about clearing out foods that can be harmful to you as an individually in the form of allergies and disease. It is up to you to figure out what they may be.





Friday, August 16, 2013
Ceviche @ Woodard Grill, Washington, DC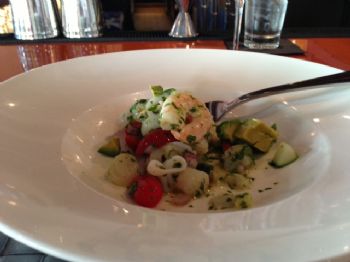 All I can say is that this was the best ceviche around! Shrimp, calamari, & bay scallops cooked in a lemon-mango citrus and a drizzle of olive oil.





Monday, September 10, 2012
I am one Tough Mudder'1 Yessireebob! Hard to believe, ain't it? Me who used to weigh a $20 spot shy of 300 pounds rose to the challenge and have checked off yet another item on my bucket list! 5K, 8K, 10K, 10 miler, half Marathon, Tough Mudder ...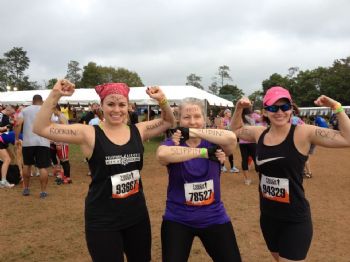 Team Before Race Shot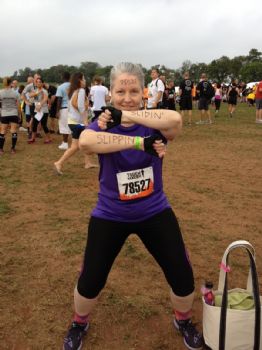 Individual Before Race Shot


These were some of the events. Our events consisted of: arctic enema (c-c-c-c-c-c-cold), dirty ballerina, kiss the mud, berlin walls, bale bonds (1st major charley horse), hold your wood, kiss your mud 2 (wetter and muddier than 1st time), trench warfare (dark and spooky), walk the plank (high ... but, not the highest I have ever jumped), log jammin, king of the mountain, electric eel (wet slithering and OUCH that was painful ZAPs), underwater tunnels (wouldn't you believe it a charley horse in both calves!), berlin walls again (when you think you've had enough they want you to hoist yourself over a 2nd set of 12 foot walls), mud mile (a muddy slipper mile with muddy trenches in the middle 10 feet deep (slid down into first trench ... and charley horses spasm'd all around me), boa constrictor (not so hard going down, but that 45 degree angle going back to the top was a killer ... my apologies go out to the guy who I am sure I stepped on his face ... the pictures do not do justice to what we came across), funky monkey (ahhhh that 3rd rung did me in ... but, I really wanted to get some of the mud off ... cooling and refreshing), twinkle toes (intimidated me a bit ... my calves were cramping and everyone just told me to jump in and get it over with ... hah made it across without a dip in the water), everest (3rd times a charm), and finally electroshock therapy (and when they mean real voltage they meant it but it was the only way to get that orange headband) ... and I got it!

toughmudder.com/obstacles/ </link>

But was disappointed that there was no fire, glaciers nor gauntlets!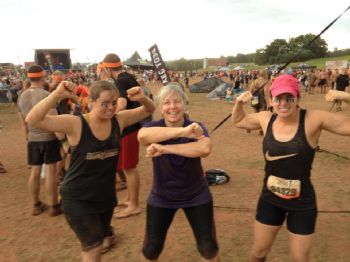 Team After Race Shot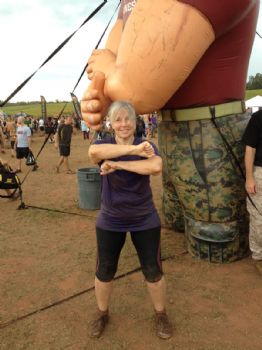 <link>
Individual After Race Shot

Over 10 miles, 20 obstacles, and still standing ... and we are still smiling and laughing today!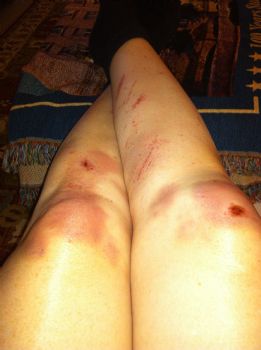 Battle Scars!



P.S. Bambi's Revenge ... would you believe that Bambi ran over one of the contestants, launching off her head? Really happened!

When you see signs that say "Deer Crossing" ... believe them because two other deer nearly ran us down shortly after Bambi let his presence known!

P.S.S. and next month ... the Marine Corps Marathon!






Thursday, April 26, 2012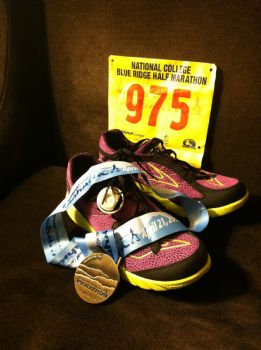 I am still waiting on my pictures from BrightRoom.com, but I just wanted to let everyone know that I survived my first-ever half marathon. Oddly enough I chose one that was billed as "the toughest road race in America!"

And, that it was, but this Duck held a steady walking pace throughout and finished in 3 hours 16 minutes (chip time).

The course for the half included climbing Mill Mountain to the Roanoke star in the first 4 miles from the gun. But, to add to the pain ... Roanoke, VA is a part of the Blue Ridge Mountains and after coming down off that mountain, we were met by numerous steep hills and bridges.

I can only imagine what the full was like, because it included not only Mill Mountain, but also both Roanoke & Peakwood mountains!

Crazy ... huh? Well, crazier is that I am contemplating doing the full next year!



1 2 3 4 5 6 7 8 9 10 11 12 13 14 15 16 17 18 19 20 21 22 23 24 25 26 27 28 29 30 31 Last Page

Get An Email Alert Each Time PORGY_58 Posts