| | |
| --- | --- |
| | POOKASLUAGH's Recent Blog Entries |


Friday, December 05, 2014
I had blood work done this week. It was the first full-panel blood work I've had since Feb 2012. (I had a finger-prick test in Dec 2012, but doc tells me that those numbers are wildly inaccurate, so I'm not counting them.) The blood work in 2012 was the first I'd had done since 2009 when I was morbidly obese. The improvements from 2009 to 2012 were mostly fantastic. The changes from 2012 to now are less clear-cut, but if I were to guess, they are still an improvement.

Weight:
In 2009, I weighed 255 lbs. In Feb 2012, I was at 182 lbs (73 lbs lighter). I am currently at 156 lbs, 99 lbs down total and 26 lbs down from 2012.

Glucose:
Normal range for glucose is 74-106. In 2009, I was very high at 95 - borderline diabetic per my doc. In 2012, it had dropped to 70 - BELOW the normal range. Currently, it is at 77, though when I had a smaller blood panel done three weeks ago, it was at 68, so I believe this fluctuates slightly. In any case, I'm at the low end. Yay!

Cholesterol:
Normal range for cholesterol is 140-200. This is one I really need to watch out for, as my family has a history of this going high. In 2009, I was at 214. This dropped to 173 in 2012. Currently it is at 189. This 9% increase worries me a little, even though it's still in normal range. Makes me think I should definitely watch it, though some of my worry is tempered by some of the following results.

Triglycerides:
These are the really bad fats. You want these to be as low as possible. You definitely want them to be under 150, but the lower the better. In 2009, I was at 197 (!!!) and in 2012 I'd dropped to 125 (whew!). Currently, I'm at 77 - yay!! So even if my cholesterol has gone up 9% since 2012, my triglycerides have dropped 38%. This is definitely good news.

LDL (bad cholesterol):
Normal is less than 130, but optimal is under 100. In 2009, I was at 141 (high). In 2012, I'd dropped to 114. This number is also up now, to 125. That's still normal, but like the cholesterol, it's a 9% increase. Which worries me. Except it's tempered by this:

HDL (good cholesterol):
Normal is above 40. In 2009, I was at 34 (low). Supposedly HDL increases with a good diet, lots of exercise, and weight loss. My doc in 2012 told me that it should go up one point for every six pounds you lose. So if I lost 73 lbs between 2009 and 2012, my HDL should have gone up 12 points, to 46 (normal). It didn't. In 2012, my HDL was STILL at 34. I know my finger-prick results aren't really accurate, but when I took the finger-prick test 10 months later and 22 lbs lighter, my HDL had DROPPED to 28 - almost critically low. I was completely baffled. I am very pleased to say that currently, my HDL has risen to 49! Normal for the first time in years and years and years! And that, from 2012, is a 44% increase! MUCH more than the 9% increases I saw in the LDL and total cholesterol levels.

My cholesterol to HDL ratio is also normal for the first time ever. Normal is under 4.5. I was at 6.3 in 2009, at 5.1 in 2012, and currently at 3.8.

So yes, I'm a little worried about my cholesterol and LDL counts going up, but considering their increase was MUCH lower than the increase in HDL and decrease in triglycerides, I'm counting these as positive results over all. I just need to make sure I keep an eye on the others, to make sure they don't go over into the "high" range. I really would like to get my LDL to optimal levels one day...






Thursday, November 27, 2014

Things have been very rough on me for the last 7-8 months, yes. Even still, I have a lot to celebrate this Thanksgiving, a lot to be thankful for. Five years ago, I began my weight loss journey. It hasn't always been fun or easy, but it has DEFINITELY been worth it.

Happy Thanksgiving, everyone!






Thursday, November 20, 2014
My five year weight loss anniversary is a week from today. I've had ups and downs, sure, and I may not be to my ultimate goal, but these last five years have been a HUGE success, and I wanted to give you guys a preview of what's to come when I CELEBRATE that anniversary next week!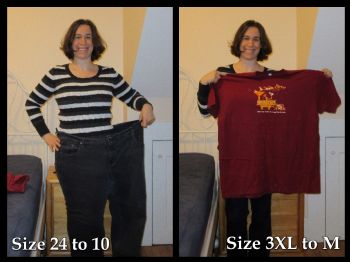 Wednesday, November 19, 2014
This morning, my scale says 157.4 lbs. Y'all, I haven't seen a number lower than 158 since June 6th. I am ecstatic. Over the moon. I am SO CLOSE to being back at that 100 lbs lost line and a healthy BMI.

Sure, a month ago, when I finished my Whole30, I was at 158.4 lbs - only one pound higher. Sure, if I'd've kept going the way things were then, I might have seen the 157s a lot sooner than this, and might even be at a healthy weight again by now. But you know what? I'm NOT going to dwell on where I COULD have been if I'd only done X or Y or Z.

Because here's the thing. Life has been very rough for a long time, and I took a LOT of body blows over the last month. Sometimes I ate too much. Sometimes I ate doughnuts and chips and ice cream. Sometimes I also got my act together and ate well, exercised regularly. Sometimes I kept my pain-eating in check. Through trial and error over the last month, I've managed to find a good balance between eating a fairly strict paleo diet AND giving myself periodic off-plan foods without going crazy about it. And I'm proud of that.

Over the last month, I've seen my weight fluctuate a lot, but it never got completely out of hand. The highest it reached was 163 lbs, and today I'm LOWER than where I was a month ago. It may only be a pound lower, but considering the month I've had? Well, being lower by ANY amount is an achievement.

I still might not make it to the 100 lbs lost line again by my five year weight anniversary next week (on Thanksgiving this year!). But you know what? I'm pretty darn close, and I'm FIGHTING for my health and my body. When that five year anniversary rolls around on the 27th, you better believe I'm going to be CELEBRATING all the hard-earned triumphs and rewards of the last five years.





Friday, November 14, 2014
1. No tooth news yet. Appointment is scheduled for Monday.

2. For those of you who have been concerned about my mental health, rest assured. I was finally able to see a doctor and am now on an anti-depressant. I am working to find a nearby therapist as well. (Also note: despite all the stress, my blood pressure is at 100/65, the lowest it's been in years. Awesome.)

3. Speaking of therapists, my husband and I are now seeing a marriage counselor. Too early to tell if it will make a difference, but we're trying.

4. Sometime between Monday evening and Tuesday morning, our hot water stopped working. Landlords had plumbers out quickly, but they had to order a part, and it didn't come in until Thursday evening. That left us with no hot water - and therefore no heater - for three days. It got pretty cold, especially on the bottom floor (around 60!) but thankfully two of those three days were warmer, so we didn't have to go stay in a hotel or anything. Also: showering has never felt better.

5. It is snowing. Before Thanksgiving. Y'all, I like snow, I like winter, but this is WAY too early. Definitely not in Texas anymore.




6. After a week of a lot of emotional eating and high stress and Girl Stuff, my weight is up a pound since last week. $%#*$*&%! But it's only a pound. I'll take it back off again. I'm honestly not too worried about it despite the swearing. It's just that I wanted to be back to 100 lbs lost by my 5 year anniversary on the 27th, and it's not looking like it's going to happen.

7. The boys got their first term report cards. They were all-A students in Texas, and things are MUCH harder academically here, so I'm pleased that they ended up with mostly As and Bs.

8. I'm over 33,000 words into my novel for NaNoWriMo. It's a terrible draft, absolutely horribly written, but I'm having fun exploring the bare basics of the world I'm writing in, and I have hope that this will help me to get a fuller grip on the story so that I can plan better later and write a much better draft.

9. My eleven-year-old half-sister has been doing NaNo these last few years, and this year she's attempting 50,000. She's already over 42,000 words in. !!! I can't express just how excited for her and proud of her I am!

10. I don't really have a tenth update. I just liked the round number.



1 2 3 4 5 6 7 8 9 10 11 12 13 14 15 16 17 18 19 20 21 22 23 24 25 26 27 28 29 30 31 32 33 34 35 36 37 38 39 40 41 42 43 44 45 46 47 Last Page

Get An Email Alert Each Time POOKASLUAGH Posts