| | |
| --- | --- |
| | POOKASLUAGH's Recent Blog Entries |


Monday, September 29, 2014
Two days ago, I talked about my plan. Yesterday, I gave y'all my week 1 results. Today, I will discuss my individual days for Week 1, especially meals. Picture day!

Day 1 - 170.0 lbs (so *technically* this is my starting weight, because I was down 0.4 lbs from the day before when I did my pre-Whole30 weigh-in, but I'm still counting 170.4 lbs as my starting weight)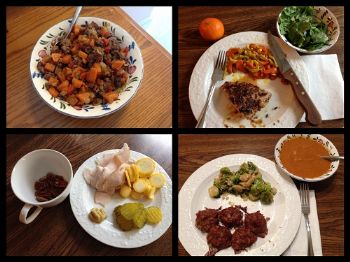 Breakfast: sweet potato hash, coffee
Lunch: pecan-crusted chicken, salad, clementine, sauteed veg
Snack 1: uncured deli turkey, summer squash, pickles, pecans
Snack 2 (not pictured): apple, pecan butter
Dinner: meatballs, sprouts, curried pumpkin soup
Cals: 2038

A little hungry in the evening, and my stomach hurt a bit still. Both of those might have been due to the soup at dinner, which I didn't really like at all. Mostly the day went well.

Day 2 - 170.2 lbs (my only gain-day so far)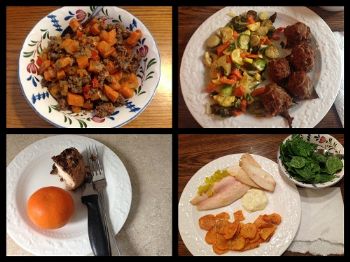 Breakfast: sweet potato hash, coffee
Lunch: meatballs, roasted veggies
Snack: leftover pecan chicken, clementine, herbal tea
Dinner: citrus whitefish, homemade remoulade, sweet potato coins, salad
Cals: 1730

In the afternoon, I felt a little hungry at my normal second-snack time, but I wasn't really hungry, so some herbal tea with lemon juice in it helped me to feel better and hold me over until dinner.

Day 3 - 167.8 lbs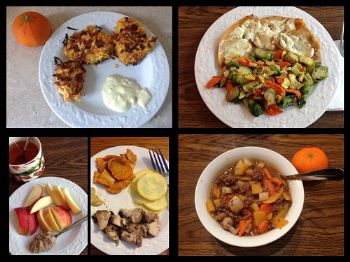 Breakfast: Chicken-rutabaga-carrot patties, remoulade, clementine, coffee
Lunch: flounder with remoulade and roasted veggies
Snack 1: apple, pecan butter, tea
Snack 2: leftover pecan chicken, sweet potato coins, squash
Dinner: Beef & veggie stew, clementine
Cals: 1923

Today was the first day I actually felt hungry all day, probably because my breakfast changed. I just tried to space my food out, ate a bit more. Made it through without overeating.

Day 4 - 166.8 lbs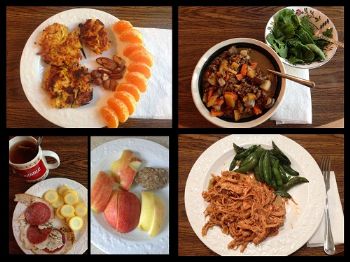 Breakfast: chicken patties, clementine, mixed nuts, coffee
Lunch: beef & veggie stew, salad
Snack: uncured deli turkey and salami, squash, tea
Snack: apple, pecan butter
Dinner: chicken mofongo, mashed plantain, snap peas
Cals: 1735

Changed my breakfast to be a bit more sustaining, felt fine today.

Day 5 - 166.2 lbs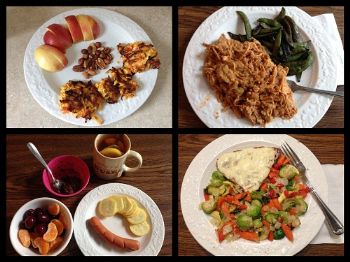 Breakfast: chicken patties, mixed nuts, apple, coffee
Lunch: chicken mofongo, mashed plantain, snap peas
Snack: grapes, clementine, uncured hot dog, squash, tea, cocoa pecan butter
Dinner: tuna steak with remoulade (only ate 3/4ths pictured), dill roasted veggies
Cals: 1802

Only 3.5 hrs sleep, and woke up with a head cold. For some reason still had tons of energy throughout the day. Normally when I don't sleep enough and am sick, I crave simple carbs, but had none of that today, and was actually a lot less hungry today.

Day 6 - 165.8 lbs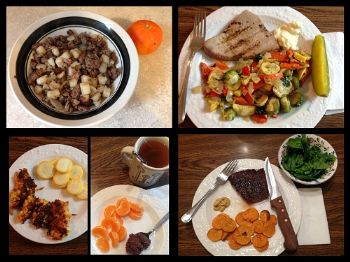 Breakfast: hash, clementine, coffee
Lunch: tuna with homemade mayo, pickle, roasted veg
Snack: chicken patties, squash
Snack: clementine, cocoa-pecan-butter, tea
Dinner: mocha-rubbed steak, sweet potatoes, salad
Cals: 1890

Starving all day long. Lesson learned. Sweet potatoes instead of normal potatoes in my hash are more filling. Because breakfast wasn't quite sustaining, I was pretty much hungry an hour after each meal until dinner. After dinner, I was absolutely fine. Still managed to not overeat.

Day 7 - 165.2 lbs



Breakfast: hash, clementine, coffee
Lunch: mocha steak, sweet potato, salad
Snack: chicken-pecan-squash salad
Dinner: curried chicken-and-snap-peas, plantain, mixed nuts
Cals: 1773

Oddly, I had the same hash for breakfast, but I wasn't particularly hungry. I wasn't hungry BEFORE breakfast, either, so the hash was satisfying. Maybe I just needed more on Day 6. Felt good today.

So that's week 1. I'm enjoying this so far. My body feels much better eating this much produce. So far I have loved everything I've made to eat except the pumpkin soup on Day 1, and the curried chicken on Day 7. My very favorite has been the chicken-veggie patties at breakfast, though the big plates of roasted-random-veggies have been very good, too.

A six-pound weekly loss (170.4 lbs to 164.4 the morning of Day 8) is really amazing for me. I'm hoping that the half-pound-per-day drops keep happening for some time still. I'd really like to get back to where I was in May, BEFORE my first disastrous attempt at Whole30. Still have about 12 lbs to go. Probably won't happen by the time this plan ends on October 17th, but a girl can dream, yes?

I'll be back on Saturday to talk about my meals/results for Week 2.





Sunday, September 28, 2014
So yesterday I told y'all what I've been up to. Today, I'll tell you about the results from Week 1 (as of the morning of Day 8, yesterday morning). As I hinted, they have been much better than the last time I attempted Whole30. First, let me give y'all a bit of a recap of what happened on Whole30 Attempt #1 back in May (for those people who don't remember, or who weren't around back then).

So in May, I started doing Whole30 according to all the rules. I introduced coconut fats as the main source of cooking (coconut oil and coconut milk) and snacks (coconut cream and coconut butter and just straight fresh coconut). It turns out, I am REALLY sensitive to coconut, and my body doesn't like it at all. I didn't have any problems with craving non-plan foods, or getting hungry (actually I was always too full). I had other problems, though. I gained weight every day on the plan. My cholesterol and blood pressure skyrocketed. My symptoms - especially sleep and skin issues - got much worse, progressively. I became lethargic and depressed, until I could barely get off the couch during the day. I decided to go off-plan the evening of Day 9 (up 7 lbs total), and within two hours of eating non-plan foods, the lethargy disappeared, and I had energy for the first time in days. It took me another month to figure out that coconut was the main source of many of these issues.

This time, I changed the rules around as I mentioned yesterday. I adapted to what will work for me, and that seems to have made all the difference in the world. Just like last time, I have had no major cravings for off-plan foods, including sugar - it usually takes me 17 days before sugar cravings kick in, and yes, I know that's oddly specific, but it's ALWAYS 17 days when I go off sugar. I'm also getting plenty to eat. On the plus side, I have had no lethargy, no weight gain, no problems with my blood-vitals (cholesterol et al) etc. My stomach pain and heartburn have disappeared, as well as that weird lingering foot-bruise pain that I'd had for weeks. I haven't noticed any change in my skin or my fatigue levels, except on Day 5, when I'd only gotten 3.5 hrs of sleep and woke up with a head cold, and I was bizarrely bursting with energy. The next day I went back to normal. Weird. Where I've really seen a major difference this week is in my weight.

I began the program at 170.4 lbs. After seven days into the program, on the morning of Day 8, I was at 164.4 lbs (even lower than that today, on Day 9). Six whole pounds lost in seven days. !!! Some of that is water, I'm sure, particularly when I dropped off about 2.5 lbs on Day 3 (I didn't lose anything on Day 2). Ever since the big drop, however, I've been losing roughly 0.5-0.75 lbs PER DAY. Consistently. I keep thinking that at some point the weight will quit dropping off, but so far it hasn't. And hey, I'll take it as long as it'll let me. One week into the program, I've lost almost all the weight I gained in the first 19 days of September. In addition to the weight, I've lost 0.5 inches off my neck, 0.25 inches off my arm, 1 inch off my bust, 1 inch off my waist, 0.5 inches off my hips, 0.75 inches off my thigh, and 0.25 inches off my calf - 4.25 inches total in 7 days.

This is not because I'm eating almost nothing. I have rarely been hungry except at mealtimes, and when I have been, I snack. In the first seven days, my calories have ranged from 1730 to 2038, with an average of 1842 per day. Most days work out to roughly 50% fat, and 25% each protein and carbs. I've been exercising an average of 45 mins per day, with an average of 274 calories burned daily (mostly walking). So I'm not losing this weight because of some huge calorie deficit.

Another good thing about Whole30 so far: I'm learning really fun ways to eat veggies. I don't do the cooking in my house - Jason does - but I've been doing a lot of my own cooking this time, and it's been fun to just chop up a bunch of veggies I enjoy, sprinkle them with olive oil and various spices, and throw them in the oven to roast. :)

So those are my results. Tomorrow I will post about my Week 1 meals. I'd include it today (it has all the pictures) but this is already too long.





Saturday, September 27, 2014
I haven't really been on spark for a couple weeks now. Back at the end of August and early September, things got much, much worse in my home situation. My plans to do my 100 days for me challenge went completely out the window, and I spent a lot of time trying to eat-and-drink my pain away. I gained a lot of weight very rapidly - up from 164 lbs on September 1st to 170.4 lbs on September 19th. Yeah. On September 19th, I said (once again) enough is enough. I was closer to being obese than at a healthy weight, and THAT ISN'T COOL.

I made a decision to start, the very next day, a four-week program. In exercise, I'm loosely following Spark's Spring Into Shape plan. I'm also redoing Molly Galbraith's 28-Day Love Your Body Challenge, because I have just about zero self-esteem about my body these days (hence treating it like a garbage can). (And this lack of self-esteem has nothing to do with my weight. It has to do with my situation at home.) In eating, I'm attempting Whole30 again, except only for 28 days (day 29 is my oldest son's birthday), and with a few little exceptions:

1. I'm not touching coconut in any form. I don't care if I'm not supposed to cook at high heats with olive oil. I'm going to do it anyway. Coconut is very, very bad for me.

2. I refuse to eat breakfast until I'm actually hungry. I'm not going to force-feed myself at 6am just because that's when my kids need me to be up, when my body really doesn't wake up until later than that. I have no problem eating breakfast. I just have a problem eating it first thing upon waking. Along this same line, I don't care if I eat a couple on-plan snacks during the day. I'm not really worried about timing so much, just eating the right foods.

3. I don't care if I drink a cup of coffee before breakfast, or if I drink one in the afternoon sometimes, or if I have three cups in a day when I don't get a lot of sleep.

4. I don't care if I have sugarfree gum sometimes when my mouth tastes awful and there isn't a toothbrush nearby.

5. I'm not sweating the little things (commercially prepared almond milk, bouillon cubes with traces of soy or dairy in them, dijon mustard, red wine vinegar). I'm also not sweating the whole "don't eat something that pretends to be a junk food" bit. If I want to eat an uncured, nitrate-and-sulfate-free hot dog with my squash slices, by jingo, I will. It's on-plan in content, even if not in appearance.

There's also two BIG exceptions:

1. I'm weighing in daily. The last time I did Whole30, I gained about 7 lbs in 9 days (at which point, I quit the program). While I'm pretty sure that was due to the coconut issue, I don't want to gain tons in ignorance. I want to know if I start gaining rapidly, so I can quit again.

2. I'm tracking every bite I eat. I didn't do this last time, and I suspect I was overeating every day, because I constantly felt like I was stuffing myself in order to eat the amount the plan told me to eat (X number of servings of fat and protein per meal, specifically). I also would like the data. If I lose weight, I want to know if it's because this type of diet works for me, or if this type of diet simply leads me to eating very small amounts of calories.

To begin: I started my plan at 170.4 lbs, and measured my body in seven different places. I took "before" photos and will take photos and measurements after each week passes. (Because my photos are in bra-and-underwear, I will not be sharing them publicly. Sorry.)

Symptoms: skin issues (eczema, acne), fatigue, lethargy, two weeks constant heartburn, major sugar/carb cravings, stomach hurts a lot all the time, bruising on my foot that won't go away, stiffness in my bones and joints at night, periodic headaches. Note: some of these may not be related to food, especially those tied to depression at my current home-situation.

Now: I am currently one week into the plan, and will write more about my experiences with week 1 tomorrow. Hint: this is going much, MUCH better than last time.





Thursday, September 04, 2014
I've mentioned before that my big strength goal - the one health-and-fitness-related goal I have yet to achieve on this journey - is to be able to do 5+ pull-ups again. Back in high school, I could do 20+, and I would love to at least be able to do 5 nonstop again one day. I got really close before my surgery in January, getting up to 4 pull-ups. Post-surgery, with my abdominal muscles surgically altered, I lost core strength completely. For weeks, I couldn't even sit up from a laying down position on my own, and it took three months before I could even hang from a pull-up bar. At 5-months post-op, I tested my pull-up strength, and couldn't even do a full pull-up. That was how much core strength I lost (because at heart, pull-ups involve arms and shoulders, yes, but a big chunk of the strength comes from your abdomen!).

I've barely exercised over the summer, and have done no strength training since mid-June. On Monday, September 1st, I decided to take the same extensive fitness test that I mentioned several blogs back ("I need a new me...or, Day 1"). I won't go into all of the numbers here, but I'm happy to say that I've regained most of the strength that I lost post-surgery. I'm back up to a full vertical jump height, flexible enough to reach 4.5 inches past my toes, and I can do 32 on-my-toes push-ups before my core muscles start protesting (at which point I stop, given I'm only 7.5-months post-op and don't want to injure myself!). The only place I haven't regained full strength - or improved my strength - is in pull-ups. However! I was super excited to discover that I can, indeed, do a full pull-up again!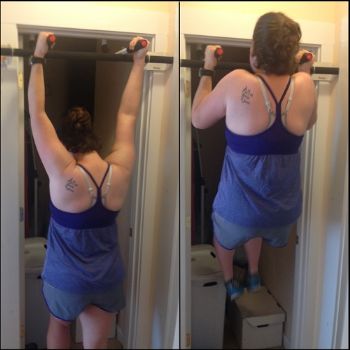 It's only one, but I can do it now! And honestly, I kinda consider this an improvement in strength. Why? Because during my initial weight loss journey, I couldn't do even HALF a pull-up until I got below 160 lbs, and I couldn't do a full pull-up until I was at a healthy weight (154 lbs). Now, I can do a full pull-up at 164 lbs, and that extra 10 lbs of body weight makes a HUGE difference when it comes to pull-ups. Imagine what I'll be able to do when I'm back into the low 150s and high 140s!

My kids started school this week, so now I have my me-time back. I'm still doing really well on my 100 days of exercise challenge, and haven't skipped a day yet (even if some days are merely a 10-min slow walk). I've launched into an intensive pull-up program this week that I hope will help me get back to my pre-surgery level (and beyond), complemented by a full-body kettlebell routine twice weekly and lots of walking. I'm looking forward to seeing where this all takes me in the next four months.

Note: I pre-drafted the above on Tuesday, with the intention to add information about my official weigh-in today (day 16 of the challenge). Yesterday, however, my aunt passed away. She had advanced cancer and this was completely expected, but it's still rough, especially as I'm currently 2000 miles away from all of the rest of my family. I never got to say goodbye, nor will I be able to go to her memorial service next week. I did not handle the news well, and spent a big chunk of the morning eating way too much (especially kettle chips). At the same time, I'm proud of myself because 1) I still counted every single calorie, 2) I still did over half an hour of walking, and 3) though I wanted it badly, I didn't have any sugar at all (I'm now 15 days sugar-free). Today, I'm salt-swollen, so will use yesterday's unofficial weigh-in of 164 lbs as today's weigh-in. That puts me down 4.2 lbs since the challenge began on August 20th.

Thank you all for your kind words and thoughts. I am not christian, and do not believe in god/heaven, but I believe very strongly in kindness, sympathy, and each person processing death and grief in their own way. I personally believe that when we die, we become part of all of the things around us, a sort of non-sentient divinity, and this comforts me, to feel like some part of my aunt is still inside me and the things around me. Yesterday was a rough day, but today will be better. I can honor her by continuing to live.

A tribute to her: bostonblooming.blogspot.com/2014/09/
tribute.html





Thursday, August 28, 2014
Today marks Day 9 of my 100 Days for Me Challenge. I've thus far done very well: exercised daily even if only a 10-min walk, counted calories daily, had no sugar at all since August 19th (though I still put a little stevia in my plain Greek yogurt in the morning). I've been doing my positive affirmations and personal tasks every day as well. Some of my favorite tasks so far have been attending a wine tasting, asking for a neck/back rub, and Skyping with my good friend Stephanie (INEEDACAT9). I've forced myself away from negative self-talk, and I've been pushing myself to spend extra time taking care of myself, from little things like spending time on skin car when I'm tired at night to harder things like smiling at myself in the mirror every time I walk into the bathroom. I don't know yet if it's helping my depression at all, especially as the situation at home has gotten even worse this week, but I'm following through, at least.

And following through seems to be helping. I started this challenge on August 20th at 168.2 lbs. My official weigh-in day is Thursday, so this morning I weighed in at 164.4, a full 3.8 lbs down since August 20th. And that's with it being TOM right now. Woohoo! I know some of that loss is water, but not all of it, because I was drinking 12-16 glasses of water daily before I started the challenge. And for a girl who doesn't lose weight easily, seeing a big drop like this in the first week is really happy-making. I'm back to the 90 lbs lost line. Only 10 lbs until I'm back at my original goal, 16 lbs until I'm back to my lowest weight, and 25-30 lbs until I'm at my final goal!

One interesting thing I learned this week: when it gets really hot out, I stop being hungry. I never noticed this in Texas, because we kept the a/c on almost year-round, so the hottest it got in the house was 80 degrees. I didn't stay outside very long when it was hot, either. But here in the Boston area, while it's been cool most days, we had several days of very hot weather - above 90 - this last week, and we have no a/c. The temp in the house was up to 89 degrees those days, and above 85 for most of the day. And on those days...I simply stopped being hungry until the temp dropped off again in the evening. Then my hunger returned. It's like a natural rhythm I never noticed because of a/c! Certainly made it easier not to snack in the afternoons that way, haha!

I wasn't originally planning to take pictures for my weekly check-ins on this challenge - just at the 25-, 50-, 75-, and 100-day marks - but since I hit a round number milestone (90 lbs lost), I'll go ahead and include an updated pic. This is me now vs me at the last time I hit 90 lbs lost (September 27, 2012).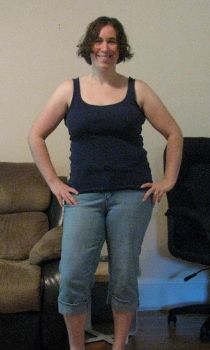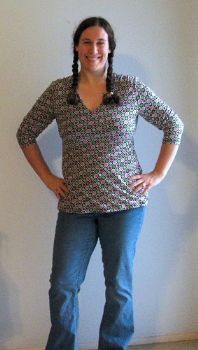 1 2 3 4 5 6 7 8 9 10 11 12 13 14 15 16 17 18 19 20 21 22 23 24 25 26 27 28 29 30 31 32 33 34 35 36 37 38 39 40 41 42 43 44 Last Page

Get An Email Alert Each Time POOKASLUAGH Posts