| | |
| --- | --- |
| | POKIE1's Recent Blog Entries |


Monday, June 20, 2011
Well, here I am, still Sparking!!
I'm finding that my days off are the hardest-I'm not as active as when I work, and food is more of a temptation.
So I switched it up this weekend. I walked over 2 miles on Saturday, and then on Sunday did some light activity plus 10 minutes of strenght exercise that I found in the back of the Spark Book.
I also went ahead and kept myself busy: made up a menu, researched how to make yogurt and did so, grocery shopped, cut up watermelon, etc.
I did much better this weekend than in the previous!!!




Saturday, June 18, 2011
Well here I am in day 21 of my Spark Journey, and I am still motivated! It's not that I haven't had my down times, it's that I am finding new ways to deal with them and I am so excited about that!

I am also seeing some things that I haven't read, yet, anywhere on Spark. So I wanted to write them down for myself, so I won't forget them, and for anyone who might read this. It might help them too!

--I need to trust what is said about calorie intake. It's tempting to keep it real low, but I have striven to keep it at the level that they recommend for weight loss. And I've been losing wt, AND KEEPING IT OFF!! And I don't feel tired, lethargic, grouchy, headachy, etc, like I have on wt loss programs!

--Trust what is said about exercise, start small and add on as you wish. I have been doing this, and for 21 days I have never missed a day to do something! I have the minimum of walking at least 1 mile a day-in broken up sections or all at once, my choice. I now have added at least 10 minutes a day, unbroken. And 2x a week that ten minutes needs to be one of the 10 minute workouts in the Spark Book.

--I now buy more expensive items, like Mayo that is low fat (Kraft, olive oil) and more fresh fruits-even though we are on a very strict budget. I find that we can afford them because now that I am measuring my food, I am able to have leftovers. This has caused a decrease in the budget, and I can now afford to buy "The Good Stuff".

--Make changes only in areas that I am willing to change for the rest of my life. For example, I am not ready to give up ketchup on my hamburger. I am not buying "diet" food. Instead, I still make all of the foods that I always have. I simply keep paper and pen on hand and write down the calorie content of each item I use, and then measure the final result. I then figure out how many servings that makes, and divide the total calories by that-and there is my calorie content for each serving!
I just know that if I start buying "diet" food, I won't make it a permanent change. My journey isn't a diet, it's making permanent lifestyle changes. I want to be, look, and feel healthy! I want to have more energy! Yes, I am incorporating more whole grains, and more fruits and vegetables. But those aren't diet foods, and they taste wonderful! To me, diet foods are those ones with all of the alcohol sugars in them, and I hate that. I would rather eat REAL sugar, and add in the calories and maybe walk a little more.
I can live with that for the rest of my life!





Thursday, June 16, 2011
Today I realized that I have been using a "tool" that I hadn't used in a long time!

Back when I was in nursing school, I used to "see" myself doing procedures. I always made sure that I visualized every step, and that I ended with a successful outcome. Whenever I did this, I had no problem with actually doing the procedure! I have used this tool with every job I've had, and probably all of my life. It's only recently that I found out that it has a name, and is a technique that is taught in places.

But I had stopped doing it..mostly because I didn't "see" myself succeeding at anything. But today I realized I was doing it, and had been since I started the Spark Program! For example;
-when I exercise, I "see" my fat melting away and changing into muscle. Whether this actually happens or not doesn't matter! It still helps to motivate me, and I sure hope that as my fat goes away, muscle is being developed!
-When I stretch, I "see" those muscles becoming long and lean! (Resulting in a skinnier me!!)
-when I get dressed and my clothes are just a little bit loose, I "see" myself as skinny! This means I can do things I couldn't do when I was fat.

Because of this, I don't look in the mirror so much. I want to "see" those images I mentioned above because they inspire me. Because I can see it in my mind, I know it will happen!

Now I need to learn to do that "seeing" when I'm tempted to overeat, or turn to food because I'm bored or upset or sad. And I need to use that "seeing" when I am tempted to skip that exercise! Instead of reaching for those snacks or skipping that walk, I will "see" the skinny me just walking away from the temptations!

And that is what I did with my exercise tonight! It works!!!




Wednesday, June 15, 2011
It's Day 18 and I am still Streaking! The main goals I wanted to do everyday-walk at least 1 mile every day and keep track of my calorie intake-I have kept! I have even added more goals, such as 5 serving of veg/fruit and some type of exercise for at least 10 minutes a day.
I AM EVEN THINKING OF JOINING THE YMCA! Now that is a real mind blower for me! To even think of walking into the Y, let alone join it. I have been so self conscious for so long, but now I don't care what ones might think. I want to look better and feel better, and increasing my daily exercise is really helping to do that!!



My jouney so far hasn't been perfect, but I have surprised myself. When I "goofed", I was able to figure out why and then do something about it-ALL WITHOUT BEATING MYSELF UP FOR IT! Here are some things I've learned in 18 days;
1) I eat at times because I am bored, or to ease the stress.
2) When this happens, I am learning to go and get some water first, then wait for 15 minutes and see if I really want to eat.
3) I realized that my days off are a problem-I am bored. So I need to start planning things to do, besides housework.
4) Also, on my days off I need to do more physical activities-perhaps bike ride. Today on my walk I found several places that look good for riding my bike.
5) We went to a restaurant on Sat and-for the very first time-I ordered a "To Go" bag before my meal! When my food came, I put half of it in the bag, and then enjoyed my meal. When I got home and used the Food Tracker, I found that I hadn't gone very much over my caloric allotment!
6) I'm learning the difference between hunger and appetite. Most of the time I'm not really hungry, and will resort to the water plan in #2.
I am so grateful to the Spark Program! Already I am feeling so much better about myself!




Sunday, June 12, 2011
Today has been a tough day for me...we visited my DH's Father's burial site.
Jim was a good man, and I loved him dearly. Not long after I married his son, he told me "You have made my son the happiest that I have ever seen him. Thank you for that!" When he ended up having surgery, he asked if I could stay with him during the hospital nights, because he was afraid. He was afraid because at night he would get confused, and try to climb out of bed and pull out his tubes, etc. But when he would wake up and see me, he could re-orient himself. Plus, he knew that I wouldn't let anything happen to him.

When he passed away (at the hospital), we all were able to be with him, including our daughter. The Funeral home was wonderful-they asked us if Jim was a veteran. He was, in WWII, in the navy. So, he was able to be laid to rest in the Florida National Cemetery.

We went yesterday because it's close to his birthday. Our daughter came along too, she is 25. She also wanted to hear some stories about her Grandfather, and we obliged!

Have any of you ever been to one of our National Cemeteries? They are very peaceful, well kept, and beautiful though simple. Here is a picture of the entrance, and the fountain.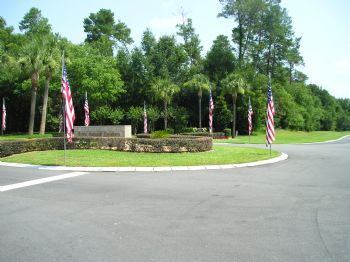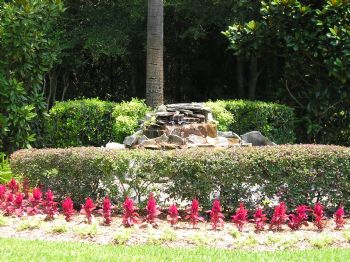 There are benches everywhere, so that you can sit for awhile. That is where we told our daughter stories (true ones!) about her Grandfather.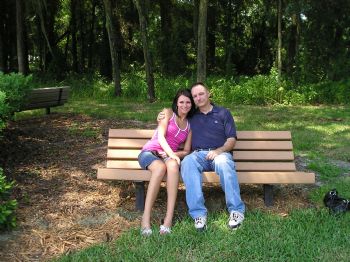 It was also a beautiful place to walk! Lots of shade, trees, and wildlife. While we were there a Swallow was taking wing above us!

Even though it was difficult, it was worthwhile to go and reflect on our loved ones. Usually emotional things cause me to overeat, but I was able to stay within my caloric limits, tho on the high side!



First Page
1
2 3 4 Last Page

Get An Email Alert Each Time POKIE1 Posts