| | |
| --- | --- |
| | PLAYFULLKITTY's Recent Blog Entries |


Wednesday, December 07, 2011
Every once in a while, i think it's important to tell yourself that you love YOU! And today is Letter Writing Day...so what better day to do it :) In the past, I have said how much I love my eyes, so much like my fathers...but as i age, they are starting to get droopy...i loved my smile but now, with age and hypothyroidism, they are just dry...my hair which i always loved and could always do anything with...is now with the lips...just dry and brittle and takes some upkeep...this could be depressing...lol...but i don't love me for all those attributes...though i will say, i do miss...but i love me because of what makes me really me... i can get through the bad times with a smile and a sense of humor...i can see the good even in the bad...i may not be the brightest bulb in the pack, but i sure try to shine through it all...i love to learn new things and i'm always reaching for just a little better and not trying to stay stuck in the what ifs...i love my job as mom and grandma... and always love to bring a smile to not only my family but my friends. So all in all...my looks may be fading...and fast...lol...but who i am inside is what can really shine through now... looks are fading, but true character does not. JoDee, I love you for you...not because of your raging good looks...cuz that is going...not cuz of the money you make, cuz hey, you really don't make all that much...lol... but I love you because you are JoDee.

Love,
Me

Personally I am always ready to learn,
although I do not always like being taught.
~Winston Churchill




Tuesday, December 06, 2011
It seems I've missed so much of living this past week due to being ill...I hate not being able to take care of my family and my obligations..but last week, there was just no choice in the matter...i was down for the count. There was no cooking healthy dinners...i couldn't even muster the energy to eat much less cook it...lol...now add into that not being able to grocery shop...you will see why that is important here in a second... so Monday came...and wow... my body realized it hadn't really ate for a week...and it's HUNGRY!!! top that with i am also on prednisone...makes you hungry regardless...now top that with not any fruit or fresh veggies in the house...just a lot of mismatched food products...lol. I could of easily said hey, i haven't ate for a week and just went to town...but in my mind, because of me being sick, i lost at least 7 lbs...that was 7 lbs of hell-o...lol... granted, it wasn't by choice, but still the fact, i did lose that...why would i want to gain it back... i was dealt the sickness card, and i am going to play it for all it's worth in my weight loss journey... i did end up eating some chips with my lunch...but because i was aware of what i was eating, and how much, i was able to stay within my calorie limit for the day... it was hard... i am starving people...lol... but i did it...it's not the best way to rekick your weight loss, but since that was the card i was dealt...yea...i'm playing it...

Today...grocery store for some fresh fruits and veggies :)





Monday, December 05, 2011
Since my first child was born, so cute and cuddley...I wanted only the best for my children. I wanted them to have this and I wanted them to have that...every Christmas was trying to see how much I could buy for those precious little ones...I wanted to show all my love for them in all those gifts...but this year, they are prepared...they are getting NO more stuff they really don't need...those extra gifts I frantically go searching for and stay up late to wrap. I am saying yes, to more time with each of them this year, and showing them the love I have in my heart, not in my pocket book. Don't get me wrong, each one is not really spoiled per sey, and they do appreciate everything they ever got...but reality is, i didn't enjoy the holidays as much..i was just too darn broke, exhausted and usually sick!! This year, i am giving them a NO to all that...but a yes to a more focused mom...yes to a well rested mom (I know hard to believe from me..lol), and yes to an always broke mom. I'm saying no to spending our grocery money on presents, but yes to food they will have in their tummy whenever they want to come visit...I am saying no to spending all that money, but saying yes to all that time we will have, instead of the other way around.

In years past, I knew what the holiday was really all about, but I also couldn't appreciate it for all it was because I was too caught up in the things of this world. That stops this year. This year I am going to appreciate every single gift that God has given me...that isn't the gifts that can be bought with money...it's the gifts of my children talking, joking and laughing...it's my grandson's coo's and giggles...it's the tummy of my dd1 who is now holding grandbaby number 2...it's going to be my daughters talking about pregnancy and the joys thereof...or not thereof...lol... and watch my son and both sons in law roll their eyes and try to talk over them...so yes, i am giving a big NO...a few times over this year... but it's all for the yes's in life that truly matter.





Thursday, November 24, 2011
I think of some of the years past, and the holiday season... i can't say they were all the happiest of happy's... my family, especially the extended family, put the disfuntional family in the dictionary...lol. Then as i got older, we started losing that family... and though we could still be thankful for the time we got with them, it was still a time of morning and sadness. And, yes, we still miss those that have passed on...but with each Thanksgiving, we also have so much to be thankful for. We lost my father 6 years ago...his birthday being in November... so to say Thanksgiving was hard those years would be an understatement...but i am so very thankful for the time we did get with him. See, he should of died when i was 13..the doctors all told us to say our good byes... not only did he not pass away then, but lived to see each of his grandchildren born...and the last one off to kindergarten... so that each one could truly remember him and the impact they made in all our lives... last year, we added a baby girl...born to niece who was too young to be a momma... but looking at that baby girl, who can say she was a mistake... to me, her great aunt, she is awesome... she is and will always be my monster baby... lol... she was a bit of a stubborn streak in her... but her Aunt JoDee just thinks it's too cute...tehe... this year, we also added another baby...my perfect grandson... he looks so much like his aunt (my oldest daughter), yet looks like his mommy and daddy to... he's the sweetest nature lil man a grandma could ever hope for... and then...yes, and then...i think of my dd1...who is carrying my second grandchild... about the size of a kidney bean right now...and i think of who it will be..another boy?? a girl?? will they be a big baby like grandson 1...or just a tiny little being? will it have a stubborn streak like his aunt, or sweet natured like his momma was... will the baby look like his aunt and/or uncle...or a combination of his parents? oh how i am already going crazy to hold this new addition..tehe..

My preacher said last night that you couldn't be depressed when you were busy counting your blessings..and oh how i have found that to be so true these last couple years... no, it doesn't mean we won't be sad at times...but even during those times, i can't help but to think how truly blessed i am. I already talked about my dad..but now let me remember my dd2...see, dd1 was a bit of a complicated pregnancy...and i was told not to get pregnant for at least 2 years... well, God had other plans...and i found myself pregnant way before dd1's first birthday..yea, i did know what prevents those things, they just were not a 100%...lol. during this pregnancy, my husband was injured at work 2 different times, having to off work for extended periods of time... which meant, no money coming in... also, there were other stresses within the family...which effected my pregnancy... my dd2 was born 10 weeks too early... at 3 lbs, back then, they were pretty sure she was not going to make it... and then she could, but would be a vegetable...at best, very mentally challenged... i can remember bringing this beautiful tiny baby home... as i was leaving with her bundled up, they looked at me and said...mom, you have a wonderful beautiful miracle...remember that because the next couple years she is going to push your every button... i looked down, and laughed, and wondered how such a tiny bundle of joy could ever be a challenge such as that...and then i got her home... lol..from that moment on, i think of the sleepless nights because she just plain did not want to sleep... plain and simple... she was stubborn and strong willed from the get go...and only got worse as she got older...and yes, i do remember, as the doctors and nurses advised, to think of what a wonderful miracle she was...if i didn't, she would of gone up for adoption at the local pet shelter...lol...kidding... today, right now...i remember the first complicated pregnancy...and how she is carrying my second grandbaby...and then number 2... so much a miracle herself...who gave me this perfect first grandbaby...

And it truly does not end there...see, i look around...the pictures of my family and friends... the good times i have got to spend with each one..the blessing of just knowing them... i have a roof over my head...a job...a car that gets me there... a wonderful church and church family...a God that loves me and gave His son so I could have all my sins forgiven and go to Heaven when it's my time... we have food...plenty of food...lol... i have eye sight to see all these things and hearing to hear my blessed life with all it's giggles and coo's... i have a ds who is as much a miracle as baby 1 & 2...who isn't planning on giving me grandchildren for many years...which is just fine with me... and though i can't wait until he finds "the one" and does bless me with grandbabies, i am also thankful for what he gives to me right now... i really could not ask for better children...all of them perfect in their own ways... all beautiful (please don't tell my son i called him beautiful...lol) and smart... and then, i have SP..and my wonderful friends on here...Thank you to each of you that put up with my ramblings...lol... and make each day just that much more brighter :)

Happy Thanksgiving friends






Wednesday, October 26, 2011
This blog was going to be about learning something new. Something I strive for often in my life. But then I read a quote that inspired me toward something else, and a lot of thought. So, in a nut shell, this will be a mixed bag :)

First, do you know what this is?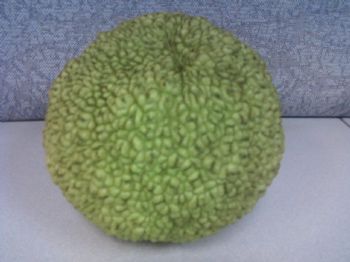 It's an Osage Orange. There are other "nick" names for them, but the proper one is the Osage Orange. It comes from a native to Arkansas & Texas tree. Though the trees can now be found around the US. The fruit lets off an orangey floral scent that is said to keep spiders, roaches and fleas away. Inside this fruit contains an inedible pulp that would make you sick if ate, though the seeds are said to be just fine (i'm not willing to try it though...lol). One of our drivers at my work gave me one yesterday, and needless to say, it was the topic of the day from those, like myself, who had never seen or even heard of such a thing to those that knew all about them.

Now for a quote i read this morning as i was going through my emails:
You must constantly ask yourself these questions:
Who am I around? What are they doing to me?
What have they got me reading? What have they
got me saying? Where do they have me going? What
do they have me thinking? And most important,
what do they have me becoming? Then ask
yourself the big question: Is that okay?
~Jim Rohn

For me, pretty thought provoking. Why these 2 things I blog about right now could be important to my healthy life style and wanting to lose weight? Well, let's start from the bottom up. Do the people I hang around encourage me to reach further in my lifestyle goals? or just the opposite? Then the Osage Orange. in itself, just a new fact to add to my minds files...but, because this intrigued me so, I did research on it...which kept me busy... both physically and mentally. Didn't even think about eating...so worked out :)

Anyways, that's my new insights for the day.



First Page
1
2
3
4
5
6
7
8
9
10
11
12
13
14
15
16
17
18
19
20
21
22
23
24
25
26
27
28
29
30
31
32
33
34
35
36
37
38
39
40
41
42
43
44
45
46
47
48
49
50
51
52
53
54
55 56 57 58 59 60 61 62 63 64 65 66 67 68 69 70 71 72 73 74 75 76 77 78 79 80 81 82 83 84 85 86 87 88 89 90 91 92 93 94 95 96 97 98 99 100 101 102 103 104 105 106 107 108 109 110 111 112 113 Last Page

Get An Email Alert Each Time PLAYFULLKITTY Posts