| | |
| --- | --- |
| | PKBOO3's Recent Blog Entries |


Thursday, October 30, 2014
We had a couple of mishaps on our bike ride. The ride was on State Highways and on County Roads, so we were sharing the roads with traffic. We had hooked up with another man, Chip; and another woman, Ginger. Towards the second half of the route, we were all riding single file and we heard a long, loud honk coming up behind us. It was a man in a truck. He passed me going fast, then I saw him pass the man in front of me. He was too close to him. Chip could have reached over and touched him, he was so close. It scared us all, and Lisa scooted over too far and into the grass and she crashed. We all stopped and a couple of other riders stopped to check on us and see if we were all OK. The woman slipped off her bike and slipped down the ditch. She ended up hurting her hip and ankle. It took her a minute to be able to get up, but she was OK and they continued on. We were all OK too, except Lisa skinned up her knee and elbow. But she was able to continue on also. I guess that rude truck driver was one of those folks who feels like the road only belongs to automobiles.

Also, at the end of our ride, I got cut off by some vehicles and ended up turning into a gravel parking lot. I turned in between two parked vehicles. I guess I turned too sharply, and I slipped on the gravel. My foot slipped off the pedal, and into the frame of the bicycle on the opposite side. I then fell back onto my leg and the frame of the bicycle. I was OK and continued on, but by the next day, I noticed a huge black bruise on the back of my calf. And also a big brown bruise above my opposite elbow.

So, we both had a fall, but we were both OK in the end. It's something that was a challenge for us, but we both felt satisfied with what we had accomplished.






Thursday, October 30, 2014
Friday and Saturday
24 & 25 Oct 14

Well, my friend, Lisa and I are back from our "Trick It Up" bike ride. She made the whole 32 miles. I only made around 20. It took us about 4 1/2 hours to finish. My knee started to give out, so I hitched a ride with the SAG part of the way and then waited on her and the 2 folks we hooked up with along the way, and then finished the last 5 miles or so on a trail instead of the road. That was the prettiest part, but by then my knee was really hurting. But I toughed it out and continued on.

The roads had several hills and it was too long and hard for me, but it was still an adventure and I'm glad we went. But I just need a slower pace to start out with until I can build up more strength & stamina. Riders kept passing us with their fancy, fast & expensive bikes, and their fit & trimmed, muscled up bodies. We have good bikes too, but not the $800-$1,200+ models. We just couldn't keep up with them. I'm not complaining. I'm just in awe and admiration of them.

We also enjoyed the day before. We went to Downtown McKinney and walked around. Lots of quaint little shops and stuff. Of course, I ate too much. We had pizza at the Cadillac Pizza Pub. We sat outside and it was so nice. We saw the most handsome man I've ever seen since Elvis or Leonardo! Beautiful eyes and wavy black hair and so friendly to talk to. Also the weather was perfect. Just a very nice evening.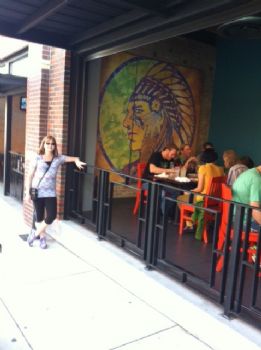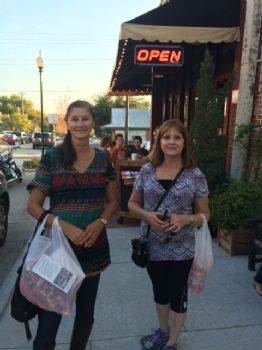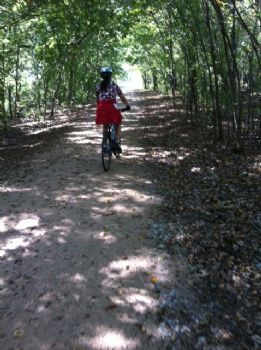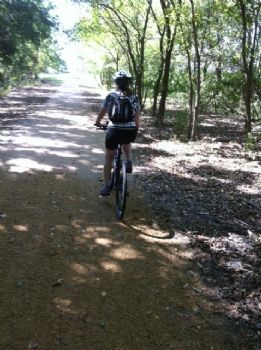 But when I got home and after I finished unpacking, I had to wrap a cold compress around my knee. I hope I can recover quickly and have no lasting problems from it. I want to be able to continue bike riding. That's happened one other time, so I figure it's from over use. It happened before when we walked the Freedom Trail in Boston, MA. It took about 3 days for my knee to recover enough to be able to walk normally. I don't know if I should go to the doctor or not. I'm hoping it doesn't keep me from riding.

Sunday
26 Oct 14

I tried to rest up mostly. I actually felt good except for my knee. I wasn't sore like I expected I would be. I did get a little sleepy mid-afternoon, but not bad. I've been taking NSAID's (Naproxin) for a few days now. It's helping my back and knee.

Monday
27 Oct 14

My knee is feeling better, but not 100% yet. I put my cold compress on again. I'm not sure what to do about taking care of it. I probably need to ask my doctor about it. I'm thinking my whole body is off balance. Tilted to one side more. How does a person go about maintaining a balanced body alignment? I'm sure the Scoliosis has something to do with that.

Wednesday
29 Oct 14

I thought I was getting better. My knee feels better, but I'm still favoring it a little. And now, today, I picked Aaron up and hurt my back. I'm worried about being able to kick back from all these back and knee issues. It's hard to pick him up and carry him. He wants to be held all the time and wants to be walked around all the time. Will I be able to keep bike riding? I just bought a new bike and now I'm hurt already. I can't even hoop for now. So frustrating. I suppose I'll do my best to take it easy for a couple of days and not exercise; continue my NSAID medicine. Maybe a heating pad. After I heal a little, I'll start back on my exercise routine. And hope for the best.

Thursday
30 Oct 14
I woke up this morning still pretty sore in the back, but as the day progressed, I started feeling a little better. At least I'm not feeling as pessimistic as I was yesterday. I'm thinking I should be OK if I take precautions, and not rush things. I probably won't ride until next weekend, but I plan on getting on the exercise routine sooner than I planned. I can do this!!!







Thursday, October 23, 2014
It's been since October 11 since I've posted anything. I'm getting slack on blogging. I need to do better.

Since then, here are a few things I've been up to.

* Went to Shreveport to look for a couple of coats. I found two at Bass Pro. I had ordered 2 last year from them online, but had ordered too late in the season and they never back ordered, so I never got them. We also did a quick walk around the Board Walk, and ate at Joe's Crab Shack. On the way home, I bought a fanny pack at Academy for my bike rides. Also, since then, I've ordered a bike rack and Danny hung it up for me in our garage. Now I just need a 2-bike rack for the SUV. Later hopefully. For now, we'll just load them up in Danny's pickup.

* The grand baby had some outpatient surgery in Dallas on Oct 12. The kids spent the night before in Plano and he had surgery the next morning. He was sore the first day and night, but by the next day, he was feeling great. We couldn't have asked for a better outcome. So proud he did so well. The kids stayed home with him the whole week, so we got a little break from babysitting. But he was back with us by Oct 20 and we had him Monday thru Thursday this week. He did pretty good. A couple of little melt downs, but we survived, LOL! One day, he was doing so good when we went to town until after we got home. He got really cranky and refused to take a nap. It was a battle of wills...He won!

* Lisa and I rode our new bikes on Oct 14. We rode about 10 miles. Wow! These bikes will go! We could go faster, and it was easier going up hills. We're really happy with what we got. I did have to carry it back to the shop to tighten up stretched chains, but according to the guy at the bike shop, that's normal. They have to be adjusted at times. He said it's like the strings on a guitar that have to be tuned.

Our "Trick It Up" event is this weekend. We're really excited about going on our first event like this and hope to find some others to ride in.

* My back is flaring up pretty bad lately. It's probably from holding the baby, (he's already 19 lbs and he's not even 6 months old yet); and from hooping, and bike riding. I need to try toning down my hoop workouts. The chest hooping probably is the worst for my scoliosis and bulged disc. I hope it's not the bike riding doing it. I'm planning on trying to ride 30 miles Saturday. I really only want to ride about 15 miles, but Lisa is pressuring me to go for the whole 30 miles. We will just have to see when the time comes.

* I had lunch on Oct 17 with a couple of my work friends, Lisa and Lisa. (I have 3 good friends named Lisa and a Sister-in-Law also named Lecia). I really enjoyed it. I miss them so much. That's the only bad thing about retirement; not getting to see your friends as often.

* My workouts have been few and far between lately. Just a couple bike rides, a couple of Yoga workouts. And I'm going to look up the 30-day plank challenge if I can find it and join it. I also learned a good hamstring stretch.

* I made Turkey Bacon & Egg on Pita Bread for dinner one evening. Oh yeah, and drank Orange Juice with it. I've also eaten Cheerios and OJ for breakfast a couple of mornings.

* I got one tasker checked off when I cleaned out the cabinet underneath my kitchen sink.

* I caught up on watching some of my favorite TV shows. I've gotten to where I stream them off the internet instead of watching them on the DVR. A problem with that though is you are forced to watch the ads in between. In DVR you can fast forward them. But sometimes I miss recording them on DVR and other times 2 favorites are on at the same time and I don't have the "Hopper".

* Did some gardening, trimming back the Mexican Sunflowers. I've said this before, but those flowers turned out so pretty.

* Yesterday, my friend, Mary came over. We ate Mexican food, then went to visit a woman who had an old home place that she had taken a picture of. Only the chimney, some of the foundation, and part of an old clothes line were left. I had told her who it had belonged to and so she wanted to interview her about some of its history. Then we came back home and I showed her a few things about Photoshop which she had just recently subscribed to.

Going to get up now and start packing for our trip tomorrow. So looking forward to this. Wish us luck!












Friday, October 10, 2014
Well, we did it! We bought our bikes today. We ended up buying a road bike, or I think it's actually called a hybrid. They're not good for gravel or dirt trails, but they can be ridden on roads, paved trails, and hard dirt surfaces. We're looking forward to our first event coming soon. The place we bought them from, they advised us on what to get, and sized them for us. I got a small and Lisa got a medium, but we got the same type bike. We got helmets, shorts and jerseys, rear-view mirror that goes on our glasses or our helmet, and water bottles. They threw in a water-bottle holder for "free"!

I rode about 4 miles when I got home - two miles to the kids house and two miles back.

I hope we can do this and improve our fitness level. I hope my joints and back can take it. The folks at the bike place told me it should help me. I hope so. I hope it doesn't aggravate my back. It hasn't before, but the last 3 days I've had a flare up in my back in two places. Between my shoulder blades where my scoliosis curves and the lower part of my spine where my bulged disk is inflamed. I don't know if it's from holding the baby so much (he's 17 lbs. already) or if its from overdoing it in my last exercise workout, or both. But it's been hurting that long. It did feel a little better today, and as I said, I rode the bike today and was able to do it, but tonight it's flared up again. Hopefully, it will ease up soon.













Tuesday, October 07, 2014
Yesterday, my friend, Mary came over for a visit, so I really enjoyed having her over. We sat outside on the back porch with the baby. He gave her plenty of his jolly smiles. He was so pleasant yesterday. We had him on his tummy on his pallet earlier and he was just oohing, awing, smiling, and laughing. He was rocking on his tummy like a sailboat on the water and looking up at us and smiling so big. Today, he's still being good, but he seems to be really sleepy, but fighting it. He only sleeps about 30 minutes and then he wakes up, but he's still sleepy. He's been asleep for about 30 minutes now though. Hopefully he will sleep a little longer and get enough sleep this time before he wakes up again.

Danny traded in for a new truck yesterday. We trade each of our vehicles about every other year, but he held off for about 3 1/2 years this time on the truck. He just couldn't wait any longer. He's concerned though about a bit of a vibration on the highway when he hits a certain speed. Come to find out, they've had to change the tires out on several of this model. He's out driving it now, to check it out more. I hope he doesn't have trouble with it, but if keeps vibrating, he says it will be easy enough to change them out.

I'm planning on getting my new bike this weekend. My friend is also going to get a new one. We have 2 different kinds of bikes in mind. One is a mountain/road type bike and the other is just a regular road bike. So we're indecisive about which one we will end up getting. I had told them I was interested in road and trails; and she had told them she was interested in riding on the roads. So that's why they've advised us on different bikes I think. We're also wanting to get bike racks for our cars and some proper clothing and a helmet. We're planning on riding on the "Trick It Up" Ride the end of this month close to Dallas. So I'm looking forward to it all, but a little nervous about it too. I hope I'm not biting off more than I can chew. My intent has always been riding trails because riding roads makes me a little nervous, but I'm finding out that trails are a little harder to come by around here. So....thus my dilemma. I've been riding on small city roads and just a portion of our local rails to trails area for now. That's all the riding I've done. So we'll just have to see how it all turns out.




1 2 3 4 5 6 7 8 9 10 11 12 13 14 15 16 17 18 19 20 21 22 23 24 25 26 27 28 29 30 31 32 33 34 35 36 37 38 39 40 41 42 43 44 45 46 47 Last Page

Get An Email Alert Each Time PKBOO3 Posts