| | |
| --- | --- |
| | PKBOO3's Recent Blog Entries |




Sunday, October 05, 2014
Mon
29 Sep 14
My friend and I rode about 12 miles today. I did better this time than I did Friday. My legs didn't ache afterwards. But my friend said it felt harder for her this time. I told her it all probably has to do with if we got enough rest, if we ate right, and typically just how our bodies are feeling at the time.

When I got home, I spent about an hour weeding my flower gardens. And I got Danny to get the hedge trimmers and trim up my Asiatic Jasmine ground cover. It really needed it. It looks a lot better. And I trimmed my Mexican Sunflowers. Those are the ones I planted from seed which I've never done before. They turned out so pretty I thought. I'll plant some more flowers from seed next year.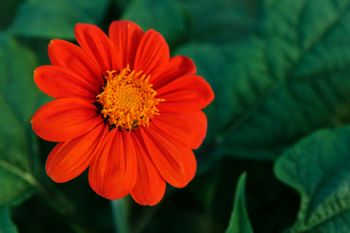 Then it took me about an hour to balance my last two month's of bank statements.

For dinner, I fixed the Turkey Chili. It was really good. Danny liked it too.

The day was quite productive. It was a good day.

Tue-Fri
30 Sep - 3 Oct
We had a fun evening after the kids got home from work Wednesday night. They went to DQ with us and Cody ordered the 3 Tacos Special. They brought him one taco with more lettuce and less beef. It was kind of funny and Cody was making funny comments. I said he has so much bad luck at food places. Anyway, even though it was a mess, it was funny and we were all laughing. We were talking about how you don't complain or you might be eating spit, LOL! He did get his other two tacos though. And a piece of Ashley's chicken strip. He said it was cooked too long. Just bad luck, but we still enjoyed the evening having small talk and laughing and companionship with our kids and the baby.

Thursday a friend called short notice and asked if I would keep her dog. I've never been a pet-sitter before. I would love to because I love dogs but the hubby doesn't like to. It would work better for me if I just went to their house and cared for their pet. Anyway, I told her who I use and to call her. She did but she was out of town so I went ahead and told her I would. So we had Bella for Thursday evening and until 10:00 Friday. She was a good girl. She and Savannah did OK together except I had to make Savannah settle down because she wanted to play all the time and she wore herself out. I had to make them quit because she got to panting too hard and still wouldn't quit playing. They finally got used to each other and it all turned out well. Danny even seemed to enjoy having her around after he realized it wasn't going to be that big of a molehill.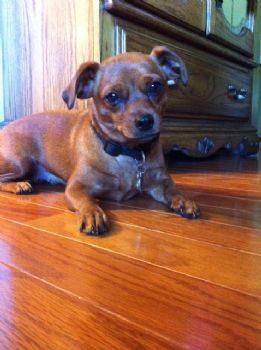 Sat
4 Oct 14
We went to the Octoberfest and enjoyed the parade and walked around the food and craft areas. The kids had the baby up there. So it was a fun morning. I left around 12:15 and went to a preview of our Photo Presentation that some of the members of our Photo Club contributed to. It was for the Audubon Society that is supposed to be shown in November. It was a slideshow of birds, flowers, and other fauna that we all had taken. Then I went with some of them and visited with them while they ate at a Chinese Restaurant. I had already eaten so I just spent the time with them visiting with them.

Sunday
5 Oct 14
We went to the funeral home to see Danny's cousin who sadly passed away too young at age 50. Other than that, I just hung around the house, then we went for ice cream and then to see the kids and baby. They said he had been a handful all day. She said did I want him, she was wore out, LOL. So I took him for a while. They had him outside because that is the only thing that would satisfy him. He started getting sleepy and he was fighting it, so she took him in and laid him on the pallet with his pacifier and new toy. We left and then she texted me and said he was finally asleep. He slept for about 45 minutes, then she said she gave him a bath and he was finally feeling in a better mood.







Sunday, September 28, 2014
Mon-Tue
22-23 Sep
I've been having more headaches again lately. I've been taking too many meds. I don't like to take them more than 3 days in a row. I felt better by the afternoon on Tuesday.

Cody picked the baby up early Tuesday, so I had some time to practice my hoop routine. I recorded it and will maybe post it, or another one, soon. I also got up the nerve to jump in on a Facebook Hoop Game, so I'll try to post a free-style routine on there this weekend if I feel well enough.
_____

I'm going to try harder to eat better. I need to try to fix more things at home, cut back on Cokes... I need to eat for nutrition vs eating for pleasure. I need to eat healthier. I've eaten cereal bars instead of cheese crackers the last couple of days. But I need to make more things myself. I need to get back on healthier smoothies for breakfast. Just follow some healthier recipes. It's so hard for me to do that, but I need to discipline myself and try harder. Have to take better care of my nutritional needs in order to feel better and be able to continue caring for the baby.

Wed
24 Sep
I had a headache again, but I decided not to take any more meds for a while. I worry about depending on them too much. So I'm toughing this one out. It's not a major headache so far, but I'm just not feeling the best. I hope it doesn't turn into a full-fledged migraine, but I just need to lay off the meds for a while.

Thu
25 Sep
I still had a headache in the morning. I'm convinced that certain things cause me to have headaches. Over-doing things mostly; but I also believe, whether it's true or not, that if I stay indoors longer than 2 days straight, I get them. I've been home all week except for a couple quick trips here and there. But we went to DQ and Walmart with the baby and after that, I felt better. Then I went to a friend's house and played Bunco. I was a sub for them. I really enjoyed it. But I only want to sub every once in a while. I don't want to be a regular member. I don't like having that as a monthly routine.

________________

I'm still wanting to buy a bicycle. But then I worry about not using it enough. I can't keep borrowing my friend's bike when she & I ride. I'm wanting to find someone to join some sort of bike club with me, but can't get anyone to commit. There are 2 upcoming events that I know about, but I can't find anyone to go with me. It's frustrating. If I could just get my foot in the door somehow, I could meet new people and go from there. I'm just hesitant about how to go about it. I don't know how to get the support I need.

_________
Oh yeah. When we went to Walmart, I bought ingredients to make Turkey Chili. Another Denise Austin recipe. I hope it's good!

Fri
26 Sep
I went bike riding with my friend. We rode 11.51 miles. I was wore out before we finished. Whew!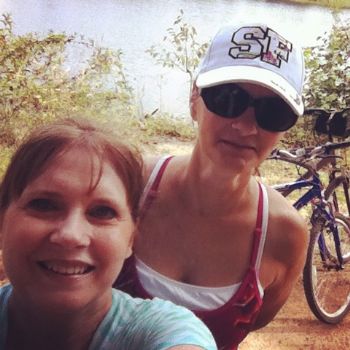 Then came home and turned around and ate lunch with Danny. Then back home for a quick shower and then we took off to Beaver's Bend State Park in Oklahoma to see the kids who had gone camping up there. They invited us to come up, so we took them up on the invite. We had a nice couple hours visit. They were just hanging out enjoying their weekend. They had the baby, of course, and he was loving it. He's going to enjoy the outdoors I believe. We made it back home around 6:30. My legs were aching from the bike ride. I had to take a couple of pain relievers while I was at the lake. I rested the rest of the evening.

Sat
27 Sep
I finally uploaded the hoop video to the private hoop group on Facebook this morning.

Later, I carried my great-niece to see "Dolphin Tale 2". I reached for my phone to put it on silent during the movie and it wasn't in my purse! Uh, Oh! I left it at home! Of all times to forget it! When I'm off alone with a 10-year-old kid. After we got out, we went to On the Border. They let me use the house phone to call and let her parents know we were fine and when we would be home. It turned out alright, but it stressed me out a little. I was afraid they would be upset or worried. They weren't worried. Thank goodness. Maybe they will let us do it again sometime.

Anyway, the movie was good, and we had a good time.

Sun
28 Sep
Quiet Sunday. Still thinking about going on the "Trick It Up" bike ride close to Dallas. Just don't know if I have the courage to go at it alone. Wishing I could get somebody to go with me.

________

I didn't even get one like on my Facebook hoop video. I must be pitiful. Oh well. I'll keep hooping. It's still fun and it's something I enjoy doing just for me. I just can't keep up with the younger hoopers.







Sunday, September 21, 2014
Mon
14 Sep 14
I invited my friend, Mary to come visit so she came over and I showed her my home and we looked at my vacation pictures. We went to Amigo Juan's for lunch. Then I drove through and ordered a KFC 10-piece meal to carry over to the family who lost their father and grandfather who had passed away the day before. Then we rode around my little home town and she took a few scenic shots. Then on home. Afterwards I just hung around the house binging on Netflix for awhile and then we carried the meal over to the family. Then that evening, Katie came over and we played out in the yard for about an hour with the hoops. We had all my hoops outside. She was trying to create a dance routine with me and her. I think she got frustrated with me. I'm not too good at reading her mind. But anyway, we had a good time. But I got hot out there with her. She's 10! And I'm not!!!

Tue
16 Sep 14
I went early and alone to the funeral home to see the man who was very special to me and so many others. I couldn't go to the funeral because of the baby so that's why I went early and while Danny could keep him. Anyway. So sad. His daughter was talking the night before about putting his fountain pen in his pocket. It was there. Also something was in his hands, but I couldn't tell what it was unless it was a flower bud maybe. (They run one of the town's flower shops). Also had one of his only grandson's drawings in the casket. Made me sad. But also bittersweet about the love this man generated. And now he's gone from us all.

Wed
17 Sep 14
Staying up late and getting up at 5:15 caught up with me today. I had to sleep when the baby slept today. So tired.

Thu
18 Sep 14
We carried the baby up town for about 30 minutes. Before we left, I was talking to him like grown ups talk to babies and I said, "You want to go to town?" Well, that was the wrong thing to say, because my dog knows what that means and so she perked up and started dancing around. So we carried the baby and the dog to town. We carried them to see the girls at the flower shop. They have a dog that goes to work with them every day and Savannah likes to play with him. We set her down and she went crazy. She greeted him a second and then she took off running all around the flower shop and into the furniture store next door that they also own in the same building. I don't know how she kept from knocking stuff over because she was running around like a wild animal, fast and excited. Then Danny took off after her trying to catch her. Whew! No harm done, though. They thought it was funny. That dog is a wild child! Such energy.

They saw the baby too, but they were so busy, they didn't really have time to mess with us. They just kept on working even while the dog was running around. They were doing flowers for a funeral and then they were going to be busy with Homecoming. This is the girl who just lost her father. An overwhelming week for them all.

Then we went across the street to the family-owned grocery store for a bit. Danny held the dog and I held the baby.

The kids stayed for a while after work and visited with us. Then Danny's ex-wife dropped by with some baby clothes to give to Aaron. They were brand new clothes that my stepson and DIL had bought for the baby they had tried to adopt; but the adoption didn't go through because the foster parents decided they wanted to adopt. So they were happy to get those. Aaron can wear those this fall and winter.

Fri
19 Sep 14
It was a pretty busy day. My friend asked me to go to Txk with her, so I left at 10:00 and we shopped and ate and just enjoyed the day. We both bought some clothes, she got her new glasses. I bought a birthday gift for our one-year-old great-niece, I bought a sound spa machine for the babyt, some formula, and another book for the baby. We didn't get home until around 4:30. We both were pretty tired by then, but it was an enjoyable day.

Sat
20 Sep 14
I worked out an hour with the hula hoop. I'm learning some more new moves. But I get frustrated because I'm getting older and my back and joints are giving me problems, so it slows me down. I can't do the tricks as well as I want, but I'm still hanging in there and still having fun with it. I'm going to bite the bullet and post a video to a group hoop site on Facebook soon. I may post it on here too. Someone gives you a song and you have to record yourself hooping to the song that person chooses. And then I hit that person back with a song of my choice. I did it backwards though. I gave a girl a song and told her to hit me back. I guess it works that way too. She still hasn't given me a song yet. She has 48 hours to record her video and post it. Same for me when she gives me a song.

I spent most of the day after that, working on a Photo Book on Shutterfly. I got a free book from there, so I decided to create one from all my favorite iPhone photos.

In between all that, we had our great-niece's birthday party to go to. So we went there for about an hour.

When we got back, I worked some more on the Photo Book. I stayed up late again just working on that. I've got to quit doing that. I can't hold up to it and keep the baby all week.

Sunday
21 Sep 14
I finished the Photo Book. The "free" book turned out costing me $14.05 after adding a special book for $4.99 plus shipping & taxes, LOL! But, oh well. It turned out nice I think and it was still much cheaper than it would have been without the "free" coupon.

I had planned on doing my nails today, and doing a little mopping. But will have to move that forward on my to-do list to tomorrow hopefully. Maybe when the baby is asleep.








1 2 3 4 5 6 7 8 9 10 11 12 13 14 15 16 17 18 19 20 21 22 23 24 25 26 27 28 29 30 31 32 33 34 35 36 37 38 39 40 41 42 43 44 45 46 Last Page

Get An Email Alert Each Time PKBOO3 Posts