| | |
| --- | --- |
| | PJH2028's Recent Blog Entries |


Sunday, March 18, 2012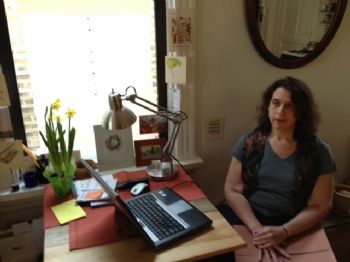 *strategy to change*
kristen, my friend here in chicago, asked me how my resolve to keep a "gratitude journal" was going. Aha. Mmhmm.

Practice Noticing BEAUTY and amplify that.
I think i will do it on line instead of on paper. The accountability and postableness being more real-ized.

I'm grateful for Kristen's friendship.
I'm grateful for Joe's garden created every day with so much buoyant sunshine energy...even if it is also about him smoking cigarettes sometimes.
I am grateful for the voice lesson and the eye heart contact from Nino last week -- grateful even Today for realizing just now that instead of taking in the care and generosity from her email yesterday I had converted it to pressure. So TODAY I here dispell that. Gone!
Thank you Nino for suggesting songs for me to listen to.
Thank you Kristen for asking me if I might ENJOY finding some smaller clothes this season (and not just complain i have to go shopping).

Yes. It's a beautiful day.
Thanks for reminding me to open the windows.
And for the lesson in the ants -- that I have to chase out AGAIN -- and again and again.






Sunday, March 18, 2012
you know the one...
the one who cried and cried at nursery school drop off
the one who hated camp due to homesickness ... all up until the last week or two and then wanted it to last longer.

f e a r f u l t i m i d f e r o c i o u s

last n ight at a friends birthday dinner i met half dozen women a tad younger than I discussing all kinds of things... up to and especially their kids. I don't have any kids. I have nothing to add. I listen captivated by the Womankind Ways... by the stories of how little souls are exactly who they are from the moment of birth. Stories of weighted clothing to calm a spacially challenged kid... other tactics for biters.... for won't-sleeper.... etc

The past couple of days I wake with "melacholy" (I've ordered "Dark Night of the Soul" from the library and will double check this vocabulary shortly). WEIGHT. Melancholy. Something.

Under a weight, not of flesh. And yet there is flesh.

I NEED TO MOVE!!!!!!!!!!!!!!!!!!!!!!!!!
I NEED TO CHANGE !!!!!!!!!!!!!!!!!!!!!!!!!!!
More than my body. More than my diet.

Break out!
Break out!
Must....................................
......................................
........... Break Out!!!!!!!!!!!!!!!!!!!!!!!!!!!!

I need help with this.
M o v e m e n t (contrary to my habit.... even as I learn it more and more)

The idea image of stored too long
The forever waiting idea image
has recurred has permeated has stained stained
macbeth like
stained



I NEED TO MOVE

I've been in the same flat for 20 years!!
20 Years!!! in a too-small, nycity sized flat ... while the neighborhood gentrified.... and while i was mostly a fat girl working at jobs i didn't identify with or care about, while i dieted and binged and therapied and exhausted exhausted WHAT ONCE WAS A PRODIGIOUS TALENT-potential -- the unpoet, the unsinger, the unproducer, the unleader uneditor un understudy undeniable

Stream of Consciousness
swirling

TORNADO TORNADO
Sweep this up p u l e a s e

I can't mope around day after day

Yes - my foot hurts
Yes - I am a size 14/16/18, depending on what body part we're looking at
Ive got a bag full of 20/22's to take to a swap meet today

I AM 53 YEARS OLD
Turning 54 in July

It's time
It's time

Time for A Change

Do I know this yet? Paula!!! Do you hear me!!????
You must forgive your self for not Seeing GOD's hand in the house you maybe should have bought last month. But you didn't. You stood in fear. You didn't hear Joe telling you he could see us there. All I was was frozen in the doorway of my own soul, unable to vision

ANY PLACE is BETTER THAN THIS is not true

"There must be someplace else that is meant for you" people keep offering this when I tell the tale.

It's a choice, right?
It's a choice how we look at our lot. At our story. At our behavior.

I need to choose differently.

It was NOT our house. The fact that I dream it wake it and choke on it still does not refute that.
It was move in ready. The rooms and spaces had my name on it. The tub. The floors. The yard. The washer dryer. I felt it in my gut and I didn't hear my self. It stirred my soul, and I didn't recognize it ... as THAT....RIGHTness.... I MISTOOK IT deaf dumb blind to abundance.... I mistook it in the habit of fear and NO and hesitation and I'll just keep what I know.

Oh P.

I could not imagine Abundance.
This is my quest.
OPEN to the next CHanges.

More movement.
More exercise.
More hygiene and beautification vanities without apology.
More love.
More enthusiasm.
More risk.
More Life.

Open up to change, P.
I beseech you.

Eat less, chew more.
Move more, breathe better, sleep, Risk, Reach, Leap for leaping sake....

What road?
Life





Tuesday, March 13, 2012
omg. i need help. or... really... i need ME.
i'm sending this to you dear friend so that i have a witness and a shared memory.

i woke up centered in my own energy ... after overeating yesterday... and, truly, eating poorly and without boundaries for over a week.
The scale is up which is only CONFIRMATION in number for HOW MY BODY FEELS.

I want to feel better.
And ... I know how to make that happen. In part at least.

water
balanced meals and a couple of snacks
exercise
contact and contributions
affirmations
sleep

Let's have a good day, I say.

xxo






Thursday, March 01, 2012
Okay. My nutritionist suggest I NOT track. And I havenn't been for a couple of weeks. But... kids.... the boundaries are not holding. Grazing has infiltrated meals/snacks and blurred it all up...
and I MISS the clarity of looking to Spark and making SURE I did okay...or if not, how far off I am.. Without that... I'm...... in my negative default risks -- valorous if ate light...self-doubting and judging my honor if I ate more. What a freak.

I'm okay. I'm not okay. That is the question.
External internal inside outside
referencing
deferencing

wandering
withering
wuthering
wondering

Am I trying to lose weight now? I said not.
Am I deliberately maintaining now? If so, I haven't calculated what that takes.

1550 is weight loss (with exercise).
So 1500-2000 is maintenance?

Maybe I should track again.
Okay. I will.
Track tomorrow through Wednesday...and see how THAT feels.

Got it? Got it.
S'Alright? Stall write.















Sunday, February 12, 2012
A long time gone. A long time coming. Must keep it new.
I woke up last night and found my way to the goblet which has been sedentary and had lost its luster, lost its meaning to me, over the past months. I even had to re-count the pebbles, the rocks, the stones (you may remember, some of you, the beach walk in 2010 that originated this visualization that has SO HELPED my inspiration and my accountability these past 2 years).
Well... the count was way off. And now it's fixed.

New stones. New count. New vision.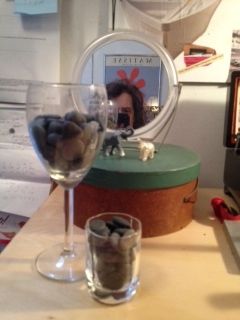 I love that these little elephants sit adjacent, trumpeting and making me smile each day when I dress.

I'm not done. And I've been exaggerating the total weight lost.
And, these past ten days, since I got the back-to-normal invite from the doc, my food has been loose and looser. Yesterday I ate past satiety at every meal. Red light. Warning Will Robinson.

So here we are. HAPPY HAPPY HAPPY to
REFRESH the IMAGES
Refresh the settings. Gather no moss.

The stones in the goblet represent current weight of 175... even though I last weighed in at 168. Hilarious or not, I wanted room to have gained.

Next time I weigh myself
** BACK TO WEEKLY WEDNESDAY WEIGH INS only * *

I will move stones to make it right.

New goal weight 135-145 (ten lb range, and see when we get there).

** BACK IN TOUCH WITH Nutritionist with terrific ED skills **

My lifelong ED is tremendously interwoven and related to my history of couching my power in invisible places. Aversions and avoidances. Part feminist issue, part ED issue, part Just-Me issues. I wrote about the smaller body causing a sense of "fragility". Oehme suggested that the smaller frame is actually MORE powerful. I didn't expect this comment, and I'm sitting with that. Letting that come in to focus.

2012 Goals --
Water
Movement 1hr/day or more (add walks and yoga and non-burn activities, too)
Calorie target 1540 for wt loss therefore 1250-1700/day guidelines
Weigh in on Wednesdays only
Make LIFE my focus -- even the ways that that is challenging (*more on this soon)

Moyers is on TV again.
The relentless US election circus parade blares (must find a way to relate to it)
My shopping ocd is still real - even so the IT upgrades and house search is on the agenda

Keep
It
Simple
Sewing (not stupid)

One Day At A Time

YES. Onward & Downward!
Land Ho!!!!!






First Page
1
2
3
4
5
6
7
8
9
10 11 12 13 14 15 16 17 18 19 20 21 22 23 24 25 26 27 28 29 Last Page

Get An Email Alert Each Time PJH2028 Posts