| | |
| --- | --- |
| | PIXIE-LICIOUS's Recent Blog Entries |



Saturday, November 03, 2012
Today is day 248 of my streak!

My goal for this month is to be able to do ten pushups, with good form. I do pushups with my DDP Yoga workouts, but my form is really bad, and its a struggle. I want to get better at it, so I'm working on it.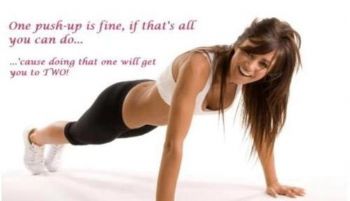 To help me build strength to reach my goal, everytime I go into the kitchen, I do wall pushups. And I've started doing upper body strength workouts with My Fitness Coach for Wii. I will be doing that three times a week. I think this is a great goal, and I look forward to seeing progress.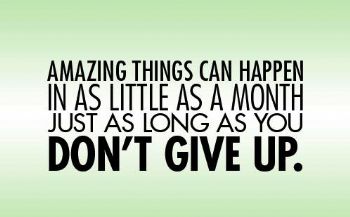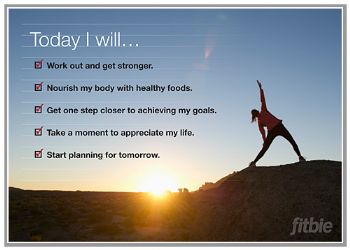 Friday, October 19, 2012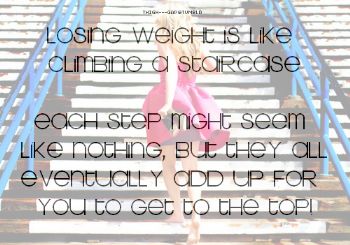 Today is day 233 of my streak!

I had planned to sleep in this morning, but the sound of thunder woke me up before dawn. I was very cozy and comfortable, so I just rolled over onto my back and lay there listening to the rain. And then I suddenly had a non-scale victory! Before I even got out of bed!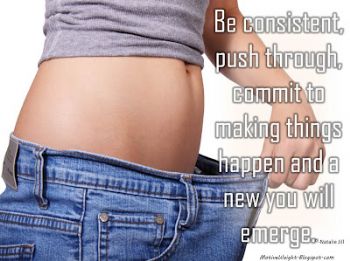 Whenever I lay on my back in bed, I fold my hands together over my stomach. Before I started my streak, when I'd put my hands on my stomach, my elbows would dangle off to the side and not reach the bed.

As I've lost weight, of course my belly has gotten smaller. One of my goals has been to be able to fold my hands together on my stomach and have my elbows actually touch the bed.

Well, this morning as I lay there listening to the rain and trying to remember if I'd shut all the windows last night, I suddenly realized..."Hey....hey...my elbows are touching the bed!"

What a great non-scale victory! Perhaps my elbows have been touching the bed for a while now, and I just didn't notice. Thats the way it is with non-scale victories sometimes....they sneak up on you! I think sometimes I get so caught up with looking in the mirror to see a change that I don't notice when other signs of progress happen. But boy when I do notice...it sure feels great!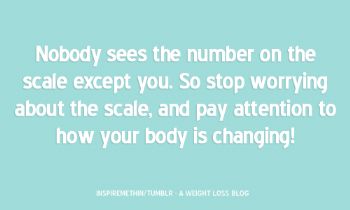 Saturday, September 29, 2012
Today is day 213 of my streak!



My streak is to eat 1200 to 1500 calories a day, and to exercise every day. (I usually get 60 to 90 minutes of exercise a day. I do at least 30 minutes of cardio, then I do DDP Yoga and a Spark workout video. Three workouts a day, spread throughout the day.)

I started my streak on March 1st, and after I got my starting weight (286 pounds) I decided to stop weighing myself. Instead of trying to just lose weight, I wanted to try to be as healthy as possible. I'm 51 now, and I have neglected my health for many years, but since I started streaking, my health has been a priority.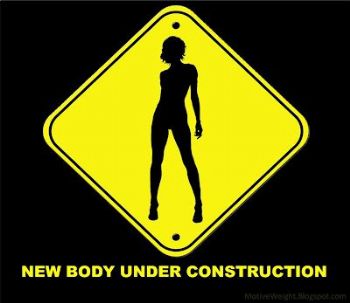 I did weigh myself on August 13 for the start of a challenge, and then again on September 3rd when the challenge ended...and I've lost 71 lbs since the start of my streak! I'm sure I've lost more since then, but since I'm not going to weigh myself again until New Years day, I have no idea how much more I might have lost.

Its so much easier for me to stay on track when I don't have to worry about the scale and how I will do on "weigh in day." Besides, non-scale victories are so much MORE rewarding for me. How can a number on a scale compare to a non-scale victory such as hubby being able to put his arms all the way around me? Or being able to wear that beautiful hoodie that I bought last year? (I wore a size 3x then, and the hoodie is a Large! It fits me now, but I can't wear it yet until I get a camisole or something to wear under it because its too low cut for me.) Non-scale victories are definitely the best!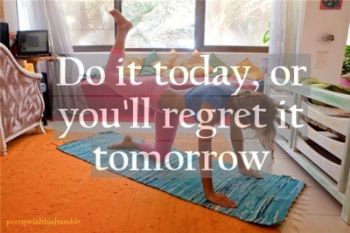 Yesterday I had a really cool NSV. I was doing my DDP Yoga workout. I do my yoga in a little corner of the bedroom, between the end of the bed and the dresser. Its not a huge space but its where I like to do yoga. It just feels like a good place, for some reason. Nice and cozy.

Well, lately I've been thinking that something is just DIFFERENT about my little yoga spot. I couldn't quite put my finger on it, but I knew something was different. Then yesterday, while I was doing yoga, I started thinking to myself "Whats different? This space seems....bigger."

And then, just as I was about to ask hubby "Hey, did you move the furniture or something"....it hit me; the space isn't bigger. I am smaller!

I actually started to laugh a bit right in the middle of my workout! Hubby said "Whats so funny?" and I said "The room didn't get bigger, I got smaller!"

He didn't know what I was talking about at first, but then when I explained it to him he said "Well of course you're getting smaller" and then he went right back to his computer! So he wasn't impressed, but I sure was!

That was such an unexpected NSV! When it comes to NSV's, I usually look for stuff like fitting into certain clothes, or having more energy, etc. I never thought about something like having more room for yoga because my body is smaller now, lol.

I try to look for NSV's every day, and that one was one of the best so far!

Have a great weekend, Sparkers....I hope you have some NSV's to celebrate too!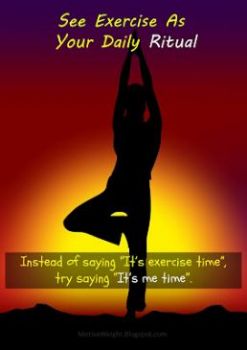 Friday, September 21, 2012
Today is day 205 of my streak!





This

used to be my way of thinking! I would go to Curves, and then on my way home I'd stop off at Highs for a "reward" for working out. Then the next day, I'd go to Curves to work off that reward....and stop off for another reward on my way home!! Yikes! I should have known...you can't out exercise bad nutrition!

But since I've been streaking, I work out at home, and I don't use FOOD as a reward for exercising, and I don't use EXERCISE as a punishment for eating. I eat to live, and I fuel my body with healthy food for my workouts. And I workout to reward my body with endorphins...not to mention better health, more strength, better flexibility, and muscles!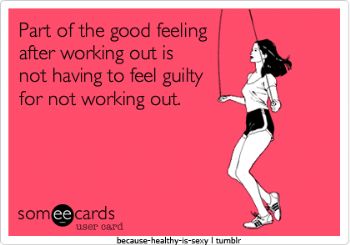 LOL...funny, and oh so true! (At least for me.)


Hubby has learned to call it "your lifestyle" instead of "your diet." He knows how mad I get when he says the D word!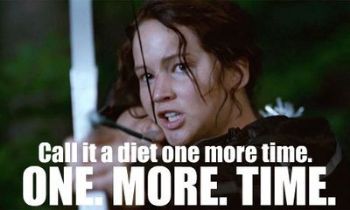 I workout every day and I love it. My workout of choice is DDP Yoga. I get such a good sweat from it, and I can tell I am building muscle. The DDP Yoga workout I'm currently doing is "Below the Belt" and its a killer on my thighs! There are lots of chair poses, and even though the chair pose might not look too challenging, it is VERY challenging for me! But I push myself through the workout, and I am seeing progress! My thighs are a lot stronger and firmer, and so are the muscles surrounding my knees. I can do squats a lot deeper now!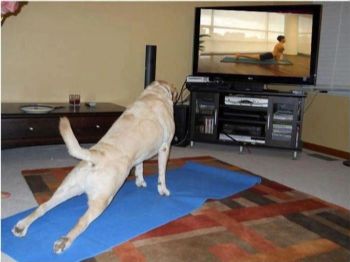 I love that picture...a dog trying to do the Up Dog pose!

By the way, thats not my dog, lol. My dog is a Pomeranian named Sierra who we rescued from the pound. She is my little workout buddy! Whenever I workout, she likes to be in the room with me, and she likes to lay at either end of my yoga mat. Lately, when I do 3 count pushups, she likes to jump up on my back, lol. She only weighs 9 pounds, but I can sure feel a difference when she's there!

Today, after my workout, I was laying down to look through a clothing catalog, and Sierra hopped up on my back...so hubby took a picture, and even though I don't have any makeup on and I'm all sweaty from working out, I decided to post it anyway!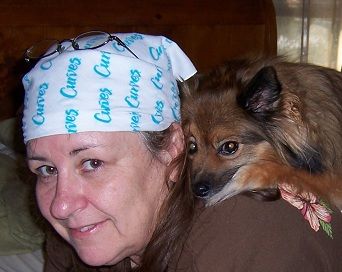 Sunday, September 16, 2012






Today is day 200 of my streak!








I am celebrating today...200 days on track with eating and exercising!

Here is the perfect song for today...and I am challenging YOU to dance along with me! If you have health and mobility issues and can't get up, then do what you can, even if its just moving your arms. And if you CAN get up, then what are you waiting for? Be grateful that you are able to move your body, and just dance, dance, dance! You might look silly, but you'll burn a few extra calories!


www.youtube.com/watch?v=3GwjfUFyY6M

My life has changed so much since I started my streak! Back then, everything hurt...all the time! I couldn't even get comfortable laying in bed, because my enormous stomach was always in the way. I couldn't lay comfortably on my stomach or even my side. And if I laid on my back, I had trouble breathing.

When I walked, I waddled and limped. I breathed hard with even the slightest exertion. I couldn't even cut my own toenails! That is VERY embarrassing to admit, but its the truth. I was so obese, I couldn't even take care of myself anymore.

But now I am so much healthier, and smaller. Sometimes I feel like an athlete! I am strong, and I know I am just going to keep getting stronger. I struggle with the 3 count pushups on my DDP Yoga workouts...but I am getting better and better! It hurts but I push through it, because I know that my struggles only strengthen me in the long run!

I am so happy for how far I've come in the past 200 days, and I'm excited to see where I will be 200 days from now. With God's help, and the support of my Spark friends, I will be at my goal weight then!

Now let's dance!




First Page
1
2
3
4
5
6
7
8
9
10
11
12
13
14
15
16
17
18
19
20
21
22
23
24
25
26
27
28
29
30
31
32
33
34 35 Last Page

Get An Email Alert Each Time PIXIE-LICIOUS Posts