| | |
| --- | --- |
| | PINKHOPE's Recent Blog Entries |



Saturday, June 23, 2012
I learned long ago that I "HAVE" to track food daily. Sometimes, I don't have access to the nutrition and fitness tracker at Sparkpeople due to being out of the house, without power or internet, or who knows where (including unexpected time in a hospital and most recently back home for a funeral in a rural area.)

Long ago I learned there was a simple solution. I buy those small memo books (about 2-1/2 x 4" in size.) Our local drug store (national chain) sells them at Back to School time 3/$1 and I stock up! These fit easily into a shirt pocket or purse.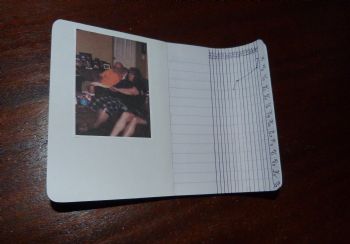 Inside the front cover I paste a print out of one of my BEFORE picture. That's just a reminder of what I DON'T want to be.

The next page I use to keep track of my current weight progress in graph form. I make each line a pound and write the weeks at the top and graph my progress. The book usually lasts about 8 -10 weeks.

The next 4 pages I use for recording the miles on my bike I ride each day.

The next 4 pages are for my walking miles.

The rest of the book (except for about 5 pages at the back) are used to scribble down what I eat . Many of the calories I know by heart now. If not I guess and put parentheses around it and check it later. I make simple tally marks for water at the top.

The last 5 pages or so of the book are for notes. Things to try, websites people mention, book titles, etc.

I've gone through a LOT of these little books. They have been the difference for me in staying on the path. I know I have to keep writing things down and when I have a WEAK moment I can whip out that little book WHEREVER I am and see my before picture, my current progress on the graph and be motivated to stay the course.

It's an inexpensive tool that has helped me. I'll continue to share the things that have helped me make progress on this journey!

Press On!






Friday, June 22, 2012
I just have to share from my personal experience today. Some "well-intentioned" individual suggested to me that all I needed to lose the rest of my weight was this "product" she was selling. Oh she had success stories to share and knew her script well but when I looked (out of politeness) at the webpage I noticed something.

It was in SMALL print. "Results dependent upon following a calorie-reduced diet and moderate exercise." No joke Sherlock! What does she think I'm doing?

Well the reason I shared this wasn't to try to deter anyone from any commercial product that they think will help them on their journey. That's not my point (thus why I didn't say WHAT it was). My point is just that it's IN THE SMALL PRINT.

HOW DO YOU LOSE WEIGHT?

1) reduce your caloric intake
2) moderate exercise

All the pills, supplements, powders, juices, piston-driven doodads etc . are NOT the main event.

What is?

EAT LESS AND EXERCISE MORE!

I've lost 76 pounds doing just that.

Enough said.

Press On!

P.S. I'm 56, post-menopausal with double knee implants and many other health issues. It takes me longer than when I was younger but it is possible.






Thursday, June 21, 2012
Most of you probably remember learning to ride a two-wheeled bicycle. When you first got your "big bike" it had training wheels and those early miles were slightly off-center riding along balanced on one side or the other. As time wore on you would begin to find your center and eventually Mom or Dad would get the screwdriver out and take off your training wheels so you could ride unaided.

Even though you had found your center with the training wheels still ON the bike, their removal took with it a "security". Mentally you had to find your center again. Perhaps Mom or Dad ran behind your bike holding onto the tote seat or the back of your shirt. Soon you regained your center and were riding without aid.

Did that mean you didn't fall down? I have many scars from skinned knees to prove otherwise. I've even fallen off the bicycle as an adult some decades after those training wheels disappeared.

There is a great lesson in this for our weight loss journey. Many thousands of people join Sparkpeople (and other weight loss sites/groups) weekly. They all come with a desire to be thin. That's NOT the same as "wanting to lose weight" because the latter implies a willingness to do what it takes to achieve the goal. VERY different things but I digress.

The training wheels on your "sparkcycle" are things like Fast Break Goals, Meal Plan Suggestions, Strength Training suggestions, your Spark Class Team, the helpful articles in the Daily Spark and Health news. Blogs written by those that have journeyed before you (like this one) give you lots of tips and encouragement. All of these things are your training wheels. You need to lean on them heavily in the early days to find your center.

Some, using these tools and applying them daily, soon find their center and the weight starts coming off. They take off the training wheels (quit tracking, stop exercising, distance themselves from their support team, skip logging into the site, etc.) and they FALL DOWN (start gaining).

What keeps the person on balance - MOMENTUM. Once up and going if they keep their momentum they won't fall unless they hit a major obstacle (big rock, hole, etc.). This is how it is with OUR journey too. Once we get that balance of nutrition, tracking, exercise, water, sleep, etc. we make forward progress AS LONG AS we steer clear of the obstacles.

Now some of us will ride RIGHT into a hole knowing full well we are going to fall (going on a cruise, buying the bag of double stuff cookies, skipping our workouts because we just don't "wanna". ) Others will turn a corner and be blindsided by an obstacle (illness, family crisis, loss of job, etc.) We WILL fall. So if we do how do we regain our balance? We have to go back to those training wheels!

To summarize:

We need to lean heavily on our training wheels (tracking, teams, exercise, meal plans, articles, blogs, etc) to find our initial balance.

We need to gain momentum to keep us from falling OFF the bike.

When we fail to steer around an obstacle we need to return to our "training wheels" to regain our balance.

We need to MAINTAIN momentum. This is my favorite saying of PRESS ON! Keep those wheels turning so you don't fall off!

Don't be too proud to strap on those training wheels to learn how to find your center. They have helped MANY people find balance and gain momentum on the journey!

Press On!






Tuesday, June 19, 2012
Status Quo is LATIN for "the present state of things" or to put it plainly - the way things were, are and will continue to be without change. I've been wearing a lot of "status quo" around my middle for years. It comes in all the largest sizes 2x 3x 4x etc. It's a state of no change... keeping things like they are (for a variety of reasons).

For most the status quo is a place of comfort. They know it. They aren't surprised by anything about it and it's just easier to do as one has done than to change anything. Now if you are reading this it means you are on Sparkpeople and chances are you are here because you desire change (better fitness, weight loss, better health, etc.)

Some of you have already battled status quo, made changes and are making progress on the journey. Others may be wondering how to make those first changes away from the "present state".

1. You need a plan or goal. Don't make it too big. Make it attainable. Perhaps a 5 or 10 pound weight loss. Maybe you want to strive for 10 minutes of cardio a day. Whatever it is, write it down with a date. I want to lose 5 pounds in 1 month. I want to be doing 10 minutes of daily exercise consistently by ___________ fill in a date.

2. Tell someone about your goal. It makes it real and you are more apt to succeed if you have gone "public" with it. Ask them to support you (be specific in what that means - if you don't want people asking you if that chicken leg is on your diet - tell them. Say to them... you can support me best by ______________.)

3. Take BABY steps. Don't try to do everything at once. Pick something JUST outside your comfort zone and try to do that with consistency. Maybe it's skipping sweets. Perhaps it is always taking the stairs. Small changes add up to sustained lifestyle changes and that's our goal.

4. When you fail - don't give up. Don't find reasons to fail - find reasons to succeed. When a child is learning to walk they fall often but it doesn't deter them from trying. Soon they learn what it takes to maintain their balance and make forward motion.

5. Trade out your E word! Take the EXCUSES out of your program and replace them with EFFORT. There will be times when things DO happen and I recognize that but in just about ANY circumstance you can do SOMETHING. Called into work a double shift? Take the stairs or park in the last spot in the lot. Stuck in an E.R. waiting room - pace the halls, do some wall push-ups. Forced to eat your Aunt Tessie's dinner - fill up on veggies and salad and control your portion size. Skip the dessert or do with one bite.

6. Reward yourself - When you DO reach that goal - give yourself a pat on the back or a non-food reward. I did a blog on this very topic of non food rewards some time back:
www.sparkpeople.com/mypage_public_jo
urnal_individual.asp?blog_id=3904241

So how about it? Are you ready to leave the STATUS QUO behind and forge ahead into new territory? You CAN do this!

Press On!






Monday, June 18, 2012
I love reading the "success stories" 50, 75, 100, 150 pounds lost. They inspire me and help me know that the goal is achievable. They sometimes even give me new ideas and helpful tips. Sometimes they even make me cry! A life restored, relationships healed, health improved... the stories are numerous.

I want to talk about the part many DON'T mention.

BAD choices - Yep, I still make them - not as often as I did. My bad choices now are actually better than they were. Instead of doughnuts, ice cream, nachos etc. they tend to be "too large" of a serving of something or choosing a chicken entree with a topping rather than plain. The "quantity and quality" of my bad choices have less of an impact now but they are still BAD choices.

EXERCISE BURNOUT - yep - it happens. That's why you must have alternative methods for getting your cardio. When you think you can't pedal another mile on the bike or walk another 10 steps on the treadmill time to mix it up! Get out a DVD, your Wii, go swimming, try a sport, or do something DIFFERENT but don't QUIT exercising. You WILL tire of things but that's when you have to be creative.

DOUBT - Oh yes! I still have doubts that I will keep losing and keep it off. That's normal too! I just have to remember that the destination is NOT optional and that perseverance pays off. It helps to keep lots of visual reminders around (my paper clip chain - see my photos), charts, post-its etc.

MIRROR DISAPPOINTMENT - So I've lost 75 pounds and I look at myself in the mirror and I think - look how FAT I still am. When one has such a large amount of weight to lose as I did no matter how far I've come I have a long way yet to go. It's easy to forget where I "was" and only see where I "am" and think my efforts are not paying off. This is why I keep some of those BEFORE pictures around and that one pair of HUGE pants so that I can have a reality check that indeed I have made huge progress.

UN-SUPPORTIVE FRIENDS/FAMILY - You know what I'm talking about! Here are some of the things they say: Oh you have lost enough let's go get pizza. -- You are only going to gain it back why bother. -- You can diet tomorrow. -- You aren't really fat just big. There are dozens more but they don't help. They are just obstacles in your path.

CHAFFING - Exercise with FAT causes thighs to rub and it HURTS!. I have learned to use lots of lotion followed by powder and wear a pant/short long enough to cover the thighs. Don't let it keep you from exercising.

TRACKING - Yep - I must still track. If I don't I always overeat... ALWAYS. It's a pain, it takes time but it works. I am sure there are people that can adequately count in their head and stay in range but I'm not one of them. That's how I got to be 300 lbs plus!

ACCOUNTABILITY - Are you truly accountable to someone/group/team? It's essential for success. You need someone that is sharing your weight loss journey with you so that you have a REASON to push to the scale each week. Without that it is easy to get into the ANNIE game (tomorrow I'll eat right/exercise/start my diet). Get a weekly weigh-in established with SOMEONE expecting it!

So why did I tell you all this? I am all about being open and honest. If I only told you the "good parts" you would feel a failure if you couldn't produce the same but if I show you that I TOO struggle DAILY to stay on this path... maybe, just maybe it will give you hope and show you that persevering through it will produce results!

Don't be afraid to fail - just make sure if/when you do that you get up and keep PRESSING ON!

See you at "Health & Fitness"



First Page
1
2
3
4
5
6
7
8
9
10
11
12
13
14
15
16
17
18
19
20
21
22
23
24
25
26
27
28
29
30
31
32
33
34
35
36
37
38
39
40
41
42
43
44
45
46
47
48
49 50 51 52 53 54 55 56 57 58 59 60 61 62 63 64 65 66 67 68 69 70 71 72 73 74 75 76 77 78 79 80 81 82 83 84 85 86 87 88 89 90 91 92 93 94 95 96 Last Page

Get An Email Alert Each Time PINKHOPE Posts