| | |
| --- | --- |
| | PINKHOPE's Recent Blog Entries |



Tuesday, June 26, 2012
I was an Olympic Class COUCH POTATO before I found Sparkpeople. I medaled in all the top events:

Remote Control Relay
Television Marathon
Sofa Cushion Diving (for the lost remote)
Lift & Stand (to get off the sofa)
Crew (Honey can you bring me the chips?)

Boy have things changed! I just came in from mowing the lawn. ME! The same person that was 330 pounds and couldn't WALK. Not only did I mow - I even drug the weedeater out and edged and trimmed. Oh the sweat is flowing. I'm rehydrating now with my tall glass of water (used to be soda). Things have CHANGED around here!

I'm not done either! I will do both elliptical and recumbent bike yet as well as pop in a DVD or Wii game. I may even get on the treadmill. I don't mind the sweat. It means my body is BURNING fat! I've learned to embrace exercise.

If you are struggling to get fitness minutes let me tell you how I began. I started by walking around the kitchen island. Sounds ridiculous huh? I could hold onto the island so that I wouldn't fall and I was never more than a few steps from a chair. Soon I was not only walking around the island but I was making a circuit through my house on the first floor. I got a recumbent bicycle (keeps the weight load off the joints which is important with bi-lateral total knee replacement). I rode for 2 minutes the first time on level 1.

The key was I kept doing this day after day. Distance, time and intensity all increased with time.

Now I can ride my bike for 45 minutes on level 3. I can stay on the elliptical for 20 minutes straight. I can WALK two miles outside non-stop. If you are a marathoner this won't be impressive but for ME - it's another OLYMPIC MEDAL EVENT!

I am trying to give you hope. If you are a couch potato like I was - set a tiny goal and do it daily - even if it's just to walk around the kitchen. Try to build on it as it gets easier. It is essential for your overall health and wellness that you MOVE your body!

Let's get our SWEAT ON!

Press On!







Monday, June 25, 2012
I've spent years at the "diet mall". I've counted calories, points, dealt cards, bought pre-packaged meals, made cabbage soup, drank grapefruit juice before meals, tried both extremes on carbs/fats. I've read dozens of books, participated in study groups, danced, walked, swam, downed gallons of water and even went to an Obesity Clinic. I would have success on just about every one of these plans. Many have had great success on all of these.

There was one basic problem (with me). I viewed all of these as a temporary deprivation to a desired end. You know what I'm talking about. I would say things like this: I can't have bread today but after my weight is off... Once I get the weight off I won't have to eat these tiny portions... When I'm thin then I can have the nachos.

Do you see the problem? I was plugging the hole in the dike with my finger which would temporarily make a difference but the minute I pulled it out or even loosened it the flow would start again.

The reason all this matters is that until you are ready to make a LIFESTYLE CHANGE you will have great difficulty achieving your goal and SUSTAINING it.

I have lost up to 80 pounds before. I put it all back on and THEN some. I do not want to return to this:




This was not even my top weight. I guess I hid from cameras at that point. Ha! I know that I will never eat like I did then. I know I will always have to step on the scale, count calories (or points), make BETTER choices and exercise. ONCE I was able to grasp the notion that this is my new life I left that "temporary deprivation for desired outcome" mentality behind.

I don't feel deprived now because what I desire is HEALTH. When I see a chocolate cake doughnut does it tempt me? Of course! BUT - now I want the health and wellness more. THIS is my new life. THIS is my new "normal".

This is me now: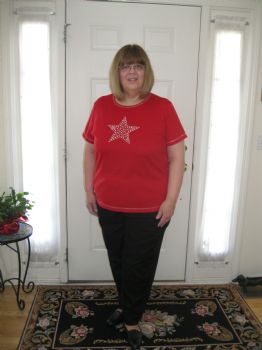 I like the "new normal".

Join me! The journey continues...











Saturday, June 23, 2012
I learned long ago that I "HAVE" to track food daily. Sometimes, I don't have access to the nutrition and fitness tracker at Sparkpeople due to being out of the house, without power or internet, or who knows where (including unexpected time in a hospital and most recently back home for a funeral in a rural area.)

Long ago I learned there was a simple solution. I buy those small memo books (about 2-1/2 x 4" in size.) Our local drug store (national chain) sells them at Back to School time 3/$1 and I stock up! These fit easily into a shirt pocket or purse.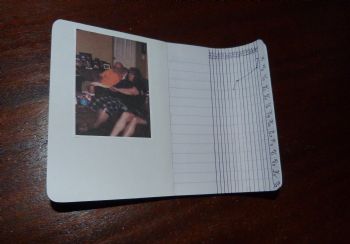 Inside the front cover I paste a print out of one of my BEFORE picture. That's just a reminder of what I DON'T want to be.

The next page I use to keep track of my current weight progress in graph form. I make each line a pound and write the weeks at the top and graph my progress. The book usually lasts about 8 -10 weeks.

The next 4 pages I use for recording the miles on my bike I ride each day.

The next 4 pages are for my walking miles.

The rest of the book (except for about 5 pages at the back) are used to scribble down what I eat . Many of the calories I know by heart now. If not I guess and put parentheses around it and check it later. I make simple tally marks for water at the top.

The last 5 pages or so of the book are for notes. Things to try, websites people mention, book titles, etc.

I've gone through a LOT of these little books. They have been the difference for me in staying on the path. I know I have to keep writing things down and when I have a WEAK moment I can whip out that little book WHEREVER I am and see my before picture, my current progress on the graph and be motivated to stay the course.

It's an inexpensive tool that has helped me. I'll continue to share the things that have helped me make progress on this journey!

Press On!






Friday, June 22, 2012
I just have to share from my personal experience today. Some "well-intentioned" individual suggested to me that all I needed to lose the rest of my weight was this "product" she was selling. Oh she had success stories to share and knew her script well but when I looked (out of politeness) at the webpage I noticed something.

It was in SMALL print. "Results dependent upon following a calorie-reduced diet and moderate exercise." No joke Sherlock! What does she think I'm doing?

Well the reason I shared this wasn't to try to deter anyone from any commercial product that they think will help them on their journey. That's not my point (thus why I didn't say WHAT it was). My point is just that it's IN THE SMALL PRINT.

HOW DO YOU LOSE WEIGHT?

1) reduce your caloric intake
2) moderate exercise

All the pills, supplements, powders, juices, piston-driven doodads etc . are NOT the main event.

What is?

EAT LESS AND EXERCISE MORE!

I've lost 76 pounds doing just that.

Enough said.

Press On!

P.S. I'm 56, post-menopausal with double knee implants and many other health issues. It takes me longer than when I was younger but it is possible.






Thursday, June 21, 2012
Most of you probably remember learning to ride a two-wheeled bicycle. When you first got your "big bike" it had training wheels and those early miles were slightly off-center riding along balanced on one side or the other. As time wore on you would begin to find your center and eventually Mom or Dad would get the screwdriver out and take off your training wheels so you could ride unaided.

Even though you had found your center with the training wheels still ON the bike, their removal took with it a "security". Mentally you had to find your center again. Perhaps Mom or Dad ran behind your bike holding onto the tote seat or the back of your shirt. Soon you regained your center and were riding without aid.

Did that mean you didn't fall down? I have many scars from skinned knees to prove otherwise. I've even fallen off the bicycle as an adult some decades after those training wheels disappeared.

There is a great lesson in this for our weight loss journey. Many thousands of people join Sparkpeople (and other weight loss sites/groups) weekly. They all come with a desire to be thin. That's NOT the same as "wanting to lose weight" because the latter implies a willingness to do what it takes to achieve the goal. VERY different things but I digress.

The training wheels on your "sparkcycle" are things like Fast Break Goals, Meal Plan Suggestions, Strength Training suggestions, your Spark Class Team, the helpful articles in the Daily Spark and Health news. Blogs written by those that have journeyed before you (like this one) give you lots of tips and encouragement. All of these things are your training wheels. You need to lean on them heavily in the early days to find your center.

Some, using these tools and applying them daily, soon find their center and the weight starts coming off. They take off the training wheels (quit tracking, stop exercising, distance themselves from their support team, skip logging into the site, etc.) and they FALL DOWN (start gaining).

What keeps the person on balance - MOMENTUM. Once up and going if they keep their momentum they won't fall unless they hit a major obstacle (big rock, hole, etc.). This is how it is with OUR journey too. Once we get that balance of nutrition, tracking, exercise, water, sleep, etc. we make forward progress AS LONG AS we steer clear of the obstacles.

Now some of us will ride RIGHT into a hole knowing full well we are going to fall (going on a cruise, buying the bag of double stuff cookies, skipping our workouts because we just don't "wanna". ) Others will turn a corner and be blindsided by an obstacle (illness, family crisis, loss of job, etc.) We WILL fall. So if we do how do we regain our balance? We have to go back to those training wheels!

To summarize:

We need to lean heavily on our training wheels (tracking, teams, exercise, meal plans, articles, blogs, etc) to find our initial balance.

We need to gain momentum to keep us from falling OFF the bike.

When we fail to steer around an obstacle we need to return to our "training wheels" to regain our balance.

We need to MAINTAIN momentum. This is my favorite saying of PRESS ON! Keep those wheels turning so you don't fall off!

Don't be too proud to strap on those training wheels to learn how to find your center. They have helped MANY people find balance and gain momentum on the journey!

Press On!



First Page
1
2
3
4
5
6
7
8
9
10
11
12
13
14
15
16
17
18
19
20
21
22
23
24
25
26
27
28
29
30
31
32
33
34
35
36
37
38
39
40
41
42
43
44
45
46
47
48 49 50 51 52 53 54 55 56 57 58 59 60 61 62 63 64 65 66 67 68 69 70 71 72 73 74 75 76 77 78 79 80 81 82 83 84 85 86 87 88 89 90 91 92 93 94 95 Last Page

Get An Email Alert Each Time PINKHOPE Posts