Thursday, March 31, 2011
Goodness, I've been at this for 2 months now!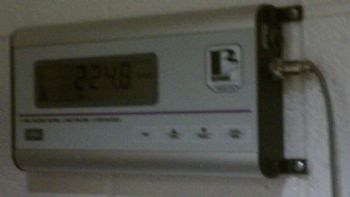 Soo.. Since Friday I lost another .5 lbs. I'm content with that. Monday's running course was the first real time I felt annoyed with running. I get a little grumpy because their idea of a warm up is stretching and jumping jacks.. then straight into running! On a treadmill I always brisk walk as a warm up. It hurts to go straight into running, but I'm trying not to be a baby about it.

We did 1.25 miles and on it turns out we were starting inclines this week. I had no idea.. but I was so grateful that I had practiced inclines at the Y last week. I had to brisk walk up the hills, but I could sure as heck jog down them. I've discovered part of my problem is boredom at this point. The longer the run, the longer it takes.. and I lose patience. I'm going to try and find a cheap arm iPod holder so I can borrow Ms. Critter's iPod. I'm hoping it makes a difference.

They did feet assessments this week. I have a mid arch with good flexibility - ( I have no idea what that means for me. ) - but wide feet. So.. I think that's good news.

We'll be moving in Friday evening, and Saturday and Sunday. I'm starting to get more and more excited. I almost landed an interview for a gift shop.. but it turns out they meant a different location then I had thought so I had to turn them down. It is a bit of a confidence boost that someone was interested in possibly hiring me, however. :) Does anyone know of any place that hires weekend employees?