| | |
| --- | --- |
| | PHDMAMA06's Recent Blog Entries |


Thursday, February 10, 2011
*** Faith, trust, and pixie dust ***

Today was another rollercoaster of a day, food-wise. Clearly, I'm still struggling more than I'd like to with emotional eating and unstable food consumption patterns. I feel embarrassed and ashamed about it sometimes...like why can't I just get it together and eat like a "normal" process. I hate that food is so complicated...it's not like I can just give it up completely. Everyone's got to eat. But eating certain things or being in certain situations for me just becomes such a slippery slope into making poor decisions and/or overeating. It's an ongoing battle, for sure, one that I'll probably always be fighting to some degree. Eating is something I feel like I have to work at, strange as it sounds...both in seeking that emotional/spiritual guidance I need to fight some of these demons and constantly reaching for other outlets and other ways to process my emotions and deal with my stress. It's a constant work in progress. There are times when I reach for perfection, that mythical time when I'll track every calorie, hit every goal, and have it feel effortless, and there is even the occasional day when it does happen like that...but honestly, perfection isn't realistic. It's not me. It's not anyone. We all have our crosses to bear, those things which burden us more than they burden the average person, and this is one of mine. It's just one day at a time, doing the best I can, celebrating the victories, accepting the support and help of my friends, family, and those around me, and not hating myself for my moments of weakness.

Drink my water, 64+ ounces: DONE (59 days running)!

Eat five servings of fruits and veggies: DONE (37 days running)!

Eat mindfully all day and night: I give myself a C- today. During the day, I made generally good decisions, but it was the evening that threw me over the top. We were having a small dinner party, for which I made baked taquitos, tortilla soup, and Mexican chocolate cupcakes, and with some chips and salsa on the side. I could have been fine with just a serving of taquitos and soup, but we ate and talked, ate and talked, and I added to that a bunch of chips (as in I lost count) and a couple of cupcakes. It is so easy to fall into eating and eating and eating in those situations and just completely lose track! On the upside, all of the food came out great. The cupcakes were extremely satisfying. The cinnamon and chili powder blended with the chocolate nicely to create a brilliant flavor that left a satisfying, lingering warmth in your mouth. Kind of like you feel after drinking a mug of rich hot chocolate. So...yeah, I'd definitely make those for a potluck party!

Running: Night off. Still feeling strong after yesterday's long run.

Cross Training: Took a rest day.

On my way to DISNEY WORLD! 162.34 miles complete, 1127.66 to go (1290 total)

Strength Training: Our dinner kept me pretty busy all evening, but I still grabbed twenty minutes afterwards to eke out twenty minutes of lower body strength training. It actually felt good to stretch out and move my legs around a bit after eating way too much.

Clearly...I need a plan for my eating because I've managed to hit a pretty big low over the last few weeks. What's up with that? I get into a good rhythm with tracking my food, making great choices, and feeling proud of myself and then I hit a speed bump, like a vacation or something, and everything goes to h***, and then it takes this gargantuan effort and often a few false starts to get myself back into a groove. I feel soooo frustrated and disgusted with myself! Why can't this be easier? Whywhywhy???

On a positive note, I did a tiny bit of shopping today on Skirt Sports. I was in need of a plain black running skirt, and during work, a coupon from them landed in my inbox. If I spent a certain amount of money - right around the price of the skirt I had been eyeing - you got a FREE skirt! How could I say no?! So I got my skirt and scored a free one. Nothing like a great deal to make a boring, doldrum-y Monday just a little brighter!




Sunday, February 06, 2011
*** Faith, trust, and pixie dust ***

It's been an up and down kind of Sunday! Very quiet morning, lots of relaxing at home and watching videos...that Shaun the Sheep is a funny guy! Then, off to the gym for a 10k run, which went great and I enjoyed The Blind Side while I ran. Then we did our taxes, and that was a major DOWN as we found out we owe the government over $2K. Holy shocker, given that we got a friggin' REFUND last year! Blechhhhhhh! We were both pretty grumpy when we saw that number on the screen, and initially swore it was a mistake...until we slowly came to realize that it wasn't. It had to do with how Bruce's shop calculated/withheld his taxes during the year. Apparently it wasn't very much and now it's time for us to pay up. Oh well. That news still put a damper on our afternoon.

But we set that worry aside, and headed out to get Culver's for dinner only to discover that they had closed due to the Super Bowl. Whaaaaaaaaaaaat? We thought it was a joke when we saw the sign outside saying "CLOSED GO PACKERS." Bruce and I, being about as far from football fans as can be, grumbled about this unexpected turn of events a bit and then started racking our brains for alternative dinner out options. We ended up at Buffalo Wild Wings, where we ate our dinner and watched the first half of the big game with dozens of rowdy Packers fans. We missed the halftime show which, by many accounts, was a complete train wreck and not worth watching. Anyway, a corner booth in Buffalo's during the Super Bowl was not quite how we had imagined our Sunday evening, but not a bad way to spend it, I suppose! It was kind of fun having the local team be in the big game. Even if you're not really a football fan, there's something invigorating about the energy of the fans all around you...at the store, at work, at the gym, in restaurants, around town, etc. It's kind of exciting, really! The last brush we had with this kind of energy was several years ago, when Tampa Bay won Super Bowl XXXVII. We attended a Super Bowl party at a friend's house, and as we drove home after the game, we were literally dodging fireworks from enthusiastic fans. A wayward firecracker even hit our car!! Thankfully, we didn't meet quite that level of insanity tonight, although some of the Packers fans in the restaurant were loud enough to drown out Timmy drumming on the table with his silverware!

And to wrap up, once we got home, I threw together the Mexican chocolate cupcakes and tortilla soup for tomorrow night's little dinner party. Soooo much food today, a bit of a naughty day, I'd say, but not completely over the top like a few days last week were.

Drink my water, 64+ ounces: DONE (58 days running)!

Eat five servings of fruits and veggies: DONE (36 days running)!

Eat mindfully all day and night: I give myself a C today. I knew that we'd be having a heavy dinner (I originally thought Culver's) today so ate very light food during most of the day. Dinner ended up being pretty heavy, a burger and fries at Buffalo's. Very heavy on the fat and calories, but wow, do they make a tasty hamburger! And after that, there was baking, which is always dangerous, but after I sampled the frosting a bit and ate one cupcake, I dutifully put the rest away for tomorrow. Well, only after I sprinkled them with some decorative green and yellow sugar. You see, once I iced them, they looked pretty plain, so what better way to jazz them up than to adorn them with some glorious PACKERS colors?! (I didn't have face paint, fingernail polish, or a Packers jersey, so this was my subtle way of showing my Wisconsin pride!) The cupcakes taste amazing...can't wait to have another tomorrow night. And the soup is smelling pretty awesome too as it simmers downstairs!

Running: I did 6.2 miles on the old 'mill in about 1:10...not too bad. It felt easy and comfortable. With the walking warm up/cooldown stuff, I got a grand total of 6.76 miles.

Cross Training: None today.

On my way to DISNEY WORLD! 162.00 miles complete, 1128.00 to go (1290 total)

Strength Training: Rest day!

Back to another work week. The last couple of weeks, I've had some dangerous run-ins with the coffee cart, convenience store, and cafeteria, and I want to try and avoid these in the coming weeks so I CAN reach my weight goal in time for April. Not that I have far to go, but I can't keep yo-yoing or I will never get there! I could avoid these three places altogether, although that's not always so easy to do, or I could just keep focusing on finding healthy options that I LIKE, such as citrus fruits and homemade treats, and using these to help me avoid the temptations at work. Or I can remind myself about how cruddy I generally feel after I down a bag of chocolate raisins or junk food...because in reality, I usually enjoy those foods for one whole minute before I think, "blech, why did I just eat all that?" So, let's see how this goes...

And word on the street is that the PACKERS won tonight's game! (We left Buffalo's just before the halftime show since we had to get Little T off to sleepyland.) So...yay! Lots of happy, happy Packers fans in Wisconsin tonight, I'm sure!






Sunday, February 06, 2011
*** Faith, trust, and pixie dust ***

Saturday...a much better day! Not that we really did all that much today, as we stayed near home in case I got paged for work. As it turns out, I did get a page at 12:13 am, as in just after midnight, but by the time I called in to find out what was up, they didn't need me anymore. So I didn't really have to do anything. I love the customer issues that are solved simply by responding to an email or phone call. They're my favorite. If only all of them could be that easy. Well, on second thought, perhaps if they were, I wouldn't have a job since my company wouldn't need me! Ha! So I went back to bed and got a restful night's sleep and haven't heard a peep out of my pager since. Let's keep it that way.

Tracked my food today and, even though we had lunch at Taco Bell, I covered all of my nutritional bases, like fruits and veggies, and kept well within my limits. Wahoo! I knew I still had it in me! I got the grocery shopping done and picked up some raspberries and a kiwi fruit to add a little needed variety to my fruit diet. Not that clementines aren't great, but I feel guilty if I eat them and no other kind of fruit for some reason. Also, we're having a dinner guest on Monday, and I bought supplies. We're going to have a full-on Mexican fiesta: chips and salsa, tortilla soup, baked chicken cheese taquitos, and Mexican chocolate cupcakes. Num-num! Two of the recipes (soup and cupcakes) are new but got great reviews, so I'm hopeful that they'll turn out. I'm probably going to get the soup and cupcakes ready tomorrow, as well as do some prepwork for the taquitos. I always love to have dinner company, but weeknights, I'm usually a bit pressed for time, so the more I do in advance, the better! I can't wait! I have slowly been getting back into cooking, at least a little. I was stuck in a rut for awhile and just fell completely out of touch with cooking, and really hated to do it, but now I've been finding some new recipes and breathing new life into my repertoire, I'm kind of liking it again. Cooking and I have a strange on again-off again relationship like that.

Drink my water, 64+ ounces: DONE (57 days running)!

Eat five servings of fruits and veggies: DONE (35 days running)!

Eat mindfully all day and night: I give myself a B+ today. My eating was definitely passable today. I tracked everything and stayed within limits, even with the Taco Bell we had for lunch. For dinner I made something we hadn't eaten in a while, barbeque beef cups, which is basically a Pillsbury biscuit baked in a muffin pan with a little meat (flavored with barbeque sauce) and topped with a bit of cheddar. We ate it with a generous helping of fresh veggies. Yummmmm!

Running: Not today, but planning on running 10k at the gym tomorrow. It will probably be a ghost town due to the Super Bowl!

Cross Training: One hour and seventeen minutes of aerobics, a combination of Denise Austin and Leslie Sansone videos. Equivalent to 5.13 miles.

On my way to DISNEY WORLD! 155.24 miles complete, 1134.76 to go (1290 total)

Strength Training: Nice batch of strength training today! I finished up my upper body and core strength training with an assortment of videos, totalling about 40 minutes.

Super Bowl tomorrow! Not that we're planning to watch, given that we don't even have TV. Well, we do have a TV, but no signal of any kind since we decided a few months ago to shut off the cable we were hardly ever watching! But as a Wisconsin resident, it's my civic duty to say GO PACK! Especially since I don't have any emotional ties to the Steelers or anything. Now if it were the Bucs, I'd feel differently, definitely. But since they're not, let's go PACKERS!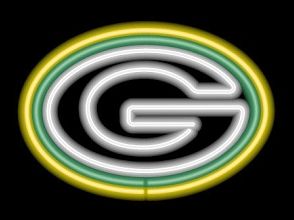 Saturday, February 05, 2011
*** Faith, trust, and pixie dust ***

TGIF! I'm on call this weekend, which dampens my usual Friday joy just a bit, but the good news is that I'm the "backup" on call person. So that means I only get called if the "primary" on call person is already busy with a call or can't be reached for some reason. I've never actually gotten called in when I've been backup, so let's hope that pattern continues! Today was a pleasantly busy day at work: not so busy that I felt like I was going crazy but busy enough that the time passed quickly enough. Bruce came by for lunch, and I had him bring the camera so I could take some photos of all the crazy snow drifts before they melted! My eating today was somewhere between so-so and abysmal, but with grocery shopping on the agenda for tonight or tomorrow, I'm ready to come up with a game plan and drag myself back on track...yet again! That's part of what this project is all about...if I have a bad day or week or whatever, it's OK to be nice to myself and not beat myself up about it, but instead just think positive and plan for making good choices! In good news, I'm really on top of my water and fruits/veggies. I've gotten all of those things done every day for over a month now. Soooo proud of that!

Drink my water, 64+ ounces: DONE (56 days running)!

Eat five servings of fruits and veggies: DONE (34 days running)!

Eat mindfully all day and night: I give myself another D- today. Work temptations...that darned coffee cart again and the convenience store, which I hit with a bad case of the mid-afternoon munchies. Oops, I did it again! And then, Bruce was having a get-together with some of his friends, which "required" him to bring all kinds of munchies, like pretzels and chips, into the house...and guess who polished off a bunch of mini candy bars, pretzels, and chips...well, the guys definitely did, but so did I...whoops.

Running: I was feeling strong, so slid in a quick 5k on the treadmill. Well, not that quick, I finished in 34:42, but not too bad.

Cross Training: In addition to the running, I also did a bunch of brisk treadmill walking, a total of 3.69 miles. Total mileage for the night...6.79. Not too shabby!

On my way to DISNEY WORLD! 150.11 miles complete, 1139.89 to go (1290 total)

Strength Training: Because I did so much work at the gym, I took the night off from strength training and planned to make it up tomorrow.

So, all in all, not a bad day, even with the icky eating. I'm planning to ease back into tracking my food again tomorrow. It really helps me stay accountable. I feel like I'm falling into "all or nothing" thinking with my tracking, and that's not so good. If I eat items that don't have nutritional info and I can't make a great guess for the tracker, I have this tendency to throw out the whole day, thinking that the numbers will be completely off...crazy right??? Perfectionism rears its ugly head, yet again!

To close, a lot of friends have been sharing their Snowpocalypse 2011 pictures, and I gave you a small dose from our home the other day, but thought you might like to see how wild it got at the office too! Check these out!

It's a bit difficult to tell, but this drift is about waist-high.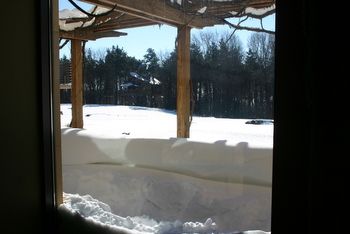 Here's another one down the hall which is taller than me!!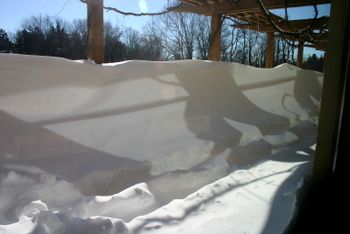 I hope nobody needs to get outside!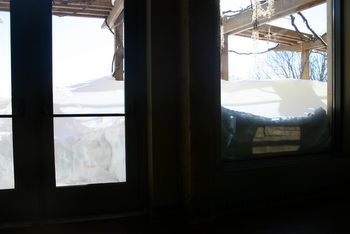 Here I am, in the snow's shadow.




We're supposed to get a bit more snow on Sunday, but only an inch or two. After the Snowpocalypse, a couple of inches is snow big deal!





Friday, February 04, 2011
*** Faith, trust, and pixie dust ***

I was back to "normal" work today, and so glad to get back into my routine, even though we only had a daylong blip due to the snowstorm. The plows actually did an amazing job of getting the roads cleaned up and back in business. The only way you would ever know there was a storm would be by the mountains of snow at the roadside and around buildings and whatnot. So thankfully, my commute was easy, as was my drive to the gym in the evening.

Drink my water, 64+ ounces: DONE (55 days running)!

Eat five servings of fruits and veggies: DONE (33 days running)!

Eat mindfully all day and night: I give myself a D- today. Back to all the temptations of the coffee cart and the cafeteria...grrrrrrrrrr! I gave in just a bit too much. Need to get some healthy/yummy groceries over the weekend to make it easier to drag myself back on track!

Running: Yep, really great 10k run on the treadmill! Did a double workout to make up for the couple of missed workouts in a row. Separate blog about it...but between the running and walking cooldown I scored 6.8 miles.

Cross Training: None tonight!

On my way to DISNEY WORLD! 143.32 miles complete, 1146.68 to go (1290 total)

Strength Training: Did twenty minutes of core work and twenty of lower body training, all Pilates-style exercises.

Looking forward to the weekend, although we don't have much planned. I'm going to be on-call for work (meh) and of course, it's Super Bowl weekend. As a Wisconsin resident, it's my civic duty to say GO PACK!! Although, as a non-football fan, I'm not that emotionally committed to the game. But go PACK all the same! And the Rock and Worship Road Show is in town, but I know that with my terrible luck, if I go over there, I'll get paged by work. So sad too...Matt Maher and The Afers and MercyMe. Siggggghhhhhh...on the plus side, Chris Tomlin is in town next month and that's a concert I might actually be able to make!



First Page
1
2
3
4
5
6
7
8
9
10
11
12 13 14 15 16 17 18 19 20 21 22 23 24 25 26 27 28 29 30 31 32 33 34 35 36 37 38 39 40 41 42 43 44 45 Last Page

Get An Email Alert Each Time PHDMAMA06 Posts