| | |
| --- | --- |
| | PHDMAMA06's Recent Blog Entries |


Wednesday, February 02, 2011
*** Faith, trust, and pixie dust ***

TGIF! I got the quieter work day I had hoped for, so I was able to catch up on old emails and to-do's that I hadn't gotten to yet. It was refreshing just to slow down a bit at the end of a very busy week. I also got to sit back and enjoy the feeling of getting through our house inspection and mortgage approval process! I have to pinch myself, it hardly feels real! There are a few little bits and pieces we have to do, like pay for our first year of homeowner's insurance, pay the bill for the well/septic inspection, and fill out a couple of more papers for the bank, but nothing much. (Did you notice how many of our remaining to-do's have words like "pay" and "bill" in them...this whole home ownership thing is getting 'spensive!)

A confession for today...I feel like I am in a short "let go" phase with my eating, where I haven't really been tracking or paying as good attention as usual to what I'm eating. This happens a lot when I have a change in my routine, like going on vacation, being on a business trip, or having hubby out of town. I have a feeling that I may be off track some this weekend, although I'm going to do my best to stick to good decisions, but we'll see how it goes!

Drink my water, 64+ ounces: DONE (50 days running)!

Eat five servings of fruits and veggies: DONE (28 days running)!

Eat mindfully all day and night: I give myself a D today. A lot of the same pitfalls as yesterday. Baked goods, sweets, baked goods. I really think it's weird how I go after that kind of food, but then I really don't feel all that good after I eat them. Sometimes they even upset my stomach, but my mind doesn't seem to care. My relationship with food can be weird that way. I feel like some of today's eating was probably emotional in nature...

Running: None today.

Cross Training: I did my old reliable WATP five mile video for 70 minutes. Nice, but not too taxing, workout. Adds 4.67 miles to my total.

On my way to DISNEY WORLD! 115.78 miles complete, 1174.22 to go (1290 total)

Strength Training: Ten minute lower body workout from a SP video.

I'm hoping for an uneventful weekend, although I'm not completely sure if I'll get one. When I put little T to bed tonight, I noticed that he was flushed and hot, and he had a bit of a fever. I gave him Motrin and hoped for the best, but I hope he's not getting sick again. He was JUST sick, like just the other week, and I hate that he's possibly other the weather AGAIN! This winter season is just terrible for so many reasons, and this is one of them! I guess I'll just have to wait and see how he's looking in the morning.




Wednesday, February 02, 2011
*** Faith, trust, and pixie dust ***

Catching up on blogs - it's been a few days! Stay tuned for my backlog of posts, starting with last Thursday's ;)

Well...it's been a long Thursday, especially for my dear husband! Today he headed to New Jersey to visit his uncle, who is at the end of a long (as in ten year) battle with cancer. He was fairly close to his uncle, even though they live over a thousand miles apart, and saw this as a chance to say goodbye. It was supposed to be a fairly straightforward trip, leaving from Milwaukee around eight in the morning and getting to Philadelpha a little afternoon, but due to the monstrous snowstorm that hit the Northeast last night, it was an over twelve hour odyssey via Atlanta, of all places! (Confession - I had to google odyssey because I completely blanked on how to spell it!) And to make matters worse, he forgot his medication, which he CANNOT go without for a whole weekend, so had to make a chain of phone calls to get a refill sent to the Target in his parents' hometown. (Thank goodness for electronic medical records and e-prescribing...makes all that sooooooo much easier! And I'm not just saying that because I work for a company that produces such software...) I got the call from him around bedtime letting me know that he finally arrived at his parents' Hopefully the remainder of his weekend will be stress-free and he can just enjoy his family's company! I feel bad that his short trip of only four days was cut over a half day short. Such is life, especially in the wintertime, I guess.

Drink my water, 64+ ounces: DONE (50 days running)!

Eat five servings of fruits and veggies: DONE (28 days running)!

Eat mindfully all day and night: I give myself a D today. I got my fruits, veggies, and waters, and ate ok-ish for some of the day, but I od'ed on baked goods from the cafeteria and coffee cart at work. I am finding that, like pizza and certain pastas *cough* mac 'n' cheese, baked goods, at least certain varieties, are my achilles' heel! One thing I could do to help myself is to make sure I take a full packed breakfast and lunch, including some better-for-me sweet treats, so I don't feel like there's anything "missing" and go to fill in the gaps at the cafeteria.

Running: None.

Cross Training: None tonight. I took a complete day of rest.

On my way to DISNEY WORLD! 111.11 miles complete, 1178.89 to go (1290 total)

Strength Training: I was scheduled today, but needed a little rest, so will make up today's session tomorrow or Saturday.

I'm so glad that the weekend is on its merry way! I had an unusually hectic day at work today, mainly because I was covering a couple of clients I don't normally work with, and they kept me hopping with lots of phone calls in the afternoon. I was on the phone for three or four hours SOLID this afternoon. Sometimes it goes that way, and it's crazy how you can never really tell when a workday is going to go like that! Maybe tomorrow will be quieter.




Thursday, January 27, 2011
*** Faith, trust, and pixie dust ***

Halfway through the work week! Starting with the usual house-related chit-chat...today we got our official closing appointment. Friday, March 4 at 4:00 pm, just one day after Timmy turns four. Talk about ending the work week with a bang, huh?! And now we're on to the task of planning out our move, getting ready for packing, all that good stuff. I'm still in a state of semi-disbelief. A few years ago, I couldn't even picture the day when Bruce and I would be ready for home ownership, and now it's almost here. It's such a grown-up, responsible-like thing to do, and here I am being all grown up, even though I don't really feel like a grown up a lot of the time!

Pixie dust-wise, it was a mediocre sort of day...not bad, but not quite great either. I was a little careless with my eating, mainly in that I indulged in mid-afternoon munchies...whoops! Still I technically stayed within my limit, and it wasn't a huge binge or anything. Better tomorrow, hopefully...

Drink my water, 64+ ounces: DONE (49 days running)!

Eat five servings of fruits and veggies: DONE (27 days running)!

Eat mindfully all day and night: I give myself a C today. The day started out great, and I ate all of the goodies I packed in my lunch box. Now, we would have been golden had I not chased it down with a 4.5 ounce bag of chocolate raisins from the office convenience store! I had a sweet craving, didn't like any of the cafeteria desserts (which probably weren't really better than the raisins, if truth be told), and didn't exercise any kind of portion control while I worked and munched, worked and munched. The bag was gone in the blink of an eye! For dinner, I had a biggish serving of those taquitos, and I was barely under my calorie limit for the day. But after dinner, I brushed my teeth and called it a night for eating...so at least I reeled it in! A day like this from time to time isn't going to really hurt me, as long as it isn't every day.

Running: 5k on the gym treadmill while watching Restaurant Impossible on the Food Network. 3.38 miles total, with cooldown.

Cross Training: None tonight.

On my way to DISNEY WORLD! 111.11 miles complete, 1178.89 to go (1290 total)

Strength Training: Did a couple of SP core strength training videos, the ten minute crunchless core workout which I love and a pilates one. Pretty good workout overall.

That's it for now. Bruce is headed for New Jersey for a few days tomorrow. His uncle is in poor health and probably won't live into the spring, so he is going out to say goodbye. His uncle was diagnosed with cancer ten years ago and, back then, wasn't expected to live more than a few months, but he shocked all of his doctors and got ten more years, against all odds. He lived to see his daughter get married and to meet his first grandchild. But his time is running out, and the family has come to peace with that. I'll be holding down the fort while he's gone, and hopefully he'll have safe, relatively stress-free travels. He's due to land not long after 8-12" gets dumped on his hometown, so that could be rather interesting...I'll be anxious to make sure that he gets out there in one piece! Meanwhile, I have plenty of work to focus on, and over the weekend I'll keep busy with Timmy and the usual household errands. Until tomorrow...





Thursday, January 27, 2011
*** Faith, trust, and pixie dust ***

Today was our big meeting at the bank. Well, technically, I was stuck at work (just couldn't get out of it...) while Bruce represented us at the bank. In any event, without beating around the bush, our loan has been APPROVED and the house buying process continues to move forward! Happy dance! There was a mountain of paperwork to sign. After the meeting, Bruce shuttled it over to the office as there were way too many pages to fax...it might have taken longer than the amount of time he spent driving! My hand was TIRED after signing page after page after page of loan documentation. Does that count as a workout?? By the end of the day, we had an approval letter, as well as documents explaining our closing costs, monthly payments, interest rate, and all those persnickety little details. Our awesome new loan officer will deliver the financial commitment letter (I think that's what it's called?) to the sellers, and now pretty much all that is left to do is await the closing date. Little T is getting a new house for his birthday!!

Normally we would celebrate such a momentous occasion with a dinner out, but in honor of trying to live a healthier and more frugal lifestyle, I found a recipe for baked chicken taquitos to cook up at home. (Hey, had we eaten out, it might have been at our favorite Mexican restaurant!) I lightened up the recipe by using lowfat cheese and light tortillas, and I'll have to say that it came out AWESOME! They were so crispy it was almost as if they had been fried. Anyway, here's the lowdown on my day...other than the obligatory house talk...

Drink my water, 64+ ounces: DONE (48 days running)!

Eat five servings of fruits and veggies: DONE (26 days running)!

Eat mindfully all day and night: I give myself an A- today. Mostly, today was very successful. I had an amazing and healthy lunch at the cafeteria: sliced roasted turkey breast with mole sauce and roasted potatoes. Yumyumyum...those cooks sure do know how to whip up a good, spicy mole! At dinner, I was able to have a pretty generous portion of taquitos, although not too generous. The tortillas were the main thing upping the calorie content. Sooooo yummy and filling, and Bruce was raving about them too. We'll be making these again for sure!

Running: Not tonight!

Cross Training: Walking at the gym, total of 4.30 miles. I walked briskly for an hour, and got 4.01 miles in that time, with a little hill action, and then slowed down for a nice cooldown at the end. While I walked, I watched this show on Food Network about Beverly Hills chefs who have to coordinate and cook for all these crazy parties...like this "pink lady" who wanted ALL pink food (but didn't want the chefs to use food coloring) and a raw food party (where they were trying to figure out how to make raw nachos). Those chefs were cracking me up! Definitely made the hour fly by!

On my way to DISNEY WORLD! 107.73 miles complete, 1182.27 to go (1290 total)

Strength Training: Did a couple of SP videos for lower body, total of about fifteen minutes.

I haven't posted any pictures of the new house yet for fear of jinxing myself (didn't want to get too emotionally committed before we had at least the inspection and loan in hand, you know?) but now I'll share a couple of teasers. Can you see why I'm so excited about this place???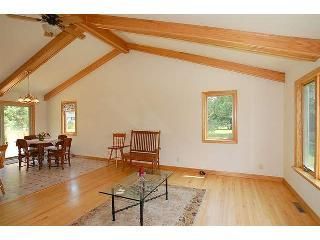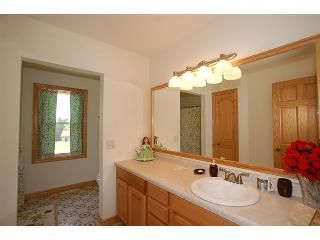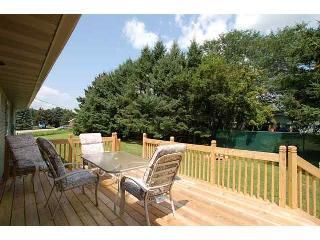 Tuesday, January 25, 2011
*** Faith, trust, and pixie dust ***

Well...after twenty-four hours (or more?) of waiting in anticipation, no major news on the home loan front. Other than we're firing our loan officer. He's been sitting on our application materials for a couple of weeks, hasn't done much with them, and isn't available to meet with us to discuss our loan for several more days. UGH! We just want to know, you know? If there are any problems, we want as much time as we can get to sort them all out. So, again I say UGH! The good news though: Bruce got on the phone with our buyer's agent, and she connected us with a new loan officer at a different bank. Bruce was able to talk to him for a while before the close of the business day, and has a meeting set up tomorrow at one thirty to go over the paperwork. Hopefully this time tomorrow we'll have an answer, or at the very least, we should have an idea of when we'll get an answer. Dontcha just hate the waiting game?

Meanwhile, I had a generally good day. I ate well, and managed to recover a bit from my weekend food funk. And I got an awesome workout at the gym after dinner. So all good stuff!

Drink my water, 64+ ounces: DONE (47 days running)!

Eat five servings of fruits and veggies: DONE (25 days running)!

Eat mindfully all day and night: I give myself a B+ today. I really stayed on track at work today, and stuck to the goodies I had stashed in my lunch box. It did help that I didn't really have cause to visit the cafeteria today...no dessert temptations! I had a Jello mousse thing for dessert...I know those things aren't the best for you, but they're great when I have a little sweet craving. This kind tasted a bit like thin brownie batter - tasty! For dinner, we cleaned out some leftovers, and I had a bit of pizza and mac 'n' cheese, but in reasonable quantities. So, all in all, a pretty good day!

Running: Did a 5k run at the gym to accommodate a shift in my training schedule (just for the week). See CMHM blog for details!

Cross Training: I added on some extra walking too, to bring my total to 6.56 miles for the evening. Not bad for a trip to the gym! I feel like the workouts with extra walking are good for my half training because, even though they're not all running full out, they get me used to being on my feet and moving for longer periods of time. And with tonight's workout, I crossed the hundred mile mark with my virtual trip to WDW! YAY!

On my way to DISNEY WORLD! 103.43 miles complete, 1186.57 to go (1290 total)

Strength Training: Twenty minutes of lower body training using SparkPeople boot camp videos.

That's my Monday. It has been a busy, crazy day. Lots of drama at work - which I didn't mention above - that kept my head spinning for a good part of the afternoon, and the awkwardness of changing loan officers. Accccccck! Hopefully tomorrow will only be better, especially once we get through our afternoon bank meeting. I'm keeping my fingers crossed that I'll have a great update tomorrow afternoon!



First Page
1
2
3
4
5
6
7
8
9
10
11
12
13
14 15 16 17 18 19 20 21 22 23 24 25 26 27 28 29 30 31 32 33 34 35 36 37 38 39 40 41 42 43 44 45 Last Page

Get An Email Alert Each Time PHDMAMA06 Posts