| | |
| --- | --- |
| | PHDMAMA06's Recent Blog Entries |


Friday, December 31, 2010
All you need is faith, trust, and a little pixie dust!

Well, our guests hit the road back to Tennessee this morning, and although I truly enjoyed their company, I am ready to get back into my usual routines (but hopefully they will be back one day soon!!) Our fridge is jammed full of leftovers from our eating out, not to mention plenty of other stuff. Looks like we're going to have a few hunt-and-gather dinners to get our stockpiles depleted before I start cooking anything new. And thankfully, my baked goods stash has dwindled a lot too. I do have pumpkin bottom cupcakes left, but the remaining ones are in the freezer, so there's no immediate rush, and they're sort of out of sight, out of mind most of the time. No more baking this year (nevermind that next year, when all bets are off, is two days away...) and next time I grocery shop, lots of fruits, veggies, and healthier snacks that I will actually WANT to eat. That's the key, getting healthy foods I WANT, that actually look yummy to me when I open my lunchbox. Tomorrow is the last day of 2010...oh me, oh my...and I'm feeling the usual rush of emotions about closing out the year and starting a new one. I'm so proud of what I've accomplished this year, at work, in my parenting, running my first half and joining the ranks of the Half Fanatics, and many other things! What's to come in 2011? How crazy is it that next year is more or less a blank slate, and I can, to a large degree, mold it and shape it to make it what I want it to be...kinda cool!

Drink my water, 64+ ounces: DONE (23 days running)! Still kicking butt!

Eat five servings of fruits and veggies: NOT TODAY! Seriously, Christina, time to get back on the wagon now.

Eat mindfully all day and night: I give myself a D- today. Maybe not quite an F but I was still pretty careless. I was bored at work and grazed WAY TOO MUCH, and I didn't track my food. I did eat fairly light in the evening, and made a pot of quick vegetarian chili which was PERFECT for this kind fo weather...but still, much room for improvement.

Running: Still on hiatus, but not for much longer! First run of the new training program is five days away!

Cross Training: I started my five mile walk video where I left off last night, and did two more miles. Then I wanted more and added another mile, then another, then a fifth. So I basically ended up doing the whole video, just out of order.

Strength Training: Two SP bootcamp workouts. I did the day six upper body workout then realized that it was supposed to be day five lower body training, so I went back and did the day five one too.

So that's that. Tomorrow I am working, as I've used up all of my flexible holiday options (and it's not a company-wide holiday) and I don't want to burn a vaca day. Bruce will stay home with Timmy, and we'll probably go to lunch somewhere as a family. Probably McD's, since Timmy has been begging to go there for a while, and we've been making efforts to do a lot less fast food lately. I don't love McD's there but I am pretty familiar with what options to pick there which aren't completely horrendous for you, luckily. Not that it's much better than "completely horrendous," but hey...at least once we have our lunch there to make T happy, we should be able to avoid it for at least a couple of more months...






Friday, December 31, 2010
All you need is faith, trust, and a little pixie dust!

Today was our final day with the visitors. Bruce brought them to visit me at work for lunch, and it was kind of fun showing off the campus to our guests. They were ooohing and aahing over my company's creativity and how "cool" the buildings were, so yeah, that gave me a little boost of pride! Much as I don't always have the easiest time with my job, I basically like my employer and the kind of work I do. And I do appreciate how our company is just a little offbeat, kind of like me ;) After a long workday, we went out to eat at The Great Dane, where it's probably even harder to be "good" than it is at Buffalo Wild Wings. Let's just say we had to treat our friends to the local delicacy of fried cheese curds, and it was all downhill from there. *BURP*

Drink my water, 64+ ounces: DONE (22 days running)! I'm still getting my water in...getting SO much better at this! One of my latest strategies is to have a bottle of zero calorie Life Water, which tastes soooo good, and then refill with plain water as the day goes on. That usually works out pretty well.

Eat five servings of fruits and veggies: NOT TODAY!

Eat mindfully all day and night: I give myself an F today. I rationalized a lot of less-than-stellar choices "because we had visitors." Like that's a great excuse, right? I haven't been tracking for the last few days, and I don't think the lack of accountability (at least to the tracker) is really doing me any favors. I need to get back to it ASAP.

Running: Still on hiatus. Today during a slower part of my day, I looked at the training plan I had picked out and dropped it into a spreadsheet so my schedule is all official. Yes, I am a nerd who must organize her workouts into an Excel spreadsheet.




Laugh if you must. But since I don't use a running watch of any kind and can't keep meticulous track of my pacing, mileage, splits, whatever, I have to let the Type A fascets of my personality relish in some kind of persnickety, highly detail-oriented running-related numbers-crunching. So there you have it. A training plan is born. While I was at it, I shopped marathon training programs just for funsies. It's a year and some change away now, so it's not too soon to be at least thinking about it, maybe a little. I know that Hal Higdon's program is 18 weeks, and Jeff Galloway's I think are in the 20-30 week range, depending on which one you do, so it's very realistic to say I'll be starting officially in mid to late summer. I am terrified, but I can't remember being so excited about something in a very, VERY long time!

Cross Training: I started my old standby five mile aerobic walking video, although only got through three miles of it before I got sidetracked, and ended up going to bed after that. Not so bad, though, because I still got 38 minutes of pretty vigorous exercising. I'm kind of missing the gym a little, but with everything that's been going on this week, it's been harder to get over there. However, I've already warned the fam that I'm going to be over there more next week as my official training begins!

Strength Training: Another quick and dirty SP bootcamp video, this time seven minutes of core work. It's the day four one with all the standing exercises that really didn't seem too challenging to begin with and, quite honestly, still doesn't feel too challenging, except for doing planks at the end. Maybe I need to swap this one out with something else. A lot of my friends swear by this strength training book that Women's Health published recently. Maybe I need to buck up and buy the thing. I have looked at it in B&N and it looks awesome, but I just haven't had the heart to shell out the $$$. Same as I eyeballed some kettleballs in Target but didn't yet want to drop the $29.99. It's crazy how easily I will drop money for some things but not others.

Just about time to say goodbye to 2010, and I'm about ready to move on. There have been a lot of high points this year, unlike 2009, which was pretty rough, but having a new year and kind of a clean slate is never a bad thing. While I have a LOT of anxieties about 2011, like the health of certain family members, Bruce's job situation (which is currently in flux, causing us some distress), the home-buying process, and big projects at work, among other things, there are also many things to look forward to. I'll just do what I can to take care of myself, anxiety-wise, and hope for a good year!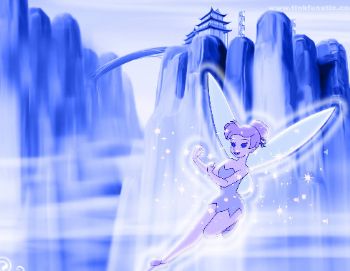 Friday, December 31, 2010
All you need is faith, trust, and a little pixie dust!

Today was our second day of having visitors, and my eating habits completely went caput...and I can't fully blame having visitors. At work, I pretty much ignored the food in my lunchbox and ate junk food from the cafeteria and convenience store. The two factors that contributed to this slip-up was A - not having very appealing foods in my lunchbox (note to self: need to go grocery shopping) and B - boredom (quiet week at work). Really, neither excuse I had for overeating/making poor choices was valid. And once the day was "shot" I did let things slip by eating way too much dinner (Papa John's) and dessert. I didn't even track my food...ugh...it was one of those kind of days. I can definitely still see that I'm very vulnerable to emotional eating, as in making an initial bad choice and then getting discouraged/depressed and figuring "why should I try since the day is already ruined?" I know, I know...just another lovely facet of my emotional eating issues. And something tells me that I'm not going to fare much better as the week goes on, but that remains to be seen.

Drink my water, 64+ ounces: DONE (21 days running)! This I DID do, and now I'm on to 21 days. Don't "they" say it takes 21 days to form a habit? Well I made it!

Eat five servings of fruits and veggies: NOT TODAY! You don't even want to know how bad it was...

Eat mindfully all day and night: I give myself an F today. I flunked out of healthy eating school today...I really can't say much positive about my choices, except that I'm aware that I had a VERY off day and I need to reel it in.

Running: Still on hiatus. I'm looking forward to my (gentle) start to half training next week!

Cross Training: Once everyone was settled in for the night, I did a marathon aerobics session - five miles of Leslie Sansone and thirty minutes of Denise Austin. I don't usually exercise this much but somehow I think it was at least partially guilt-induced. It did feel good to invest the time in working out though. Even though I haven't been running, I feel like I've managed to maintain a decent fitness base, so I'll be ready to keep on going with my training in the new year.

Strength Training: Just a quick workout, a Spark People bootcamp video for upper body with my big five pound weights.

I think I finished up the day feeling frustrated that I can't seem to get a solid handle on my emotional eating. It's dawning on me that my EE is probably at least partly to blame for why I haven't succeeded long term at any "diet" plan. Improving my eating habits is worthwhile, for sure, but at the same time, I really need to couple it up with building healthy emotional outlets, or the eating habits just aren't going to stick. Being on SparkPeople and reflecting on my journey has truly helped me realize that a healthy lifestyle is multi-faceted. You can calorie-count and portion control all you want, but your chances for long-term success are limited if you don't make sure you're nurturing your fitness and health as a whole: physical, emotional, and spiritual. Perhaps all this time, I haven't been taking as good care of my emotional health as I need to be, and this is why I still find myself struggling so much with the food stuff...just something I've been thinking about, and something which I will continue to ponder into the new year.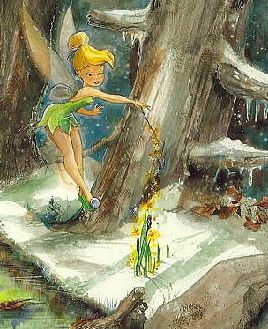 Wednesday, December 29, 2010
All you need is faith, trust, and a little pixie dust!

After having kind of a down day (at least morning), yesterday, I was feeling a good bit better today. It was quite a busy work day - I'm actually covering five clients this week (when I normally cover two) to help out co-workers who are out of the office...and today I had to deal with pressing issues from two of them right at the same time! Perhaps it will be a quieter day tomorrow. Normally this place is a ghost town in the days immediately before and after Christmas. Being busy is not so bad though, and it definitely makes the time fly by!

We also had some of Bruce's friends come in from Tennessee tonight, and they're staying through Thursday. They are a young married couple, expecting their first child. It brought back so many memories talking to the mom-to-be about pregnancy, morning sickness, cravings, delivery, having a newborn, all that good stuff. I did have some fleeting moments of baby fever when I saw her and chatted with her, but even so, I still feel 100% secure in Bruce's and my decision to be "one and done." I'm definitely not opposed to the idea of T having siblings, but being a family of three just feels right to both of us, and there are many things we'd like to accomplish which will be a good bit easier on us (and Timmy!) without bringing a baby into the picture. And there's always room for re-evaluation as our lives march on, much as I seriously doubt we'll be changing our minds...

Eating wasn't so careful today. I got home without a dinner plan (ALWAYS a dangerous, dangerous thing!) and we ended up conjuring up a restaurant choice - Buffalo Wild Wings - at the last minute. It was quite a cold journey, being that it was 11 degrees and fairly windy, and the restaurant was fairly crowded. But the food was good, although definitely naughty. Throughout the rest of the day, I generally made OK-ish decisions, though, so it wasn't a dead loss.

Drink my water, 64+ ounces: DONE (20 days running)!

Eat five servings of fruits and veggies: NOT TODAY! I was just a wee bit short with 4 1/2 servings. Just couldn't get to that last little bit to make it to five.

Eat mindfully all day and night: I give myself a C+ today. My general eating habits today were acceptable, and dinner at BWW is definitely difficult (for healthy eating) at best. I went for chicken tenders which isn't quite as naughty as a hamburger, but I still went over my calorie limit by about 250 today, and there were items on the menu which would have been at least a little better, like naked chicken tenders, which are grilled instead of fried. But after I ate the big dinner, I cut myself off from eating for the rest of the evening, as it would have been sooooo easy to sneak in a dessert...or two...or three...after that.

Running: Still on hiatus. This week I'll be putting the final touches on my training plan so I'll be good and ready to go on January 3.

Cross Training: Back on the wagon today! After dinner and putting Timmy to bed, I got out a five mile Leslie Sansone video and cranked it out! Boo-yah!

Strength Training: I did two workouts today, the core strength training I would have done on Saturday, as well as today's scheduled lower body training. So I'm right back on track there.

And that's my Monday! I'm (hopefully) expecting a quiet work day tomorrow, so I can catch up on some housekeeping and minor tasks I've been putting off for a while...like a certification project I need to work on, and some ongoing education type stuff. And I'm also hoping it won't be so durn cold out! Winter, go away already!!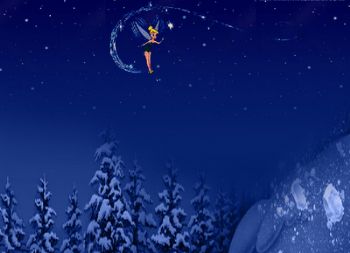 Wednesday, December 29, 2010
Today was a very strange day, indeed. After the joy of Christmas Day, I woke up feeling depressed and thoroughly...melancholy. I don't know if it was kind of the post-holiday letdown or the thought of going back to work, or if it was just that I had too much time on my hands to dwell on things, but for most of the morning and early afternoon, I just felt dull and listless, almost like I was being attacked by a gang of these guys: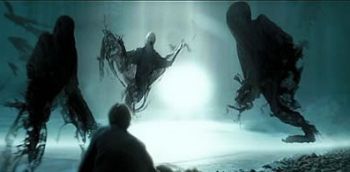 If you're a Harry Potter fan like me, you know that these are dementors...they make you feel cold and distant, as if all the happiness has gone from the world. I know drama, drama, right?! In many ways, 2010 has been an awesome year, but in others, it has been emotionally trying. The worst of it has been all the bad news we've received about the health of family members and friends. We weathered one death in 2010, my aunt who suffered a heart attack over Thanksgiving weekend, and I fear that we'll see more in 2011. Bruce's uncle, who had one bout with cancer several years ago, has seen it return in a more violent, intense form, and his doctor believes that he only has a few months left. My aunt recently found out that she has breast cancer, and one of our close family friends was diagnosed with leukemia, as well as several other painful ailments. I pray for these people every day, and hope they will find peace, in whatever form it takes. Meanwhile, we try to come to terms with the fact that our family is aging, and that we will see these things happen in the grand scheme of things.

I did have the opportunity to take an afternoon nap, something I seldom do. I was on our upstairs couch reading a book and was so cozy and comfortable that I drifted off for an hour or two. Bruce was kind enough to engage Timmy for a while so I could sleep, and I think it's just what I needed to clear my head and regain perspective. I got up, switched gears, and spent the evening with the family and getting ready for the work day.

Drink my water, 64+ ounces: DONE (19 days running)!

Eat five servings of fruits and veggies: DONE (1 day running)!

Eat mindfully all day and night: I give myself an A- I really had a pretty good day, the only thing being that I never got around to eating breakfast. We had grocery shopping, and I was feeling pretty moody and didn't have an appetite (imagine that), so it wasn't until lunch that I really got food into my belly. We ate at Cracker Barrel, figuring that a change in scenery would do us good, and I stuck to grilled chicken, and handed my second biscuit over to Bruce so I'd only eat one. (Silly Cracker Barrel, they discontinued the sourdough rolls I used to love!) The restaurant was pleasant, although the Cracker Barrel store was jam packed. I really don't like the CB stores...they are always so awkward and cluttered, and it's hard to move through them without bumping into people or racks of knick knacks and books on tape. For dinner, I kept it pretty light and loaded up on veggies!

Running: Still on hiatus.

Cross Training: None today, although I was pretty active, nonetheless. We're having houseguests from tomorrow to Thursday, so I spent the day decluttering and cleaning up the apartment so it would look nice and presentable for them!

Strength Training: None today. Back to it tomorrow.

In spite of my morning depression, I'm glad I was able to take the day back and make it a productive one. I'm hoping for many good things in 2011, and plan to do everything I can to make it a productive, fulfilling year.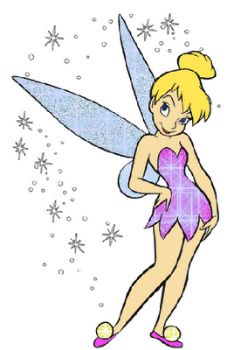 First Page
1
2
3
4
5
6
7
8
9
10
11
12
13
14
15
16
17
18
19
20
21
22 23 24 25 26 27 28 29 30 31 32 33 34 35 36 37 38 39 40 41 42 43 44 45 Last Page

Get An Email Alert Each Time PHDMAMA06 Posts