| | |
| --- | --- |
| | PHANTY1's Recent Blog Entries |


Tuesday, December 02, 2014
For those of you confused about whether a low-carb diet is good for you, I would offer insights. In October of last year, my blood sugar as measured by the A1C test was too high. It was at the 'pre-diabetic' stage (5.8). I immediately freaked out as diabetes runs in my family. I had to do something although I had been slowly losing weight on SP since '10. But, I would yo-yo up and down, and honestly wasn't taking it very seriously.

Since last year, I have lost 10#. How? I eat a wheat-, gluten- and carb- FREE (or low) diet. To get started, I read three books: The Glycemic Load Diet; South Beach Diet; and Dr. Gundry's Diet Evolution. Each of them debunk the myth from the 80's and 90's that a high-carb, low fat diet is the way to lose weight. In fact, these books tell us that it is precisely this diet that has made Americans fat.

This is occurring in our society because carbs turn immediately to sugar and shoot up our insulin levels. Our insulin-producing system gets stressed and worn out over time causing insulin resistance. This means that we have to produce more and more insulin to digest food and use it for energy. And, eating carbs means food goes into our blood stream much faster leaving us hungry just a few hours later. Then, of course, excess carbs not used for energy turns to sugar which turns to fat.

Our country's obesity rates are through the roof and these books relay that maybe it isn't all "our fault." Maybe it's our food choices and indeed our entire food system that is based on wheat and carb products because they are cheaper to produce, and easy to put in everything. Also, many carbs don't require cooking.

Through factual presentations, research and recipes, the books have showed me a low-carb approach that makes sense for me. While I never would profess to have an "answer" for someone else, if you are skeptical of the low-carb approach, I encourage you to open up your mind.

Here are my top 10 tips for living a free- or low-carb life.

1) Avoid wheat at all cost if you can. If you need a carb, use quinoa, brown rice, gluten-free pasta and bread. There are so many varieties and types available.
2) As a benchmark, eat a fist-full (about a cup) of any refined carbs a day. So, at every meal, cut your refined carbs down 2/3s. Examples: use 1/3 C of rice with stir fry; have a 1/3 a slice of bread with a sandwich; make a pasta plate mostly w/meat and veggies and only put 1/3 C pasta in.
3) Start out your morning with eggs, healthy bacon, sausage or cheese. If you must have a carb, again, cut your normal amount by 2/3.
4) Make sandwiches with big lettuce leaves or turn your sandwich ingredients into a salad. Good dressing, even blue cheese, is OK in moderation.
5) If you would like more energy, hold off on ingesting carbs until later in the day. This strategy has changed my life as I usually would wilt about 4:00 p.m. Now, I do not.
6) Before giving up, try this for 2-4 weeks so your body can adjust and you can start to see results.
7) Focus on healthy fats (avocados, nuts, lean meats, eggs, fish, etc.). This diet isn't about eating pork rinds and steak all day but you CAN have fat ~~ even butter and salad dressings, and, a steak now and then. This works ONLY though if you keep the refined carbs to 1 C/day.
8) Instead of feeling like you're on a "diet", feel like you are on a life long journey for health. Be patient. It took me a year to lose 10#.
9) Peruse your cookbooks and find recipes that fit this style of eating. I try to make cooking and shopping fun, and cook very delicious meals so my mind tells me that I am satisfied and full. Because this diet does take more cooking, I cook 2-3 times a week and we eat leftovers the other meals. This does require planning ahead :*()
10) Once in awhile, have a blow out. If you can though, eat pasta or some other "big" carb load that is wheat-free. My favorite is Annie's Rice Mac and Cheese. I don't beat myself up for having a serving of it a few times a month.

A couple of notes. For any vegetarians and vegans out there, I realize the above list would have to be modified.

Next, of course, sugar is a no-no and must be avoided at all costs. When I want sugar, I have a few pieces of dark chocolate, some fruit with 5-10 carob chips on it, yogurt with berries and gluten-free granola.

Because I care about animals' welfare, I try to buy protein, including most meats, that are humanely processed and do not contain steroids, hormones or antibiotics. I buy eggs and meat produced from "free range" chickens. About 50% of the time, I buy organic. My own view is that our food is sacred and animals need to be treated with respect just like humans. For those on a strict budget, this may not work for you and so perhaps just buy this type of food a little more often. It about "direction not perfection."

Here is the deal: for years, we were fed a line of research and shown a food pyramid which turned out to be faulty. It professed that eating a high-carb diet was good for us. It's not. Eating health fats, a "fist full" of refined carbs a day and getting moderate exercise will likely produce results. And again, this isn't a "diet", it's really a way of life that just happens to mean weight loss!

I am still on a journey to lose at least 10 more pounds and get my A1C down to a "normal" level *5.5 or 5.6*. I am not there yet and I rely on SP's Fitness Minutes, weight tracking and community section to keep me motivated. But, for the first time in my life, I feel like I can do it.

Keep an open mind. Good luck and be well.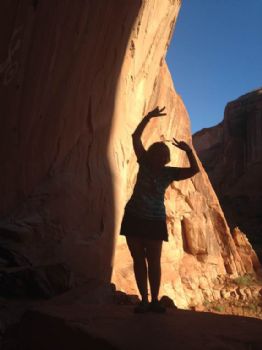 Tuesday, June 24, 2014
I live in a state that usually ranks as the thinnest in the nation, Colorado. The town I live in has world class Olympians and many, many, many residents bike, run, etc., and are very thin and very in shape. On one level, this is inspiring. But, it can be very intimidating. I have finally decided that I compare myself to these people and this hurts my exercise program. I say to myself: I cannot run a marathon so I better just give up. Or, I cannot mountain bike 20 miles up steep hills so biking probably isn't for me. These are defeating attitudes. Last week, I decided my mantra is now: "Be an Athlete (For Me)." What does this mean? It means that I started pushing myself within my limits and I have stopped comparing myself to others and especially the elite athletes that surround me. For some reason, I will probably never be them and really don't event want to be.... but, lately, I have: a) started a weight training program; b) am riding my bike 20-30 minutes longer each time c) worked out harder at the gum and even, started GOING to the gym d) am doing yoga every single day in some form or fashion and e) am hiking 30 minutes to 1 hour longer than I would have otherwise. You get the gist: If we compare ourselves to standards that do not fit us, it is self-defeating. If we set an exercise goal that is fun and comfortable, chances are we probably will stick with it. My mid-term goal is to lose 4.5# by the end of July. I am going to do it by using this attitude: "Be an Athlete (For Me)." As a side note, Colorado still has a lot of obese people and that number is sadly growing.





Wednesday, March 26, 2014
Today is the day I have lost 10.5#. Woo Hoo! I am now roughly 1/2 way to my goal of losing 18 to 20 pounds. At one point, I was so stuck, I thought I'd be at my highest weight forever. I had no hope. I was wearing all my "big" clothes. I deleted pictures of myself. I had given up except for one tiny voice in me that said I had to try. What is working?

1) Positive Visioning: If all one does is focus on "how bad my weight and body are", then I believe that The Universe will bring "bad weight" into your life. I am trying instead to focus on positive messages such as: a) I would like to bring XX weight into my life because I will be healthier b) I am exercising to reduce my risk of diabetes and because it makes my muscles feel good or c) I am trying this recipe because it will be fun to learn. You get the gist. Keep a journal of messages you give yourself and pay attention if they are negative or positive. Give yourself messages that are in the affirmative not burdened with "bad" thinking such as: " I should " " I am terrible because " " I am not worthy of... " or " I cannot ."

2) "Go White Free" -- Six months ago, I started practicing a "South Beach diet- modified." The minute someone tells me, "You have to be on a diet", is the minute that I start eating incorrectly. My diet is essentially low carb and low fat but very healthy, delicious eating. I have eliminated most things processed, "gluten" "white" and "wheat" such as: white bread, pasta, potatoes, crackers, chips, etc. I have eliminated sugar entirely. I am never hungry. With so many food choices out there now for those who are gluten sensitive or intolerant, this switch has been easy. I eat rice pasta and rice crackers (no more than 1/2 C each meal). I buy gluten-free bread from a local baker. I take snacks on the road when traveling so I don't get crummy food at convenience stores. I have veggies and lettuce washed, cut up and ready to use. Each week, I challenge myself to make delicious salads complete with a protein such as tuna, chicken, steak, feta cheese and/or nuts. I search the internet and my recipe files for carb-reduced or -free recipes and challenge myself to make at least two new ones/month. The point: reducing refined carbs and everything "wheat" and "white" has been very easy and in fact, fun.

3) Next, exercising more...I "shoot" for 200 to 300 minutes a week and am rather compulsive about tracking Fitness Points on SP. I do an exercise tape 2 X week; walk/hike or x-country ski or snow shoe 2 or 3 X week; and do yoga and at-home strength training 3 x week. Again, I am not a rigid person so I do what feels good on that day. It's direction not perfection.

4) Reduce alcohol.....Everything I have read says that women should only have 7 drinks a week, men can do 14. I track on alcohol because those glasses of wine with dinner or when out with a friend really add up. I have switched from wine to Vodka with Diet Tonic.

5) Get a grip on stress: The most effective tool for me has been a complete reduction of stress. I have changed my job (I work for myself so this was somewhat easy). I have quit seeing some people in my life who are stressful. I let go of petty conflicts. I am trying to meditate more often. I don't take on unnecessary projects or things that seem stressful. I say no. I have started to take care of me first and then everyone else later.

6) Finally: I have tried my hardest to deal with any health issues that prevent me from having energy or exercising to the extent possible. For me, I have had to get allergy treatments; I had to admit I have exercise- and cold- induced asthma; and I had to deal with menopause symptoms. I have heal pain and had to deal with that... My point: until these underlying health issues were addressed, I simply didn't have the mental or physical energy to shop correctly, cook good food, exercise a lot or truly believe I could lose 18 to 20#.


Not all of these will work for everyone and I don't profess to say what works for you. But, a year ago, I thought I was just going to be certain (big) size forever, and predicted I would be a very unhealthy older person. This picture is of me hiking in New Mexico this weekend. I am triumphant. I am happy. I am healthy. You can be too.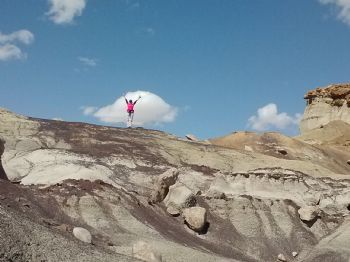 Western Woman
Colorado





Thursday, February 20, 2014
Well, I started back on SP in June and have lost 10#. It really works. For me, the best feature is the Spark Minutes. I try to do at least 150/week if not 220. When my husband and I start a hike, I say: Did you turn on the spark meter? I count everything......walks in malls, stretching in the morning and of course, my walks and other, harder workouts. I also like reading success stories. While I have at least 10# still to go, I was recently on a beach vacation and actually felt good. I felt good in my clothes and was very proud. I don't plan on giving up on SP....ever! Love it.





Wednesday, June 19, 2013
I recently went back on Spark People after gaining 12# back that I had lost over 18 months (due to a long period of respiratory sickness, walking pneumonia, allergies, you name it). Good news! I have lost 7.5# and counting. So what am I doing?

* 210 minutes a week of exercise (biking, hiking, health club, yoga, hard hard work)
* Really cutting carbs and I cut out most wheat a year ago (feel 100% better)
* I focus on salads (good ones), eating good meat, and not eating carbs especially for breakfast and lunch
* Track wine drinking (it does add up)
* No sugar
* Very little cheese and dairy
* 5 F/Vs a day

Love SP..........will eventually reach my goal to lose 12 more.

If you are just starting Spark People, keep at it. It will eventually change your life.



1 2 3 4 5 6 7 8 9 10 Last Page

Get An Email Alert Each Time PHANTY1 Posts