| | |
| --- | --- |
| | PEASANDLOVE's Recent Blog Entries |


Thursday, January 27, 2011
I am down from Day One, but this morning the scale bumped back up a little bit. Hoping that's a fluke! I have done much better this week with my diet and exercise than I have in a long, long time.

Saturday - long run
Sunday - recovery run
Monday - tempo run
Tuesday - boot camp a.m., speedwork p.m.
Wedneday - tempo run
Thursday - boot camp
Friday - TAKING THE DAY OFF!!! Whew.

And Saturday it begins again...

Paige, you're goin' down. Just sayin'.




Monday, January 24, 2011
I'm getting a little better at picking on Paige. We have a good time giving each other a hard time, but we both want each other to succeed at losing the 10 lbs. We just each want to finish first!

It's day... what... 5 of "lose 10 lbs" race. So far, I am down 2 lbs, but I think I was a little bit poofy on the first weigh-in day. Because 2 lbs a week is not something I can pull off without starving myself. And the results of that would not be worth it. I would rather buy my own stupid necklace than be THAT cranky and miserable for a month! HA!

Anyway - I have definitely stepped up the exercise, and I am eating better than I have in a really long time - probably before the whole Marathon Odyssey began last summer. When we started training, we started eating - more and more! And I ate things I would normally not eat - bagels, bagels, bagels, and so much freakin' pasta... no wonder I managed to GAIN weight during racing season. I'm just glad I wasn't the only one.

Now we're training for a half, and I am trying to remember what veggies taste like and get my energy by eating healthy carbs, not junky carbs. Really hoping that I can manage to take off a little bit of muffin top in the process.

Especially now that there's jewelry and bragging rights involved.







Friday, January 21, 2011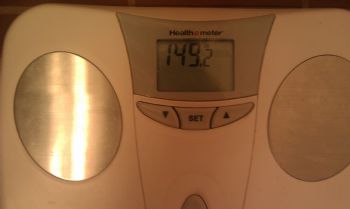 Today I am starting a bet with my friend Paige. The first one of us to lose 10 pounds - through healthy eating and exercise - wins a hand-stamped necklace from the Vintage Pearl.

I texted her a picture of my scale. It was, ugh, less than fun to admit to that number. This is the most I have weighed in a long time.

That being said, I feel more in control now. I know what the scale told me, and armed with that information, I have a tangible goal. Through SP I have a path to get there. Time to step up the exercise and scale back the junk food.

I WANT THAT NECKLACE!!! Look out, Paige!







Wednesday, January 05, 2011
A Nike ad in December's Women's Health Mag. Nevermind that I covet the abs of the girl in the photo... it took me a minute to see that it said "proud" across her stomach... but isn't that a really great mantra?

Maybe that's something to repeat to myself when I'm running or doing boot camp and the going gets tough. Most all of us need to appreciate ourselves more, and give ourselves more credit for our hard work and perseverance. (And cut ourselves some slack when we need it.) Goes back to the kindness thing I was rambling about a few days ago. Seems like a great phrase to motivate myself to keep going and remind myself to take pride in what I'm doing, all at the same time.

Make Yourself Proud - I like it. I think it's a keeper.





Tuesday, January 04, 2011
I've been a little discouraged lately - pants getting tighter, scale being unfriendly, motivation low. But really, thinking back, I have accomplished a LOT in the past year. As part of my new year's resolution to practice kindness toward myself, I really need to give myself a little more credit.

Sure, I have been out of the workout game for a few weeks, and out of the strenght training game for way longer than that. But I ran 26.2 miles - in a row - in November. Holy cow. That wasn't even something that was on my wish list. I kinda got sucked into it because it was something my new friends were starting. And because I decided to join in, I got a great group of girlfriends and training partners, I made new friends, and I have a new favorite sport. I'm already signed up for a half in Dallas in March and planning on another half in April and of course OKC half in May. Spring training session starts this Saturday.

At the end of last year, my friend Lauren and I also decided to start going to the boot camp class at the YMCA. We were feeling really soft, hadn't been doing anything but running, no resistance training at all. So we conquered our fears and went. WHAT a tough workout. Whole new set of challenges. I think it will really do good things for my running, and I get such a sense of accomplishment for completing a class.

Last year was a real roller-coaster at work and with food and several other stressors, and emotionally it was pretty tough. But I think I learned a lot about myself in the process. Most importantly, I learned with the marathon that I *can* stick with training for a goal and seeing it through. And I am finally learning to really appreciate how important my friendships are. With those two things going for me, this year will be a good one.



1 2 3 4 5 6 7 8 9 10 11 12 13 14 15 16 17 18 19 20 21 22 23 24 25 26 27 28 29 30 31 32 33 34 35 36 37 38 39 40 41 42 43 44 45 46 47 48 49 50 51 52 53 54 55 56 57 58 59 60 61 62 63 64 65 66 67 68 69 70 71 72 73 74 75 76 77 78 79 80 81 82 83 84 85 86 87 88 89 90 91 92 93 94 95 96 97 98 99 100 101 102 103 104 105 106 107 108 109 110 111 112 113 114 115 116 117 118 119 Last Page

Get An Email Alert Each Time PEASANDLOVE Posts