| | |
| --- | --- |
| | PCOH051610's Recent Blog Entries |


Wednesday, December 28, 2011
Hi,

Another funny thing has happened to me that I have to thank Spark for. Suddenly I crave challenges -whether they be with myelf or with other people. I was on the TeddyBear team in the fall and got overwhelmed with it but I do find I need someting to get me inspired. My goal to virtually walk across our island is coming to and end soon (yeah) but I have really enjoyed the competition I set with myself to get those km under my belt.

I've been browsing teams all day and again, feel overwhelmed. Those based on interests and ailments all look like fun BUT I don't see the challenge. Let me remind you that I'm the one who was picked last for gym class so it amazes me that I need to be challenged.

Some of you have suggested that I join the team for people living with depression but I have hesitated. In the past I have found involvement in similiar teams becomes a spot to "talk and share stories" but that is not what I need right now. I need a reason to get my bum out that door and to resume my healthy lifestyle search.

I have realized that a challenge for me has to be just that "a challenge for me". I need to be able to compete with myself to log in "blank" number of fitness minutes or to walk "blank" my kms in such a such time. Then I like to challenge myself to improve the next week and so on.

Will have to give this more thought but in the meantime any suggestions are gladly welcomed!





Monday, December 26, 2011
Hello,

I hope you all are having a wonderful Christmas holiday - even those who are not Christians because it is a holiday even having the stores around us close. Sort of forces one to relax so to say.

It is Boxing Day here and we are one of the few places left that has today as another mandatory holiday for stores. At least the employees have an extra day to spend with their families and we, as consumers, are given a break from the demands we seem to place on ourselves.

I am having a really nice Christmas and am proud to report that my favourite gift this year is the Spark cookbook! I'm so excited! While the leather purse and boots are lovely they don't have the same potential overall to change my life so the cookbook gets the #1 spot!

I've been reading blogs this morning - well, at least I am trying to despite nursing a migraine. I am intrigued by the number of people who wrote that they are trying to get back on track. To get back on track implies that you somehow cannot incorporate treats and family times with the healthy lifestyle that Spark encourages.

Nothing can be further from the truth. Remember it is all the 80/20 rule. Eat right 80 percent of the time and you can allow treats and other "junk" food 20 percent. It is not an all or nothing plan! Yesterday, I did enjoy our turkey dinner - I even had gravy (tasteless by the way and I can say that because I made the whole meal!), passed on dessert because I was stuffed but did have a handful of chocolates later. I didn't regret eating any of it and I certainly don't feel like I went off the tracks. I know from previous experience that this week is one week where I will eat stuff that I normally don't but that is part of MY Christmas.

I walked 2km yesterday morning when it was -16 (with the windchill it was even lower) but I didn't do that so I could eat more throughout the day. I did that because I knew it was a beautiful day outside, my dogs needed the exercise and we had fruit to cut up so the forest critters would have a taste of Christmas too. Don't feel guilty if you didn't exercise as if I had family with me or children I wouldn't have found the time either. As it was, my mom didn't want to come over until the afternoon so we had the morning to ourselves.

Again, don't let one or two days of eating extravagantly cause you to throw in the towel or somehow feel guilty. This is YOUR life and make it work for you!






Friday, December 23, 2011
Hello!

Now, I am just one new friend request away from asking Santa Claus to put coal in all of your stockings this Christmas as some of you clicked "like" when I asked you not to! Jeepers, I really can't handle being "popular" and I feel like I am letting my long-term SparkFriends down by committing to new friendships.

I know I don't have to add everybody who adds me but I feel so guilty and I keep wondering if somewhere out there does somebody really need me to be their friend? During my Spark adventure I have needed friends and they have gone beyond the call of duty so maybe, just maybe, I am touching somebody like that. Who really knows.

So, if you have added me as a friend I have returned the friendship...or at least I hope I have. I sort of delete people if I haven't heard from them in a really long while but sometimes don't...so please stay active because I really dislike "unfriending" people.

What do you all have planned for the upcoming week? I am Christian so we celebrate Christmas but I wonder how many of my friends don't. I don't want to offend anybody but I am going out on a limb here and wishing you all a very Merry Christmas.

I'm planning a very quiet holiday - basically just me, my husband, my mom and the dogs. Of course, I am cat-sitting for two different friends and have 6 cats under my charge. Being the animal nutcase that I am, I have presents for them all and will spend time with them all on both Christmas Eve and Christmas Day as it pains me to think of even a wee little animal to be alone over the holidays.

In about 30 minutes my husband and I are going out to supper together and then we have some last minute errands to run. I love last minute stuff!

Once again, please stop liking my blogs or I will track you all down and stalk you.....hee-hee! Joking of course - I do like the attention but really, please stop!








Tuesday, December 20, 2011
Hello!

While having two blogs within days of each other be voted as "Most Popular" is quite the honour it is a tad overwhelming so I'm begging you all "please, enough already"



On a more serious note, I have a such good news to share! But, of course, in my usual way I am going to make you read all of this dribble/drabble until you reach the big reveal.

As some of my longer-term SparkFriends know my husband and I have been living on my part-time, seasonal salary since September. Money has been tight and although we don't have any children we do have two wonderful dogs who we care for with all of our hearts. Unfortunately, these two furballs are frequent visitors to the vet but we would rather do without than to have them uncomfortable or suffer in any way.

So yesterday, I arrived home to find Maddy (our little Pom) refusing to get up to even great me. He was retching and gagging and I knew something wasn't right. Bawling my eyes out, I called the vet, was told to come on and called my husband to tell him that we had another unexpected expense. John (husband) tells me to stay put and he would come home to get us so I called my mom and told her. She is on a fixed income too but offered to help....bless that woman.

I'm just putting on my coat when the phone rings and it was an animal rescue group located three hours away. Since I am on the board of directors for our local humane society I thought "more bad news". But it wasn't......turns out I had bought a ticket as part of their fundraiser just last week and I WON!!!


I won ONE THOUSAND DOLLARS!!!! The tears started flowing down my face and I could barely get my words out to thank them!

Oh, and it turns out Maddy has somehow scratched his tracheal (spelling?) tube and had a very sore throat. It cost less than $100 for the visit and medication.....and my doggy will be back to "normal" in a few days!








Sunday, December 18, 2011
Hi,

Happy Sunday to you all! I've been mulling over this blog idea for the past couple of days and thought it was now or never to get it down on "paper"..err, the computer screen!

So by now a lot of you know one of my recent blogs was voted "most popular" and while that is flattering it can be overwhelming. Somehow something you write elevates you to this magical level and people are crawling out of the woodwork to ask you advice.

Since it is Sunday here is my confession and I'm not even a Roman Catholic! I don't have all the answers! This is a journey for me just the same as it is for all of you. I might know what works but that doesn't mean I'm always perfect. Okay, let's correct that last bit - I am not, nor have I ever been perfect! Spark is a lifestyle makeover for me and the weight is the last to be transformed. I am still struggling with the weight and expect to for some time unless I put what I have learned into action. Brings to mind that expression about the mind being willing but the body not so much!

Okay, so here it is! LIFE is not a dress rehearsal....WE are given one chance and if we don't start making some changes now life is going to continue on as it always has.
. Unless you believe in reincarnation this is the lifetime you have to change the body and mind you have. NOW is the time to act.

Second of all, the Spark philosophy is pretty simple when you think about it. It is nothing anybody with have a grain of common sense couldn't come up with...sorry SparkGuy....but we, as humans, have somehow lost our common sense when it comes to nutrition and exercise! It is like the more advanced we get the more we forget the simple, yet effective stuff that served our ancestors for years ! Granted, without Chris Downie, we wouldn't have all of the wonderful resources at our fingertips but you have to admit it is a a pretty basic idea. Eat right, exercise, and live long and proud! Who knew?

So, if it is so easy, why do so many of us struggle? I personally think that we have far too many choices and conveniences in our lives. Duh, could it be that simple? I mean once you have a remote control for something do you ever go back to using the manual method? Once you have tasted ingredients that you can't pronounce and are lured towards do you ever go back to a simple apple?

I struggle with this everyday! We hear all the time we are what we eat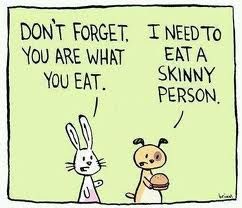 but since I am not a cannibal

I have had to put my thinking cap on and figure out how to get back to basics.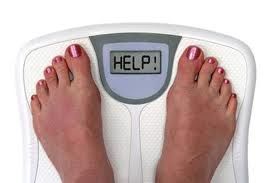 Ahem - so here is my slightly twisted way of looking at what I eat. Starting just recently I began to think of the very things that make up the foods we eat as soldiers. Okay, they might be funny looking soldiers but in my mind they are still soldiers because they are fighting the fight within me. I have my foods (and the imaginary soldiers) called the Good, the Bad, and the Ugly. The Good I can eat without compromise, the Bad, I eat sometimes but the Ugly stuff I am trying to keep out of my battle.

Here is what I envision my soldiers to look like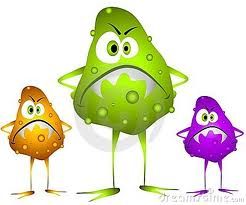 These good "soldiers" will help me in so many ways! They will help keep my mind alert and my body more able to fight off germs and more serious diseases. So every time I eat, I ask myself "how many good soldiers" are in this and how many "bad soldiers". If there are truly ugly, evil ones I try to take a pass. Again, you might not be able to avoid troubles but you don't want to lay out the welcome mat to them either!

To conclude "my lecture" it all comes down to common sense yet we often try to make this much harder than it really needs to be. Feed your body the stuff it needs to be healthy and keep moving......yes, Virginia it really can be that simple!



First Page
1
2
3
4
5
6
7
8
9
10
11
12
13
14
15
16
17
18
19
20
21
22
23
24
25
26
27
28
29
30
31
32
33
34
35
36
37
38
39
40
41
42
43
44
45
46
47
48
49
50
51
52
53
54
55
56
57
58
59
60
61 62 63 64 65 66 67 68 69 70 71 72 73 74 75 76 77 78 79 80 81 82 83 84 85 86 87 88 89 90 91 92 93 94 95 96 97 98 99 100 101 102 103 104 105 106 107 108 109 110 111 112 113 114 115 116 117 Last Page

Get An Email Alert Each Time PCOH051610 Posts