Wednesday, October 26, 2011
Hi,

I've been laughing a lot today from the responses I received on yesterday's blog in which I apparently introduced a lot of you to the term "stunned arse". Most of you had never heard it before and liked it so much that you are planning on incorporating into your own daily lingo.

Well, as most of you know I am from Newfoundland, Canada. A lot of "mainlanders" - people from Canada but not from Newfoundland like to call us Newfies. I, personally, hate that expression because it has been used too many times over the years as a term of belittlement.

But one thing about a born and bred Newfoundlander is a guaranteed sense of humour and even more important, an inborn ability to laugh at oneself. I LOVE laughing at myself and entertain myself on a daily basis!

So here goes today's lesson in Newfoundland expressions: "stunned arse". This would generally be used to make fun of oneself as in "old stunned arse here forgot to turn on the oven and wondered why supper didn't cook". Or, if you saw somebody do something stupid you could say "look at that stunned arse trying to get into a car that isn't his".

My favourite use of the expression "stunned arse" is one my family uses quite often in moments of self-depreciation. We would say of ourselves "stunned as me arse and twice as ugly" which sums up all kinds situations quite nicely.

Okay, enough "vocabulary" lessons for today but before I go I have to share a few pictures: The first was taken of me while out walking tonight.......we were on a closed road which explains why I am not wearing my reflective gear. What the picture doesn't show is the fact that I'm wearing longjohns, windpants, fleecy, windproof jacket, wool hat, mittens and rubber boots!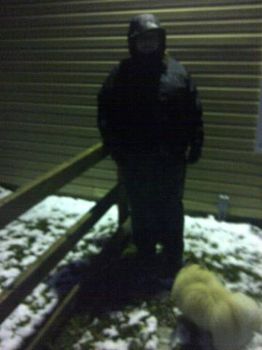 And the following is just an interesting side by side comparison taken three years apart. I only weigh about ten pounds more in the older one but look how my body shape has changed!