| | |
| --- | --- |
| | PCOH051610's Recent Blog Entries |


Tuesday, April 05, 2011
Hi!

Happy Tuesday evening one and all. It has actually been a miserable day here where I live unless of course you enjoy freezing rain making things very slippery and enjoy the sting on your face when it hits your cheeks. Other than that, though, it has been a good day. Didn't walk today though which I'm not beating myself over. Don't worry, the dogs were walked, just not by me!

Speaking of dogs, I posted my status yesterday and I received several requests for more information. I think my update was something like "did my first educational visit to Girl Guides for my humane society". As most of you know, I am a volunteer with our local humane society and it is through them that we have been blessed with both Maddy and Louisa. Both were given up twice before and are now just as much a part of our family as my husband and I are. Maddy (our Pomeranian) was given up both times because he was too much dog for elderly people. Louisa (our yellow Labrador) was taken from her original owners due to blatant neglect. She was then taken in by an elderly couple who unfortunately ended up having to move to a seniors home.

The humane society here is called Central Paws Humane Society. We are not affiliated with the SPCA although we do our best to help each other out. We were founded by several devoted animal lovers who realized that too many animals were being euthanized because there was no room left in shelters. We do not have a shelter and rely on foster families to take an animal in until a forever family is found. This is how we ended up with Louisa especially. Note to self...that was the first and last fostering for me as I become too involved too soon. We try to educate the public, especially young children, about what to consider before adopting or buying a pet. Too many animals in our society are considered disposable. A lot of our funds (okay we are basically broke and pay for much of this ourselves!) is used to spay and neuter animals so there won't be an over abundance of unwanted, neglected, and abandoned critters.

I always thought I was too soft to do some of this but I think we all have an inner strength for certain things. I've seen and heard some pretty disgusting things about how our innocent friends are being treated. Some are truly sick and we believe if we can reach out to the children and teach them right from wrong with regards to compassion, it will help all of us. Yes, sometimes things are awful and we have no choice but to euthanize but it is our very last straw.

There are about four of us who do the main work of Central Paws, including the much dreaded fundraising! My wish is to eventually win millions of dollars so a sanctuary can be established in our beautiful province to honour those pets that have gone before us and who showed us what true love is all about. The abused, the neglected, the abandoned all live among us and I just wish we could help them all.

Okay, so now that I'm sobbing (by now you all know how emotional I can be) I will think happy thoughts for the rest of the night. I think this calls for a major belly rubbing session with Maddy and Louisa as that always puts a smile on my face.

Susan

P.S. If you have an animal in your home please give it a hug from me and thank you for letting a pet share your life.





Sunday, April 03, 2011
Hi,

Well, it is a sleepy Sunday morning here in central Newfoundland, Canada. The snow we received yesterday is almost melted but we still have a ways to go before it is all gone! This is the norm for us although Friday it was so nice that I walked in a t-shirt (and yes, I did wear pants!) and I actually sat out in the sun for about 60 minutes enjoying my rocking chair. Now, that makes me sound either old or like Granny Clampett...or both!

Had two walks thus far today and it is only noon hour so maybe I can get another few kms in before sunset. Last week I broke my personal best of 25km as I waked a little over 26. This is from somebody who used to huff and puff just at the thoughts of going for a stroll. The only thing is (and it is not much to complain about) is that I sweat so much I have to strip off all of my clothes when I return home. My husband laughed at me until I showed him my t-shirt which was clearly damp with sweat. Is this normal? I know I am trying to walk as briskly as I can and I guess hauling around 210 pounds it is hard not to break out into a sweat. Anyway, just wondering if sweating like this is normal from just walking?

Okay, to get to my blog title. I seem to have given quite a few of you a good laugh with my April 1st blog in which I claimed I was leaving Spark. I'm shocked that people came out of the woodwork to read this and to leave comments. 55 of you left comments! Yes, fifty-five! Now, while I'm honoured that most of them thought they could change my mind into not quitting, I'm wondering what it would be like to have that kind of support all the time. Is that the reason people just drop off Spark without notice? Maybe today, we should all make an effort to thank our SparkFriends for encouraging us and to make an effort to touch base with each of them so that nobody feels like they are being left out.

I often go through my friends list and think, "well, I haven't heard from them in quite a while". Then I'm tempted to go in and just remove them but sometimes I stop and think maybe there is something going on and my little bit of encouragement could help them along.

On the other hand, we all probably have more SparkFriends than we can regularly keep in touch with. I sometimes go to their pages and see if they are still active and if they are, but they haven't stopped by my page in a long time (despite my efforts to keep in touch), I have no qualms about letting them go. It sometimes hurts a wee bit that we put in a lot of effort to stay in touch while they don't reciprocate but I try not to take it personally. Obviously, we didn't have a lot in common so I swallow my pride and let them go.

It is the SparkFriends that you know that aren't being active that trouble me the most. I want them to keep at it and to stick with it. They are the ones we should all be reaching out to....just like the 55 people (about half of which weren't my actual SparkFriends!) did for me when I played my April Fool's joke. Some food for thought.


Must go and bake some cherry pound cakes for my cousin. How I got roped into this I don't know but I promised her I would do it. I actually don't enjoy baking despite all of "tools" of the trade I was given from my mom. She loved to bake and fed everybody in our neighbourhood with homemade cookies, bread, cakes, etc. She always tried to make healthy stuff out of normal recipes and nobody ever knew the difference.

Take care all! And it is so encouraging to know I would be missed if I ever left Spark!





Friday, April 01, 2011
Hi,

After much soul-searching, I've decided to leave Spark. Yes, it is a wonderful program but I am just not ready to make the changes in my life that the Spark program encourages. I'm miserable from feeling guilty all the time, trying to eat right so I won't be judged, and exercising just to get a few extra SparkPoints.

I've made some good friends along the way and I know some of you will be really upset with me for leaving Spark on such short notice. I've made up my mind and I have given this a lot of thought so please don't try to convince me otherwise.

In conclusion, there are many things I would like to say but the most important one is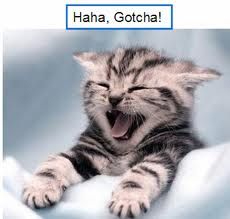 Happy April Fool's Day!!!!!! I'm not going anywhere!






Thursday, March 31, 2011
Well, I did it! I survived another March month which you all know (if you've been reading my blogs) is my most troublesome month for SAD and my overall depression.

My boss sees me today and she made a big point of asking how I was feeling, and how glad she is to see my face back to work. Those few words made me feel like a million bucks for a few minutes and then the negative thoughts crowded in. I kept thinking "what does my boss really want?"

I realize I have a big problem accepting compliments and I do a fine job at negative reinforcement. For example, today I wore a particular cardigan that I particularly don't like. I think I received five compliments on that sweater in the space of one hour. Then somebody told me that I dressed nice and I replied, "you need your vision checked". Why is it so hard for me to accept a compliment? By this negative self-talk, am I deliberately sabotaging my hopes to succeed? I joke about my appearance all the time and say things like, "oh, here comes Ms. Double Chins, or Not bad for a fat girl"

I would never look at somebody and say those things but yet I say them to myself all the time. Several of you have suggested that I look in the mirror and say "I'm beautiful" but that sounds terribly vain to me. And besides, I don't see a beautiful person looking back at me in the mirror. I see a gap toothed, freckled face, redhead with too many chins and a big nose.

It makes me wonder, how does one learn to love oneself? I think I have a good heart and I am compassionate but if I am, why can't I give myself a break? Hmmmm? Outer beauty is not a cherished thing in our family (if you saw the lot of us, you would know why)...there, I did it again. I use humour to avoid anything to do with looks. Is it because we were preached to as children that vanity is the ultimate sin. I don't know but I'd be interested in hearing what you guys think about me feeling this way.

As for my journey, I have to give a shout out to my SparkFriend S3XYDIVASMOM
who has been looking at my trackers and has been very encouraging all week. God bless you for taking the time to do so. I'm trying hard to make this an honest effort and so far this week has been easy. I haven't had any junk food and I've been eating well. This Saturday my husband and I having a date night so that will involve a meal out. I'm looking forward to that as that will be my treat night.

Okay, enough of my introspection for today!

Susan






Wednesday, March 30, 2011
Okay, maybe I'm wacky here for using the word "little" to describe my girth but it really was only meant as a figure of speech...for now. Give me a few months and look out! Ha!

I've made it through two days with no junk food and although my calories have been a wee bit over the recommended limit, I am pleased with my efforts. As silly as this sounds, I think I have a solution figured out to my nighttime eating. Going to bed early is working!

My husband gets up at 6:00 so I am getting up at 6:30 when he returns home from a coffee run. I don't have to be to work until 8:00 and it takes me less than 5 minutes to drive to work so I have some time in the morning just for me. I've been sitting back to watch the news and then I bustle around making our bed, opening blinds, doing some prep work for lunch and supper, playing with the dogs, getting myself "beautiful" (HA!!!!) etc.

This is working for several reasons. When I return home lunch time, there is less mess confronting me and I have some idea what I'm going to eat for both lunch and supper. After I eat I have time to take the dogs out and then have a few hours to do errands and prepare out main meal. I'm actually finding this relaxing.

By nightfall, I am usually tuckered out quite a bit. I take my nighttime medication at 8:00 and then I'm asleep by 10:30. I usually walk a bit after supper and then do other chores around the house. I lay out my clothes for the next day and sit back and read something. Sparking is a good pastime too as we have a rule in our house NO eating or drinking while using the laptop! I have a light snack (fruit) and off to bed I go. Notice there is no tv time? I am really cutting back on it as I tend to eat myself senseless in front of it.

Now you are going to laugh at this one but I've also have started dressing up a bit more in the daytime because I only have a month left to work until September and by then my "nice" clothes is going to be too big to wear! How is that for optimism!

Oh, somebody sent me this joke as an e-mail the other day and I thought it summed up my husband and I pretty well. Here it is:

A young thug, wearing a hood, burst into a bank and forced the tellers to load a sack full of cash. On his way out of the bank a brave customer grabbed the hood and pulled it off revealing the robber's face. Angered, the robber shot the customer without hesitation. He then looked around the bank and noticed one of the tellers was staring at his face so he turned and shot her. Everyone else, by now very scared, looked intently at the floor in silence. The robber yelled, "Well did anyone else see my face?" There were a few minutes of utter silence, in which everyone was plainly afraid to speak..........

Then one old man in the back of the crowd tentatively raised his hand and said, "My wife got a good look at you" Ha!!!!!

Must go and get doing the world's business! Thank you to each and everyone of you for stopping by and for your wonderful support!

Susan







First Page
1
2
3
4
5
6
7
8
9
10
11
12
13
14
15
16
17
18
19
20
21
22
23
24
25
26
27
28
29
30
31
32
33
34
35
36
37
38
39
40
41
42
43
44
45
46
47
48
49
50
51
52
53
54
55
56
57
58
59
60
61
62
63
64
65
66
67
68
69
70
71
72
73
74
75
76 77 78 79 80 81 82 83 84 85 86 87 88 89 90 91 92 93 94 95 96 97 98 99 100 101 102 103 104 105 106 Last Page

Get An Email Alert Each Time PCOH051610 Posts