| | |
| --- | --- |
| | PCOH051610's Recent Blog Entries |


Friday, April 01, 2011
Hi,

After much soul-searching, I've decided to leave Spark. Yes, it is a wonderful program but I am just not ready to make the changes in my life that the Spark program encourages. I'm miserable from feeling guilty all the time, trying to eat right so I won't be judged, and exercising just to get a few extra SparkPoints.

I've made some good friends along the way and I know some of you will be really upset with me for leaving Spark on such short notice. I've made up my mind and I have given this a lot of thought so please don't try to convince me otherwise.

In conclusion, there are many things I would like to say but the most important one is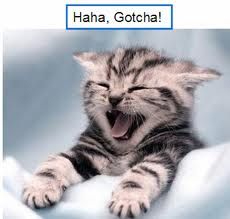 Happy April Fool's Day!!!!!! I'm not going anywhere!






Thursday, March 31, 2011
Well, I did it! I survived another March month which you all know (if you've been reading my blogs) is my most troublesome month for SAD and my overall depression.

My boss sees me today and she made a big point of asking how I was feeling, and how glad she is to see my face back to work. Those few words made me feel like a million bucks for a few minutes and then the negative thoughts crowded in. I kept thinking "what does my boss really want?"

I realize I have a big problem accepting compliments and I do a fine job at negative reinforcement. For example, today I wore a particular cardigan that I particularly don't like. I think I received five compliments on that sweater in the space of one hour. Then somebody told me that I dressed nice and I replied, "you need your vision checked". Why is it so hard for me to accept a compliment? By this negative self-talk, am I deliberately sabotaging my hopes to succeed? I joke about my appearance all the time and say things like, "oh, here comes Ms. Double Chins, or Not bad for a fat girl"

I would never look at somebody and say those things but yet I say them to myself all the time. Several of you have suggested that I look in the mirror and say "I'm beautiful" but that sounds terribly vain to me. And besides, I don't see a beautiful person looking back at me in the mirror. I see a gap toothed, freckled face, redhead with too many chins and a big nose.

It makes me wonder, how does one learn to love oneself? I think I have a good heart and I am compassionate but if I am, why can't I give myself a break? Hmmmm? Outer beauty is not a cherished thing in our family (if you saw the lot of us, you would know why)...there, I did it again. I use humour to avoid anything to do with looks. Is it because we were preached to as children that vanity is the ultimate sin. I don't know but I'd be interested in hearing what you guys think about me feeling this way.

As for my journey, I have to give a shout out to my SparkFriend S3XYDIVASMOM
who has been looking at my trackers and has been very encouraging all week. God bless you for taking the time to do so. I'm trying hard to make this an honest effort and so far this week has been easy. I haven't had any junk food and I've been eating well. This Saturday my husband and I having a date night so that will involve a meal out. I'm looking forward to that as that will be my treat night.

Okay, enough of my introspection for today!

Susan






Wednesday, March 30, 2011
Okay, maybe I'm wacky here for using the word "little" to describe my girth but it really was only meant as a figure of speech...for now. Give me a few months and look out! Ha!

I've made it through two days with no junk food and although my calories have been a wee bit over the recommended limit, I am pleased with my efforts. As silly as this sounds, I think I have a solution figured out to my nighttime eating. Going to bed early is working!

My husband gets up at 6:00 so I am getting up at 6:30 when he returns home from a coffee run. I don't have to be to work until 8:00 and it takes me less than 5 minutes to drive to work so I have some time in the morning just for me. I've been sitting back to watch the news and then I bustle around making our bed, opening blinds, doing some prep work for lunch and supper, playing with the dogs, getting myself "beautiful" (HA!!!!) etc.

This is working for several reasons. When I return home lunch time, there is less mess confronting me and I have some idea what I'm going to eat for both lunch and supper. After I eat I have time to take the dogs out and then have a few hours to do errands and prepare out main meal. I'm actually finding this relaxing.

By nightfall, I am usually tuckered out quite a bit. I take my nighttime medication at 8:00 and then I'm asleep by 10:30. I usually walk a bit after supper and then do other chores around the house. I lay out my clothes for the next day and sit back and read something. Sparking is a good pastime too as we have a rule in our house NO eating or drinking while using the laptop! I have a light snack (fruit) and off to bed I go. Notice there is no tv time? I am really cutting back on it as I tend to eat myself senseless in front of it.

Now you are going to laugh at this one but I've also have started dressing up a bit more in the daytime because I only have a month left to work until September and by then my "nice" clothes is going to be too big to wear! How is that for optimism!

Oh, somebody sent me this joke as an e-mail the other day and I thought it summed up my husband and I pretty well. Here it is:

A young thug, wearing a hood, burst into a bank and forced the tellers to load a sack full of cash. On his way out of the bank a brave customer grabbed the hood and pulled it off revealing the robber's face. Angered, the robber shot the customer without hesitation. He then looked around the bank and noticed one of the tellers was staring at his face so he turned and shot her. Everyone else, by now very scared, looked intently at the floor in silence. The robber yelled, "Well did anyone else see my face?" There were a few minutes of utter silence, in which everyone was plainly afraid to speak..........

Then one old man in the back of the crowd tentatively raised his hand and said, "My wife got a good look at you" Ha!!!!!

Must go and get doing the world's business! Thank you to each and everyone of you for stopping by and for your wonderful support!

Susan









Tuesday, March 29, 2011
Hi!

Okay before I begin, I have to tell you all about a blog I just read and it really struck home with me. It is by the Spark User named BIKERBABYZ and it is the blog she wrote on February 1, 2011 called " 242-THE HARSH TRUTH for every song & dance we do".

I just happened to be browsing Spark when I stumbled upon her page (we are not even friends yet!) and there it was as if it was just written for me. In this particular blog she basically lists the harsh truth for every excuse we make for our lack of progress. Some might find it blunt but I think it is inspirational.

Anyway, I returned to work yesterday and got caught up with how my co-workers were all doing with their respective "'diets". I heard every excuse in the book and then some. I know we are all supposedly doing what we can but are we really trying or are we just being mouthpieces?

If I am totally honest with myself and all of you, I know why I stopped losing weight after I reached the 20 pound mark and why I've gained back ten pounds. It could be the weather, it could be the depression, it could be the medications, but the harsh reality of it is all is that I ate more calories than I burned! There..I said it. Now, that I've owned up to it I can move on.

Yesterday I made the decision to post my food journal link on my SparkPage and asked you all to nag me. One person actually commented on it and thought I didn't get my veggies in (I did, by the way, under the roast with veggie entry).

I ate sensibly all day yesterday and last night I staved off the hunger fairy by eating strawberries and a banana. Mind you, I really wanted a piece of homemade cherry cake that I had out for company but I kept thinking about how it would look on my food journal. As it was I went over my calories by a 5 calories and my sodium by 75mg. I'm doing okay today too but I'm telling you all now, that the secret to weight loss is to keep track of what you eat and to get moving! I've got to practice both until they become second nature to me...plain and simple!

Gotta go now and head out the door for a walk before supper. I made Chef Meg's Baked Beans....they look yummy. I don't do them in a slow cooker though but rather a cast iron bean pot!

Susan





Monday, March 28, 2011
Hi!

Happy Monday to you all. Okay, I'm back to work and all seems to be going quite well. I knew it was time to return just as I knew several weeks ago that I needed some time off. I guess I'm getting to know myself afterall.

So, after several weeks of not weighing in I took the plunge. Actually, I remembered that today was weigh-in day after I was dressed and my hair was done. Thank goodness, I stripped off my pants, top and socks because when I hopped on the scale it read 211.2! Crap! The funny part was (and you know with me there is always going to be a funny part!) I then took my hair clip out and jumped back on the scale. Talk about being desperate! Stayed the same much to my chagrin.

So here I am 6 1/2 months into this journey and I've regained half of the weight I had initially lost. I'm not going to sit here and blame the weather or my depression. I am here to fully accept that I've been eating like a pig and to take responsibility. I've eaten enough food in the past several weeks to keep a small nation from starvation. I'm ashamed of myself but I am not letting this setback be the end of my journey.

I am here today to pledge to you all that I will make an honest effort. To prove that to you all (I'm nervous as I type this) I am going to make my food journal public. See, I'm not tracking now at all (how could I dare record a huge bag of ketchup chips and a bar a day?) so this is going to be hard for me to do. I am going to be completely honest with what I record. It may or may not be the healthiest each day but I'm going to record it regardless so I can have a truthful record of what goes into my mouth!

My plea to all of you (especially my faithful friends) is to nag me to death if I don't record in my food journal. I'm so not looking forward to doing this but I know I have to do it. I cannot let my weight go up anymore!!!!

Take care and I look forward to being nagged!

Susan

P.S. For those of you who have been asking, Ketchup chips are just another flavour of chips that are available here in Canada.



First Page
1
2
3
4
5
6
7
8
9
10
11
12
13
14
15
16
17
18
19
20
21
22
23
24
25
26
27
28
29
30
31
32
33
34
35
36
37
38
39
40
41
42
43
44
45
46
47
48
49
50
51
52
53
54
55
56
57
58
59
60
61
62
63
64
65
66
67
68
69
70
71
72
73
74
75
76
77
78
79
80
81
82
83
84
85 86 87 88 89 90 91 92 93 94 95 96 97 98 99 100 101 102 103 104 105 106 107 108 109 110 111 112 113 114 115 Last Page

Get An Email Alert Each Time PCOH051610 Posts