| | |
| --- | --- |
| | PATIENCE2255's Recent Blog Entries |


Friday, June 05, 2009
Good morning! Well I've made it to week four and still going strong. I've not tracked calories in a while, or anything else for that matter... BUT that's not to say that I've not been well behaved.
I've been walking every night (exception Sat, and Wed) for an hour. Using the trails near my house that are complete with winding stairs and hills. I've managed to get creative in trying to get the most out of the workout, walking backwards and forwards and doing drills along the way. It's helped me feel tons better energy wise, and even though I've still only lost 5lbs, I do feel a difference in my clothes already.
New this week I've added more strength training and additional cardio workout, with yoga. Yes, I'm busy... I took my measurements on Wed night and "before" photos this morning. The numbers definitely don't lie people, so if your thinking about it, I'm encouraging you to be brave. :) It has given me new motivation, and even a bit of inspiration.
I signed up yesterday for a 5K in mid September, that I plan to run with a friend. Today, I'm going to start training my body to run. HAAha! I laugh because I'm sure I can, but I know it's going to be a comical journey at first.
So week four review... not too many results so I'm kicking it up a notch again and staying focused. Wish me luck!
P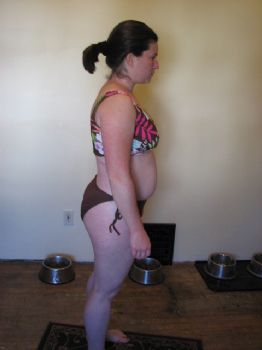 Tuesday, May 19, 2009
Here I am week two... feeling a little less umph this week, but plugging away none the less. Last week, ultimately, I didn't move the scale in either direction but it put my eating into perspective. The scale is discouraging... so I'm not weighing in until Friday this week, in an effort to keep moral high. :) This week I'll be kickin' it up a notch, already started walking every night and starting to do some strength training tomorrow. I'm hopeful it'll all pay off. Wish me luck.




Thursday, May 14, 2009
Did okay yesterday on my calories, think I may have gone over just a smidgen. Coming up on one week now and feeling pretty good. I had a craving like MAD for chocolate yesterday. So I ate half a serving of dove choc. satisfied and pretty guilt free. *big sigh* Only about 63 extra calories. But point being, I actually gave it some consideration... normally I'd of just stuffed myself. LOL
This morning, woke up and did some yoga. Spent some time in the garden too. Loving all this energy!!! And the scale has made it's first move....... drum roll..... 4lbs. Yeah, I'm sooo stoked for the next few months. I hung up a pic on my fridge from one of my mags, for inspiration. I cannot wait to feel smokin' hot again.
I'm motivated and off to a good start! Bring it on.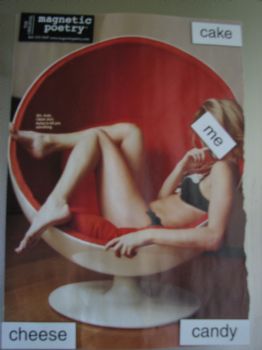 Wednesday, May 13, 2009
I've not lost a single pound yet, but my belt fits comfortably on the first notch!!! Yippeee!
Watch this space.





Monday, May 11, 2009
Had a great day and feeling full of myself atm. Got my entire 2nd floor cleaned, and I mean cleaned. Doesn't sound like much but considering I've been on my duff since February, I think that's saying something. Cleared and organized two walk in closets, took out spring/summer clothes and purged a lot for the Salvation Army. It was a spiritual cleansing of sorts. I went through my clothes and tossed the stuff I'm sick of and also noticed that my jeans come in five sizes: 4, 6, 8, 10, 12. LOL There's a progression going on here and I'm determined to stop it in its tracks. I kept them all, some for practical reasons and as for that size4 it will BE MINE once again.
Then I proceeded to the garden where I overturned and weeded half of it. Holy cow, what a ton of weeds. I would have finished, but was time to cook dinner. Tomorrow I'll attack again.
So far in my short three days of being better to myself... I've increased my activity level dramatically and I'm really thinking of the calories again. I've stopped sitting in front of the tube and started just finding something to do and that's a good start. I've also started taking extra vitC and a Flinstone. Which is doing me surprisingly good, I sleep much better for it and I feel so much more energized. I've even noticed that stress is a trigger for me to eat. Who new?
For this week I'm planning on just keeping busy enough to burn a few calories, focus on what goes into my body... snack, snack, snack.... as well as, getting 8hrs of sleep and taking time for myself to relax.
Stay tuned.




1 2 Last Page

Get An Email Alert Each Time PATIENCE2255 Posts