| | |
| --- | --- |
| | PANDASUE2's Recent Blog Entries |



Monday, April 02, 2012
For the past 75 pounds or so I've been contemplating what I would write if I ever got to 100 pounds lost. Well I'm here and I still don't know what to say! When I started this journey, 337 pounds and a size 30-32 pants and 26-28 top, I never thought I would get here. I remember the first few weeks felt like they were just DRAGGING on and on and on. There were many times I wanted to give up or give in and just over eat. But I held strong, didn't give in to too many temptations and am now at 237 pounds, size 20 pants and 16/18 tops.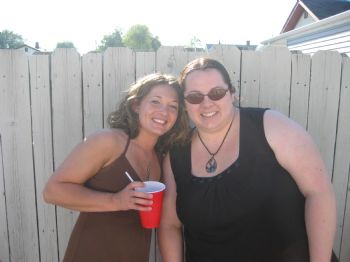 About 337 here, August 2010

I didn't realize how big I was. I knew I was fat, but its those full body pictures that make you gasp and say "oh my god". But even then, I did nothing about it. Why doesn't someone tell you you look like sh*t?! Eww... I can't believe I'm even letting this picture out of my little dark hidey hole, but NO MORE, not ever, ever again...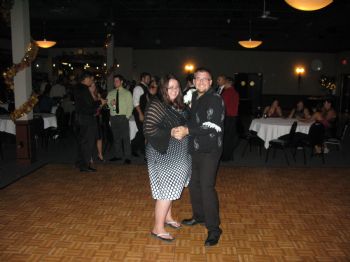 Then there was Vegas... Vegas was my "moment" where I said, "As soon as I get home, I'm going to the gym and changing". And I did. I was sick of not being able to look cute like my friends did when we went out. I was sick of sweating constantly no matter where we were or what we were doing. I was super sick of being "the fat friend" and not even being able to really fit in that polka dot dress (above) anymore.
Here is one of the last pictures ever taken of me being 337 pounds: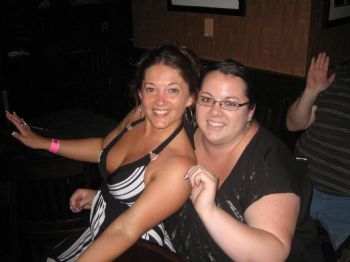 Then after that, after I got back and started going to the gym religiously, everything changed. I have more self confidence, I feel better, I'm not always the gross sweaty one(except at the gym, I sweat like crazy there) and I'm happy. My journey isn't over, but I'm glad I'm out of those beginning stages, where it felt like it was never gonna happen and that was never gonna be me.

I'm still afraid of going backwards - afraid of not being so on track and only allowing myself a few indulgences. Last night I indulged in Noodles (Mac and Cheese) for the first time in over seven months. It was delicious... but at the same time, I felt guilty. I knew I should be eating better than that, but that's what I wanted. I was still within my calorie ranges for the day and have found over the past seven months that it is ok to indulge in a few things. Its actually has kept me on track better than if I didn't eat anything bad. A few things here and there, and especially in moderation, don't hurt you too horribly on the scale.

A friend of mine asks me all the time how I get so much motivation. I don't know if its motivation so much as being terrified. I've missed MAYBE 20 days at the gym since I started going in August because I'm so scared that if I take more than a day off that I'll stop going all together. This isn't a good way to carry on. All this fear I have built up will make me fail in the long run... I need to learn how to get over "I'm afraid of going back" and more "this is my new life and to be healthy and happy, THIS is what you have to do."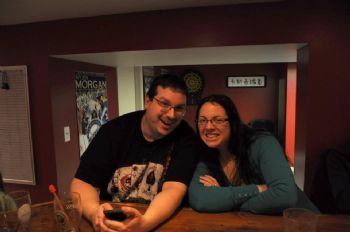 Don't mind my dorky boyfriend... About 250 here.

So as right now I'm happy with where I am, I want to keep going. I would LOVE to see that 1 on the scale. I remember hitting the 200's in middle school and thinking "this is gonna change, I'm not gonna go any higher than this." Freshman year... 214. It just kept going up and up and up and as I knew I was putting on weight, I did NOTHING about it. Now, I know I can do it, I KNOW I can do anything I put my mind to and I KNOW that I'll be able to see 199.





Monday, February 06, 2012
I know that I haven't fallen completely off the wagon, however, I do feel like I've become a bit more lax in my efforts. This doesn't fly with me. I can't afford to be in the maintenance mind set right now. I have so much left to lose before I can even consider what that might include. So I have to re-prioritize, remember why I got to where I was in the first place, and why I NEVER want to go back there, EVER, EVER again.

Long term goals:
-Lose 67 more pounds. This would put me at my first goal of 190. I will reevaluate if I want to lose further after that. I don't know if 190 is possible. I'm so tall and have a large frame... I don't know if 190 exists in here. The Wii fit says to be at a healthy weight I should be 148. HAH! Never gonna happen!
-Become a size 18 or smaller.
-Run a 5k

Medium term goals:
-214 pounds. The weight I was as freshman in HS. 1/4/01 – To be this weight again would be amazing. I know it was never any less than that after that day. It only kept rising from there.

Short term goals:
-Lose 100 pounds. 237. 20 more pounds to go!
-Work on Jillian Michaels 30 day shred as daily as possible.

Ways to get to where I want to be:
-More veggies and fruit
-I've gotten a little lazy on the eating out thing... this is how I got to where I was... no more of this! Only on special occasions. (Subway and Panera don't count... those are my "healthy" places)
-Stay around 1700 calories a day. One cheat day around 2000 calories.
-Start weight lifting more consistently. Right now its about 3 days a week. Bump this up to 4 (or every other day, no matter whats going on) And do it for about 45-60 minutes.
-Start alternating walking days (on incline only) and elliptical days. Elliptical at least 10 resistance for 30 min straight.

Often times we read in blogs on this site about how we didn't realize we looked so bad. This is true with me as well. I didn't think I was THAT girl. The fat one that hid behind her baggy clothes and sense of humor. Now that I've shed 80 pounds, I have this confidence that I wasn't sure existed in me. I'm starting to wear clothes that are fit and make me look good with my new curves. Before it was baggy sweatshirts and the same pair of jeans (I had 3-4 of the same exact pair of jeans because I thought they looked good on me. They didn't. They just stretched to fit over my chub.) We all wonder how we got there... I know exactly how I got there. Whole boxes of brownies and no portion control, what-so-ever.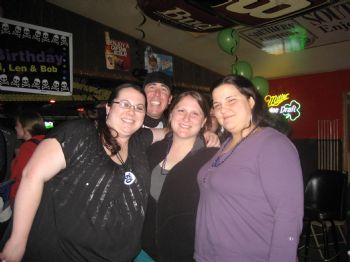 I'm the one on the left... I thought this shirt looked good on me, hid the fat. Nope. Just made me look like a balloon. 337ish pounds.

I don't remember the last time I weighed 257. Probably because when I was there I was only there for a minute, climbing up the fat ladder. It was a daunting task at 337, thinking about losing 150 pounds or so. Now its just life. I'm actually doing it for me and am sticking with it because I can't give up. Not again. Not after I've come this far. I love the compliments and the looks that people give me even though they don't say anything. If I give up I've just let myself down and let people know that I'm always gonna be that fat girl. I don't want that. Not at all.



Again, the one on the left, about 68 pounds down here.

I'm still so scared though. This journey feels like it is going to be never ending. I'm going to have to watch my food intake for the rest of my life. Maybe not counting calories and writing them down, but at least still be diligent about my working out and eating right. But I suppose, nothing in life comes easy, right?







Monday, January 16, 2012
This past couple of weeks has kind of just been exhausting. I had to give up my role as a BLC leader because I just couldn't put forth enough effort and support that the teams need due to a bunch of reasons. I really hate that I let the other leaders down and I hope to be able to get back into it at some point, but right now... I just can't.

A good friend of mine and my boyfriends got into a car accident a couple of weeks ago. At first they thought it was just a broken nose and collar bone, but a few days later he started having mini strokes due to blood clots in his throat. He's paralyzed on his right side and can hardly talk. His wife isn't giving us much information so a lot of what we are hearing is hearsay. She won't let us go visit him, won't let us call her... we don't know anything. Its so aggravating, depressing and frustrating not knowing whats going on.

To top it off, my car decided to break on me and shred a brand new tire. The spring/strut broke on it and its leaking fluids. The technician just called and said it would be 1460. AWESOME, something else I can't afford!

I don't know if its stress or what but I haven't lost any weight since the beginning of the year and its getting to be really frustrating. I haven't changed anything, still working out just the same, eating the same amount of calories, the scale just isn't moving at all. I have plateaued. I am stuck. I really think I am destined to be fat for the rest of my life. 266 is not skinny, nor will it ever be. I don't want to be here forever. GET ME OUT OF HERE.

So, to try to break through this plateau I've started the C25k. I'm on week one, today will be day three. Day two kind of sucked... I got through it but it was hard. Probably cause I was still sore from day one. Not as sore today so day three should be a little easier. I don't know though that I'm going to be able to move on to the next step by Wednesday... I may do two weeks for each step. I'm not sure how I like it yet either. I have never been much of a runner, so we'll see how it goes. I just want to do ANYTHING to get me off of 266.

I've also upped my calories. I think I might have been starving my body, though, I always felt full. Instead of 1300-1400 calories, I'm going to shoot for 1700 to 1800. Hopefully this will jump start me again. If not... I don't know what I'm going to do. I don't know if I can last more than a couple weeks without wanting to completely give up.

The final piece of big stress is the fact that nobody ever stops asking my boyfriend and I when we are getting married. I want to get married, I love him and want to be with him. He feels the same way. Right now though, we have one problem to work through that is just not letting us move forward. Its something that could make or break a relationship in the future and I'm not going to move forward to just get divorced a couple years down the road. I just know its not smart to move ahead when we already know there is this issue. It has nothing to do with another person, or money or if we love each other, its just something we need to get over together. So I lie and tell people its because we don't have enough money for a wedding (ok, this isn't too far off... we don't have the money for it, but that's not the real reason!)... I don't know what to do any more. How fast do I have to get over this to move on? How do I know if its not going to ever get better?

Need a therapist much?! YES!





Sunday, January 01, 2012
With everybody writing their new years blogs, I figured I would as well. I have a couple things that I haven't been able to stop thinking about and am hoping you guys can help me out.

First of all... Happy 2012 to everyone! I can't believe 2011 is over and we're on to a new year yet again.

Here goes...
A friend and I were IMing on Friday about the Ren Faire we want to go to this summer. She said she wanted to rent a costume for it and I immediately got nervous. She's the same friend that I hang with often, and is a size 6. The costumes at the Ren Faire are for people her size... not for people like me! Then I thought... who are "people like me?" Do other people look at me and only see that fat girl that I see? I still look in the mirror and feel like a size 28. Very rarely do I see a size 24. This sounds a lot like a self confidence and loving myself issue, but I'm not sure that's the case. I have been this size for so long that I don't know that I'll ever see a smaller size. So I told her that I'd probably just wear something I have, a corset top from Torrid that I've never worn. I bought it 4 or 5 years ago with the intention of losing weight to fit into it... of course that never happened. So after my talk with her I could not stop thinking about that top. I went to dig it out of the back of my closet and much to my surprise.... it was too big! I love and hate that at the same time... I love that I'm getting smaller, I hate that I wasted the money. Stupid double edge sword!

So after the top, I decided today to clean out my closet and my dresser. I probably got rid of 4 pairs of jeans (all of my 28's and a 32) and a lot of my larger shirts. They're sitting in a bag in front of my dresser because now I am terrified to let them go. I am so afraid that I am going to balloon again and that I'll need them right back. I know that's no way to think, but clothes are so expensive and I know that those fit... If I give them away, I'll have to start over. Why am I even thinking like that though? I am in a smaller size... it makes me feel FANTASTIC... why would I ever even think about going back? It still gonna be REALLY hard to let those go... UGH!

So then I was thinking about offering all of my larger clothes to a friend that I know is about my size... my old size, i guess. Is that rude to do? She's more of an acquaintance, not someone I talk to all that often. I don't want her to take it the wrong way... I don't think she will, but I know I'd feel really awkward if someone did that to me.

Next...
Since I started my journey in August, August 15th to be exact, it felt like this was going to be the longest journey of my life. The days were going by so slowly and I was expecting to just give up at any time. I am still shocked and amazed that I'm still going at this. This isn't like me... I've never stuck at ANYTHING this long. I love it. I love the newish me. I love that feeling when I put on something that I would have never fit into before. December 31st marked four and a half months on this journey and 71 pounds lost overall! WHAT!?!?! Four months ago it felt like 337 was gonna be my label forever. Now not even my drivers license has the correct number on it... it's even 10 pounds OVER at the moment!!

Four and a half months... wow. I'm hoping to hit the 100 pound mark by my birthday, June 21st. 237 would be an amazing number to be at!

Future....
Every year for the past 11 years or so my Mom and I and a bunch of our friends have been doing the annual Multiple Sclerosis 5k. Every year I dread it, knowing that it is gonna kick my butt. One year I was so out of shape I didn't even walk. This year... I want to run it! However... I get on the treadmill and immediately get bored out of my mind. Walking in place for 60 minutes just does not do it for me. Then, to top it off, RUNNING? Even thinking about running scares the bajeeezus outta me. I've already blogged about this, and I know a bunch of people are doing it at a higher weight than me, but I still can't get myself to do it. I don't even know how to start running!! I'm gonna fall off the treadmill and look like a fool or something! I need to start now to be able to do it by the first week in May.... but how?! Ugh... I dread it! I just wanna stay on my trusty elliptical!

So I don't know... I have a lot running through my mind that I can't seem to sort out or let go of. Help?!





Tuesday, December 27, 2011
Well Christmas has come and gone (very quickly I might add) without too much stress or over-eating. This year, being healthier, has made me think of all the years past that I ate, ate, ate without even giving it a second thought. This year was way different. Christmas eve day was mostly traveling. The boyfriend and I stopped at Subway where I had a salad for brunch. Dinner at the grandparents consisted of ham sandwiches, cheesy potatoes, pasta salad and beans. I ate two (small) ham sandwiches and about 1/4 cup each of the cheesy potatoes and the pasta salad. Time for pie after that which I completely avoided. :-)
Christmas day was dinner at our house with the boyfriends parents. We made turkey tacos so I knew exactly what I was eating and how many calories I was consuming. Didn't even go near my top range of calories for the day :-)

I even steered clear of the Christmas candy/cookies. Over this whole holiday weekend I've had 3 peanut butter balls and two rolo treats. For me... that's excellent. I used to be able to finish ALL of the peanut butter balls no problem... those are the my favorite!

When I first started doing this weight loss it was for me, but it was also for my grandparents. Every year we sit at the table at Christmas and I listen to them ridicule me for being overweight and for not doing anything about it. This year was exactly what I was hoping for. Pretty much the second I got out of the car my grandparents and aunt were all over me telling me I looked so good and they could tell right away and asking how much I've lost. My grandma even emailed me after I left telling me how proud she is of me and how she is excited for me to keep going. THAT is what I wanted. That is what I was looking for. Now the rest of this weight loss is for ME.

Debating on what I want to do for a new years resolution. I don't think its gonna be weight related since I'm already working on that. I think it might be more in the way of organization. I feel very unorganized lately and need to get that on track. I'll post another blog when I figure out what I want to do.

Hope every one had a very Merry Christmas... now back to the normal routine of daily life!



First Page
1
2
3
4
5 6 7 8 9 10 Last Page

Get An Email Alert Each Time PANDASUE2 Posts