| | |
| --- | --- |
| | OREGONLAUREL's Recent Blog Entries |


Sunday, October 23, 2011
My legs were really tired on my ride today. I was going slower than usual and considering not going as far as I originally planned to go. I was having my usual mental argument with myself... something like this:

self1: you need to go farther... at least double what you've done now. anything less is wimpy.

self2: my legs are shot. I'm tired. I'd rather be home with my family. it's still a good workout.

self1: it's maybe an ok workout, but it's not great. there is nothing special about it. it's not above and beyond. you've been kind of slow... you should go farther to make up for it.

self2: this is a very respectable workout and I've also lifted weights today. it is enough.

self1: what would They think if They saw your workout log? How would it compare to Them? Is it good enough? Probably not.


OK, so you get the gist of it... I could go on but it's pretty much more of the same. But as I was going along I started to have a few thoughts creep in (from self3, maybe?) that I haven't had before in this daily mental conversation... thoughts like: who are They? why do I care about Them? Do They even matter to me? Are They reasonable? Are They knowledgeable about me or fitness? why does Their opinion matter? You know what I discovered... I don't know who THEY are!

Maybe They are partly You... there is some sense of accountability and responsibility because of my SP page, the people who send me notes saying I've encouraged them with my story. What if someone looking at my shared journals doesn't think my workouts are perfect and my food choices have lots of room for improvement. Does that matter?

Maybe They are all the friends and people in my past who knew Fat & Lazy Laurel. Do I punish and push myself to try to make up to Them for my past failings? Do I even owe them that?

Maybe They are the people I haven't yet met... the fellow athletes I bump into at events and we casually discuss training and workouts. Does mine hold up next to what They do? Should it matter? They don't know my physical limitations and I don't know theirs and yet I feel like I should impress Them in order to be considered a "real" athlete. I spend a lot of time thinking I'll be exposed as a fraud, that I haven't worked hard enough, that I'll be literally laughed at for thinking I can compete at athletic events.

What an amazing amount of negative self-talk and self-doubt... if I heard someone talking to their child the way I talk to myself I would be horrified. Would I ever say even a portion of what I say to myself to a friend? Of course not! Does my husband talk to me this way? Never! When did I give myself permission to mentally beat myself up day after day after day after day... and it surprises me that I still struggle so much with the mental aspect of weight loss when I've maintained my goal weight range for years? Huh, small wonder.

Maybe my next set of health and fitness goals needs to be more about being content with my own achievements measured against where I've come from and where I want to go... not anything to do with Them. They will never be satisfied. If I am able to succeed by Their standards in one area I'm sure I will soon find myself failing in other areas. It is time to stop treating myself so poorly because of Them.




Monday, October 17, 2011
Late afternoons are hard for me not to snack. Sometimes I'm truly hungry but usually I'm just a little stressed out (kids home, homework, last bit of catching up before the evening, dinner needs to be made) or tired or both. If I really need a little something to keep me going I try to chose something that packs a punch like an ounce of almonds. But... days like today where I really didn't *need* to eat anything I could tell I was going to start foraging through the cupboards to find a goodie (not that there are any in there!). So, since the sun was shining I went outside with the kids (removed all of us from the kitchen because they are just as prone to "can I have a snack" x20 between school and supper) and while they played I tackled a cleaning job I've been working on just a bit at a time. An hour later when it was time to come in I was able to focus on dinner and knowing the meal was coming shortly and satisfy myself with a cool drink while waiting to eat. I'm pretty certain if I had stayed in the kitchen or turned on the tv and plopped down, I would have eaten something (or many somethings) not part of my plan for today. As it is, I can have my evening snack guilt free and I probably burned a few extra calories doing the work in the garage!




Saturday, October 15, 2011
I have a Facebook friend (friend of a IRL friend of mine) who is an amazing Christian woman with two little boys ages 18 months and 4 years old. She has a marriage that makes other people say "what is your secret? I want that!" and her beautiful spirit draws many people to her because of God's love they see through her. She was recently diagnosed with a terminal aggressive brain tumor and at best has 10-12 months left unless God has other plans for her. She put a quote on her FB page today that really spoke to me... to my petty sinful little heart that I try to hide but that I know (and God knows) is there... to the despair I feel some days over struggles we are having with one of our daughters... to the dissatisfaction and frustration I feel in my marriage, church family and life in general right now...

It brought me back to a place of understanding that it's not about me. it's not about me. it's about Him and how I can chose each day to follow his guidance in the dark comforted by His hand around mine or I can struggle to see what is not mine to see, stumble around blindly and push away the hand that is there to comfort and guide. I hope it touches you the way it touched me. (and I plan to find the book it came from and read the whole thing!)

"My problem is that I like light better than darkness. But if I can see what God is doing--how He is working everything together for good--then I don't need faith. But I still want to see. I think we all have this problem. We say we want more faith, but really what we want is sight. Sight says, 'I see that it's good for me, so God must have sent it,' but faith says, 'God sent it, so it must be good for me.' God asks us to walk by faith, not by sight. Faith is walking in the dark with God, holding His hand."

(From "Calm My Anxious Heart" by Linda Dillow)





Wednesday, October 12, 2011
I said I was going to start blogging the "little tips" that helped me in my weight loss and then promptly forgot! So, trying again...

I am an ice cream girl... I don't know that there is a flavor I don't like and I'm not even very brand specific, either. There is a local dairy where I live that will soon put out an annual fall flavor called Pumpkin Pie... pumpkin ice cream (you can taste the nutmeg and spices!) with marshmallow ribbons and chunks of pie crust. To. Die. For! BUT... if you're read my recent blog you know I'm trying to eat Primal/Paleo and refined sugars are a no-no. So, what's an almost nightly ice cream eater to do? (yes, I ate it almost every night... a measured out half cup portion and counted the calories. It can be done and you can still lose weight!) I digress... so my new nightly treat? Partially defrosted cherries are da' bomb! Not only are they yummy and satisfy my ice cream craving but they aren't very expensive and fit into my grocery budget (for me... it's MY treat, not the rest of the family. They get frozen strawberries and blueberries that are even less expensive). I measure out 140 grams in a bowl, let them defrost partially and then eat them one at a time with a fork, savoring each one. YUM! I'm getting ready to have some right now...

What about you? What's your favorite no-sugar dessert substitution?





Tuesday, October 11, 2011
My swim coach is awesome and has a truly inspiring testimony about weight loss, health, fitness, living a fulfilling life, triathlons (she's an IronMan finisher and currently training for IM 2012) and also happens to be a recent convert (18+ months) to Paleo. (blog link below) She has told me several times how her arthritis and joint pains have disappeared since adopting this style of eating so after 3 months of dragging my feet and resisting, I'm giving it a try, well, kind of. It's a huge change and I'm not much of a sweeping change kind of person, I'm more of a baby-steps kind of person. I don't expect my family to make most of the changes I will (although I do think they will come along on some things with me like high veggie intake, less refined sugars, etc) and cooking/eating separate meals is something I did for a long time during my weight loss and I've really enjoyed the last couple years of more or less the whole family eating the same things (I relaxed a bit and my husband got a little healthier so we kind of met in the middle as far as eating styles).

So far the changes I've made are:
cut out wheat products:
I haven't been 100% on this because I still take bites here and there of toast or crackers and I've indulged in a slice of pizza or a sandwich but I'd say I'm about 90% good on this one.

cut way down on refined sugars:
it was hard to give up granola/fiber one bars, ice cream, candy treats, etc that I've gotten used to having small portions of but so far I've done really well. One thing I haven't given up is my morning cup of coffee that includes 5 grams of reduced calorie cocoa mix and 2 T coffee creamer. It will have to come later. for now, it stays!

cut significantly back on other grains and starches:
I've limited my intake of beans, corn, corn products and other grains such as couscous, oats, etc, probably by as much as 75%. I miss it but so far I'm doing ok. I have had potatoes and sweet potatoes but in the Primal guidelines they are ok in "moderation".

I don't feel nearly as deprived as I thought I would. All three of my pregnancies were spent managing gestational diabetes and I always craved bread and carbs. I thought it would be like that but so far it's ok. I have a friend who is also going Primal/Paleo (she's being much more hardcore than I am but her husband is doing it with her and I think that makes it easier) and she gave me the idea of "splurge days" built into your week or weekend for foods that might be "off limits" for strict Primal/Paleo eating. That concept has helped me justify eating a few treats here and there with the family and I don't feel so set apart from them.

At the same time I'm shaking up my workouts a bit, less cardio and adding back in weights and trying to be much much better about stretching. I think I have the beginning of plantar fasciitis so I'm off walking and running for now but I'm cycling and using the elliptical and when I can make myself go, I'll start lap swimming again.

One other new adventure: after the first triathlon I got a road bike. I LOVE IT! it's so fast and feels so great! I rode it for about 7 weeks before I did the second triathlon and it was an awesome experience. (I think I'll blog separately about the tri). After the tri I got my courage together and took the plunge into clip-in (clipless?) pedals and shoes. I fell a couple times and it still kind of scares me, but I'm getting better and better at it and I can see why cyclists prefer how it feels once you get used to it. I hope I never get "too old" to try new things!

Best wishes on your new adventures!

Everymom To Ironmom: http://ironmom.blogspot.com/

"Lexa" my new BFF :)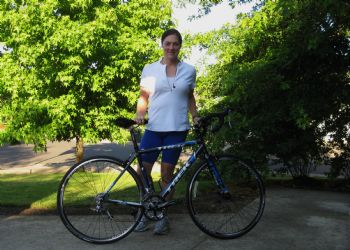 1 2 3 4 Last Page

Get An Email Alert Each Time OREGONLAUREL Posts