| | |
| --- | --- |
| | ONEKIDSMOM's Recent Blog Entries |


Wednesday, July 09, 2014
I know I'm having sleep issues when instead of waking before the alarm, or being very aware that the alarm *is* the alarm, my current dream simply takes what the radio voice is saying or singing and blends it right in. This happened to me yesterday morning, and I took my cue... I hit that snooze four times, and was running short on Spark time as a result. Then last night I made SURE to get to bed on time!



Sleep is a very important part of the healthy living deal. As important as exercise and nutrition. So it pays to listen to the body when it gives those cues. I ended up inserting an extra rest day into the schedule to accommodate... besides, there were some household things that needed attending. And I missed writing a blog yesterday for the same reasons.

Today, both bags are packed... the lunch and snacks bag, and the gym bag. I'm thinking this is strength training night. That's an element that must also not be ignored by the triathlete! So... today's by-word is BALANCE.

LIFE is good. It's better when I'm fit. It is at its best when kindred spirits are about both on line and off! Creatively, consciously, and consistently making choices that support a healthy life, I remain GRATEFUL for every... single... day!



Namaste.





Monday, July 07, 2014
That ice cream cone I've been mentioning in my blogs for what, two weeks now? Yesterday I had it. But I didn't just have an ice cream cone. I recreated a childhood memory. With a few modifications.

Picture in your mind the 1960's. July or maybe August. Nebraska. It's hot. And humid. You are too young to drive, so you've been out riding your bicycle to the swimming pool, to cool off and have fun, and alleviate boredom, because after all, it's Summer time! You rode your bike back home to the un-air conditioned house. All the windows are open, but it's still a very warm evening.

Mom & Dad suggest a family walk now that it's cooler than it WAS in mid-afternoon... to the Dairy Queen about half a mile away. And the whole family WALKS to the DQ. We each get a small cone, and in this case, because it's a special occasion, I get mine dipped so it comes in a shell of chocolate.

Then we slowly walk home, slurping the drips and trying not to get them all over our hands... but being unsuccessful. At home it will be bath time anyway, so who cares we get a little sticky? But it tastes marvelous, and it fills young tummies, and we are surrounded by family.

Think about that... yes, treats WERE a part of childhood. They didn't happen every day, they were something special. And look at all that built-in activity that preceded the treat... bicycling for transportation, swimming for recreation, and walking to get outside.

So... here's how the re-creation of the memory went: Morning was my volunteer gig which was outdoor but not terribly active. Had my usual fuel for breakfast, snack, lunch, even had a little nap, because the day had started early... then went for my planned training activity which turned out to be swimming yesterday. I went to the gym pool and found it packed (just like when I was a kid). I swam my laps in the outdoor pool to the sounds of other people just splashing around (and a couple of other lap swimmers). I got out, went home (but I drove), and had my planned supper.

After supper, before evening snack time, I drove 2 1/2 miles to the nearest DQ (I could walk that, perhaps next year when I do this again), went in and placed my order. The young thing behind the counter asked was that vanilla ice cream under chocolate dip? Oh, yes, I reply, the classic... you are competing with childhood memory here!

Then I slowly walked around several blocks in the neighborhood of the DQ, slurping up the drips and trying not to get my hands all sticky. Unsuccessfully, I might add, but when I got back around to the car, I rinsed off with water I had in the car before driving home. Ahhhh!

And that, my Spark friends, is my aim for having treats these days. Rarely, and with purpose. Savoring, and enriching with memories... and really remembering that the food was only PART of that memory. The food cannot BE the memory.



LIFE is good. It's so much better when I'm fit. It is at its best when kindred spirits share their journeys, too. Creatively, consciously, and consistently making choices that feed body, mind and soul, I remain GRATEFUL, for each and every day.

Namaste.






Sunday, July 06, 2014
That TNT stands for Team Nebraska Triathlon, the sponsoring club, in case anyone is curious, but I find it quite appropriate that a race with an explosive acronym was being run the weekend of Independence Day.



I got there promptly, reporting for duty about 15 minutes early, in fact. I was assigned first to work check in packet-pickup. There were the usual things one expects at a USAT sanctioned multisport event: check the membership card, the photo id, if not an annual member, have them sign a one-day waiver to go along with their one-day membership just for this race. New wrinkle? Since the socks (yes, this race gives the participants athletic socks... don't you love races that give out something OTHER than t-shirts?) had some kind of problem and had not been delivered, we were also taking down sock sizes, so that when the socks do arrive the right size gets sent out to each person.

This was by far the smallest such event I'd been to, only 37 racers (39 if you count the two-person teams as two, but only ONE of the team members crosses the final finish line). I was the last person working registration and was given instructions about what to do with no-shows (there were only 3, plus a team they knew about ahead of time). Then I had some time off until working the finish line.

While I was off, I took time to shoot a few snaps:



Sunrise over the transition area... yes, it is backlit. Sorry about that, I was staring into the rising sun. It was, by the way, kind of weird to see people setting up in transition in full daylight... races I have participated in we mostly set up in the dark.
But in July, a 7:30 a.m. race start is full daylight out here.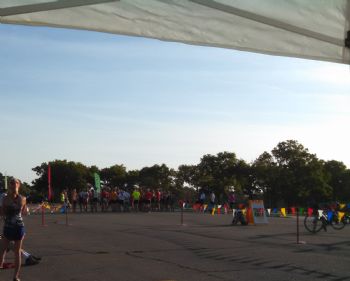 Mandatory pre-race meeting, where those who checked in yesterday were reminded to get their sock sizes to the registration crew, and all were given the rundown of the course. (2 mile run, followed by 12 mile bike, followed by a second 2 mile run).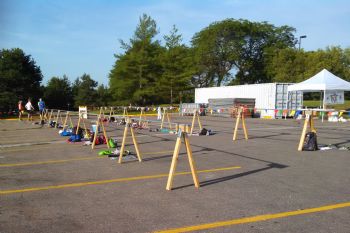 Considerably later after all the runners had retrieved their bikes (and the relay teams had tagged their biker), we are looking at an empty transition area.



The timers are also tasked with counting laps for the bikers. This is three times through the loop that is close to the Buffalo run route that runs in September. Yes, this is Pioneers Park, for you local folk who might recognize the trees and paths!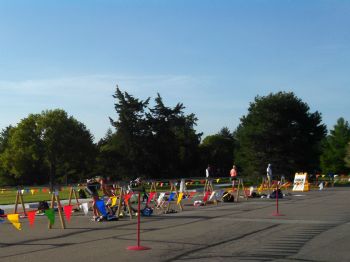 The lead biker is back into transition. He has a considerable lead on #2. If he doesn't stumble badly in the second run, he's got this in the bag.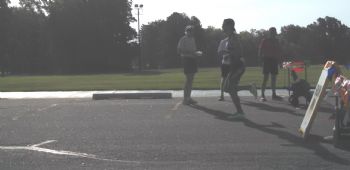 Here he is running out. Then I got kind of busy, learning my next task, which was to strip the bib tags in order off the finishers, and string them up.

While I was standing there, a gent in a Lincoln Marathon shirt from this year wandered up. I asked was he a fellow finish line volunteer & he said no, he hadn't known this event was happening, he was just out for his normal run. Nonetheless, he pitched in and helped during the times we got two runners in a foot race into the chute, and stayed and chatted about racing and running and tris and all the wonderful things those of us who do this sort of thing love. I love this community. Both the "runner's" community and the normal "this town" sense of community. I feel blessed to be a part of both.

And of course, once the final runner was across the line, I was dismissed, and came on home. I found that I missed SPINNINGJW's departure (she wasn't up yet when I left for my gig) from her stay. Wishing her a safe trip back to her home, via blog!



LIFE is good. It's better when I'm fit. It is at its best when shared with kindred spirits, both on line and off. Consistently, consciously, and creatively making choices that support a healthy life, I remain GRATEFUL, for each, and every day. Spark on!






Sunday, July 06, 2014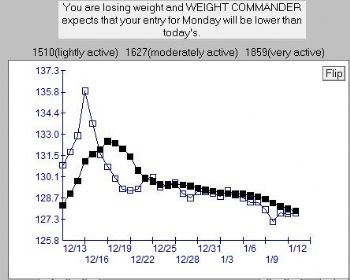 This was last January, when I got myself in hand, mentally tough to take off last year's slippery slope regain.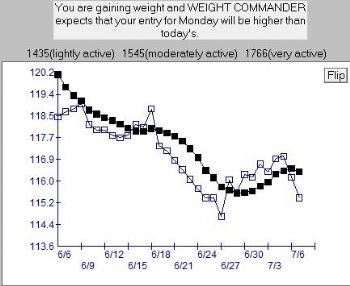 This is now, when I'm working at regaining "a couple". Interesting what a CONTROLLED regain looks like. Interesting what it feels like from the inside. A whole different psychology, and worthy of attention. Why? Because most of us, when we start to regain (at least those of us who have been on the roller coaster for many years), STOP LOOKING!

Well, not this time. I'm paying attention! Remember this years tag line includes "consciously".

Apparently my boosting the calories the past couple of days has not been enough to offset the training (even the reluctant jollying myself into it training). So... today? I'm about to head out to my volunteer gig at the TNT Duathlon. I've had breakfast earlier than usual, and I have packed a snack, figuring I'll be home before lunch. And this may just be the day for that ice cream cone I've been talking about for two weeks. Way to build up the treat as a treat, Barb!



LIFE is good. It's better when I'm fit. It is at its best when kindred spirits on parallel journeys lighten each other's load. Consistently, consciously, and creatively making choices that support our long-term goals, I am GRATEFUL for each and every day.



Namaste.





Saturday, July 05, 2014
NOBODY in the family made big plans or offered to host this year. Last week, those of us in town received one inquisitive e-mail from our older sis, as for once, she's in town, not off with one of her daughters' families. She invited us to drop by if we wanted. I emailed back that I'd probably drop by sometime during the day, but would likely head home and go to bed at my normal time. These days, routine is my friend.

Got the "arrived in town" call from youngest sister (SPINNINGJW) on Thursday, she didn't know if anyone in the sibling group had plans, she had several invitations of various sorts, and obligations, but she would soon be over to take up weekend residence.

I had just heard from ALICIA363 that she was about to head out on Uma Vertigo (my knobby tired mountain bike, on sort of permanent loan to her) to "see how far I get", so I kept the phone close "just in case". Jen arrived, and while we were still chatting, Ace showed up at the door for her mid-ride break / water stop. So we *did* manage to get THREE sisters in the same room during part of the weekend... might be the biggest gather of the weekend, though.

Yesterday morning I was rebelling against my training plan for some reason. But I did jolly myself out the door to ride the bike before it got too hot. You can tell my rebellion from what I'm wearing. Regular walking shorts. Running shoes, no clip shoes. Cotton t-shirt, no special jersey. You'll see in a photo in a bit. The plan was to call older sis (the non-sparking one) when I got into her neighborhood and if she was home, go visit her.

WELL! That plan went bust, as she was obviously out getting her walk in while the weather wasn't too hot yet: the answering machine picked up. So I biked on, and ended up at the cemetery where Mom & Dad are interred. Chatted with them a bit, as that's kind of my thing when I visit. I don't decorate graves or anything quite so fancy, but I drop by, see the beauty of the place in general and invite their spirits to come along on the rest of my bike ride.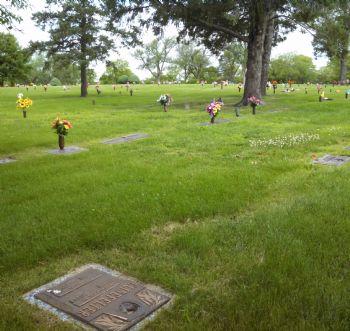 As I once again approach sis's house on the way back, I again phoned. (Aside: hands free voice control of the phone via my blue tooth headset is the bomb. I tell it "Call ___ ___ home 1", and it dials and I talk all while being able to keep on biking.) She was home this time, so I pedaled on over. After I used her home as my own break / water / snack stop (she fed me my 10 a.m. snack out of her healthy stocked kitchen)... she decided it would be a good idea to join me on the ride back toward my house. She did, and before we started, we got her neighbor to snap this photo of us, about to head out:



So, in the end, I visited Mom & Dad, and saw all three of my sisters as part of my holiday. It had all the elements I needed. Only sibling missing was MOBYCARP, and he has a bit of a long commute to make that happen... if we make that happen every two or three years we count ourselves lucky.

LIFE is good. It's better when I'm fit. It's at its best when there are kindred spirits following their own path to a healthy life. Consistently, consciously, and creatively making choices that support that healthy life, I am GRATEFUL, for each, and every day!



Namaste.



1 2 3 4 5 6 7 8 9 10 11 12 13 14 15 16 17 18 19 20 21 22 23 24 25 26 27 28 29 30 31 32 33 34 35 36 37 38 39 40 41 42 43 44 45 46 47 48 49 50 51 52 53 54 55 56 57 58 59 60 61 62 63 64 65 66 67 68 69 70 71 72 73 74 75 76 77 78 79 80 81 82 83 84 85 86 87 88 89 90 91 92 93 94 95 96 97 98 99 100 101 102 103 104 105 106 107 108 109 110 111 112 113 114 115 116 117 118 119 120 121 122 123 124 125 126 127 128 129 130 131 132 133 134 135 136 137 138 139 140 141 142 143 144 145 146 147 148 149 150 151 152 153 154 155 156 157 158 159 160 161 162 163 164 165 166 167 168 169 170 171 172 173 174 175 176 177 178 179 180 181 182 183 184 185 186 187 188 189 190 191 192 193 194 195 196 197 198 199 200 201 202 203 204 205 206 207 208 209 210 211 212 213 214 215 216 217 218 219 220 221 222 223 224 225 226 227 228 229 230 231 232 233 234 235 236 237 238 239 240 241 242 243 244 245 246 247 248 249 250 251 252 253 254 255 256 257 258 259 260 261 262 263 264 265 266 267 268 269 270 271 272 273 274 275 276 277 278 279 280 281 282 283 284 285 286 287 288 289 290 291 292 293 294 295 296 297 298 299 300 301 302 303 304 305 306 307 308 309 310 311 312 313 314 315 316 317 Last Page

Get An Email Alert Each Time ONEKIDSMOM Posts