| | |
| --- | --- |
| | ON2VICTORY's Recent Blog Entries |


Monday, March 12, 2012

Here is a quick update in video form. I am not really good at candid vblogging since I do struggle with public speaking but I am just tossing this one out there with the idea that I want to do more in the future once i get over my stage fright.

Ultimately I want to start V-blogging more often. I have to say that there is a certain fear that I do have. I guess I need to address that fear for me to really make progress. I have enjoyed the companionship of alot of people on Sparkpeople and you have been overwhelmingly supportive of my journey. You folks are truly my lifeline but there is a self-consciousness that I still fight that tells me that if people were to see the real me, that they wont like me as much, which is ridiculous but I have my struggles too ya know..

I do want to attach a face to the blogs that so many people read so that you can really get to know me rather than the "spit polished" blogs that I produce sometimes.

Sometimes I am not so refined as my writing seems to be but thats ok, I really think that you need to see the person side of me. I am not superhuman just because I did a few things and lost a few pounds.

I struggle, I have to put action before feelings for those times I really want to just sit there, I still over eat at times, I can be weird too....trust me....

But one thing is for sure, I have a compassionate heart. It's not enough for me to have lost what I have lost and get fit. I want to take someone with me. I want someone to maybe see me and all of my bumbling and get the idea that if he can do it, so can I.

I want you to come with me.








Saturday, March 10, 2012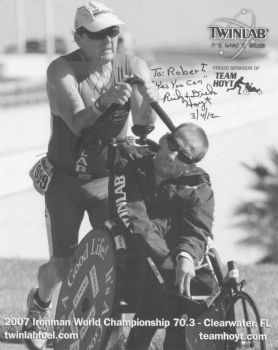 The first time I ever saw the video about Dick and Rick Hoyt, I cried like a baby. I was touched. I contacted them via their website and told them my story. Their message is simple.. "YES YOU CAN!"

Today, I got a personally signed picture that says simply:
"To Robert, Yes You Can"
-Dick and Rick Hoyt.

it was a simple message but in a world filled with fly by night fathers and men who cut and run at the first sign of trouble, Rick Hoyt is a HERO in every sense of the word and has laid down his life to give his son a better life and as a result, he has something deeper and richer than most of us mere mortal men can only imagine.

A man who has completed well over a thousand races including 6 Ironman triathlons, to hear him say to me YES YOU CAN means so much.

I am framing this and putting it in my gym.

YES I CAN.

Thank you Mr Hoyt.

-The pic is actually color but my scanner is dying so I did it in greyscale.

Their Story...
www.youtube.com/watch?v=flRvsO8m_KI

This is their website...
www.teamhoyt.com/

BTW, as an added note, I have been doing much better with my foot. after weeks of stretching and treatment, I am becoming far more pain free. there is still some stiffness but each morning has been almost pain free since it seems like I had a breakthrough in stretching. IT seemed like my stretching wasn't accomplishing anything then POW, something gave way and it is like I am really on the road to recovery for real. After months of PF pain, that is a huge step.

I even dared to go on a treadmill run and crushed my mile run time. Last year my average mile time was 14:30 on a good day. This morning I did a mile in 12:05 without any huffing and puffing or pain, I felt awesome and like I had some real hope that I will get past it. Being able to run a short distance was like a ray of sun breaking through.

YES I CAN.






Monday, March 05, 2012
I'm human and I get frustrated for sure. All is going well except for my foot. As most of you know, I have Plantar Faciitis and I haven't been able to really run. I struggle with the idea of pushing out a treadmill 5K which used to be standard practice. I guess all sorts of stuff goes through your mind when injury happens, stuff like "will this ever end?" or "will things ever be normal again?"

I have made some progress but it is slow, like enduring flaming bamboo shoots under the fingernails. I have been taking out some of my frustration on strength training. I guess that is where alot of the drive is coming from because I have gone after it with a vengeance but it does not replace what I feel when I get out for a long run, it only compliments it. Both go hand in hand, the one does not replace the other and I feel out of balance.

I dont want to be one of these guys I meet at the local box who are in excellent shape, cut with a six pack and turn pale at the thought of running a 10K much less a marathon. There is something in my mental make up that was BORN for endurance sports and will never be satisfied with less.

Not being able to run distance for the time being as forced me to exercise thinking outside my normal paradigm which is a good thing.

Outside the box thinking is one thing that separates those who have the heart to get it done from those who sit on the fence and talk about it. When one has heart and an overwhelming desire to see it through, they will look for a way, no matter how seemingly crazy or unorthodox.

For example, when I was 16, I was overweight, out of shape and wanted to join the Air Force in the worst way. I knew that things could not stay as they were. Sitting on my duff, playing video games and eating pizza had to go. This was something I simply knew intuitively and i acted on it. I out up pictures that I got from the local recruiting office and everyday I woke up, I was looking at my goal pictures.

I had no exercise equipment so I got to work. I found my dads diving weights and ran a rope through them and turned them into a dumbbell, about 10 pounds but after 100 reps, it was enough, and yes, the rope KILLED my hand. I made a jump rope out of clothes line and two broom handles. The lightness of the rope didnt work so good so I wrapped lead solder around key points of the rope to get some good rotation. Then I donned some crappy sneakers and jogged as far as I could and did it consistently. In the end, I lost 25 pounds and was able to enlist shortly after my 17th birthday. After I got out of high school, I went into Basic Military Training and spent my 18th birthday sitting in a barracks shining my boots.

My point in all of that is that if we have heart, we WILL find a way. Circumstance, lack of equipment, finances, nothing will stop you if we are a determined soul and will not let go of our dreams and settle for less. History has taught us that a man in rags with a rifle and 3 bullets fighting for his life, his family, country and his God is more dangerous and unpredictable than a draftee sitting in a tank with the best of everything. All the man in rags can think about is the day he will breathe the air of freedom. To him, nothing else matters. All the guy in the tank can think about is how many days he has left until he gets out and goes home. Total difference.

All I can think about every day is the day I will finally reach maintenance, not a plateau, maintenance. Everyday I get stronger, lighter, faster and with it new ability.

Each new ability obtained adds more spark. Those sparks are fanned into a flame by the winds of freedom until my passion brings liberty.

I will win, will dominate, will have victory and nothing will stop me until there is total and unconditional surrender of my enemy.

My passion is stronger than my injury and I will not be stopped.

I am armored with determination, armed with drive, and the will to see it through is my weapon.

I will find a way.






Saturday, March 03, 2012
This is the message I have written in dry erase on the glass on the door going into the gym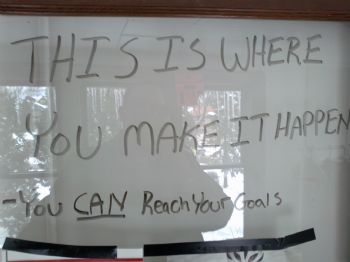 some pics taped under the message on the door - I'm a guy and I didn't have any duct tape at the time so I used electrical tape... the gym needed the "man's touch"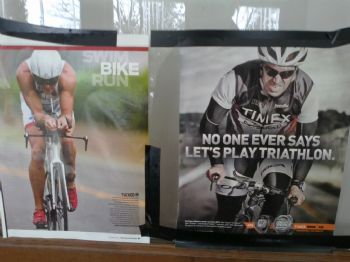 My Treadmill, BOSU, and stability ball..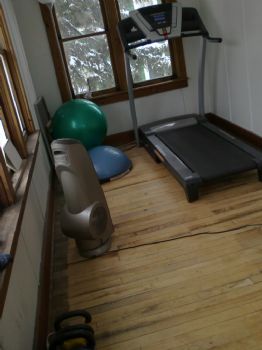 Bike set up as an indoor trainer.. Cycleops Magneto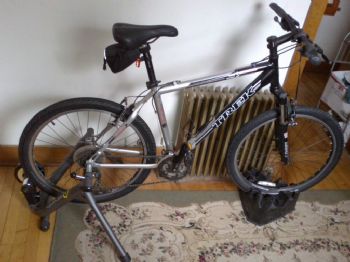 Kettlebells (25,20,10lbs), Speedweights (the dumbbells with multiple plates), and a couple of 35 pounders. The speedweights allow you to use just one weight but you can change the weight from 5 to 25 lbs. Major space saving idea there!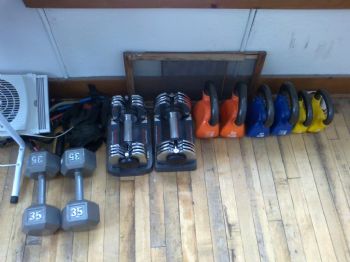 My WOD board (Workout Of the Day) - I set up my workout on the board and track what i do over several days in the left margin..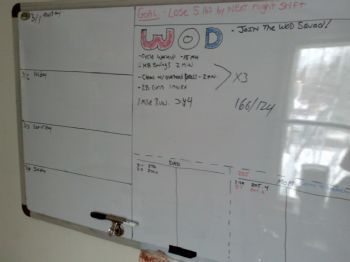 WOD board close up... it says "Join The WOD Squad"
-the time is the duration of the exercise and the >x3 means I do the complete circuit 3 times..it doesnt look like much but after the 3rd round...im about to cry uncle.



-Motivational pic taped at the bottom of WOD board - again with designer tape..



-part of my library, I have quite a few books out on loan right now...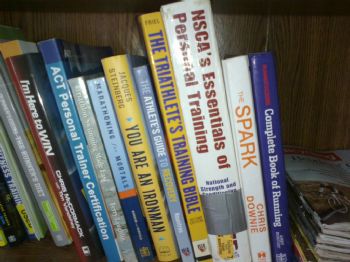 I basically study workout videos and then incorporate Crossfit intensity to it and it really has been producing some amazing results. I almost killed myself with a 20 lb kettlebell when I first started, now I just did a Crossfit workout with a 35 pounder without any trouble.

For those that have known me for a while know that I have had a serious mental block when it comes to strength training. Its almost like i was so cardio focused that I regarded ST almost as a waste of time. Basically I was going to put forth so much effort with minimal results and burn far fewer calories than I was currently at the time.

Boy was I wrong.

Regular ST was kinda mundane in my mind but once i started Crossfit, things changed. About the same time, I really got into the Kettlebells and between what I do at Crossfit and what I do at home with the Kettlebells, free weights and cardio on the bike and treadmill, I can really feel the difference and have gotten alot of compliments. My body has started changing in about 2-3 months of short but intense workouts on top of my typical cardio sessions.

My arms are starting to get cut, legs were already cut from all of the running. I can now handle doing 40 situps x3 without going into a spasm in my core. I am really starting to toughen up and it has been worth the effort.

The part that I noticed the most was I could do Crossfit style burpees without dying. I can now actually drop to the deck into a squat thrust then jump up into a jumping jack style overhead hand clap. That is so huge for me. I am really seeing some fitness gains and am looking forward to the day when I can do an unassisted pull up.

When I get the remaining 50 lbs off, I have a feeling this is going to turn out pretty good. It will reveal what i have been working on for so long but it has been buried. I guess it's cool to have somewhat of a physique but I am most interested in what that strength is going to do for me as I prep for endurance events. I can tell a difference in my treadmill 1 mile runs. With a stronger core, my running is far more efficient and I have reduced my mile time from 15 min mile to 12:30 without hardly any running at all. I couldn't run much due to my Plantar Fasciitis so the improvements could only come from one place....strength training.

I am hooked on Kettlebells, they are far from boring and it is the perfect blend of cardio, and real-world strength training rather than single muscle group isolation on a machine.

Also, I just got some TRX bands as well for suspension training.

Love it....






Saturday, February 25, 2012
My daughter had her sweet 16th birthday tonight. I was supposed to be working a 12 hr night shift tonight. I only get one personal day a year so you kinda have to make it count. I called in and used it today, I felt it was very important for me to be there for her birthday this year since it is her 16th. It is not uncommon for me to miss events due to a unfriendly work schedule so she would have understood but this time it was going to be different.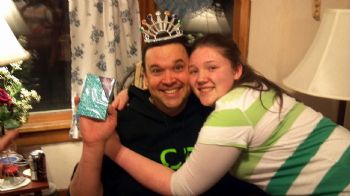 This picture taken after winning the "pin the crown on the princess" game. After being mercilessly spun around I managed a near perfect hit on the princess and won a Tiara and a glitter notebook. I even got my picture taken with the birthday queen. However, in light of the hard effort of the second place runner up, I abdicated my hard earned prize to her. It took alot of courage for a 42+ yr old guy to go head to head with a group of wild teenagers but old age and treachery will always overcome youth and vigor lol.....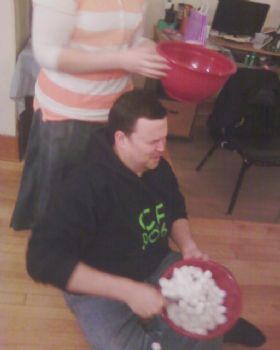 Then i successfully transitioned to the next event, the cotton ball scoop.

I had to close my eyes and scoop as many cotton balls out of the bowl in my lap and get them into the bowl on my head in one minute. I did ok but I did not represent my age group very well in that event...no awards...

Last but not least..
I had to guess the amount of candy inside a plastic piggy bank. I guessed 400, it was actually around 325. Again, no age group awards....

All in all, the birthday triathlon was a great success and now I was crowned the coolest dad ever. I would not, however, recommend fueling with pizza in between events. I think it caused me to lose some of my focus....




there is always next year... I have 350 days to train then its taper time.. I will overcome.






First Page
1
2
3
4
5
6
7
8
9
10
11
12
13
14
15
16
17
18
19
20
21
22
23
24
25
26
27
28
29
30
31
32
33
34
35
36
37 38 39 40 41 42 43 44 45 46 47 48 49 50 51 52 53 54 55 56 57 58 59 60 61 62 63 64 65 66 67 68 69 70 71 72 Last Page

Get An Email Alert Each Time ON2VICTORY Posts