| | |
| --- | --- |
| | ON2VICTORY's Recent Blog Entries |


Thursday, April 28, 2011
It is so difficult to admit this but I am suffering burnout. My life is in burnout mode and it isnt my training that is doing it.

It is my life.

I had a long talk with my trainer today and she basically confronted me in a caring manner because she is concerned. Since the fall of last year she has noticed a gradual downward spiral. She sees it in my countenance, the fact that I am always late, for every good focused session, there are 5 or 6 sessions where i am just going through the motions.

She is right

Things in my life are slowly killing me and I am not coping well at all. I havent gained or lost which is a good thing but I have lost my drive in every area. I used to be always wanting to learn, an avid reader, loved the outdoors etc... not any more. If I read more than a page, i fall asleep. i am always tired. There are those around me in my job that have energy to live life and do things and such. they work the same night shifts, endure the same 12hr weekends, and so on.

It is so hard to admit this. I have to find a solution. I been doing this for 3 years and the first 2 years I was gung ho working the same crappy schedule, slogging around in the same mud, enduring the same cold, breathing in the same dust, working the shifts and I lost weight, i was zealous.

to be honest, I feel cold in my soul, alone, and I can honestly see why men drink. sometimes that is all they know..

I am not going backwards which is a good thing but I am in a bad place and need to move on. I'm not fishing for sympathy or anything but I feel that getting this out there will actually help me. whether i get 1 comment or 1000 makes no difference.

Even a straw feels like a burden. I feel like i am dangerously close to ''jettison mode" where I dump any and every non-essential responsibility just to lift some of this crushing weight in my heart. that means all extra curricular activities, Sparkteam leadership, everything.

this is not the answer but I feel cornered.

I am trying to find someone in my shoes that has done it to talk to.

If you work rotating shifts, have been mentally exhausted and have hit the wall but pulled through, send me a SP mail, I want to hear from you.








Friday, April 22, 2011
I get asked this alot too, training for your first 5K, what to do, what worked for me etc...

This is a re-print from December 09, 2009. If it wasnt for the fact that someone commented on it, i would have never remembered that this existed. here it is.......


I can only pass on what has worked for me and there is not a one size fits all approach to all of this BUT.... I have found the following ideas to be helpful and these are some things that I have learned along the way. I am also assuming that those reading this are in reasonable physical health. If you are working through some medical issues, you had better not go outside of your doctors advice.

Preparing for your fist run..

1) Know that at whatever fitness stage you are at, it IS possible. Sounds so simple but most of us including myself, have come from a place of such emotional defeatism that it is hard to develop the mindset necessary to complete what seems now like an impossibility. Its hard to visualize yourself crossing the finish line of a 3.1 mile run when you almost die after 1 mile but it is something that can be worked up to. BELIEVE IN YOURSELF, NO YOU ARE NOT CRAZY, YOU CAN DO THIS! All it takes is one victory like this and you will know that anything is possible with enough work and training. your weight loss resolve will experience new highs as your self confidence surges.

2) TRAIN,TRAIN,TRAIN.... You have to WANT this. It's pretty hard to build up your endurance in between the commercials, the coffee clique gatherings, soap operas, Internet drama and other mindless wastes of time. FOCUS. Someone who is busier than you, older than you, and flabbier than you is out there running right now, dont let them be the only one out there setting a good example. You have to carve out a time to put #1 in the #1 slot, no exceptions. This will not fall out the sky and hit you on the head. Success is never uninvited. Consistent effort is never unrewarded.

3) Be realistic in your expectations and honest with yourself.......What I mean by realistic that is dont expect to go from a couch potato to athlete in 8 weeks. What I mean by honest with yourself is you KNOW if you are pushing yourself enough or are just plain unwilling to leave your comfort zone. You want to push yourself so that you are forcing yourself to grow but realistic enough not to go crazy and push too hard or develop the mindset that if I cant run 2 miles after 4 weeks of training then I just cant do it. Listen to your body honestly. This takes time. You have to be able to discern between your body needing to back off and simple static from a body that has hung out the do not disturb sign on its comfort zone. Failure to do so will result in either injury from pushing too hard or failure to develop the necessary endurance required to complete a 5K run due to not challenging yourself to go outside the box. LISTEN AND TUNE IN!

4) Music. Sounds simple but I have found that listening to music is a serious training aid in distracting the mind and assisting in the mental endurance necessary to complete the run. plus it is really enjoyable.

5) Intervals.. One of the most powerful tools in the runners toolbox in my opinion. NO ONE off the couch starts out jogging a mile. When I first got started I jogged a whopping 2/10ths of a mile before almost hyperventilating. I would then get my heart rate down below 1000 BPM (just kidding but it did feel like that) by walking until I was back in control again then jog a little more and repeat the process. By doing this, your endurance slowly adapts to meet the new demand and you will eventually find that you can go farther before having to stop. I dont follow a chart or program to go for so many minutes a day for so many days. thats a little too mechanical for me. I go until my body says uncle, then give it all the TLC and recovery it needs, then do it all over again. I let my body dictate how long I should go. If the C25K program says I should go 30 minutes today and I am not capable and cannot meet the programs expectation, I feel like I dont measure up, not a good thing for those of us that struggle with self-esteem issues. If I can exceed what the program requires if I pushed myself and went outside the box, then I am depriving myself if I don't. Let your body dictate how long you should go just so long as you obey RULE#3. Even if you walk as much or even more than you jog, DO IT. It all adds up to developing the mental as well as the physical endurance needed to finish the 3.1 miles. It will come in time.

6) Keep it fun this is crucial if you want to succeed. I found that my habit of exercise and running started when I started creating pleasurable associations in my mind with exercise/running. All of my experiences with exercise was always something I had to do and hated every minute of it. A necessary evil. Now when I jog, I found a place that it really nice to go and I would take it all in, the scenery, the sights and sounds. pace was not important, that would come later. instead, i was associating jogging with a relaxing, fun thing to do and the rest was history. The goal was to make it a habit. If I hate it, there is no way it will be a habit in my life. Sorta how I would feel about an ice water enema. If you love it, you will stay in the saddle.

7) There is no sin in walking I had unrealistic expectations like " If I dont run all of this, I wont run any of it" or "If I walk once, I cant say I ran it at all". I have read where those running a marathon would strategically insert walks into their route so as to not burn out and save their strength for a strong finish. In my case, I speed-walked about 3/10ths of a mile, does that take away from the other 5.9 or so miles I DID run? of course not. Give yourself permission to walk when needed, take the pressure off. Your strength and endurance will come in time.

8) Don't Keep Your Desire Open Ended. What I mean by that is pick a date and commit to it. Be reasonable as to when to make sure you give yourself plenty of time to train BUT don't put it so far out there that you can easily put it off. Also, tell your friends, family, co-workers, what ever you have to do to create a sense of obligation so you cant hide. It is easier to blow something off when no one is expecting you to do it. Create the expectancy, then go for it.

9) Thou Shalt Rest. One of the biggest mistakes I have made while training was doing too much too quickly. It is too easy to get so intense about getting ready that you can overtrain. This can lead to injuries. Also, this can also result in poor performance due to a lack of recovery time. When I first started running, I would get done and would feel like I have just been run over by the pain train and would feel it the next day. If I tried to workout the next day, I would be drained and could not do as well. Shoot for working out every other day. After over five months of increasingly tougher workouts, I can jog five miles and shake it off like nothing happened after about a couple hours but it took a while to get to that point. You deserve a break today, take it and come back the next day ready to burn it down again.

10) Thou Shalt Remember Thy Accomplishments. One of the biggest issues I dealt with not seeing the forest because there are too many trees in the way. Keep a Woo Hoo Journal so that you can look at and acknowledge your progress. You know, something like "dear diary, today i ran one half mile. I cant believe I actually made it that far. i have never done that before." well not quite the dear diary stuff but you get the point. Give yourself credit, acknowledge it, embrace the change, that you are getting better at it and more fit with each passing week even though the scale didnt budge.

If you notice, 99% of the tips I gave had to do with attitude, mental endurance, or encouraging oneself. That is so much of what it is all about. You are mentally defeated long before the body is really ready to give out. The rest is simply P.U.S.H - Press Until Something Happens. It is so much simple repetition. Get out there and keep jogging until you CAN jog. You cant cram your way into your first run, it is totally by consistent effort. Unless you have a physical problem or severe disability, you're packing all the gear to make your first run a reality. The rest is simply building up yourself until you are ready over time. So much of my battle was in between the ears. Get out there and give it your best! You CAN do it.






Tuesday, April 19, 2011
I get asked this alot so i wanted to put it out there in hopes that it will help someone. I have alot of people ask me "have you ever been able to see yourself at your goal weight?" or " when you started, did you ever see yourself losing over 100 lbs?"

The answer to both of those questions in NO. When I first started, my goals were so huge it was almost impossible to wrap my head around them. When you are almost 400 lbs and have never lost more than 20 lbs ever, it is really tough to envision yourself doing that.

Same thing with goal weight. It has been three years to get this far and even after losing over 100 lbs, it is STILL hard to envision losing the remaining 50-60 lbs.

what I do...

rather than get freaked out about how far I have to go, I simply focus on what is right in front of me RIGHT NOW, not some obscure someday accomplishment. So long as it remains "out there", it is hard to get a sense of urgency or a sense of importance in your daily decisions.

For example, like me, if you have 60 lbs to lose, i cant really see 60 lbs but anyone can lose a pound...anyone. I focus on losing the pound. What can I do this day, this meal, this workout to make my 1 lb weight loss a reality? I have to lose 1 lb before I lose 5 or 10. focusing on 1 lb brings it right down to the here and now because you know it doesnt take much to lose a pound and you also know it doesnt take much to mess that up either.

Dont worry about the 60, concentrate on the 1.

You dont lose 60 lbs, you lose 1 lb 60 times.






Monday, April 18, 2011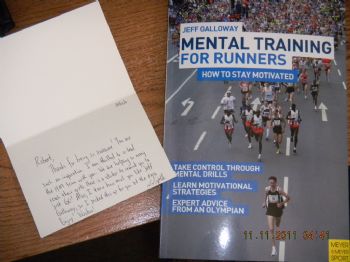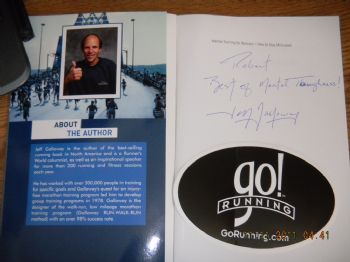 I was totally blown away today. I dont ever get presents, especially out of the blue, from someone whom I only know through SP. I dont hardly ever get anything from my friends i know in person..so I dont expect it either.

This totally blindsided me.

The scenario was perfect for the surprise. I had ordered 3 running books from amazon. 2 were from Jeff Galloway, Marathon and Galloway's Book On Running. The third is Marathoning For Mortals by John Bingham ("The Penguin") All books are very highly rated. I am a big fan of Jeff Galloway for his realistic approach to training following a run/walk method, the man himself is an olympic runner so I would imagine his credentials speak for themselves. I never really stated that I was a big fan, I just simply would refer new runners to his website just to get a proper viewpoint that you dont have to run till you drop, you run/walk to build up your endurance. I am a big opponent of this silly mentality that states " If I didnt run all of it, I didnt run any of it" or the mindset that makes walking a running "sin", to be repented of at the finish line or lamented on their blog as if they had some major failure... poppycock!

Anyway, I get this book, and I am expecting something in the mail anyway because the Marathoning For Mortals has not arrived yet. I open the package and ?????? I didnt order this??? Uh Oh, someone messed up my order...UGH!!

I look at it again and open it up. there is a card and a sticker inside. I read the card and it is a note of appreciation from one of the co-leaders of the Half Marathon team. Then that is when I noticed the signature inside the book. Then it clicked. He got me an autographed copy of Mental Training For Runners and it was signed by Jeff Galloway himself!

I was blown away.

Then it all fell in to place. The co-leader (Absolutezero) had asked me for my address because he was going to a major race and wanted to send me a post card...cool! no prob. That would have been cool enough for me but this totally took me by surprise.

This gift has some serious meaning to me because he thought enough of me to get it in the first place, went through the hassle of shipping it, stood in line to get it signed by Jeff Galloway himself...just for me.

I really treasure this book and the thought behind it. It was a total surprise from a running friend who i consider a superior when it comes to fitness and running.

The card read-
"Robert- Thanks for being so awesome! You are such an inspiration. i am thrilled to co-lead the HM team with you. We are helping so many to reach their goals. here is a sticker to remind you to just GO!. also, i knew how much you like Jeff Galloway, so i picked this up for you at the expo. Enjoy! Woo Hoo!" Nick..

Nick- this gift means the world to me because of your thoughtfulness.

I am going to go for a run today because I am pumped. It is cold, I'm tired, its been a long week full of yucky 12 hr shifts and harsh working conditions... but now, i feel like it is worth it........

Thank you so much....





Sunday, April 17, 2011
I wasn't able to run the Norway Classic 10K. The weather took a turn for the extreme in yuck! I have never cancelled a run because of weather until now, but no hard feelings, this was a no brainer. Slow, sleet, ice and freezing spray/rain. It was far too risky in my book to travel the hour and a half to the race, run some gnarly hills, risk getting sick, flipping my truck or slipping and falling from poor footing.

As many of you know, I have not had had any short supply of problems and with the half marathon being less than 30 days away, I cant risk a problem now. There will be another 10K on May 7th. It should be decent by then.

The worse part of all of this was that I needed to go to work if I wasnt going to use my personal day for the race, I wasnt going to waste it. Unfortunately, I had a 12 hr shift scheduled that day and it was all outside work out in the intense weather working the high voltage lineman's crew, hanging a high voltage feed to a new substation site. Were drilling a new area as part of the mine pit expansion and this had to be done before we could move the equipment in place. Needless to say, it was a gruelling 12 hrs and I was frozen to the bone and needed a serious hot shower, and sack time.

I just wish Spring would come back so I can get some more outdoor long runs in before the half. wish me luck and some cooperative weather.



First Page
1
2
3
4
5
6
7
8
9
10
11
12
13
14
15
16
17
18
19
20
21
22
23
24
25
26
27
28
29
30
31
32
33
34
35
36
37
38
39
40
41
42
43
44
45
46
47
48
49
50
51
52
53 54 55 56 57 58 59 60 61 62 63 64 65 66 67 68 69 70 71 72 73 Last Page

Get An Email Alert Each Time ON2VICTORY Posts