| | |
| --- | --- |
| | ON2VICTORY's Recent Blog Entries |


Friday, December 06, 2013
I finally took the plunge and went to see a specialist about my foot. I wanted to get the opinion from someone who specialized in sports medicine. My left ankle has had issues right toward the end of training for the 70.3 and really got painful after my two recent half marathons. My last half marathon in October I limped the last two miles. Ok... enough is enough.

I was convinced after doing some online research as well as relating to my own experience that it was nothing more than a form of tendonitis from overuse / over training. I was certain all I needed was a few weeks of massage therapy and rest and I will be fine.

Wrong

Specialists are specialists for a reason and this was no exception.

FRONT VIEW OF FEET STANDING TOGETHER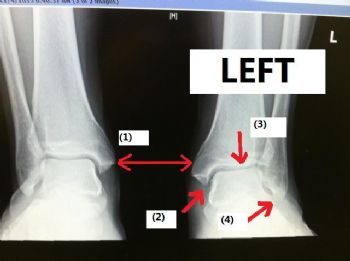 This is why I have been having so many problems with my left ankle.

Area 1 - Left ankle is lower than the right, leg length and posture issues,

Area 2- Compare to right, there are dark patches and some parts are worn down,

Area 3- Check haziness and spacing against the right,

Area 4- Because of an overly stretched tendon on the inside of my foot, it allows the Area 4 to crunch down due to lack of support and causes pain to shoot down the outside of my left ankle.

It should be able to be corrected with orthotics or possibly injections but had I continued to be bullheaded and just pushed on, I could have done some real damage. I have learned a valuable lesson.

I am no dummy and I am very good at listening to my body. This isn't my first rodeo and I am no stranger to the aches and pains that come from training and over-doing it. However well I listen to my body... am I really hearing what it is saying? Had I just listened to Dr Google I might be in really big trouble right now. We are talking about my future mobility. I would really like to be able to still walk when I'm 65.

**Paging Dr Google ** **Paging Dr Google **

This brings up a very important point in the realm of the online world. They brought up a point during my coaching class that runners are notorious for paging "Dr Google" any time they have an issue. Begin with the fact that runners / endurance athletes train themselves to have a higher discomfort tolerance and then mix in some stubbornness, add a dash of adventurism , sprinkle liberally with a self esteem that is enhanced by big numbers on the Garmin ....stir well... and you have a recipe for disaster.

This describes me in a nutshell.

There is a disturbing trend among runners both on Spark and other running forums elsewhere that has been around as long as the forums themselves. This trend is where well meaning and sincere people try to offer advice and fixes concerning other runners aches and pains. While many times they may quite possibly be spot on since many runners have so many common injuries that after a while the symptoms are almost like listening to a broken record.

You may be right 90% of the time but it's the 10% that may cost you dearly in the end.

There really needs to be more awareness among the Spark running community in general about the need to refer to a qualified practitioner rather than tossing out opinions about another members condition however well-intentioned. The tendency toward self diagnosis is a really bad trend and personally would have cost me big time had I persisted.

Every ill cannot be remedied by a foam roller, massage therapy, epsom salts, or "vitamin I" (ibuprofen). Sometimes pain is there for a reason and persistent pain must not be ignored or trained through.

One thing stands out about my visit to the specialist... it's how quickly we got to the root of the problem. If I had gone to the walk in clinic, we would have gone around in circles while we tried the usual pain killers, icing, and referrals.

Going to a specialist in sports medicine was the best choice.

Hopefully I caught this early enough and my hopes of finishing another marathon, or reaching my goals of doing an ultra marathon and the Ironman triathlon has not been sent to the scrap yard.






Monday, December 02, 2013
Hi everyone, there is a lull in the action out here and I miss my Spark-buddies. I'm trying to tap this out on my IPhone while sitting in a truck waiting for a call. So far, knock on wood, everything is running smooth, no drop and run disaster calls :)

So far I've been doing fairly well on this round of nights, on 12's for the weekend then I finish up the set of 7 nights with two more 8's after this and I'm on long weekend. This is where I start setting goals for the next 21 days until I rotate back to nights. That helps me to stay focused on something positive. Any work toward my goals on nights is extra credit.

I've made some great progress on the strength training front. I'm really proud of myself. When I started I was very weak in upper body strength while I was very strong in lower body due to the running and cycling. I've made great strides both at home and during my training sessions at the gym.

I've started being able to do kettlebell snatches at 55 lbs, overhead presses at 40 lbs, endurance reps of KB swings at 55lbs (30-40 reps) strength reps at 80 lbs at 15-20 reps and double cleans (cleans with 2 40lb) and now I just added a new member to my kettlebell family.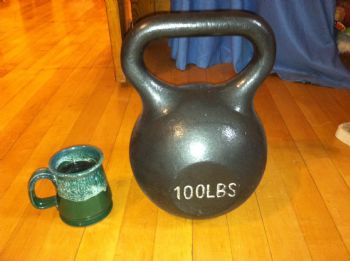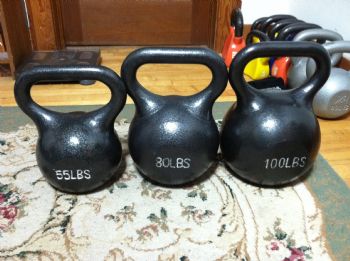 I added a 100 lb kettlebell for doing lower body work, dead lifts, and of course... Swings.

I did a few tonight and it felt good. Did about 10 solid reps. It wasn't that long ago that I struggled to swing 25 lbs. I've come a long way. It also felt good to be able to pick it up with 1 hand and walk across the room with it as I brought it inside. Climbing the stairs to put it in my office was really tough...

Then I realized.....

This is what life was like everyday about 4+ years ago. What a potent reminder. Not only can I workout with what I've lost but it also a stark reminder that represents my old life.

It feels good and is so affirming when I see the progress I've made. Strength training pays big dividends everyday from picking up my tool bag and climbing to the top of a conveyor system without dropping dead to the looks I get from my kids when they see dad work with weights and they know how heavy it is and they also remember what I used to be.

Yup, dad still has a little going on :)







Sunday, November 24, 2013
I have a dear Spark friend that has worked so hard and has come such a long way... Today, she celebrates a 70 lb weight loss and celebrated by cleaning out her closet.

JPoncin
www.sparkpeople.com/mypage_public_jo
urnal_individual.asp?blog_id=5549205

Could you help me celebrate her victory and pass on some big Spark woo hoo's with me?

Thanks everyone!

You Da Bestest!







Saturday, November 23, 2013

I put together a 10 minute video where I grunt through a kettlebell workout. I was originally doing it as a way to watch my form but then said to myself "why not?" Let them see work hard, sweat, gasp, grunt or otherwise let it loose. I wanted to do it not so much as a demonstration but rather I wanted to set the example and let myself be seen wiggling and jiggling. I'm more interested in getting a good strength session in than I am worried that someone might see a moment or two of jiggle.

Frankly, if you look proper during a workout, you are not working hard enough, simple as that. Set the example and let 'em see you sweat.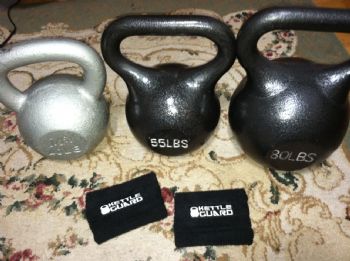 The black wrist guards are not an '80s throwback but rather arm guards with inserts to protect the forearms when doing cleans and snatches... my arm can really hurt if I dont use them.

Kettlebells used
40lbs - one arm alternating swings, snatches, and squats
55lbs - swings and cleans
80lbs - swings







Friday, November 22, 2013
Just a quick note before I head off to work, I passed the exam with a 95%. The most difficult parts of the test was physiology and program design. I have worked so hard to get to this point and this really puts the icing on the cake.

Program details-
www.rrca.org/programs/coaching-progr
am-overview/

Why?

In short, I have tried and failed so many times to lose weight or stick to anything. Ultimately it was running and endurance sports that finally got me to stick with something. Up to that point, I was always getting knocked back to square one every time some little life disruption arose even though I enjoyed what I was doing and was getting results.

Anything I did was rooted in a negative reason.. People rarely darken the doors of a gym because the LIKE how they look or are happy with how they are. Most of us, myself included, go because it is part of the accepted process to correct a problem.

With running and triathlon, the feeling of accomplishment turned the negative into a positive.

By consistently training for something, I overcame the hiccups that make up daily life and felt something real at the end. It wasn't about exercising to get rid of my butt or cure my over-the-belt-itus, it was about reaching my potential and striving for my best and the awesomeness that I feel when I reach that goal.

The negative becomes a positive. The joy of accomplishment, how ever that accomplishment comes. It's about getting stronger, more capable, watching myself grow and seeing what a capable person I am, not about beating myself into submission because I ate too much or for any number of the physical defects I see when I look in the mirror.

It's all about being a strong me.

I want in some way to pass that on because, for me, it was the key to what success I do have.


Next goal- finish my ACE CPT then start C25K training program.

Love you folks




Thank you so much for all of your encouragement and faithful comments. You all keep me going and I really appreciate it.

Robert :)



1 2 3 4 5 6 7 8 9 10 11 12 13 14 15 16 17 18 19 20 21 22 23 24 25 26 27 28 29 30 31 32 33 34 35 36 37 38 39 40 41 42 43 44 45 46 47 48 49 50 51 52 53 54 55 56 57 58 59 60 61 62 63 64 65 Last Page

Get An Email Alert Each Time ON2VICTORY Posts