| | |
| --- | --- |
| | ON2VICTORY's Recent Blog Entries |


Friday, September 19, 2014
The purpose of these last two blogs is to raise awareness among the weight loss community about this test and the benefits as well as to share what I have learned both through my own trial and error experiences and what has been finally confirmed by science. THIS WILL BE A LENGTHY BLOG.. be forewarned. If you want to educate yourself, read on. If you have been stuck forever like I have, read on. If you are looking for a quick woo-hoo-you-can-do-it, then move on, this post is not for you. I am passionate about this subject simply because I have been fighting this war for years and I am always looking for intel on my enemy and ways to relay that intel so that victory can be achieved by myself and others. We are in this together.

I am heavy in to documentation on stuff like this. First reason is that I don't toss stuff like this out to the world based on "I suppose" or "I think..." there is TOO MUCH of that already. There is too much celeb personality driven fitness marketing in a world that is dying for lack of hard, simple facts and from the inaction caused by frustration from conflicting messages. The disillusionment from the cult of personality that is so prevalent doesn't help matters any.

Before I begin let me bring some explanations and definitions to the role of insulin and weight loss.... in the words of science.... not diet cults.

"When people eat a food containing carbohydrates, the digestive system breaks down the digestible ones into sugar, which enters the blood.As blood sugar levels rise, the pancreas produces insulin, a hormone that prompts cells to absorb blood sugar for energy or storage."

www.hsph.harvard.edu/nutritionsource
/carbohydrates/carbohydrates-and-blood
-sugar/

"Insulin is a key player in the control of intermediary metabolism, and the big picture is that it organizes the use of fuels for either storage or oxidation. Through these activities, insulin has profound effects on both carbohydrate and lipid metabolism...Insulin inhibits breakdown of fat in adipose tissue by inhibiting the intracellular lipase that hydrolyzes triglycerides to release fatty acids....insulin is involved in further accumulation of triglyceride in fat cells....From a whole body perspective, insulin has a fat-sparing effect. Not only does it drive most cells to
preferentially oxidize carbohydrates instead of fatty acids for energy, insulin indirectly stimulates accumulation of fat in adipose tissue."

www.vivo.colostate.edu/hbooks/pathph
ys/endocrine/pancreas/insulin_phys.html

"Glucose that your cells don't use accumulates as fat."

www.mayoclinic.org/diseases-conditio
ns/diabetes/in-depth/insulin-and-weigh
t-gain/art-20047836?pg=1


Short version: When your insulin levels rise due to carb consumption ( from "good" or "bad" carbs), the hormonal response of insulin causes your body NOT to utilize fat for fuel.. period. Carbs not readily utilized as fuel turns to fat. Understanding the relationship between carbohydrate consumption and fat storage is key to appreciating how important the test is. The difference between good or bad is how fast it rises... but it still rises and the key to fat loss is to keep your insulin levels down and stable as much as possible. How you restrict and how much is between you and your health care provider or dietitian. This is purely education, not prescription.

What the test measures and why-
The test measures your respiratory quotient (RQ) Your RQ is the ratio of oxygen and carbon dioxide that you are taking in and expelling. The gas exchange that takes place (like a cars exhaust) tells the story of how your "engine" is doing and how it is managing fuel for combustion and at what percentage.

"The relative amounts of the macronutrients oxidized by an individual are reflected in the respiratory quotient (RQ), which varies inversely with lipid oxidation. A high RQ, indicating a relatively low lipid oxidation, and a low activity of the sympathetic nervous system have both been identified as risk factors for body weight gain."
www.ncbi.nlm.nih.gov/pubmed/9814478

" a low ratio of fat to carbohydrate oxidation is associated with subsequent weight gain independent of low energy expenditure and may contribute to the familial aggregation of obesity."
www.ncbi.nlm.nih.gov/pubmed/2240203

... so understanding your RQ is key to understanding what is REALLY going on inside you since your metabolism is going to be individually determined by unique genetic traits as well as lifestyle. This cannot be determined by online calculators, all they can do is provide a generic estimate based on averages and formulas. Can you lose weight without the test? Sure you can. Millions (including me) have done it BUT... it takes a high level of commitment and a dedication to trial and error as well as keen self observation. In spite of that however, as many can attest, you can get stuck... big time (not your typical plateau either).

This is also where even the best of the best can stumble and crash in their resolve. Some lose their minds when they stall out for a month or two. Hang on honey, you ain't seen nothing yet. Wait until you stall for years and you are still 60-80 lbs from goal weight with NO logical explanation. This is where the typical "oh its only a plateau", "you just need to change things up" cliche's really fall flat.... as if weight loss veterans haven't actually considered this.... wow *eye-roll*. At that point you need more than a pat on the back or a woo hoo, you need answers and don't even get me started on fitspirational posters. If all it takes is a picture of a never-been-fat skinny chic, her abs, and a cliche' to motivate you, you probably haven't been at this long enough for reality to set in... brace yourself, it's coming, but I digress... back to science.


The RQ numbers and what they mean.

"Because of the differences in composition of food fuels, different amounts of oxygen are required to completely oxidize those foods to carbon dioxide and water. Thus, the quantity of carbon dioxide produced in relation to oxygen consumed varies depending on the substrate metabolized. This ratio of metabolic gas exchange is termed the respiratory quotient (RQ): "

cstl-hhs.semo.edu/jpujol/hl331/HL031
%20RQ%20Lab.pdf

Short version: Since fat has less oxygen than carbohydrate, the amount your body needs to metabolize it varies and that ratio of O2 and CO2 tells us the percentage of carbs and fats is being metabolized at that moment. When this is done in a fasted condition, it tells you what ratio of fat / carbs your body uses at rest. This is key because we know that metabolic functions from day to day is what burns the majority of our calories. Also, knowing this is also key to adjusting our intake of insulin raising carbohydrates to a level that will allow energy for the day yet still allow us to lose weight since we are metabolizing more fat than carbs.

My Number is .83

"During activities that range from bed rest to light aerobic exercise the RER seldom reflects the oxidation of pure carbohydrate or pure fat. Instead, a mixture of these nutrients is used, and the RER falls between 0.7 and 1.00. "

cstl-hhs.semo.edu/jpujol/hl331/HL031
%20RQ%20Lab.pdf

During the review of my results with my provider, it was determined that my RQ was .83. I was advised that for fat loss, I need to get an RQ of .80 or less. She reviewed my stats and determined that I need to keep my carb levels to approximately 150-ish grams a day with light exercise. The amount can be tweaked as we go along but that gets me in the neighborhood. If needed, I can also see a dietitian to get ideas but I got a pretty good handle on this.

0.83 Carbs 43.8% Fat 56.2% at rest

At .83 my leanings are somewhat toward fat burning, I just need to adjust my carb intake and avoid the processed crap. For some others the number may be much higher and thus highlights the need for intervention to properly adjust the diet to levels that will allow for weight loss since they are natural sugar burners.

I hope this helps someone. i know this was long, but I wanted to get this out there because this was such an eye opener for me and I know it gave me the missing link, what i am needing to really get my weight loss going in the right direction again.

*** ADDENDUM ***
I wanted to make 3 additions to this-

1) The above information should also should cast much doubt on the mindset that some have that says a calorie is a calorie when it comes to the simplistic idea of calories in / calories out. 1500 calories a day of stereotypical high carbohydrate low fat diet is going to produce an entirely different hormonal reaction than 1500 cal of balanced (good) fats, carbs and protein. The insulin response and thus the fat hoarding properties of high insulin will be in play here.

2) The above only applies to those engaging in a moderate exercise program that does not provoke the body to require more carbohydrates to properly fuel one's training (running / triathlon etc..) Again proper balance requires the input of a skilled practitioner in nutrition / sports nutrition to eliminate the guesswork. It's pretty tough to train for performance and still keep ones carbs down for weight loss. It probably should be one or the other but not both.

3) Some have commented that low carb is not a sustainable lifestyle and I tend to agree. It is not a lifestyle, it is a weight LOSS methodology. Lifestyle implies day-to-day living and maintenance. We are mistaken if we think that we can flood our system with hormones that block access to our fat stores and still lose weight. The science says no. When it comes to maintenance, that's different. The only way to lose fat is to tap our fat stores and that is nearly impossible when our nutritional choices blocks our body's ability to use its own fuel. End of story.

As far as maintenance and healthy living goes, I personally believe that there is NO single "best way" to eat. The fact that humans survived and prospered under varying dietary conditions with macronutrients varying greatly should tell us that humans are extremely adaptable. Then again we are talking daily living and thriving, not about creating the metabolic environment for fat loss to occur. The only thing that the varied traditional diets and peoples across the globe have in common is how the dietary wheels fell off when they were introduced to the Western processed food culture. Across the board, many of these cultures never heard of our diseases eating their traditional diet of whatever was local to them. The bad things happened when they traded pineapples and fish for Whoppers or walrus meat and caribou jerky for Chicken McNuggets and Coke.

For further reading on this concept of there not being any one "perfect" way to eat... I highly recommend the book Diet Cults by Matt Fitzgerald.
www.amazon.com/Diet-Cults-Surprising
-Fallacy-Nutrition/dp/1605985600






Tuesday, September 16, 2014
Ever since I have been on this journey I have been using various online calculators to get some sort of a number to base my caloric intake on. For those new to this, we are talking about BMR (Basal Metabolic Rate) or RMR (Resting Metabolic Rate). The idea is to determine what our approximate caloric intake should be. The concept is that this is the base caloric need of your body at rest, just existing, breathing, and little else except powering the processes within to support your metabolic functions. I will attempt to break this down into bite sized chunks for the purpose of shedding a little more light on the subject.

General description: This test basically measures your caloric requirement based on your oxygen taken in and the carbon dioxide expelled. As we all know, CO2 is a waste by product of your body. It is generated by the forces at work in your body and science has determined that the body utilizes X Kcals in the metabolic process to generate X amount of CO2 as the "exhaust" of that process. Probably a crude explanation but it's the best I have.

Here is a shot of the screen that measures that..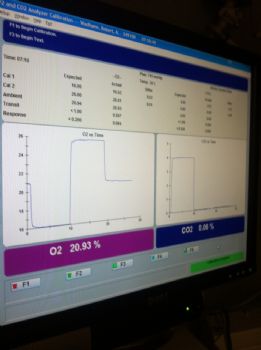 A hood with a hose used for measuring this process was put on me then I was advised to lie still and keep a relatively natural and steady breathing pattern. Also advised to not fall asleep since that would greatly affect the breathing pattern. Prior to the test I was to be fasting for 12 hrs and not take any stimulants such as coffee since digestion and stimulants would affect the O2/CO2 ratio.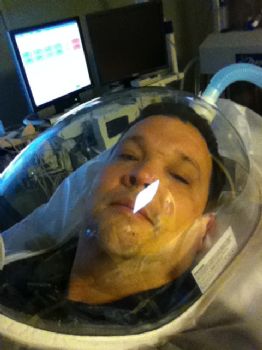 The sampling of my gas exchange ratio was taken over a span of approximately 20 minutes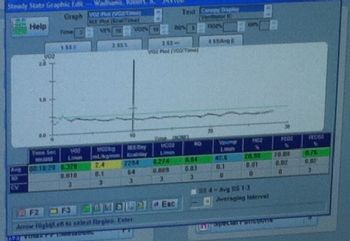 RESULTS:
*************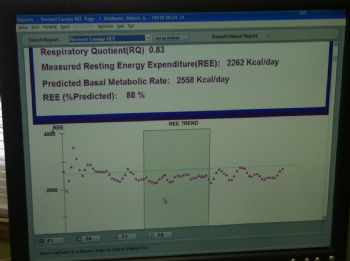 My BMR was determined to be approximately 2260 kcals.

Using the Harris Benedict Equation it was predicted that I would be 2558 kcals.


My personal findings:
I pretty much called it. I predicted 2200 kcals simply because of my trial and error experience. When I first started I had a general number to work with but over time as I logged my food and observed my progress or the lack thereof, I began noticing trends. I would make some sort of progress whenever my daily intake was around 2100 and I created a deficit with daily activity and exercise. Whenever I fell below this, I felt like crap and whenever i went excessively over this, things ground to a halt or worse, I would gain if I didn't have enough "insulation from reality" by intense exercise. It takes time to dial in our happy zone of success, be patient.

A word about intense exercise and endurance training - I have observed in my own journey and others is that whenever you throw high intensity into the mix, the reaction can bring mixed results. For me, I feel I need to maintain an exercise level that will produce a meaningful result without crossing the line and provoking cravings and stimulating the need to compensate for the extreme deficit. My personal experience is that the backlash isn't worth it. It's nearly impossible (for me) to maintain a meaningful deficit for weight loss while producing the energy needed for endurance performance.

So where is the line? - Everyone is different concerning this. Some are capable of running a 10k and never feel a twinge in their appetite simply because they are metabolically adapted to that level of intensity through consistent training and their bodies have become efficient in energy usage. For others, (the rest of us) we run a 10k and we are looking to destroy anything that happens to be on the counter at the time we come back. I guess the easiest way to know where you are at is that you exercise at an intensity that allows you to burn a productive amount of calories on a daily basis without provoking your appetite so you can "keep" your deficit at the end of the day.

That's my theory and I am sticking to it.

Mealtime calories - The rate of 2260 is almost 100 kcal per hour (give or take) about every 4 hours-ish when I eat, I have noticed that if I take in less than 400, I feel really lacking. If I take in much more than about 550, I feel out of balance. More than 600 and I am approaching a food coma. By trial and error I have found my efficient happy zone to be between 4-500 kcals depending on time of day and activity level.

The need for quantifiable food - While nothing is perfect when it comes to food logging, the more quantifiable your food is, the easier it will be to hit your goals. What I mean by quantifiable is that you are able to assign a value to it. A chicken breast, an ounce of cheese, 8oz of milk, and other single ingredient foods are easy to assign value to and track and are probably better in the long run. It's where we start running into "mystery" foods that it is prepared and served as a complex dish and you have NO frickin' clue what its value is and thus the food logging frustration sets in.

I have observed in my own experience that the more "mystery meals" I take in (out to eat, traveling, vacation, or just an old fashioned all-out-don't-give-a-crap binge) the more my progress is stalled or reversed. Over time recipes can be adopted and values assigned but when starting out or starting over, simplicity is often best (and boring, but that's tough -how bad do you REALLY want it?) then complexity can be added in over time once a stable operating platform has been established. After all, changing your eating patterns is an awful lot like trying to get a speeding train to reverse directions. All or nothing extremism (a sudden stop) generally ends in disaster and passive ignorance (introducing NO changes) ends in nothing being accomplished at all and arrival at the wrong destination. Start with SIMPLE changes first.

A final note:

While I knew what my numbers were through trial and error, it was really good to get them confirmed since I always felt like I was guessing instead of something solid to go on. It also took a long time to arrive at my conclusions prior to getting the test done. This brings me to one final but important point. Setting weight loss goals are great but ONLY if you have a full understanding that there WILL be a learning curve and that it will take time to narrow down a method and a caloric number that works for your current status and activity level.

What I am talking about is one of those "I'm going to lose 60 lbs by the end of the year or 25 lbs for my reunion in 6 months" sorta goals. Well, that's just great but what if it takes you 3 months of trial and error to finally hone a routine that creates the metabolic environment for weight loss to finally happen? Then what? will you throw your scale through a window and give up? This is where people lose their stomach for the process or they lose 20 lbs then stall out and quit.

Be patient, observe your own journey, collect data and over time you will craft a system that works for you. If you have the opportunity or the resources available, a visit to a medical weight loss practitioner and a dietitian will really advance your understanding as to best approach your weight loss endeavor.






Monday, September 15, 2014
I was going to write a blog about my experience at the Indianapolis Spark Rally on August 23rd, post pics, and how much fun we had but this is more important. I had the opportunity to spend some time with Beth Donovan (~Indygirl) and something came out of our conversations that really made my blood boil. (I did ask permission to share some of this story first)

Well ok, here is one pic...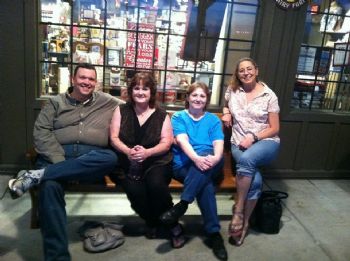 Anyway....Let me explain (as best as I can recollect)

Short version: After an astounding weight loss, Beth was approached by a media outlet to have a chance to tell her story. After some discussion, she was ultimately declined the opportunity due to her appearance being "socially unacceptable"

Socially unacceptable? What does that mean anyway? By whose definition?

She was wheelchair bound and this individual brought herself back from the point of no return. Someone in her condition is typically regarded by society as a no-win situation. I mean after all, people with far less issues struggle to lose a few pounds and have full mobility. While this is nothing short of a miracle, the appearance driven media standard of success was applied and an opportunity to spread hope was lost. What an insult to the rest of us normal people.

There is a ray of light in all of this. We have an example of someone fighting back and winning against the same scenario... A woman lost 170 lbs and was invited to share her story with Shape Magazine. She submitted a picture of her "after" in a bikini and it was rejected and she was asked to wear a shirt. Like the 3 Hebrew Children, she refused to bow to the medias "golden image" and ultimately refused to participate. Her refusal went viral on social media and touched off a firestorm that resulted in numerous media opportunities including Shape all because people just like you and me demanded reality, demanded real life examples and not just those that have a perfect appearance.

Read her story here: brookenotonadiet.com/2014/05/02/refu
se-put-shirt/

Read about the resolution with Shape Magazine and watch Today Show interview here: brookenotonadiet.com/2014/05/12/medi
a-whirlwind-and-a-resolution-with-shape/

Obesity destroys the body, pure and simple. Those that have never been there don't get it. In a world filled with nauseating "fitspirational" posters of people who have never been more than a few pounds overweight their entire life, the general perception created by the media sets the expectation that losing weight also involves the creation of a beach body as well. Those without a six pack need not apply. Because of our media driven expectations, we not only look down upon our own efforts because we don't meet "the standard" - whatever the heck that means, and we also miss the everyday miracles such as these because it cannot be paraded down society's catwalk.

This is shameful. There are issues with morbid obesity that no one wants to talk about... never mind the loose skin, the joint issues, the painful reminders, we all want to look like "that guy/gal"... you know what I mean. Comebacks like I mentioned above are almost unheard of. Usually people in said condition are considered lost by society. If they were "lost" then their story of how they were "found again" is crucial not only to a world that needs hope that it IS possible, but to science as well to gain more understanding to metabolic syndrome and how to overcome it.

So again I ask the question how do we define success?

I have been researching this for a while and found some credible, peer reviewed material that will shed some light on the question. Despite the imagery that is thrust in our faces everyday both on the big screen and in print, our ideas of what weight loss success truly is should be defined by those on the front lines in the battle against obesity, the medical community. What does research say? What does science say?

This is only a short list for sure but it is well documented and reputable.

1) It has been suggested that a successful "loser" be defined as an individual that has lost 10% or more of their body weight and maintained that loss for more than a year. It has been determined by the medical community that a 10% loss creates a significant improvement in overall health and reduced risk for chronic disease. If this is you, YOU ARE SUCCESSFUL!

2) If you have maintained your loss for more than a year, you are considered a successful maintainer and puts you in the top 20% of your peers. If this is you, YOU ARE SUCCESSFUL!

3) If you have maintained your loss for 2-5 years, Congrats!, you have just made it to EPIC STATUS! Your chances of weight regain (relapse) are dramatically decreased. If this is you, YOU ARE SUCCESSFUL!

4) Do you have the "apparent ability to adhere to these strategies for a long period of time in the context of a "toxic" environment that strongly encourages passive overeating and sedentary lifestyles."? If this is you, YOU ARE SUCCESSFUL and are part of an elite group of weight loss commandos that have successfully navigated their way through the enemy's minefields, overcome psychological warfare and dodged bullets (and doughnuts) Wear your Green Beret with pride.

5) Are you among those who have navigated the "Weight Regain Obstacle Course" and survived? The course consists of the dreaded binge eating mud pit, climbing perceived barriers to exercise, the all or nothing mindset monkey bars, The body image mirage, and of course who can forget the valley of perception? The valley of perception is where you come face to face with strong dis-satisfaction with your achieved weight loss. If you made it through this house of horrors, YOU ARE SUCCESSFUL!

This list could be much longer but I would run out of room. I highly recommend reading it for yourself. Get your perception from facts and science, not Hollywood. Please care enough about your journey to do your homework before passing judgement on yourself.

Material documentation :
The American Journal of Clinical Nutrition:
Weight-loss diets—can you keep it off? ajcn.nutrition.org/content/88/5/1185
.full
Long Term Weight Loss Maintenance ajcn.nutrition.org/content/82/1/222S
.long

American Diabetes Association:
Weight Regain Prevention clinical.diabetesjournals.org/conten
t/26/3/100.full

National Weight Control Registry ( The successful losers Hall Of Fame )
Published Research nwcr.ws/Research/published%20researc
h.htm

It is a shame that "Hollywood Fitness" has defined what success truly is. You can do it and you don't need Hollywood's approval.






Sunday, August 31, 2014
Well here we are at the end of 31 days of my personal challenge. For those just tuning in, I am off work recovering from a surgical procedure on my shoulder. I have no competition for my time while I recover and decided to challenge myself to see what I can do in 30 days if I had NO interference from life and the stresses that go with it.

Two Primary Observations:

1) Sleep and stress-

The biggest benefit has been sleep and stress. Without question this has been the most noticeable benefit of stepping away briefly from the insanity that is called life. I never realized how burnt out I was until I had those stresses removed. I now have ambition again and feel re-energized. It wasn't until I had the stresses removed that I began to realize how detrimental stress is. When I get back to the real world, I am going to make it a point to draw lines and safeguard myself. I need to recognize that because I work a non-traditional schedule, I need to be even more careful of my time, my life, and those things I allow myself to take on. I am not super-human, I cannot save the world, and I am not going to throw myself under the bus to do it.

2) Self-Discipline-
As much as I hate to admit it, the daily circus of life forces a certain amount of structure into my life where if I want to accomplish anything, I had better use my time wisely because there is not much of it. I must take advantage of openings and opportunities that present themselves. I have always day dreamed of what I could do if I did not have this *$@#% job to keep screwing up my life. Well I have my opportunity and so far I have been astounded as to how little I have actually done. I can almost say that I have gotten more done when under the pressure of daily living than when I had my freedom. After having lived on both sides of the fence, I think I can safely say that it is a cop-out to blame circumstances or your work schedule on your inability to make strides forward. I have learned that it can be done and the responsibility falls square on our own shoulders. If you and I haven't worked out for a week or ate poorly, more than likely it is because we chose to and chose to not make it a priority.

Any one that knows me, can attest to my sense of self discipline and motivation. I lack neither and have done some pretty epic stuff. I can say honestly that even the most die-hard individual, when given total freedom in their time and life, will have to make a focused, determined effort to make their time count.

After this, I believe that in the end, success does not depend on circumstance, it depends on a daily commitment make forward progress. To always maintain an awareness the clock is ticking and if you ever want to see your objective go from dream to reality, you have to keep your focus, renew that focus daily, and make it a point to live in that reality.

Removing the time based obstacles did not make much of a difference in my personal accomplishments. What made the difference was that in my busy life, I hit the opportunities presented with fervor because inside I knew my opportunities were limited. It seems like humans, in general, act differently when presented with a "blank check". For me, the intensity and sense of urgency lessened when the pressure of life was removed. After all, why hit it hard today if I don't feel like it when there is always tomorrow and the pages on my planner are blank?

I guess in short, success is not dependent on the absence of obstacles, it is dependent on what we choose in the face of such obstacles and how effective we are with the opportunities afforded to every one of us.

I do have an opportunity to continue on with this for another 30 days due to therapy so lets see what the next 30 days brings.





Wednesday, August 13, 2014
So far I have been doing really good. For those just tuning in, I am recovering from shoulder surgery and am off work until I am done rehabbing. I decided to challenge myself to the following:

What would happen if I was to take the next 30 days unrestricted by work demands to eat right, exercise, get plenty of rest, and improve my family / social ties? What effect would that have on my overall health and weight?

-Improvements would give credibility to the idea that we / I live a fast paced toxic lifestyle that is harming our health.

-Continuation of bad habits would give credibility to the idea that we are our own worst enemy and that we need to quit pining away after the ideal situation, the notion of if it wasn't for this or that, I would be successful in my journey.

So far it is Day 8 of my challenge and these are my observations:

Discipline: - When the structure of work demands, deadlines, life stresses is suddenly removed, it takes purposeful effort to reconnect with your goals on a daily basis. It is far too easy to drift because time is received to be unlimited.There is a certain honeymoon where your work life discipline stays in place because of habit but when that which was such a precious commodity is now in abundance, we have a tendency to slow down and urgency goes out the window.

While I have been fairly disciplined in my approach, I have been finding it easier and easier to sleep longer, stay up later, and generally dismiss urgency to tomorrow. Even more so now since I found out I wont even start physical therapy until after September 12th and that will last about a month so overall, I wont be back to work until early October.

Observation: Time is a precious commodity and it takes a great deal of discipline to motivate from within to seize upon every opportunity. It is a challenge to stay disciplined without external forces demanding it. Take away the external forces and you are only left with your character as a driving force.


Stress: My stress levels have gone down dramatically. Prior to my surgery, I was pretty burned out. I knew there were issues but never really realized to what extent until the stress was removed. I was completely flat and my personal ambition had hit the skids. Now after 8 short days I feel totally recharged and ambitious again. Stress can take away your ability to dream and will make a slave out of you. we are only beginning to understand the full effects of stress on our physiology but the information we do have is not good.

Observations: In our frantic efforts to do good, to become all things to all people, we inadvertently become nothing to ourselves. I have seen this play out in other peoples lives including my own. We find meaning in giving of ourselves, caring for others, or devoting ourselves to a cause or work. While this is not a bad thing in and of itself, I have witnessed far too many people throw themselves under the bus making sure that their kids have everything they never had, that they build some sort of financial ivory tower for themselves, or never say no to anyone as if this will earn them a coveted spot behind the pearly gates. An axe is only as effective as it is sharp and unless we take care of ourselves first, we will never be effective in delivering meaningful service to others. PERIOD. Time spent recharging and reconnecting with those things we value is never wasted.

In my newly recovered ambition, I completed my Sports Conditioning certification and am now in the process of collecting and compiling information for a book I am planning to write. That has always been a big goal of mine.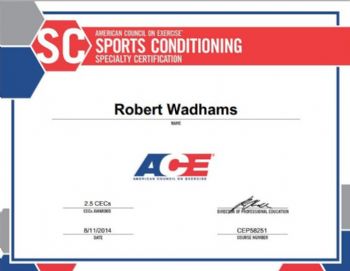 I don't feel I have all the answers, neither am I perfect, but I have learned enough about successfully losing weight and maintaining it that I feel a sense of mission and obligation to pass on what I know in hopes that someone will be helped. Maybe what Ishare will be what it takes for someone to make a break through. Knowing that I was a part of that in some small way would be a reward without price.

I am reminded of the motto for Para-rescue and Recovery (USAF)
"That Others May Live"

Some things are simply worth doing.





1 2 3 4 5 6 7 8 9 10 11 12 13 14 15 16 17 18 19 20 21 22 23 24 25 26 27 28 29 30 31 32 33 34 35 36 37 38 39 40 41 42 43 44 45 46 47 48 49 50 51 52 53 54 55 56 57 58 59 60 61 62 63 64 65 66 67 68 69 70 71 72 Last Page

Get An Email Alert Each Time ON2VICTORY Posts