| | |
| --- | --- |
| | ON2VICTORY's Recent Blog Entries |



Tuesday, May 14, 2013
Before I get into anything else I just wanted to say thank you to everyone who took the time to read and comment on my last blog, Attitude Mass Index. I was really surprised how it took off and the response I got from readers. The other side of that story is that I was at work at the time on a 12 hr shift. I was sitting in the truck waiting for a call and that thought just came to me, so I pulled out my phone and started tapping it out. Funny how some of the best material seems to spontaneously come from the heart rather than investing tons of time deliberating and editing. Anyway, thanks so much for the great response.

After many delays and a bout of extremely uncooperative weather, I finally hit the road with my bike. It has been a long time in coming but the weather has been unreal. We had 70 degrees a few days ago then pow, snow!. Us folk from the UP of Michigan are a hardy bunch but I think we can all agree that enough is enough.

A few days before heading out, I got my bike formally fitted to my specifications...ie.. fit to ME. It would take alot of geek talk to fully explain the process but, in short, making sure the fit is correct is crucial to good form and good form is crucial to long course riding. I just purchased this bike last year and rode it quite a bit without a proper fit. It is hard to believe that I got the distances or the times that I did with such a poor setup but unfortunately, I didn't know any better not ever having ridden a tri bike before.

My best times last year:
For distance - 75 miles in 5 hours avg speed 14.9 mph
for time - 42 miles in 2hrs 29 min avg speed 16.9 mph

another note worthy ride.. 53 miles in 3hrs 30 min avg speed 15.1 mph
All of these rides were done in areas that have some pretty epic hills

This year, my first ride of the year was surprisingly good. I have done very little cycling on my indoor trainer and this ride was also after work so I was already tired.

38 miles in 2hrs 23 minutes avg speed 15.9 mph, max speed 33 mph, my average speed on the flats was a respectable 23 mph - ME power! ... lots of hills too :)

The ride itself was tough because a front moved in close to the end. When I started it was 55 degrees but then about 25 miles into it the temps dropped to about 42. With the wind chill on the bike, it didnt take long for my hands and feet to go numb. I called for pickup at mile 30 and went another 8 miles when my wife showed up... aaaah heat!!! I love my heated seats.

I did get some questions about what a tri bike was so here are some pictures of what it looks like.

Proper Form..aero position... (not me btw, maybe someday...)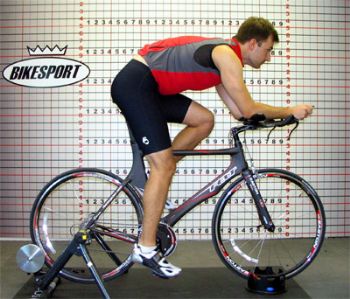 My indoor cycle trainer stand by Cycle Ops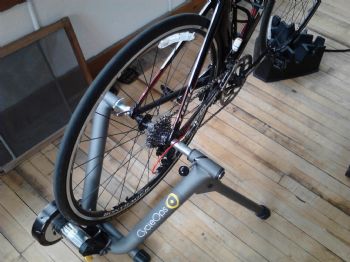 .
Other bike views...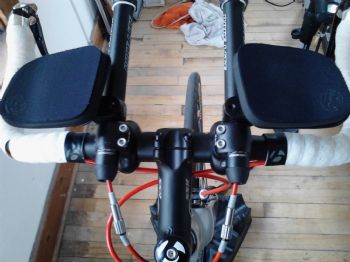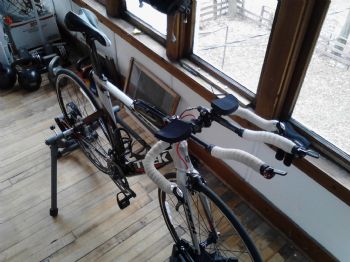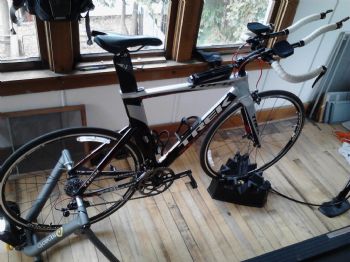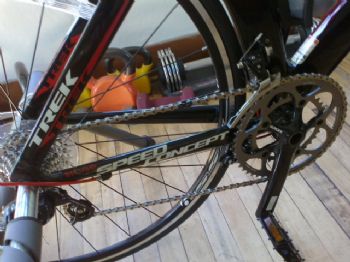 The best rough road tire I have ever used :)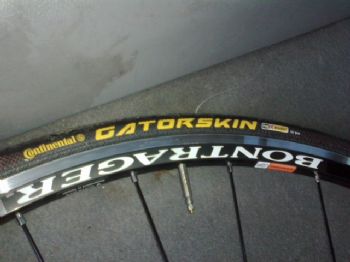 Clip pedal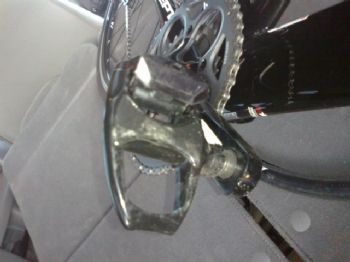 Bike Shoe



Switching to clips and the clip in bike shoe was probably the #1 performance enhancing upgrade I have made yet. Because my feet are attached to the pedal, I get power on both up and down strokes not just on the down. - just remember to unclip before coming to a stop.... I came close to falling over but haven't yet... its easy to do until you get used to it.

This is me when I first got my bike last year, now my smile is even bigger because it is set up right and so much more comfortable in the aero position..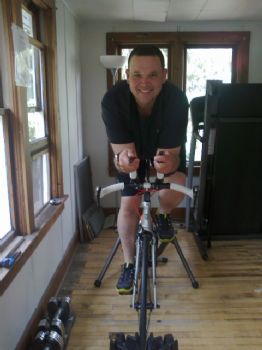 Anyway my confidence is pretty high that this up coming triathlon is going to go really well.






Friday, May 10, 2013
We live in an appearance driven society. Many of us fret about toning up, getting the sexy abs, removing fat from areas that are not visually acceptable by societies standards. We focus on reducing our BMI (Body Mass Index) but overlook our AMI, our Attitude Mass Index.

As a society, we are far too external when it comes to combating our obesity. Don't believe it? Look at typical mainstream articles and advertising concerning weight loss, what do they focus on? Appearance and how fast results will come.

My journey has been far more internal than it has been external. The most crucial weight I have ever lost didn't come from my midsection, my face, or even my butt. The turning point in my journey came when I lost the spare tire in between my ears.

Obesity is not only something that kills you physically but it kills your spirit as well. Like a python, it wraps around your soul one coil at a time and slowly squeezes the life out of you until you quit struggling, until your entire life is defined by what you can't do, what you can't fit into, or how you can do some activity with the least amount of public embarrassment. When I was morbidly obese, I suffered the ultimate paradox. Living every day being so big you can't be missed yet at the same time be socially invisible where everyone notices you, yet, you are unnoticed. That destroyed me and made me want to live as low profile as possible.

We think that somehow simply losing the pounds will undo it all and our life will be punctuated with an "and he/she lived happily ever after". One of the biggest breakthroughs in reducing my AMI is the realization that life does not begin at goal weight. Life begins the day you decide you are worth it and commit to living your best life NOW, not 50 pounds from now.

Science has determined that by all the known laws of physics and aerodynamics, bumblebees should not fly. Fortunately bumblebees also cannot read these findings. All of the studies done has yet to convince a single one of them to pack it up and go home. What makes bumblebees inspiring is that they are Gods way of letting us know that we shouldn't let ourselves be defined by current thought.

One of the most memorable moments of my life is the day I believed in myself enough to wager my self esteem and male pride against my ability to finish my first race, a 10k. At 330 lbs, I was a bumblebee with a race number. Crossing the finishline was one of the most affirming I CAN moments of my life. After years of I can't, I earned my wings and flew. My life was no longer defined by my spare tire or a number, it was now defined by a sense of empowerment from meeting a challenge head on. My Attitude Mass Index started becoming more and more healthy every time I set a goal and met the challenge. A life unchallenged is no life at all.

The more my AMI fell, the less content I was to simply sit on the sidelines and watch others be happy and reach their goals. It may be easier to tune out and watch others live a fantasy life on TV but it is more fulfilling to carve out your own dream. It's hard work to push out of my comfort zone. It makes me sore, takes away some of my ''free'' time, and exacts a price everyday but the price I pay ensures that my comfort zone doesn't turn into a noose. From observing the process in others as well as myself, I am becoming convinced that the thing that separates those that succeed long term and those that yo-yo is attitude.

So what do I do to keep my AMI in check?

1) I push through my dislike of challenging workouts. I hate burpees, planks and other demanding moves just like the next person but I also know that after I'm all done being sore, I'll be even stronger. I had a very narrow comfort zone and didn't like being pushed. Being pushed meant I was no longer in control and not being in control is a scary place. I might fail or embarrass myself. Then again, life outside the comfort zone is good because it's the place where you learn how strong you are. Go there often enough and you'll never be satisfied with less. Try it.

2) I participate in date oriented activities. In my case, its running events or triathlon. I have a set time to pull out the stops and get ready. It's the habit of pushing aside my petty preferences to get the job done that makes me more able to withstand the pull of my personal whims and cravings. It's in obeying those whims that put me in such an unhappy place to begin with.

3) I view my workouts as something that makes me stronger. Some people treat exercise like a laxative. It is something to be endured to correct an unpleasant condition then discontinued once we're ''fixed''. Exercise is the tool that helps me forge my success, my commitment is for life because it brings me life.

4) When things are tough, I remember that my worst day changing my life is better than the best day when I was 385. Even if this is day 1, day 1 is better than your best day when you didn't care. Don't get frustrated about not doing everything perfectly. Patiently hammering out a routine makes you stronger than drifting in apathy. It will click eventually if you stick with it.

Look yourself in the eye and determine that TODAY you will work on your AMI, that you will live the life you deserve now, not at goal weight.


Find me on Facebook...
www.facebook.com/robert.wadhams.7

Blog....
mailboxes2miles.blogspot.com/







Thursday, May 09, 2013
Just a quick entry before heading out to work. I have done really well this week. Sunday evening I headed out for what I term a "baseline run" Basically what that is and the theory behind it is simply to see where I am at fitness wise before I start my run training. I'm sticking my toe in the water before jumping in. I'm sure there is some reasoning's and logic that says that doing such is not a good idea but that's just how I roll, I just need to know where I am at especially after a long winter of no running, just alot of strength and conditioning training.

I want to know where my endurance really is so I swing everything in my favor, no race pace. I answer the question "If I took as many walk breaks as needed, no hard push, how far can I go and still feel good?" I is not a "party 'til you puke" sort of run where you lay it all out there until exhaustion just to rack up a big number.

I am happy to report that I was able to do 9.25 miles with minimal effort and it showed the next morning, I felt fine. I was overjoyed to see that my Winter training paid off and proved to me once again that a dedicated strength and conditioning program can really help to prevent loss of fitness over the off season. The best part of it was that while the perceived effort was low, the pacing was very close to half marathon race pace last year in spite of the walk breaks. Based on my pace and how I felt, I predicted that my half marathon time based on that effort would have been around 3:05. Last years best was 2:59 so that's pretty good in my book for the second run of the year and having 3 months of run training ahead of me for my 70.3.

Yesterday went for a trail run, 10k (6.2 miles). TONS of hills and it was really challenging and it was SO beautiful out. Here are some pics from that run....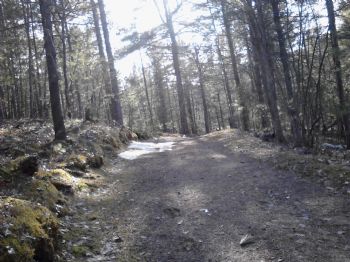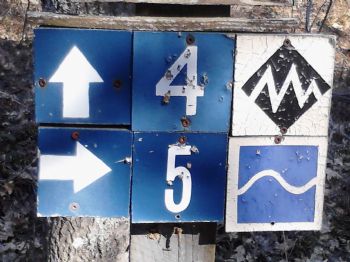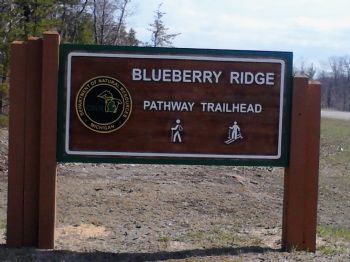 Today I am headed to training right after work then off to the bike shop to get my bike looked over and fitted to make sure every thing is right, I only had a basic fitting last year and I fooled around with the positions quite a bit so I want to make sure that biomechanically, the bike is ready to go. the last thing I want is to rack up high mileage on a bike that will stress muscles that do not need to be engaged, that is trouble with a capital T.

Ok, gotta split...

Thank you so much for all of your kind words and support, it means ALOT!!!

Got a few days left in this week but so far, we are really off to a great start.




Find me on Facebook...
www.facebook.com/robert.wadhams.7

Blog....
mailboxes2miles.blogspot.com/







Sunday, May 05, 2013


Today, I said my goodbyes to my trainer. He is moving to Texas to better his personal training career and to pursue his masters degree in the exercise sciences. I am really happy for him know it is the best move he could make. He is also like an adopted son to me and it hurts to see him go. I know he will come back and visit but its not the same. While he is like a son to me, he is sort of like a father to me as well. He mentored me in strength training (he is also an amateur bodybuilder as well and competes). I would come in for my sessions and tell him all about my week, the highs, lows, breakthroughs and the breakwiths. I was also looking forward to coming back to the gym after my 70.3 and show him my medal. I am going to miss him terribly. Although he is almost half my age, we have really connected and he really encouraged me to pursue this class I will be teaching shortly.

This is bittersweet because more than anything, I wish he could be there when I give my first presentation. Mario was/is special to me and a selfish part of me wishes we could just keep training and he could be with me as I move forward obtaining my own certification and ultimately, my own practice and niche. You know, sorta like buddies..





All the more reason to do him proud. I want more than ever now to finish strong so I can tell him all about how his "dad" finished his first long course triathlon, taught his first seminar and how he inspired people to get in the game and stay there. As there are much more troublesome things in the world today, my heart hurts over watching a friend leave. He will be missed. However, how proud I will be of him when he comes back with his masters and he tells me of all his adventures and successes. Man, I am going to miss this kid.

After I got back from my goodbye breakfast, I got to work on my class. After meeting with the gym manager a week or so ago, she set a tentative plan in motion. This month I do a staff presentation then in June, we are looking at doing a 1 to 1 1/2 hr seminar for the membership with the idea of doing it in all three locations. Then after this, start a monthly class co-presenting with a trainer. Next year, when I finish my personal trainers certification, I am looking at starting a couch to 5k program and ultimately a half marathon training group. The whole focus is primarily starting a running group based out of the gym and meet to run, encourage new runners and get them established on the same path that so radically changed things for me.

It's kinda crazy how things have changed from just a dream and an idea to finally becoming reality. Something worthwhile that is totally my own, to shape, create, and make it whatever my heart wants it to be in light of the greater good. I'm not following someone else's ideas or program, this is 100% me.

Man, I never thought things would turn out like this :)

Find me on Facebook...
www.facebook.com/robert.wadhams.7

Blog....
mailboxes2miles.blogspot.com/





Monday, April 29, 2013
A few months back I submitted a short blog post to Ben Greenfield Fitness. For those that do not know, Ben Greenfield is a HUGE name in sports nutrition, triathlon and endurance sports..... Ok, ok, ok....a personal idol of mine. He also is on several weekly podcasts including Endurance Planet.

Anyway, I'm just sharing my woo hoo moment....

Link to my post...
www.bengreenfieldfitness.com/?p=1262
1

Today, Spring is finally here in the Upper Peninsula of Michigan. We had our first officially epic weekend where it actually was in the 60's and even 70 :)

What that means is not just the final end to an obscenely long winter but the beginning of outdoor training for my upcoming triathlon. I can finally run outside, start cycling, and maybe in a month or two, I can hit open water to put the finishing touches on my swimming. This is where it's getting real. I have a little over 3 months and I am going to be hitting it hard.

I have also had some really uncomfortable moments where I have laid awake second guessing myself. Doubts whether I will actually be able to do this and train effectively after such a late start. There is no room for mistakes and that makes me nervous because I know how I am. What if I can't produce? What if it isn't enough?

I have had to sit down, do some deep breathing, and take mental inventory of what my strengths are and assess where I am at. I feel my probability of success is fairly high but I have to do things right the first time... No reset button here, no do-overs.

The other thing that makes this difficult is that I do not have a plan to follow. My work schedule makes that impossible. Everything I do is like a picture on a frozen dinner that says "serving suggestion". I can never follow a literal training plan that says that on week 3 day 2, I should be doing this or that....not in my life. When it says I should be swimming today, well, let's see..... I don't have access to a pool for another few weeks, or I'm just getting done with 12 hr midnights and I can barely stand up, or my favorite...I would but the lakes are still frozen over.

The only thing I can really do is study a training plan and grasp the concept of periodized training and ramp up my efforts accordingly in a safe manner. The one thing I must really avoid is the temptation to log a ton of junk mileage then waste precious time recovering from my un-needed Herculean effort. For example, if I run 10 miles, I will push myself until I hit 13.1 so I will go away feeling good about doing a half marathon in training. If I ride 40 miles, I will push to 56 so I can do a half iron distance ride. My 2 mile swim a while ago? I wanted 2.4 so I could walk away with an iron distance swim under my belt but couldn't take the chlorine anymore.

I can't submit to the temptations anymore. I have to train smart, recover quickly, get back to training again. Logging tons of miles only delays my recovery, slows down my training, and if I get hurt....game over.

Anyway, that's what's on my mind.

Time to grow up Robert and start training like an athlete.


******* forgot to add this *********
Weight loss class update...
I have been asked a few times how my class was going or what was the latest.

I met with the manger at my local Anytime Fitness and tentatively I will be doing my first presentation to the staff at the end of May and then a 1-2 hr seminar for the membership in June. If all goes well, I will continue doing presentations in all 3 locations. Also, once I get my ACE certification, I will start a couch to 5k program tentatively spring '14 and then a half marathon training group also in '14.

Find me on Facebook...
www.facebook.com/robert.wadhams.7

Blog....
mailboxes2miles.blogspot.com/







1 2 3 4 5 6 7 8 9 10 11 12 13 14 15 16 17 18 19 20 21 22 23 24 25 26 27 28 29 30 31 32 33 34 35 36 37 38 39 40 41 42 43 44 45 46 47 48 49 50 51 52 53 54 55 56 57 58 Last Page

Get An Email Alert Each Time ON2VICTORY Posts