| | |
| --- | --- |
| | ON2VICTORY's Recent Blog Entries |



Tuesday, April 15, 2014
The first is that I am finally officially a trainer at Anytime Fitness, Ishpeming, MI. I can't totally explain why I needed to see my picture up on the wall in order to accept that I am actually a trainer but I guess I did. Maybe it is simply the fact that while so much of what has happened was verbal, this is physical, real. I can see it and touch it. It is a confirmation of what has happened and that it is no longer a plan or a goal, it is now a reality, and that is a game changer.

My pic and bio is the one on the lower right.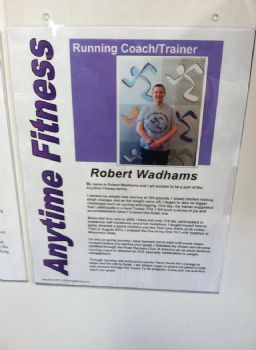 The BIO text on the poster reads:

------
My name is Robert Wadhams and I am excited to be a part of the Anytime Fitness family.

I started my weight loss journey at 385 pounds. I slowly started making small changes and as the weight came off, I began to take on bigger challenges such as cycling and jogging. One day, my trainer suggested that I participate in a local Turkey Trot. I felt such a sense of joy and accomplishment when I crossed the finish line.

Since that first race in 2009, I have lost over 110 lbs, participated in numerous half marathons and a full marathon. I taught myself how to swim, finished a sprint triathlon and the Teal Lake Swim (2.25 miles). Then in August 2013, I crossed the line of my first 70.3 mile triathlon in Wisconsin Dells.

On this on going journey I have learned not to wait until some magic moment before you pursue your goals. I followed my dream and became certified through the Road Runners Club of America as an adult distance running coach, obtained an ACE specialty certification in weight management and am currently working on becoming a certified personal trainer.

Through running and endurance sports I have found the courage to begin and the will to finish. I am always eager to share my passion with new runners through the Couch To 5k program. Come join me and let's reach our goals.

----------

I have another presentation scheduled for May 5th and the Couch To 5k program kicks off May 12th with a presentation and beginning runners clinic. I have some pretty clear goals in mind.

1) Finish my trainers certification this year.
2) Start ACE Health Coach certification
3) Start weight loss support group at the fitness center
4) Pursue a kettlebell instructor certification and do one on one kettlebell training.

May take a couple years to pull it all off but I am pretty consistent and motivated so no worries... I'll get there. I have a knack for making things happen :) just keep at it one step at a time and even if you only study two or three pages a day because things got busy, always do something to keep some momentum toward your goal.

I am making friends at the fitness center. Here is a pic after doing a very hot and sweaty step aerobics class... btw... a word about step aerobics... it's a great workout / balance training activity. I started out bumbling and feeling awkward too, don't let that stop you. I still bumble and stumble.. proof positive that white guys have no rhythm. I finally found something tougher than walking and chewing gum (can't seem to do that either).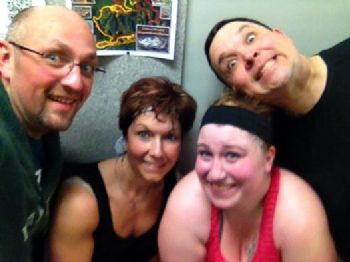 - group selfie after class :)

The second announcement is that I am going to be at the Spark Rally in Indianapolis, IN August 23rd and will be doing an approximately 20 min presentation.

I have always wanted to go to a function like this and have checked out the pics from previous years and felt that it would be so cool to mix and mingle with so many like minded people and share inspiration. Well, here is my chance.

It is really tough to get time off where I work and I work through most of my weekends anyway on rotating shifts. Needless to say the social life takes a hit. Add in being in a semi-remote location and things like this really don't line up for me. I had that block of time scheduled for vacation because the slot was open and fell on the weekend of half marathon trail run I really want to do. When Beth (~Indygirl~) told me the date of the event, it rung a bell, I checked, and Shazam :) Needless to say, no race for me....

.. Off to make my reservations....

Keep it EPIC everyone :)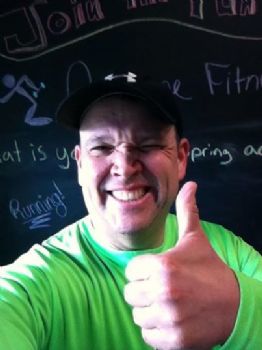 Friend me on Facebook.. :)
www.facebook.com/#!/robert.wadhams.7






Sunday, April 06, 2014

There were a number of my Sparkfriends that wanted to see pictures of my new shelter kitty. I did one better and made a video of my babys first week home. I love my kitty and he now has a forever home.

Enjoy

**BTW.. since this was filmed, Oreo and the other kitty-Mookie are now getting along much better...it's fragile cease fire but I'll take it. :)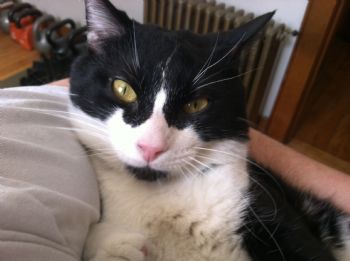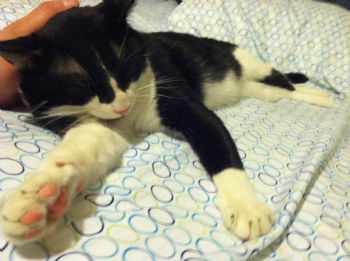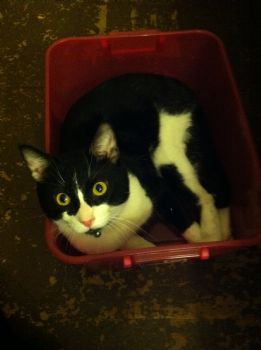 It takes a while to load a video on Sparkpeople. If you don't want to wait for it to finish loading, you can see it on You Tube here...
youtu.be/4XZFOs-HjGU

Friend Me On Facebook :)

www.facebook.com/#!/robert.wadhams.7






Friday, April 04, 2014
Think you are weak because you reach for food when stressed out? ... Guess again.

I had a fantastic thought this morning that I just had to share before I head out. In survival training, they taught us the "Rule Of Three" in prioritizing needs.

You WILL die if you go more than...
3 minutes without air
3 hours without shelter
3 days without water
3 weeks without food

- And that depends GREATLY on the circumstances... times could be drastically shortened depending on the environment.

That said, what is the FIRST thing people think of when they are lost?...Uh Oh, what am I going to EAT? (second place is OMG! how will I charge my phone?) -but I digress...

According to the list, food is at the bottom. So long as you can still breathe, your first priority is to set up shelter immediately lest you perish from exposure but yet we think about eating. That is why chocolate bars and sweets are included in survival kits. They are easy calories and they reduce psychological stress levels and that helps manage emotions in a survival situation...Wow, and to think that some meatheads say that comfort eating is purely psychological, a crutch for the weak or doesn't truly exist. Comfort eating is embedded DEEP in the biology of EVERY human being, it only takes the right stimulus to bring it to the surface. It is a "knee jerk" reaction

The first thing they tell you in survival training is to stop, assess your situation, and manage your emotions. Why? because even with the best training, panic kills. Loss of emotional control leads to irrational thinking in a situation where every decision can be life or death.

Your most important tool you have in your kit is between the ears.

Translation?

The key to success is not simply calories in and calories out. While this matters, the FIRST rule of weight loss survival has to do with emotional stability and keeping a clear head.

For years I have been digging to get to the bottom as to why I have enjoyed a measure of success this time while the other times were "false starts" I now concretely know why. Because I changed from the inside out. Studies generally show that only a minority truly have a metabolism that prevents weight loss... sorry, that's just science. I have been told by other members of our family that "we have a slow metabolism... that's why we are overweight.." Sorry, calling BS on that. My problem is glandular... I have an overactive mouth gland.....and emotional issues that stimulate it.

The two biggest reasons I have enjoyed a measure of success... I say measure because I am not a goal weight yet...

1) I did something that brought out the best in me.. I trained and raced. It boosted my self confidence, something that was desperately lacking. I needed to remind myself that I am not a failure and that I am strong. The emotional strength that came from taking on big challenges and seeing them through no matter what has done more to enhance my journey than any singular thing I can think of. Like a submarine, you have to have sufficient strength on the inside first before you will achieve any significant DEPTH.

2) I cured myself of scale-itus. This disease is fatal. The panic brought on by normal fluctuations on the scale has killed more journey's than any other thing I can think of. Fail to fix this and you will die of exposure. Scale freak-outs destroy motivation and momentum. Take the time to learn WHY it is fluctuating and understand what makes your body tick. Ignorance is not bliss, it is deadly. Every "gain" is not necessarily fat and fat is all that really matters in the end. Be offended if you wish but this is truth. Having observed many over a LONG period of time, I have concluded that no one succeeds long term while still being driven by scale panic, they emotionally go in circles like someone lost in the woods. Master it and live.

3) Getting to the bottom of what is really causing pain. All I can say is that this is a never ending process for me. Therapy, talking to a friend, blogging, it all helps to get it out there. Once it's out there, it really seems to help. Problems have a way of becoming solutions when exposed.

Add in the stresses of daily living, deadlines, family matters, etc... and you can be bathed in fight or flight hormones on a daily basis. That is a potent mix.

I truly believe that the key to long term success goes far beyond the do's&don'ts. It lies in the heart.

Find something that makes you strong and helps reinforce your personal strengths. Find ways to cope with scale obsession, don't just toss it in closet and think that the problem is solved. Face it head on, learn about your body and figure out why you are defining yourself by a number. Look for other ways to measure progress and success. Remember, statistics show that successful "losers" define their weight by a range rather than a number because they understand that that is going to fluctuate.

Keep asking yourself why until you get an answer, then get to work on it.

See you in the winners circle.


Friend Me On Facebook :)

www.facebook.com/#!/robert.wadhams.7






Wednesday, April 02, 2014

This journey is far more than simply losing some unwanted pounds. I was emotionally battered and I didnít even realize it, since I had developed so many unhealthy coping mechanisms. I would eat to suppress and then simply laugh it off. My usual reaction after walking away from the buffet with yet another heaping plate was to shrug it off and, with a laugh, say, "Oh well, diet starts tomorrow!" or " I'm defeating anorexia one egg roll at a time". Behind the smile and jovial sense of humor was someone who has lost touch with himself in a really big way.

So many times when I was working out, I would have emotions that would erupt from out of nowhere. I would feel like I was on the verge of tears, some repressed emotion from some past hurt was surfacing. I found myself taking laps in anger and it boiled over to where I would be acting out a confrontation with someone while walking, angrily grumbling to myself. That was a form of hostility and hidden resentment that was trying to get out. I had to give my heart what it was looking for - some much needed release and resolution. I needed to recognize what was happening and submit to the process.

It took a long time, but I am convinced that self-introspection and dealing with the issues is one reason I lasted as long as I did. You may put out the flame, but if the coals are still burning, the fire will re-ignite when the right fuel is applied. What I thought was going to be yet another attempt to lose weight became a transforming, inward journey. This, I believe, is where so many fast track ways to weight loss totally fail. This is strictly my opinion but it seems that people that strip off weight fast rarely get to the root of the cause. It takes time to work through the issues. For me, the weight was an outward sign of an inward problem.

Sometimes it hurts and, when food has been used to soothe inner pain, the process can be threatening. After living a life of avoidance, it was difficult for me to face issues. Like a boil, it would come to the surface until, one day, it was lanced by confrontation. The resulting tears were cleansing to the soul.

I have found that when the feelings come, let them come with all that they bring with them. Releasing myself emotionally has been a big part of putting out the fire that has been driving my binges. Unresolved anger, and anxiety can take on many forms and their origins are deceiving. I had to go through the uncomfortable process of confronting past hurts but it promoted the healing necessary to bring about a sense of resolution and stability.

I am convinced that attempts at losing weight when emotional eating issues are at work will be doomed to failure if this is not part of the process.


Let's be friends on Facebook :)
www.facebook.com/#!/robert.wadhams.7






Friday, March 21, 2014
Life as an "in-betweener" is really a strange place to be. An "in-betweener" is someone who is between morbidly obese and goal weight. In general, "in-betweeners" and their accomplishments are typically dismissed by the world because in spite of losing a lot of weight, we still look like we just got off the couch. We don't have "the look"

I've gotten this a lot at doctors offices where they don't know me. I used to get offended when a medical professional would make comments about starting a basic exercise program or making simple changes in my diet to start losing weight without asking anything about my history.

Not any more.

Now I feel like I have a secret identity, known only to a few. A superhero behind Clark Kent glasses. On the outside I don't look like much, but on the inside....

There was a couple times I tied them up in knots with answers they were not expecting... Such as "I couldn't squeeze in my 30 min walk because I was in the middle of a 50 mile training ride...but I did keep it at or below VT1" or "I'll start in a couple days, I'm still sore from my half marathon"

I've gotten nicer though...

Now when I get such remarks I just smile... Because I know who I am even though the book has been judged by it's cover.

Sometimes office visits are quite affirming such as watching a nurse fuss with the instruments while taking my pulse because someone like me shouldn't have such a low resting heart rate.... Until I tell them about my endurance training.... and smile.

My happiness doesn't come from the externals. My happiness is the inner strength that comes from beating the odds. My obesity was very similar to credit card debt. It got to the point that it took on a life of it's own and the numbers were out of control.

I have fought and took my life back and refused to let myself be destroyed.

Today, I wear my "Clark Kent" glasses with pride.

The world does not define me because I know who I am.

I am an obesity survivor.



1 2 3 4 5 6 7 8 9 10 11 12 13 14 15 16 17 18 19 20 21 22 23 24 25 26 27 28 29 30 31 32 33 34 35 36 37 38 39 40 41 42 43 44 45 46 47 48 49 50 51 52 53 54 55 56 57 58 59 60 61 62 63 64 65 66 67 68 69 Last Page

Get An Email Alert Each Time ON2VICTORY Posts