Monday, January 23, 2012
my hubby had a colonoscopy today. Yesterday was the worst part (of course). Neither of us slept very well last night. And we had to be at the hospital at 6:30 to check in.

neither of us ate breakfast (not allowed for him, and I didn't want to eat when I knew he was probably starving).

we get to the hospital and he fills out the paperwork. There weren't enough lines to write in all his prescriptions. I know that he could stop taking several of these if he'd exercise and lose some weight, but I can't make him do it. He's lost weight before doing NutriSystem and using his Nordic Track. He went off the packaged food and was 'too busy to exercise' so of course he's gained every lb back, plus more.

anyway...back to this morning. The doctor was running late. They had my hubby all set up in the room for the procedure to be done, then had to move him across the hall due to a scheduling conflict (caused by hubby's doc being late). One of the staff members told us she was going to turn down the lights to "set the mood...since I can't buy you dinner first." LOL!!!

I've met this doctor 3 times now. Between the first time and the 2nd, five years passed so I really didn't remember him. It's only been 3 years since we saw him this time (they removed some polyps during the 2nd colonoscopy; the frequency was changed from 5 years to 3) so I was pretty sure I recognized him.

sure enough, in walks Dr. Nick..."Hi everybody!"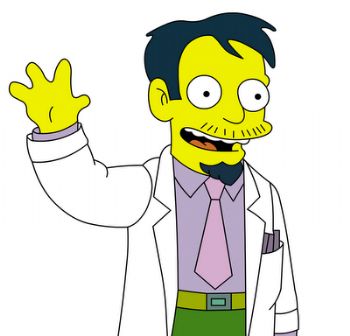 if you put glasses on this cartoon, he's the spitting image of hubby's doc. It's really difficult not to giggle when I see him!

everything went well. Hubby woke up really quick and feeling fine. He didn't want to stop to get anything to eat, he just wanted to go home.

I got him settled, then went to work. Although he didn't want to nap all day, he did. He was afraid he wouldn't be able to sleep tonight, but he just fell asleep on the sofa. I woke him to take his evening meds and go to bed.

I'm glad everything went well. I hope they go back to the 5 year schedule.

I don't know what I'll do when it's time for me. I have a really tough time with liquid meds. I gag on them even when they don't taste bad. I even try to get cough scrips in pill form because I'm not able to keep cough syrup from coming back up.



oh...how could I forget the mad search for the Nextel before we left? Hubby is always available by Nextel to his job (he's a warehouse manager for a convention contractor). He couldn't find his Nextel anywhere. He called the number and we hear it beeping...very muffled. Under the sofa cushions? Nope. In the laundry room? Nope. In the bedroom closet? Nope. In a jacket pocket? Nope.

can't find it anywhere even though we can hear it. He calls one of the gals in the warehouse and leaves a message that he can't find his Nextel. As we are driving to the hospital, I ask him if there's any chance it would be in the fridge or the freezer.




oh, yeah! He'd brought in some groceries and dropped the Nextel in the bag and just put the bag in the fridge without taking anything out.