Sunday, October 19, 2008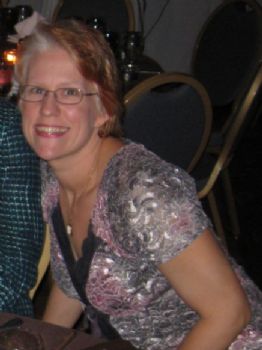 Went out to lunch with hubby & son... had my favorite pizza ( www.imospizza.com ). It's St. Louis Style pizza and is a creature unto itself... Domino's did St. Louis style pizza for a short time a few years ago... but it wasn't the REAL thing (Cecil Whitakers/Imo's).

If you don't know what St. Louis style pizza is... well, the crust is VERY thin, like 2/10 of an inch and very crunchy. There is a thin layer of sauce and toppings put on top of that. Then there is the cheese... provel cheese ( en.wikipedia.org/wiki/St._Louis-styl
e_pizza ). It's a blend of cheddar, swiss and provolone... and you know it's provel when it sticks to the back of your upper front teeth! It's also GREAT on salad.

So we had a very nice lunch of pizza, salad & cheese garlic bread. I didn't get the toasted ravioli since it's deep fried and I didn't want to gorge out.

This afternoon, we watched Buffy the Vampire Slayer Season 6 on DVD and then I went out to run. I walked 5 minutes before and after a 30 minute straight run @ 6.16 mph! I ran just .02 miles short of 5 kilometers! I just kind of got out there and kept going... and I was fighting myself to go out and run... but the day was soooooo pretty... in the 60s and sunny with the bluest of blue skies.

I almost doubled up on my calorie burn and exercise minute goals last week! That's pretty exciting! I don't know if I will do that well this next week, but I can always try!! It's been great to really get my body moving more after such a slow September.

Yesterday was actually a fun challenge. I ended up at the Food Bank for about 2.75 hours. We were repackaging cracker meal for distribution to families. I worked with the Garden Coalition helping to move a couple of compost bins for 1.5 hours yesterday afternoon. I got my workout with those tasks... hauling boxes, scooping cracker meal, digging in the dirt and pulling weeds and whacking at small trees! The wedding was lovely and I am very happy for the bride & groom, they really are a match! And funny coincidence is that I worked with the bride at the health department and it turns out that the groom's aunt and I are friends that go back a long way.... it was so good to see W... and even funnier is that I was talking to a mutual friend at church about W just last week.

As we get deeper into fall, I am noticing that I just can't seem to get enough to eat. I do this every year as the weather gets colder, I think it's just a natural part of the survival mechanism that the human body is programmed to do. I am just hungry all the time and I want to eat and eat and eat. I have eaten almost 2100 calories today and my stomach is growling AGAIN!

Something bittersweet from yesterday too... I was putting on make up before going to the wedding and I got a look at my jawline in the mirror at the same angle I used to see my mom's. My jawline is exactly the same as my mom's. I never thought I looked much like her or that I was particularly pretty. I like the pic there from last night's wedding, I feel pretty now.

Oh well, I'm just rambling... Annie, there's the pic you demanded!!