| | |
| --- | --- |
| | OAKBORN's Recent Blog Entries |


Friday, August 08, 2008
Really I did. She felt bad about keeping me later, but I really didn't care since I am spreading the spark!

I changed to Stage 4 today!




Thursday, August 07, 2008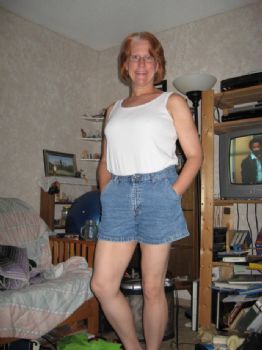 I got out and had a nice wog this evening... I only went 3.05 miles tonight since I was out in the twilight and I don't feel safe in some parts of my neighborhood after dark... there was a shooting on the street that runs behind us earlier this week. Hubby doesn't want me down there near or after dark either. However I managed to run 1.81 miles or 59% of the total distance!

We also had a nice (relatively cool) evening... which are few & far between in August in Missouri (well-known for humidity and heat)...

Running and exercising are becoming somewhat of a compulsion for me. It's so weird because I have so many days when I come home from work thinking "maybe I'll take tonight off" and then I plan to go for a short walk and end up running. I just don't feel good unless I get about an hour of exercise per day.

Today is Mr A's 13th birthday... oh help! I have two teenagers now, and my baby is growing up!! So at lunch today I had to go do the mom thing and get stuff for goodie bags for da boi and his friends... that meant my usual 30 minutes of exercise went by the wayside. So I came home and ran after I'd gotten something to eat and then came back and did 2 coach Nicole cardio vids. Am I insane or what?

WHAT?!

I love using my chosen route... it's funny because I watch the status of certain pieces of debris/trash on the streets... right now I'm watching the red & white striped mitten in our cul de sac and the smashed, half-wrapped cookie. The apple core in the people's driveway decomposed and was gone quite quickly. The July 4th debris was washed away pretty quickly with all the rain we had last month.

At work, our dietitian and I have set up an exercise and diet challenge to run the next six weeks. For this week (the 1st one), we are asking everyone to do some sort of extra activity for 10 minutes 3x in the week and eat 1 fruit and 1 veggie each day. There is some resistance, but I think we are slowly getting people on board. We hope to have some sort of prizes for those that complete the 6 weeks fo the challenge. I am sort of recusing myself since I'd be one of the top folks... but for maybe our dietian since she was a runner at the University until last year.

Today is day 119 and I'm just taking it one day at a time. Maintenanceville isn't very far away... I am looking forward to it and yet it scares me.

By the way, here's a neat tip I got from one of our WIC moms... you can make your own yogurt in a well-insulated coffee carafe! You just heat your milk to just below boiling and then cool it it 100-110 degrees and put it in the carafe with about 1/2 cup of yogurt, seal it up and leave it for 4-8 hours. How cool is that?






Wednesday, August 06, 2008
I step on the scale more often than I should, really, but it's not been so bad. This morning here at work I stepped up and it read 154.6#. I cannot believe it.

I have lost 50 lbs.




Honestly it is just starting to sink in.



I didn't really mentally remark on it until I wrote it on the calendar in my office. Then it was like a lightning strike and I started to cry, actually sobbing... I'm fighting back tears again as I type.

50#... that's two toddlers and a 6 month old baby. (I work WIC clinic, so that's my easiest reference point.) I rejoiced with an apple and some homemade granola.

With the mini-motivation slump I've been in, I looked at the granola and was happy it was there. I also mentally patted myself on the back for all those salads I've made over the last 7+ months. I also am thanking myself for those thousands of minutes of exercise done. It's a real motivator in and of itself.

I have revised my goal weight back to 150. Hubby says I'm in danger of losing my butt. (He HATES supermodels, says they look like boys with peaches in their pockets.) So we have compromised on 150 so I have some maintenance wiggle room. I'm thinking 145 was a stretch for me anyway.

I am stunned and gleeful and teary... and... and... and... so many emotions. I have the body I have been wanting for a LONG time.

I have new attitudes and habits to help me go the distance thanks to SparkPeople and my incredible friends here. I can't wait to exercise today!!

Interesting stats: I have lost 0.23 lbs per day on average or 1.58 lbs per week. That is 24.4% of my starting weight. I started at a 32 BMI and am now at 24.2. I am wearing size 9/10 comfortably.

I feel fantastic, almost like I'm 18 again.

I have developed a love of jogging and other exercise.

I missed out on so much being heavy and I'm not the fat girl anymore!







Tuesday, August 05, 2008
I am more or less pretending to work. This morning was WIC clinic for me, so I'm back to investigating dog bites, Rocky Mountain Spotted Fever, etc.

Yesterday I was productive in the morning and then I got sick in the afternoon... something wanted out of my gut and was telling me about it with hobnailed boots... Oy! I had hubby come get me since I didn't think driving was a good idea either. Once it passed out of my system and I got a good 1-2 hour nap, I was just fine.

So I'm sitting at work, drinking the nasty water (it's softened & not filtered). It's not too bad if it's REALLY cold... but if it gets any warmer, it's bad. We have really hard water at home but it's fine as long as it's filtered. I do miss the water in Florissant MO where I grew up, it was always really good. I drink lots when I visit my dad.

The being sick yesterday got me ... ahem... very cleaned out, shall we say... and I weighed in this morning at 155! That puts me only 4/10 away from an even 50 lbs weight loss! It's also cool because I'm at my original goal weight from before I moved it down to 150 and then 145. So in a way I have made it to goal... at least goal one.




Saturday, August 02, 2008
I forgot to note in my blog entry yesterday my drop to 155.8 lbs on Thursday. Yay! It's only 2/10 down from a few days before, but I lay claim to every 1/10 I lose. I have earned 'em.

I think now that motivation is occasionally slumpy, it's easier for me to see how much work I have put in to lose the weight. That's not a bad realization, really, since I think it makes me appreciate the value of the weight loss and what it takes to achieve it even more. But appreciating the work really makes it easier to get back some of the motivation too because I know that I'm not doing it all for no reason.

I am also starting to wrap my mind around the weight loss. I'm looking at myself in mirrors on purpose and getting the "new" me planted in my head... rather than the old fat me image that has been a part of my psyche for so long.

It's also an incredible feeling to go into clothing stores and be able to bypass the larger sizes and know for a fact that they won't fit. I went today to buy some size 10 shorts and a pair of size 10 jeans at a goodwill store. Trying to save $$ since I'm thinking I'll end up in 8s anyway... But it took me awhile to dig through the racks and find size 10s. There were lots of 12s, but I had to bypass them and say, too big! I also wondered why the former owners of these clothes had given them up... out of style? got too big? got too small? I don't know, but I was sure glad to get 2 pair of shorts and a pair of jeans for $8!

This whole weight loss thing certainly has made me thoughtful... hmmm... I think I need some lunch.



First Page
1
2
3
4
5
6
7
8
9
10
11
12
13
14
15
16
17
18
19
20
21
22
23
24
25
26
27
28
29
30
31
32
33
34
35
36
37
38
39
40
41
42
43
44
45
46
47
48
49
50
51
52
53
54
55
56
57
58
59
60
61
62
63 64 65 66 67 68 69 70 71 72 73 74 75 76 77 Last Page

Get An Email Alert Each Time OAKBORN Posts