| | |
| --- | --- |
| | NUOVAELLE's Recent Blog Entries |


Wednesday, March 13, 2013

91 weeks of at least 90 minutes of exercise per week.



Thatís my current fitness streak. And it would be much bigger if I hadnít gone through some terrible weeks of lower back pain prior to the last time I pressed the reset button here on Sparkpeople. Because when I last restarted my attempts to lose weight, back in June 2011, I promised myself that no matter what happened with my weight, no matter how good or bad my eating habits would be, I would do my best to keep exercising every week at least three times. I made a promise to myself that I would seek for all the health and strength and freedom of movement that years of living on the couch had stolen away from me. And I kept that promise.

The majority of my fitness minutes is exercise done at home. Working out at home is one of the things that helped me lose weight (combined with healthy eating, of course), is what filled me with energy, is what gave a new meaning to my everyday routine and itís what helped me Ė an unemployed stay-at-home-mom Ė stay sane! It wasnít an easy road. I had to fight boredom and loss of motivation. I had to educate myself on different ways of exercise. I had to make up for the absence of a coach by spending hours on reading fitness articles and watching videos here on SP. On the way I got discouraged, I fought injuries, I struggled with ineffectiveness, I was disappointed at the expected results that I was too anxious to see.

But I had a promise to keep.

A few rainy days spent in the comfort of your living room, reading and watching TV, donít make you a couch potato. You canít expect a few days or weeks of mild exercise to turn you into an athlete! So, I kept pushing. I continued trying on my own to regain my lost endurance and acquire a certain level of fitness. Yes, a gym or a personal trainer would have been much easier. But I couldnít afford that, neither financially, nor emotionally, neither in terms of time, nor in practical terms like having someone to watch over the kids while Iím gone. Two choices were available: be my own coach orÖ the couch!

Working out at home solves many issues. But is working out at home ideal for everyone? What are the positives and the negatives? How can we adjust it to our own unique needs and preferences? After 91 weeks of trying and learning, I thought I could share with you some of the things I learned during this fitness journey. The mistakes I made, the challenges I faced could be found useful by those of you that are now starting out on home fitness. I started taking notes on the things I would like to share but they were too many to fit into only one blog. So, Iíll have to divide them in more.

Let me stress out here that Iím not an expert and I canít offer individual fitness guidance and advice. My purpose is to share my own experience hoping that I could help someone who is just starting out or someone who is trying to overcome obstacles.

Making exercise part of your daily life is not an easy thing to do. Itís a road paved with sweat and soreness. Itís a road onto which you have to be guided by commitment.

But itís a road that leads to health and strength.

Itís a road worth taking.

Stay tuned!











Thursday, March 07, 2013
My relationship with the food tracker has been a love-hate one. I never liked the idea of writing down everything I eat, even though I had heard of many dietitians and nutrition experts who would recommend it. According to them and to many researches and surveys, it can highly contribute to everyoneís weight loss efforts.

When I first joined Sparkpeople, I tried to use it for a couple of days. All products were in American brands and most measurements were in oz or packages which I had no idea how to convert to my own metric system. Already being negatively biased towards it, I found every little difficulty insurmountable and forgot about it. And I spent two years as a Sparker who would lose and gain the same couple of kilos!

I had already put exercise in my life for good and I was already considered a somewhat fit person but still the weight wouldnít come off. Thatís when I decided this ugly, despicable tool had to be given a second chance! But the difficulties still had to be surpassed in a way. And the perfectionist inside my mind started shouting: ďIf youíre going to do something, you have to do it right!Ē So, I started putting everything in the food tracker from scratch! The food labels became my second favorite reads, the best sellers of my weekly reading!

And the awful tool became an eye-opener! Suddenly it all made sense. Distorted idea of right portions, high fat content where you least expect it, calorie-bombs out of "just a treat"! The reasons I had put on so much weight, the reasons I couldnít get rid of it, my high cholesterol (ok, thereís a bit of DNA in that one), all the puzzle pieces fell into place. And I have to admit it. The food tracker, the tool that I love to hate, was my best friend in losing 19 kilograms.

No, I havenít kept on tracking ever since. I used it sporadically but it was still helpful. My feelings towards it are still mixed. I still ask myself the same question. What is the food tracker? Is it an indispensable tool for weight loss? Is it a necessary evil for maintaining weight? Is it an obsessive habit that in a weird way helps us balance our relationship with food? Or is it all of the above? I donít have the answer to that. And if you think you do, I would really like to hear it!

But I know one thing. Everyone who has had a hard time losing weight should definitely try it. It may not suit you as a weight loss tool, you might not become a dedicated user for life but it will definitely provide you with valuable information concerning your eating habits. Use it for a couple of days or for a week. But be honest with it. It will pay your honesty back by showing you the real reasons you canít lose weight. Mind you, it can be rude! But sometimes thatís what we need to realize our bad habits: a rude awakening!








Tuesday, March 05, 2013
Thank you 5% challengers.
Thank you Sparkfriends.
A big thanks to all of you who read my last blog about old habits and emotional eating and took the time to comment. This is a tough subject and any kind of support is welcome and truly appreciated.

Many of you asked about my strategies on fighting emotional eating. So, Iím back to clear a few things out.

Starting with the need to put a label on our cravings. Not all of them are caused by our emotions. Sometimes we just crave something simply because itís one of our favorite treats and we havenít tasted it for a long time. This is absolutely normal and thereís nothing wrong about that. So, in order to clarify the difference, an honest discussion with ourselves always helps. I have already shared with you my own defense system towards cravings. You can find the blog here:

www.sparkpeople.com/mypage_public_jo
urnal_individual.asp?blog_id=5086494

Many times, our cravings are driven by overwhelming emotions. We search for comfort to our souls through the easy way of following the orders of our taste buds. Itís easy to tell the difference. We usually crave a whole category of foods and not a specific treat. And if we let ourselves indulge, we eat way more than we should, we lose all self control and we usually only realize the quantity we have consumed after itís all overÖ Thatís how emotional eating is.

Good news! Gaining control over this can be practiced. And we can get better at this. Maybe even perfect! (If you manage to, donít forget to share your secret!)

The first thing you Ďd better do is face your emotions and take them out of your system. Talk about them with a friend or get to the source of them. This could bring you all the solutions youíre seeking in theÖ kitchen, fridge or pantry! Unfortunately, this is not always easy. And for most emotional eaters this is exactly the reason for whatís happening to them.

So, the next step is simply to shift focus. Take all your attention to something else. Try to empty your mind of everything else and focus on the one activity that could help you.
My first choice is exercise. A fast workout with your favorite music background can work wonders!
A walk outside is also a good choice especially if itís sunny. The fresh air and the warmth of the sun can really help us think clearly and lift our mood.
A hobby that we like and can keep our mind and hands occupied could prove our best ally at times like this. Photography, scrapbooking, quilting, find something that suits you and take it up. Mind you, though, there are two traps here. One is the kitchen. For many of us Ė including me Ė cooking and baking are among our favorite hobbies. This can be disastrous if you canít keep control while handling the ingredients! Also, youíd better stay away from monitor-based hobbies like anything on the internet, TV or gaming. Fixed eyes on the screen can make us munching without even realizing it sometimes.

And yet, there are times that nothing will work. But that doesnít mean that we donít have to try. Each one of us can experiment with the things that they think will work for them. And as I said in my cravingsí blog, even if you let yourself indulge in the end, chances are that all this self-talk and all the things you will have tried will minimize the ďdamageĒ.

I really hope Iíve helped some of you who are facing the same problem. I wish you can create your own strategies and really find ways to win this battle.

Always keep in mind that whatever you do, it has to be something that you can practice for life. Maintaining a healthy weight is something youíll have to try for the rest of your life and the sooner you realize that, the better. I recently read one of the best blogs on maintenance from WATERMELLEN, a successful maintainer who really has lots of wise feedback to share with all of us. Whether youíre at the beginning of your journey or youíre close to your goal, this blog can definitely give you a good idea of what to expect afterwards.

www.sparkpeople.com/mypage_public_jo
urnal_individual.asp?blog_id=5271389#c
omments

Thank you for reading. Keep on Sparking!






Monday, March 04, 2013
This weekís 5% Challenge calls for blogging on a new habit that weíd like to develop.
Iíve been thinking about it over the weekend.
Iíve spent the last two years forming new, healthy habits. I think Iíve managed to establish many good ones like drinking lots of water every day or making healthy choices when it comes to food. I cook my familyís meals most of the time using fresh, healthy ingredients. I work out at least five days a week and I try to grab every opportunity for more exercise like walking instead of taking the bus when I can, or choosing the stairs instead of the elevator. No, Iím not always perfect but when I slip I follow my own strategy which leads back on the right track. Of course there are many habits that Iíd like to establish but theyíre not fitness-related and they would be irrelevant to the challenge. So, I chose to focus on an old bad habit. One that is not dead yet. And I really donít know whether it will ever be.

Iím an emotional eater.

Itís the one thing that has created all the difficulties during all my weight loss journeys Ė and my perfectionism, but Iíve managed to tame this one. You see, Iíve never been a person who talks about her feelings. My friends know very well that when something bothers me, Iíll prefer to keep it ďboilingĒ inside me than to talk about it.

Iíve tried many times to pinpoint in my past the exact time period when I started to ďeatĒ my emotions. I canít. It feels like it was always the case. Whenever anger, frustration, disappointment, loneliness, fear, boredom, despair would become unbearable, the solution would be food.

When I started putting the rest of the puzzle pieces in order Ė healthy food choices and exercise Ė using the resources at Sparkpeople, I thought I was done with emotional eating, too. Was I wrong!! I just needed a few emotionally-challenging events to awaken the beast again. And I was back to square one fighting it from the very beginning.

Of course the battle is different now. Iíve laid out plans and strategies. I have weapons ready to face it. I can see it coming. I can recognize the triggers before they happen.

But still, the habit Ė if you can call this a habit Ė is not dead. And a part of me believes that as long as my emotions are alive, it will be, too. And now that everyday living becomes more challenging and the emotions become more overwhelming, Iím not sure for how long Iíll be able to fight it effectively. I may not speak about my countryís situations and our problems much over here, but, honestly, how can anyone cope with not being able to dream anymore?

So, Iím not focusing on a new habit but rather on an old bad one. Because, letís face it. In order to establish new, healthy habits, we have to get rid of other, bad, old ones. If, for example, your goal is to drink more water, you have to stop grabbing this can of soda every time youíre thirsty. Just an example.

And in case the title of my blog has kind of discouraged you, Iíll leave you with a more optimistic note.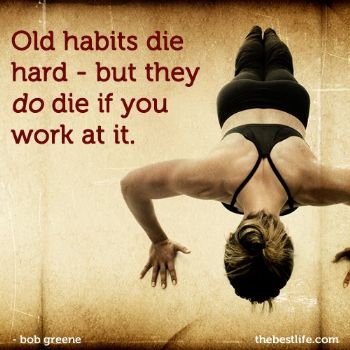 Sunday, February 17, 2013
We can count our age in many ways.
We can count them in days. In experiences. In smiles. In knowledge. In happy moments. In people weíve met. In goals weíve reached. In dreams weíve realized. Or simply in years that weíve been on this earth.

Today I choose to count my age in terms of fitness. After all, this is Sparkpeople. Thatís why weíre all here right?

I look back at my younger years and realize that in terms of fitnessÖ I was quite old! There are so many things I can do now that I couldnít do back then.

I can do ďmaleĒ pushups. Maybe no more than 10 but perfect ones!

2 minutes of jumping jacks. Maybe more.

Perfectly lined-up planks and reverse planks. For more than a minute.

I can run. Maybe not fast or for long. But Iím getting there.

I can go up all the stairs of our three-storey building. Running!

I can dance with no need to take a break every 5 minutes!

I can play with my children. Chasing them around without huffing and puffing and being out of breath all the time!

I feel strong and healthy. Fitter than Iíve ever been in my entire life.

Today, on my 37th birthday, I choose to celebrate just that. And I couldnít have done this without SP and the precious support of my amazing Sparkfriends.

So, on your next birthday ask yourself: ďHow old would I feel if I didnít know how old I am?Ē
In terms of health and fitness, do your best to feel younger than today.





First Page
1
2
3
4
5
6
7
8 9 10 11 12 13 14 15 16 17 18 19 20 Last Page

Get An Email Alert Each Time NUOVAELLE Posts