| | |
| --- | --- |
| | NUOVAELLE's Recent Blog Entries |



Wednesday, May 01, 2013
… just another fancy term for a lifelong diet?

I have to admit that this possible misconception had crossed my mind a couple of times in the past. Especially after returning to old habits at the end of a strict, depriving diet. And seeing the pounds returning as well. The idea of a lifelong diet seemed like the only – dreadful! – solution at times like that. But I hadn't really given it much thought until recently.

I was reading an article here on SP. To be honest, I really don't remember the exact subject because the thing that really caught my attention was the first comment right under the article. A woman insisted that what she learned here on Sparkpeople was not a lifestyle change but simply how to maintain her weight by being constantly on a diet, by saying "no" to all "forbidden" foods and by being in a never-ending workout frenzy in order to keep her body in a considerably fit state! It made me think…

Could she be right?

Could we be fooling ourselves here?

Are we in a constant dieting procedure that we have hidden behind the comforting and guilt-free term "lifestyle change"?

Could we?









I had to give it some serious thought and find my own personal answer before I present it as a debatable subject to my good Sparkfriends. My adult life consists of three different eating patterns. In the past it was either "on a diet" or "off a diet". And then I found Sparkpeople and committed myself to a "lifestyle change". So, let's see how they differ…

* DIET*



Meals:
Strict, following a program that someone else had made for me and not according to what I'd like to eat on a specific day. ALWAYS low-calorie, low-fat and lacking taste and variety.


Sweets and treats:
Out-of-the-question! Forbidden! Even the thought of them could make the scale go up!


Nutritional knowledge and awareness:
Limited and mistakenly oriented to fat percentage. Food was either fattening or not. Who cares about nutritional values…


Exercise:
A weight loss tool, used occasionally to help the scale move a bit faster. "Does it burn calories? Then I'll do it!"


Weight maintenance:
Weeks, Months, never actually made it to a full year…


*OFF-DIET*



Meals:
Anything, anytime, anywhere! I'm not on a diet anymore! Woohoo!


Sweets and treats:
See "meals" above. Woohoo twice!!!


Nutritional knowledge and awareness:
If it tastes good, it's good for me! We said it: I'm not on a diet anymore!


Exercise:
Well, I walk when I have the chance. I mean, I like exercise but why should I do it? I'm not trying to lose weight.


Weight maintenance:
…Hmmm… Now, where did I put that scale?...


*LIFESTYLE CHANGE*



Meals:
Balanced, planned by me according to my desire and taste.


Sweets and treats:
Occasional and in moderation. Enjoying food is part of life, after all.


Nutritional knowledge and awareness:
Much more than ever before. I always read nutritional labels and I watch my daily intake of most important food categories.


Exercise:
Way of life. Something that helps me feel strong and healthy and not just a weight loss assisting tool.


Weight maintenance:
I have been in the lowest weight range of my life for a little more than a year. And counting…

In short, the answer is NO! This "lifestyle change" that there's so much fuss over it here on Sparkpeople, is NOT a life-long diet. It's not a diet at all. And it's not the "eat-everything-I want" way of living, either. It's the safe road in between. It's about learning to enjoy food in your own terms, the ones that can help you maintain a healthy body that you feel good in.

And if we compare it to the "off-diet" state, or to a mentality of eating everything in sight, then, yes, it might look like a diet. But is this the way we want to live? Treating our stomach like a trash can? Saying yes to all the zero-quality products that the food industry has to offer? And calling every other way of eating a "diet"?

No! The "D" word was taken out of my vocabulary. It got replaced with words like moderation, balance, real food. Through Sparkpeople I learned that there are many more labels for food than just good and bad, fattening and not.

I learned how to stop dieting. Once and for all.

I made food my friend, not a foe.

And for this, I'll always be thankful to Sparkpeople.






Monday, April 22, 2013
How fast eight weeks went by! Our first landing to the first city of the challenge seems like yesterday.
I was a first-time challenger and I was in great anticipation of these eight weeks. New things, new friends, motivation, an interesting virtual-travelling competition and… goals. And expected results.

So, how did it go? Am I happy with the results? Did I meet my goals?

Answering the last question,… not really…

Why? Simply because life got in the way. During these eight weeks, the road got bumpy. And the 5% challenge was not the only one I was facing.
The initial goal of losing 5% of my weight wasn't met. I'm not even sure of the overall loss I appear to have after the eating disaster of this last weekend! I struggled with emotional eating on many days. Which was also another one of my lost battles.

Another one of my goals was to support my teammates as much as I could. And that's one I'm really sorry to have failed at. I always like to help and support people and that's one of the main reasons I joined the challenge. Unfortunately, I had to limit my Sparking time or even minimize it on some days. So, I wasn't always there for you, my fellow-Starfishes. And I'm really sorry about that…

The only goal I was successful with was my fitness schedule. I followed it exactly as planned and I did my best to accumulate fitness minutes! And I'm so glad that I could at least help my team this way.

So, did the challenge help me?

Absolutely!
When I first joined, I needed an extra source of motivation. I wasn't trying to form new habits, I've already done that. And these last pounds that I want to lose, I know how stubborn they are and how difficult they've proven to be. I wanted to fight emotional eating and maybe I haven't been 100% successful but, hey, where would I be if it wasn't for the challenge? My lack of sparking time could have been a reason for a much more off-track behavior, but the everyday tracking of the challenge kept me accountable. And that's exactly what I needed! Sometimes the success of something we do is not only measured by numbers. Given the circumstances and taking everything into consideration, it may have helped in many other ways, motivation and accountability being the ones in my case.

Will I be there for the next one?

You bet! I already signed up for the Spring into Summer 5% Challenge. And if you're looking for a new motivation, an active team, new Sparkfriends, fun and support, and you're ready to commit to making a daily appearance, come join us. You can find the team here:

www.sparkpeople.com/myspark/groups_i
ndividual.asp?gid=59980

Let's Spring into Summer being the best version of ourselves!







Friday, April 12, 2013
Results.
This is what we all expect when we start a fitness program. We may be trying to establish the habit of working out as a part of our new, healthy way of life but let's be honest. Usually, we are driven by the desire for some changes. Lose weight, reduce belly fat, see some definition, we all expect a little "something" to happen. And this is true for any fitness schedule whether it's done at home or not. But since we don't have anyone to talk about it at home and ask for their opinion, we'd better keep these three things in mind and save ourselves some disappointment.

- The C's.
Choice, Commitment, Consistency, Change.
If you want the first word to lead to the last, you can't skip the two in the middle. You made a choice to add exercise to your lifestyle, your own way, in your own place, at your own time. You have to commit to this choice and be consistent. It's the only way your new habit will lead to change. Excuses and making the best use of any opportunity to skip your workouts are not a part of this deal. You have to be honest with yourself.

- Fun!
If you like it, you'll stick to it. If it feels like a boring chore or an obligation, you'll soon quit.
Simple.
You might have heard of certain workouts that work and do miracles on your body. But what if you don't like them? What if you have to drag yourself even for a 20-minute workout? You're not going to be able to do that for long. Fun is a very important element of a workout program. You'd rather dance at the beat of your favorite music than do an aerobics workout that you hate. At least you're not on the couch trying to persuade yourself that you like it! Chances are…you'll stay on the couch…


- The 80-20 rule!
The most important thing to remember. The mistake that we all make at some point and we regret later.
"I work out every day, so I can eat whatever I want!"
Or, in other words:
"I'm going to lose weight with exercise, why bother to watch what I'm eating?"
Well, if this kind of thoughts has crossed your mind even once, you have to understand the simple, ugly truth, here and now: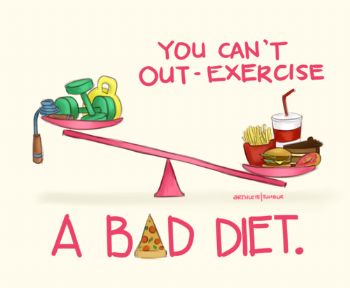 Weight loss is 80% nutrition and 20% exercise. There is no way you can lose weight through exercise if your nutritional habits remain the same ones that led you to be overweight. Don't make that mistake. It will only cause further disappointment for you. Exercise is an excellent habit that will help you in so many ways but it can only assist your weight loss efforts. It can't make your bad eating habits disappear. In short...




With these three things in mind, make your first steps towards an exciting and rewarding fitness journey. Give your body the gift of exercise and enjoy the signs of its gratitude.
Health, endurance, strength.







Thursday, April 11, 2013
The first thing that caught my attention in the online world this morning was a video made by the Canadian Heart and Stroke Foundation. It was made for a new campaign called "Make health last".

www.youtube.com/watch?feature=player
_embedded&v=Qo6QNU8kHxI

Mixed feelings, right? Fear and hope contradicting each other as the images of two different endings appear before our eyes. Some of us may have already thought about old age. Others may think that they're too young to worry about this. But the really important point here is the focus of this campaign. How we can make health last as long as possible.

I've always considered health to be a very important factor in changing the diet mentality and focusing on a more balanced lifestyle. All our ambitious desires of an ideal body image and all our vanity reasons can easily fade away compared to a health problem or the serious possibility of one. And unfortunately, many people only think about health as a motive for changing their way of life... in their doctor's office. After they have been presented with some ugly truths about their state of health...

But it shouldn't necessarily be that way. Health must become our number one motive. And there are many naysayers who will insist that no healthy way of life can actually guarantee the absence of serious illnesses. And they are right. But what about the odds? When we get up in the morning to walk to work and we see a sky filled with heavy clouds, there's no guarantee that it will rain. But common sense puts an umbrella in our bag. We don't get into our car certain that we'll be involved in an accident a couple of miles down the road. But we wear our seat-belts. Because we want the odds to be in our favor. And when it comes to health there are thousands of experts and multiple researches that show us the right way to make our health last longer.

But we don't even need them to realize the obvious. We are what we eat. Our body functions with the fuel it has been given. A quality fuel can make it work to its full potential. Our muscles were made to move. Lack of motion will only make them to forget the reason they exist and lead them to retirement. We don't have to be scientists or experts to know that a healthy lifestyle can raise our possibilities of being healthy. It's all a matter of foresight. The "just in case" person rarely gets wet on a cloudy day.

So, if you're looking for some motivation this morning, think about your odds. Take a good look at your habits and your way of life and think of where they'll lead you. And if you think you're on the wrong track, just make your turn.
Today.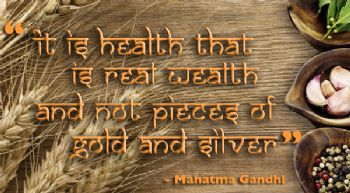 Tuesday, April 02, 2013
Being your own coach requires much more obedience and discipline than what would be required by a trainer. He's not there to correct you so you have to ensure your safety, your right posture and your efficiency yourself. Everything you've learned about a correct workout will have to be put into practice. You'll make some mistakes. But there are some things you'd rather make sure you do and some others that you'd better avoid.

DO:



- Start by visiting a doctor.

Yes, I know, you've heard about it before. Yes, it's this tiring introduction at the beginning of every fitness DVD.
But it's not there just to legally ensure that the creator of a fitness program will have no responsibility if something bad happens. It's there to remind you that you have to protect yourself and your health. If you haven't exercised in the last couple of months, years, decades or… lives, chances are that after your first real cardio workout you'll feel that you're about to die! Wouldn't it be better to know that you're completely healthy? To have the green light from your doctor and know exactly how far you can push your limits to? And if you have certain health issues, then this is not just a "do". It's a "must"!



- Begin as a beginner.

If you're just starting out, "slow" is the first word in your vocabulary. That means low intensity and low impact workouts. In other words you have to help your cardiovascular system and your joints adapt gradually. When it comes to cardio, start with some walking workouts or easy aerobics. Strength training can be slowly introduced to your body with some body-resistance exercises. Follow modifications and listen to your body.



- Make a weekly schedule.

I'm sure you've heard of the quote "If you fail to plan, you plan to fail." This is exactly the case here. If your plan is "I'll work out when I can" or "I'll try to find time", you're leaving yourself too much space for excuses and cheating. Even if it's just one workout that fits into your tight schedule, plan the day and time ahead. Make an appointment with yourself and be there!



- Track your progress.

You track your weight loss progress religiously, don't you? Why shouldn't you do the same with your fitness abilities? And there's a great effect here compared to the scale. The scale sometimes moves the wrong way. Your fitness progress will only do that if there is illness or injury involved. Can you think of anything more motivational than watching yourself getting fitter?



- Be patient with yourself.

There is no exercise fairy that will visit you overnight and sprinkle you with a magical stardust filled with endurance, strength and muscle definition! You have to work hard to acquire all this. And the fact that you're doing all this on your own could be slowing the process even more. So, patience is your friend. And don't forget that persistence always brings results.


DON'T:



- Don't make schedules that you can't follow.

Are you thinking of starting out by making a weekly plan of early morning workouts even though you can find the snooze button on your alarm clock with your eyes closed? Well, the snooze button is about to destroy your plans… If you're not a morning person, why make such a commitment to yourself? Plan your workouts according to your known way of life. You can make changes later, slowly and according to your needs.



- Don't skip warm-up and cool-down (stretching).

They may look time-consuming to you but they are the most important parts of your workout. You need to prepare your lungs, your heart and your muscles for exercise and you have to help them come back to normal afterwards by bringing your heart rate back down and by stretching your muscles . Your body will thank you for taking the time to do both.



- Don't overestimate your abilities.

It's ok to underestimate. Soon, you'll realize you can do more and make the necessary changes. But if you overestimate your strength or your endurance, injury could be right around the corner. Again, the advice is the same. Always listen to your body. Don't ignore signs of fatigue. It may be your body crying out for help.



- Don't be afraid of a bit of soreness.

Muscle soreness after exercise, which is almost always the case to people who are just starting out, may not be serious but can become a deterrent factor for many beginners. The truth is that it is a good thing. Your muscles are repairing themselves and are adapting to their new role. In short, they're becoming stronger. Soreness, though, should not be causing you serious moving problems and it should go away within the next 48 hours. If not, you might be overdoing it.

I hope I've given you some tips on the strategies you need to follow in order to make exercise at home a pleasant and successful experience. Don't miss the last part!

Coming up: Working out at home, Part 3 – Three things to remember





1 2 3 4 5 6 7 8 9 10 11 12 13 14 15 Last Page

Get An Email Alert Each Time NUOVAELLE Posts