| | |
| --- | --- |
| | NORJUNMA1's Recent Blog Entries |




Wednesday, June 16, 2010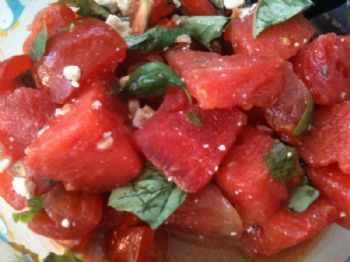 Salad: Watermelon Salad with Basil and Feta
Calories: 310
Verdict: A Juicy Surprise

I did it! I stocked up on two weeks-worth of produce (in retrospect, I might buy it on a weekly basis to preserve freshness), I made sure all my plasticware was clean and organized, and on Sunday night I created the first salad in the "Home Edition" series. There really is some truth to the saying, "nothing is as powerful as an idea whose time has come." Or at least, I find it to be very true right now. After months of false-starts, hemming and hawing, and general tomfoolery, I finally started making salads for lunch the night before. And having started, I find it super-easy, especially if I trouble myself to make the salad while I'm pulling dinner together.

Hats off again to Mr. Bittman, whose recipes I'm using during this escapade (http://nyti.ms/aJIgY0). They're exceptionally easy to make, and the whole list seems to evolve in complexity, keeping things interesting. Starting from mainly vegan salads made of only a very few ingredients, the salads on the list slowly grow (only slightly) more complex. By the end you're finally in "entree" salad country, munching on some combination of produce, meats, and/or grains. But the earlier, simpler salads are still so delightful that there's really no comparison in quality, only in the ingredient count.

And how was my "first" salad? Well I'm fairly sure that I've seen offerings of watermelon and basil on (cocktail) menus before, but faced with the real thing I feel the overwhelming urge to kick myself for not trying this combo sooner. The term "off the chain" comes to mind, but only if the chain is exceptionally large and sturdy, and only if whatever has come off of it is equally as robust. In other words, it be great.

Watermelon Salad with Basil (and Feta)
2 cups of cubed watermelon
2 roma (italian or plum) tomatoes, diced
2-3 tbsp fresh basil, rough-chopped or torn
2 tbsp basic vinaigrette (olive oil, vinegar, dijon mustard, parsley, salt, pepper)
2 oz. crumbled feta

Toss the ingredients and enjoy. It keeps well overnight, and the vinaigrette makes the tomato and watermelon render some of their liquid, so it adds some extra juiciness to the whole deal. The watermelon's sweetness tames the acidity of the tomatoes and the basil sticks an elegant spike of flavor into the whole mess. I'm usually leery of vinaigrettes, falling more on the bitter side of the palette than the sour, but in this case it boosts the "suchness" of everything else rather than going on it's own tangy rant.

Bittman has a bunch of caveats (or asides, rather) to his recipe. You can substitute peaches for the watermelon or the tomato. I chose not to since:
A) I was curious to try the watermelon-tomato-basil combo and
B) the next day's salad recipe had peach in it, why rush it
He also suggests adding bacon or feta to the salad, rendering it even more delicious, albeit now un-vegan. I went with the feta approach, and again, the slight sourness of the feta was conquered by the other flavors in the salad. The net gain was small bursts of creaminess and saltiness that only improved the general texture of the salad. The idea of trying this again with some fresh bacon crumbles makes me shudder with longing.

All-in-all this is just gorgeous, fresh, summer deliciousness. What's more summer than watermelon, right? It doesn't even have to be super-ripe to fit this bill. Just make sure that the basil is nice and fresh. I imagine you could experiment with the dried variety and do fairly well, but there's something about that spunky, sweet, herbaceous flavor of fresh basil that really revs up this salad. Put another way, this salad highlights basil so nicely that it helped cement my growing "interest" in licorice-y flavors (I'm looking at you, fennel). So if you're a basil fan, get on this.

I myself, will be revisiting this one as a staple salad for the rest of this summer, and I imagine beyond.

Next up: Peach Salsa?

For Mark Bittman's original salad list, go here: http://nyti.ms/aJIgY0








Thursday, April 22, 2010
So enough with the gruesome-yet-cool vegetable alien, right!

Lunch: Garlicky Steamed Vegetable Medley
Calories: 288
Verdict: Mild but filling and tasty

No pic today, since lunch was had sans-celly (thus, no camera to take said picture). But lunch was a tasty blend of veggies I steamed up a few nights ago and some brown rice to go along with it. I finally read up on the awesomeness of the multiple functions of my rice cooker. It slices, it dices, it even has a slow-cooker function. How cool is that! And it steams up veggies to a nice crispness, and they kept wonderfully. I dosed them up with a little sea salt and garlic powder and they left me happy as a clam. 3 hours later, I'm coasting on an apple and some H2O and should be good until dinner.

I'm not going to count this as an actual 30 Days, 30 Salads: Home Edition since the recipe wasn't one I found on my beloved "Minimalist" salad list. But I dutifully made this lunch at home, from vegetable products and ate it at work with relish (enjoyment that is, not the pickle kind), so I figure it counts for something. Let's call that something "the wind-up" shall we?

In the interest of staying true to the new 30D30S:HE format, I'll give you the skinny on what I ate.

Ingredients:
1 cup diced sweet potato
1 cup sliced up onion
1 cup baby portobello mushrooms, chopped
1 cup spinach
1/4 tsp garlic powder
dash of sea salt

Instructions: Add the veggies to you steamer based on how long they have to cook. For example, the sweet potatoes would go in first, with a steaming time of 20-30 minutes, followed by the onion about 10 minutes after, etc. Add the spinach about 2-3 minutes before everything else is done, so that it's wilted, but not mushy. Shake of excess water, add spices as desired and serve warm.

This can be done for any bunch of veggies. If you're experimentin, try and combine one starchy veg, one sweet, one leafy green, and one savory. This gives you a variety of complimentary textures and flavors. If you're looking for some extra filler and can afford the calories, go ahead and have a whole grain like brown rice or quinoa on the side. You can do all this in fairly large batches (veggies and grains) and have a stockpile that you can dole out over the week. Lunch is solved.

This is light, easy, and a surefire way to up your veggies and carbs. It's also a good way to help you experiment with new vegetables, since you'll be trying them along with favorites. Go ahead and try steaming up some plantain or daikon for the starchy veg and see what happens. Also, go ahead and feel free to add some herbs and spices, to liven things up. I'm a fan of sriracha, that fiery pepper sauce treat from Vietnam. It goes well with just about everything, but it's heaven on warm veggies (or maybe it's just me). Whatever you do, remember to keep it simple and fun.

Happy vegging out!







Friday, March 12, 2010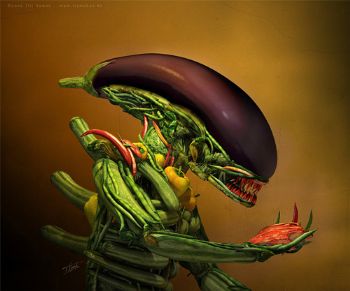 About that picture. Disconcerting, I know. But I am a HUGE "Alien" fan (and by "fan" i mean, a simultaneously thrilled and terrified consumer), and I am also a fan of a renaissance artist named Giuseppe Arcimboldo. The brilliant digital artist Till Nowak took two of my favorite nerdy loves and combined them into a meta-nerd triumph. That it's basically a salad made me even more ridiculously happy. ˆ_ˆ

Vegetal-nerd-foolery aside, I'm here to say that 30 Day, 30 Salads is back, hopefully for the full course this time. Life got the better of me last round and, while I continued to vigorously document my salads with phone pics and hand-written diary entries, that documentation never made it to the computer screen. I kept putting it off, first because I didn't have time, then because it would take to long to update ALL the entries I'd written offline, etc., etc.

It wasn't long before my fledgling challenge's momentum began to flag. Add to that a tightening budget that couldn't always accommodate pricey downtown salads, and wimpy discipline with preparing salads at home and it all went kablooey. In a word: FAIL.

So, now I'm back by (my own) demand, with a little more energy, some new time-management techniques, and a new approach to 30 Days, 30 Salads.

Ladies and gents, say hello to 30 Days, 30 Salads: Home Edition.

This iteration of 30D30S is building on an idea that I've been tooling around with for almost as long as I've been playing with 30D30S concept. A while back I got hooked on Mark Bittman's column for the New York Times, "The Minimalist." He's a writer I encourage every foody and nutrition-conscious person to follow (his blog, "Bitten," is also a must-read), mainly because he truly nails the idea that cooking at home can be simple, fast, and truly delicious. If you're learning to experiment in the kitchen he's a godsend of no-fuss sensibility, and while not all of his recipes are super-healthy, a little quick thinking and innovation can often make them so.

Last summer I came a cross a terrific list of salads that he posted in an article called "101 Simple Salads for the Season" ( nyti.ms/1imwhq ). It did exactly as the title claimed: there were 101 salads recipes, many so short as to be practically twitter-worthy. From the totally vegan to meat-and-potatoes, Bittman gave you a how-to on making yummy salads using very simple techniques and a minimum of ingredients.

No fuss. No muss. No reason I shouldn't be doing it myself.

So, when I started 30D30S back in January, one of my long term goals was to incorporate many of Bittman's recipes into my daily salad explorations. Aside from the health element that obviously comes from freshly prepared salads (the not-dredged-in-dressing-variety, at least) there was also a budget-friendly component that made the idea irresistible to me. After all, it's easy to spend $50 - $70 a week on average lunches around where I work. What could be better than using $25 of that for produce and stashing the rest in savings?

30D30s: Home Edition will be much like the last cycle. I'll include photos, a calorie count (which I'll be culling from the SparkRecipes Recipe Calculator) and some thoughts on what I'm eating. This time around I'll also share the wealth by including a quick recipe, in the chance that one of you guys might want to try a little of what I'm having.

So for those of you who were following me before, I apologize for the unannounced and unintentionally long hiatus. I hope you'll come along for the ride again. I think this one will be even more fun!




1 2 3 4 5 Last Page

Get An Email Alert Each Time NORJUNMA1 Posts