| | |
| --- | --- |
| | NOMORESTALLING's Recent Blog Entries |




Wednesday, May 14, 2008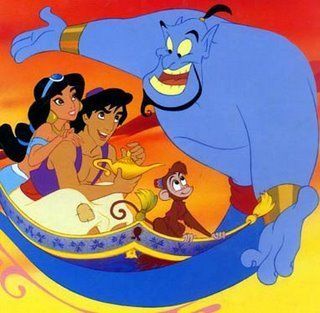 I am tired today Some from yesterday but some from not sleeping through the night but my power today lies in personal power. So I shall inspire to continue transformation, respect and support by discrete but charismatic example and tolerance. I will continue to be an instrument for dynamic, responsible, or passionate expansion that serves or protects the greater good of my legacy. I am a master of the universe and I am empowered with a reputation of experience, credibility and momentum and I transform through integrity.

Because remember Aladdin riding his magic carpet? He also had a lamp with a Genie who could grant him any wish he wanted. Nice fantasy, . I hate to say it, but magic is exactly that, an illusion. They only able to make untrue things that cannot happen appear to happen or look as if they have happened. I have to tell you something else. There are many other types of illusions out there besides magic.

Yes, and just like the amazing performances of master magicians who make me absolutely believe in their illusions, the performers of these other type of illusions will make me or at least try to make me a believer, too. There are things that I should believe and things I should not. When it comes to my life, there are no magic wands to wave to make it the way I want. No magic wands to make things go away. I tell myself that since that expectation, is an illusion that when I get up in the morning to search for my magic wand is fruitless. If I were to search and search, I still wouldn't find it. Tell you what. If I do find that magic wand, I will certainly, you can bank on it, that I would be happy to wave it in everyone's direction, but until then I'm afraid the only way to get the results we want in life is for to put in the effort. Life is work, and the only way to change it is to take control and decide to change it.

Unless I have a situation that needs outside attention (these do exist), the only answer to fix things is to find my opportunities. I know that there is no way I can get great abs in three minutes a day in a couple of weeks. Sorry! Those masters of illusion will even show before and after pictures with amazing results. Yeah right! And I can really saw a beautiful woman in half. If I want great abs, then I know I have to work at it, and it takes time; then I'll get great abs. There is no miracle 48-hour diet. Well, there is, but it's no miracle. The only way to lose weight and lose it the right way and keep it off is over time, by using the right tools and Training my Mind. No, I really hate to be the one to tell you all this stuff, but I'm sorry, there is no magic out there. I have to do the work of life. But I do have good news: I can!

No magic carpets, no magic wands. Here's another one: no magic pills. Listen, we're friends, and I have to not only tell myself the truth; I have to tell each of you the truth. So I have to tell you. There are no magic pills. I see all these ads in magazines, newspapers, radio and television about diet pills. Most of them don't work. Some will cause you to lose your appetite, and speed up your metabolism to burn more calories. At least I already know about Santa Claus. Okay, so anyway, think about it, speed up your metabolism but not make me hungry? Hmm, do I think that's good for me? Do I think I'll feel normal, act normally or feel good? I can't beleive in them enough that these things are not normal and simply are not good for me. Here's another little problem. Let's say I take these pills and I even lose weight. What next? Am I going to take these pills for the rest of my life? Am I going to stop? When I do stop, what do I think will happen? How and what am I going to continue to eat? Will I continue exercising? Remember, ninety five percent of the people who go on a diet gain back the weight within five years. I am sorry no one is coming down the chimney, and the only way to lose weight and do it right is with the proper tools to Train My Mind.

Weight-loss pills are not the only magic pills out there. Yes, I do know that Jack and the Giant Bean Stock was a fairy tale and there were no magic seeds. I mean, I'm driving in my car the other day, and an ad comes on the radio, saying that one in five people has a chemical imbalance. Then I come home, and I'm watching television. A commercial comes on with all these happy people flying all over the screen because of some new type of Prozac that doesn't cause sexual side effects. Listen, I know there's a legitimate reason for these medications but not to the extent to which they are used. Everyone wants instant gratification. Everyone wants to lose weight in forty eight hours, get abs in three minutes a day and feel happy right away.

Back in the '70s the number of depressed housewives who used and then became addicted to Valium was criminal. Traits in common were their loneliness and feelings of lack of accomplishment or appreciation. Kids grew up, husbands worked, and life felt empty. Sorry, the Valium didn't make it better. Remember, I said a person without goals is a person without life. Yes, there are reasons to take medicine. But I have to ask myself, "Can I work on this?"

My brain is a muscle, and I have to exercise it and take control. I have to decide to make good decisions.Ie have to decide to take responsibility for myself, and decide to make changes. Listen, it's getting to the point where there's an anxiety or fear for everything and an excuse not to perform. I know first hand that depression is a real thing; and a terrible thing to have to live with. But I also know that fears, anxiety and depression can also become a shield. I can become dependent on them, and they can become an excuse. Listen, the one place no one can really look at with complete certainty is in my mind; my thoughts. Once I start using depression as a reason for not being able to function, I can get stuck there. No one questions it. People might feel bad for me, pay attention to me and make exceptions and excuses for me. It can get to the point that it becomes a way of relating to other people and a way of functioning. Listen; there are good reasons for medicine; that's a decision. But I am now developing the tools to make those decisions. I need to make sure that I take the time to make the right decision and take control. My first option is always to try and take control.



What I am saying is to watch out for illusions, and understand that there are neither magic answers nor magic wands to wave over my life. My life is my decision, and yes, it requires that I pay attention to it. I must put work into it. I must take responsibility for my life and make good decisions. So I want great abs? Do the exercises and over time they will come. I want to lose weight? Use the tools, make the right choices and it will happen. I think you get my point by now. Well, we will put a little magic in your life giving you support and continued motivation but for right now, I will disappear. Abracadabra





Tuesday, May 13, 2008


Yes, sirree! What an amazing way to start the week. This has certainly been an empowering experience. Things are getting better and better, and the heat is on. I still have a lot to do, but most importantly I have figured out how to slay my dragon! I'm not saying he'll rear his ugly head again but as long as I keep doing what I'm doing it seems I control him not the other way around! These past four days have been heaven! I've been able to accomplish so much without having to contend with dealing with FIBRO pain flare ups.
This is day three of the cleanse but i'm feeling so good I think i'd be smart to just continue eating this way! I'm thinking it would be best for my IBS too! It keeps me regular which is a good thing too! They say when a body is perfectly healthy you should be eliminating aprox 2 hours after you eat. I want to get to that point too. I truely believe I will attain this goal!





Monday, May 12, 2008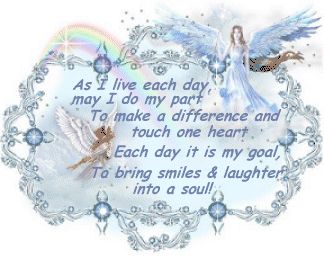 Feelin' good a little tired but still have my energy and I'm still pain free! Plan to get a whole lot more accomplished today around the house It's too wet to work outside.my power today lies in change. I am quick, sharp, and ready for assertive, revolutionary or affirmative action. I overcome obstacles or resolve conflict by getting right to the point, cutting to the chase or confronting challenges head on -- even if this means going against the grain. My communication, style or expectation is on the cutting edge and relies on reason, design, the latest craze or facts. It is my honor to protect and defend my perception of truth. I measure twice and cut once. I am empowered by expectation or duty and my virtue is commitment to the greater good.
My best intentions matter little if my daily life doesn't reflect those values. How do I make sure that my thoughts and actions match? Good or bad, my values are shaped by my actions just as much as they do the shaping. Actions that are true to my values build a stronger personal foundation for others to see. And why are the memories of our greatest personal and public heroes so powerful and timeless, long after they're gone? They stood for something. They were living, breathing examples of the values they prized. It takes courage, a belief in myself and strong determination. And it can be done. So each day I will do one thing that shows the world what I believe in; that I believe in MYSELF. That's where it starts! If I can't love and beleive in myself how can I love and believe in others and help to lead them! I have to also be the example!
Iknow I can do this I have the stronger will than anything that I have ever come up against. I have the faith to overcome it as well! And with these two powerful strengths I will conquer I will win with or without perfectionism!!

The Art of Imperfection: Seven Simple and Imperfect Ways to Crumple Up and Make Messy Your Perfectionism

No one is perfect... that's why pencils have erasers. ~ Author Unknown

"What's wrong with perfectionism?" you ask. "PLENTY," I answer! … which, by the way, makes perfectionism totally imperfect.

Perfection is often linked with achievement, painstaking awareness to detail. Yet, it often produces procrastination (no point in doing something if I can't do it perfectly), low self-esteem (if I am not perfect, no one will love me), low-productivity and in some cases obsession compulsive disorders, depression, sexual dysfunction, divorce and eating disorders.

Do or do not … there is no try. ~ Yoda, Star Wars

Life is full of obstacles, is it not? Therefore, life – in it of itself – is imperfect. Trying to be perfect goes against the grain of the natural flow of things, and it results in anxiety and fear of failure.

If perfectionism is interfering with your life, in any way (weigh), shape (pear shaped or apple) or form, I invite you to consider letting go of this potentially dangerous characteristic.

Seven Simple and Imperfect Ways to Crumple Up and Make Messy Your Perfectionism


1. Fake It Till You Make It.
It helps to have a willingness, a strong desire to change and a bit of patience as you move through the process. If you are not there yet, that's okay! You can pretend. Fake it! You will make it!

2. Embrace Fear.
Everyone (with the exception of myself) says that you have to be FEARLESS. Guess what? Life is scary, fear happens. The trick is to knock it out of your way. When fear rears its 'interesting' head (not ugly - don't want to insult it and make it any bigger), say "Helllooooo fear! Nice to see you. Here's your hat; what's your hurry." In other words, acknowledge it and let it know that you appreciate him/her (in all likelihood 'fear' has good intentions), and then (seriously) open a window and door and send him/her out! Do it! Open that door, invite it OUT– empowering feelings will surface, I promise!

3. Practice Imperfection.
What things can you do that 'imperfection' adds to; that imperfection makes better? How about going to one of those paint your own mug/bowl places. You pick out the ceramic piece, sit at a kid's table, paint a picture or words, colors, whatever and then they 'bake' it for you. Thing is, the paint drips, colors blend. The baking process completely changes the look. You can display it proudly in your home. A symbol of your perfect imperfectness.

4. Try On Excellence.
"Striving for excellence motivates you; striving for perfection is demoralizing". ~ Harriet Beryl.
We are here to strive for excellence, to grow, to change, to develop, to go forward, to evolve, not just improve.

5. Envision.
Imagine your goals and dreams in great detail. See yourself happy and living just how and where you want to be, in all its glorious imperfection. Write it out. Make it real. And then commit to doing one imperfect thing today that will align you with your tomorrow.

6. Let It Go. Let it go. Let it go. Let it go. Softly and sweetly, just let the idea of perfection float out into the clouds. Perfectionism takes up a lot of psychic space. Clear your mind, unchain yourself from perfectionism, and realize that you have just created an amazing opening for freedom and creativity.

7. Nourish imperfectionism.
Let us nourish the beginning of this new time in our lives. We have showed sweet perfectionism the door and know that seeds of imperfectionism have been planted. Bless these seeds, allow them to sprout and grow, in their own imperfect way.


First Page
1
2
3
4
5
6
7
8
9
10
11
12
13
14
15
16
17
18
19
20
21
22
23
24
25
26
27
28
29
30
31
32
33
34
35
36
37
38
39
40
41
42
43
44
45
46
47
48
49
50
51
52
53
54
55
56
57
58
59
60
61
62
63
64
65
66
67
68
69
70
71
72
73
74
75
76
77
78
79
80
81
82
83
84
85
86
87
88
89
90
91
92
93
94
95
96
97
98
99
100
101
102
103
104
105
106
107
108
109
110
111
112
113
114
115
116
117
118
119
120
121
122
123
124
125
126
127
128
129
130
131
132
133
134
135
136
137
138
139
140
141
142
143
144
145
146
147
148
149
150
151
152
153
154
155
156
157
158
159
160
161
162
163
164
165
166
167
168
169
170
171
172
173
174
175
176
177
178
179
180
181
182
183
184
185
186
187
188
189
190
191
192
193
194
195
196
197
198
199
200
201
202
203
204
205
206
207
208
209
210
211
212
213
214
215
216
217
218
219
220
221
222
223
224
225
226
227
228
229
230
231
232
233
234
235
236
237
238
239
240
241
242
243
244
245
246
247
248
249
250
251
252
253
254
255
256
257
258
259
260
261
262
263
264
265
266
267
268
269
270
271
272
273
274
275
276
277
278
279
280
281
282
283
284
285
286
287
288
289
290
291
292
293
294
295
296
297
298
299
300
301
302
303
304
305
306
307
308
309
310
311
312
313
314
315
316
317
318
319
320
321
322
323
324
325
326
327
328
329
330
331
332
333
334
335
336
337
338
339
340 341 342 343 344 345 346 347 348 349 350 351 352 353 354 355 356 357 358 359 360 Last Page

Get An Email Alert Each Time NOMORESTALLING Posts