| | |
| --- | --- |
| | NOMOREMEDS4ME's Recent Blog Entries |


Monday, January 16, 2012
I started this program toward the end of the week 2 weeks ago, and I happened to lose 1 pound that week...and since there was only about 30 hours between when I started the program and when I weighed myself that week, that pound was likely already lost when I started here.

This past week (my first full week on this program), I was within my target ranges on all items for the week's nutritional totals, though I may have been over or under on various ones on any given day. And what did I get for all the effort of recording everything I put into my mouth and keeping within the target goals...as well as getting more exercise than I've been getting recently? A gain of 4.5 pounds. In one week? When I'm following the program and keeping within nutritional goals and being more active?

As if I needed yet something else to help me revert to my depressed, stressed, moping self.

You can probably guess that I didn't record a single thing I ate today. LOL.

In all seriousness, any nutritional program I tried before that required counting of anything, whether various nutritional values as with this program or something like "points," has never been successful for me...but I'd forgotten that since it's been so long since I tried such a program. But I have been very quickly reminded of how futile such a program is for me. Though, I never understood why they'd never worked before...but in the past 10 days of doing this one, it became very clear to me what the problem with such a program is (for me, at least): it has me constantly thinking about food!

Having to record everything I put into my mouth makes me think of nearly nothing else but what I'm putting into my mouth. And about how many more calories or grams of fat or protein or carbs I can eat for the day before I hit my limit...and what foods I can eat to keep me below my limit or which ones will put me over...and can I eat something that would put me over a limit if I eat less of it, and how much less? So I'm either actively thinking about what I have eaten, what I am eating, or what I could eat during the day...or subconsciously thinking about it.

And in the end, it's absolutely no good to be thinking about food nearly 24/7, even if it's theoretically in a healthy way. I know we should be conscious of what we eat, rather than mindlessly shoving food into our mouth. But the ultimate travesty would be for so much thinking about food to lead a person to overeat. No thanks.

Gaining 4.5 pounds in one week would take a lot of food and a lot of effort...and since I know that I was within my target numbers, I know I didn't eat enough to gain so much from eating. So hopefully it's water retention which, as every female knows, can easily raise your weight by that much and more. Since I weigh myself just weekly rather than daily, I've likely had such an unusually large weight gain from water retention many times before but I hadn't weighed myself during it so I didn't notice it most times. So we'll see what the scale says when I get on it next Sunday.

Meanwhile, I was so bummed about the 4.5 pounds this morning, I not only decided not to track my nutritional info today (and maybe not ever again...we'll see)...but it also made me not care whether I drank a green smoothie today or not. Sort of like "Why bother if I'm only going to gain weight anyway...what's the point?" But deep-down I know all the many ways a green smoothie is great for my health, so come dinnertime, my common sense came around again and I made a smoothie. Here's what the 3.5 C contained (and why the truly green smoothie is not looking very green in the photo, I don't know...must be something with the lighting in the kitchen):

2 lrg handfuls spinach
1 sm-med chard leaf
1/2 C coconut milk
1/2 C almond milk
1/3 C filtered water (to thin)
splash Green Goodness
good splash carrot juice
1/2 med. banana
1/3 C frozen mango (with peel)
6 frozen strawberries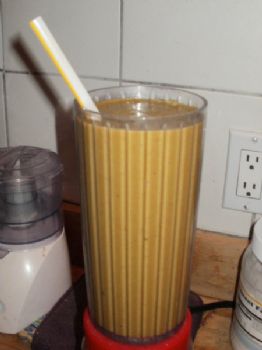 Saturday, January 14, 2012
OK, I think I've recovered fairly well from my being flabbergast the past couple days. Still can't believe I didn't get that job, but it's their loss. Mine as well, of course, because I'm in great need of a job. But more theirs, because whoever they hire (unless another former employee) is going to need a boatload of training in their processes, styles, requirements, software tools, databases, procedures, etc. And of course the quality of their skills and work won't be anywhere near as fab as mine.

So just like the first time they hired me, they could've gotten a ton of experience and skill and work ethic...only this time they also could've gotten someone who also knows pretty much everything needed to know for that particular job and who could be working and contributing from minute one. Meanwhile, I don't have to drive 45-60 minutes each way in terrible traffic and/or weather or spend a good part of my paycheck on gas just to work at a place that'd be getting the best of me but not paying me nearly enough. And that's the end of my thinking about that job-that-isn't-to-be.

Another unseasonably warm day...low 50s, I think. And brilliantly sunny again. Have some errands to run today and will be happy for an excuse to be out under the crisp blue skies again...and before the predicted rain and/or snow comes in tomorrow night and Monday (just in time for the Martin Luther King holiday...if it's snowing, the kids will be extra happy for their day off, but parents likely won't be ;-).

Since I was feeling so much better this morning, and the blue sky and golden rays were greeting me and my lovely backyard songbirds, I thought it was a perfect day for one of Robyn's (GreenSmoothieGirl's) favorites, her Hot-Pink Breakfast Smoothie. And I didn't "tweak" it this time at all...went with her exact recipe this morning.

The 3-1/4 cups of smoothie contains the following: 1-1/2 C coconut water/liquid (use fresh or canned), 1 large fresh carrot, 1/4 med. fresh/raw beet (I used 1/3 today), 1/4 C raw cashews (unsalted/nonroasted), 1/4 C chopped fresh dates, 12 frozen strawberries, 1 tsp. vanilla (or to taste), filtered water (to thin...I used about 1/4 C today). And here's the pretty (and tasty) result :-D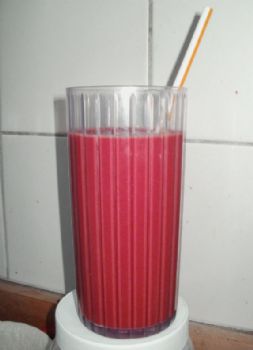 Friday, January 13, 2012
Nope, I didn't write anything yesterday. I'd planned to...just like I'd planned to drink my 12th consecutive wintertime green smoothie. And after a perfectly lovely day up in Park City with my perfectly lovely friend Jeanette, where we dropped off my 3 large boxes of accumulated glass containers at the recycling center and then window shopped along Main St. before eating lunch at Flanagan's Bar & Grill, I was going to both drink and write.

Flanagan's menu is filled with goodness and it was hard to decide what to get...which ended up being the lamb burger with sweet potato fries. The fries were maybe the most perfect I've ever eaten. And the burger was 1/3 lb. local, grass-fed lamb topped with goat's cheese (one of my fave cheeses), grilled onions, Dijon mustard, and fresh baby spinach leaves, all on a fresh-baked multigrain kaiser roll. Absolutely delish...and majorly healthful...and insanely filling!!! I'd only eaten a piece of toast with a slice of cheese for breakfast so I was sure to have room for whatever tasty lunch we had, with so many good restaurants in Park City...but I could barely finish the burger, almost but didn't finish the fries, and had a helluva a time walking (literally) UP Main St. back to the car...LOL. And when I got home, I didn't even want to think about or look at any food let alone eat/drink any. So I gave it a couple hours...then a couple more...thinking I'd be able to at least drink a small green smoothie sometime before bed. But nope.

I still could've written something yesterday even without a smoothie to report...although the smoothie chronicling is the main reason for these entries, I could've at least written the stuff above yesterday instead of today. But when I got home from Park City, I got on the computer to do some work and checked my email...and found yet another job application rejection. Unless you know me well, you don't know that I got laid off from my job of 18 years...6 years ago now. And have yet to find another full-time permanent job in all this time. Not in my previous industry...or doing my previous job/tasks in any similar industry...or even flipping burgers (lamb or otherwise). And don't ask how many I've applied for in 6 years...every time I send out my resume for a job, I'm waiting for the universe to explode for all the resumes I've sent out into it in these years. So I've gotten the "thanks but no thanks" replies plenty of times before (whether it's come just after submitting the basic application, or after the rare phone interview, or after the even rarer personal interview)...and that's long since begun to take its toll on my emotions, self-confidence, stress, etc. But yesterday's rejection was particularly painful and confusing and depressing. And shocking.

It came from a company I'd worked at about 3 years ago on a contract basis. What was supposed to be a short, 3-4 month contract to help them out turned into a stay of over a year...and they loved me and my work so much, they were in the process of getting me hired as a regular, full-time employee when the company initiated a hiring freeze, which also included letting go all contract and part-time employees. So that not only killed my chance of becoming a regular employee but also killed my contract there, and it was back to searching for any work at all. Before and since then (and even while working there) I've been doing freelance work, sometimes as my only source of income...but the problem with freelance is I never know what work will come my way, when it'll come, how much work or money it'll bring in, etc.

Well, last week, in my continuing job hunt, I saw a posting at that company for the exact position/work I was doing for them when they had to let me go 3 years ago...this is the full-time job I would've had if the hiring freeze hadn't happened. So I jumped at the application...how could they hire anyone else over me when I'd worked there for over a year in the exact position? I know the company, I "fit in" and worked well with my coworkers, and I know the job (tasks, responsibilities, software tools, processes, etc.) and so I'd have no "learning curve" and they'd have no training to do and could be sure I'd "work out" in the position...and it was a job they were going to give me on a permanent basis before.

Only a couple days after submitting my application online, I got a request to do a phone interview, which I did a couple days later...but it was with an HR person and not the hiring manager. She was nice but was robotic, simply reading through a script of questions and only responding with "OK" after each of my responses. But I was still confident that I'd be moved on to the next phase, which was likely interviewing with the hiring manager or other person in the actual department the job is in. But no. Yesterday I simply got an email from the HR person I'd talked with saying, "Thank you for your interest in the Editor position and for taking the time to interview. We have interviewed a high number of qualified candidates and our decision was very difficult. Regretfully, after careful consideration, you were not selected as a final candidate for this position."

Hello?!?! There may be "a number of qualified candidates," but none as qualified as me, who's done this job for you before! On what planet could this decision have been "very difficult" for you?!?! You're not even going to move me to the final round of consideration?!?! Un-be-liev-a-ble.

I was rather flabbergast and speechless yesterday, so I wasn't in the mood to write at all. Today I'm still flabbergast but obviously no longer speechless.

So, there you have it: why I didn't drink a green smoothie or write an entry yesterday. Not that you asked... :-)

But the first thing I did this morning was make a green smoothie...the 2-1/2 cups today contained the following: 1/2 C almond milk (unsweetened), 1/4 carrot juice, 1/8 C Green Goodness, 1/2 med. fresh apple, 1/2 fresh kiwi, 1/2 med. frozen banana, 2 heaping Tbsp. frozen blueberries, 1 tsp. agave, filtered water to thin.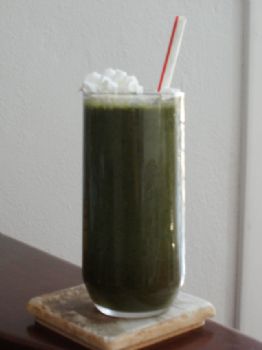 Wednesday, January 11, 2012
...let the sun shine in, the su-un shine in! (OK, I think I just dated myself by quoting that particular song...and now it'll also be going through my head the rest of the day...LOL!).

Amazing what a little (or a lot of!!) sunshine can do to cheer one up after a few days of dull, overcast skies and blah weather. (Even the backyard songbirds have been at the feeders and flitting around all day today, rather than hiding out in the evergreens and shrubs like the past few days.) Although nothing's changed for me personally in the past day, my angst, depression, frustration, anxiety, and moping have greatly improved with the rays of the sun beaming all day.

So to go along with the brighter day and outlook, I made a brighter-tasting green smoothie today. Since my recent discovery about how light and fresh and "clean" apples and apple juice make a smoothie taste, it's now my go-to ingredient as much as possible, and is especially reflective of this gorgeous day today.

The 2-1/2 cups today contain the following: 1 large kale leaf, 1/2 large chard leaf (no, I still haven't gotten shopping for more spinach...tomorrow for sure!), 6 oz. apple juice (unsweetened), 4 oz. coconut milk (unsweetened/unflavored), good splash kefir (unsweetened/unflavored), 1 med. apple (peel included), 1/2 med. frozen banana, 2 heaping Tbsp. frozen blueberries, 1 heaping Tbsp. fresh pomegranate seeds, ~2 tsp. fresh pomegranate juice. Ahhhh.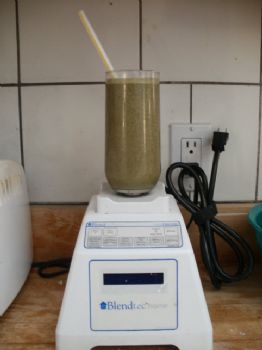 Tuesday, January 10, 2012
I don't know what got into me today. Maybe it was the use of coconut milk or the fact that I didn't blend the frozen bananas completely so there were still some small chunks in today's green smoothie...but just before I took today's photo, I grabbed the can of (real...but light/low-fat) whipped cream hiding in the back of the fridge and topped if off like it was a milkshake...LOL. And dang it if it doesn't taste just fine with that little spritz! So if you're needing some psychological encouragement to try green smoothies, just top it off with some whipped cream :-)

I'm OK with green smoothies sans whipped cream...but maybe that's what I need to add in the other areas of my life. Enough of all this stress and angst and worry and frustration and depression and moping...I need more whipped cream in my life, figuratively speaking (and maybe literally as well)! Now I just need to figure out how to best do that...while also still dealing with the stuff that I've been stressed out, depressed, frustrated, and moping about. Aye, there's the rub. But a challenge I must take on if I'm going to get through this angst-ridden period of my life in good shape and the better for it.

Meanwhile, here's the photo of today's 2 cups of "milkshake" (1/2 C coconut milk, unsweetened/unflavored; 1/4 C Bolthouse Farms Green Goodness; 1/4 C carrot juice; 2 med. frozen strawberries; 2 Tbsp. frozen blueberries; 1/2 lrg. frozen banana); splash of filtered water (to thin):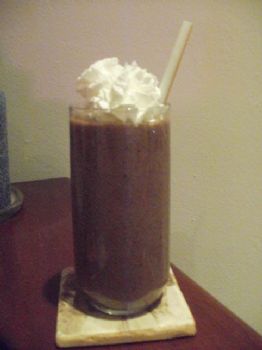 1 2 3 Last Page

Get An Email Alert Each Time NOMOREMEDS4ME Posts