NINJA_SMOO's Recent Blog Entries


Wednesday, September 28, 2011
Ok so this is what she said:

I am to stay away from:
Sodium nitrite (preservative); all food dye; msg; everything and anything corn related including raw, popped, flour, starch and syrup; not to mention eggs; cows milk; shellfish (duh, already knew I'm allergic); oranges (suprise!); strawberries; duck; all artificial sweeteners (including stevia), and leeks.

For the next month I am not supposed to touch cucumber, tomato or celery and then I am to try reintroducing them organic to see if it's the actual food that I'm reacting to or the pesticides, since all three of them are mostly water and pesticide-laden.

Take vinegar before large meals and chew slower to increase stomach acid. Also consider taking HCl- capsules.

Take b-vitamins and eat more dark green food, for stress. (B-vitamins are water-soluble and your body uses them when you're stressed, so apparently, every time something stresses you out, you pee out all your B's. Fun, eh?)

Borderline white wheat flour sensitivity, so stay to whole and sprouted grains whenever possible. Ok occasionally and small amounts. Cheddar cheese is also borderline so have infrequently (other cheeses ok). Same with savory (the herb), and white potato. Red and sweet ok.

Interesting, huh?

Update: Holy crap, I just realized how much food has corn in it. IE EVERYTHING. Even bloody Kraft peanut butter! Graaaaah!




Thursday, February 03, 2011
I was going through Facebook this morning and found an old picture of me close to my goal weight.

I've been there before, I can do it again!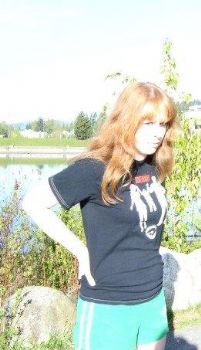 This is me in spring of 2005, at about 120 lbs.

The background is Lafarge Lake in Coquitlam, BC at Coquitlam Centre Park. There is an awesome paved walking/running/bike path around the lake, plus a track/football field with stadium, tennis courts, beach ball volley ball courts, lacrosse box, soccer fields, baseball diamonds, BMX bike park, and skate park. I miss living a five minute walk from there!




This is me just before prom, May 2005, also about 120lbs. It astounds me now that that size FIVE dress was too big. My prom dress is one of my goal dresses.






Wednesday, January 19, 2011
Notes to self:
You are a good cook. You are a healthful cook. You *like* to cook. Cook real meals more often.

Split meals into reasonable portion sizes. Pay attention to eating *while* you are eating. Stop eating when full. Do *not* continue eating when you know you are full because 'it's so good!'. That is not good *for you* and you know it.

Go grocery shopping more often. It is not the horror you make it out to be.

Buy and eat more vegetables. You *like* (some) vegetables. Find frozen and canned vegetables you like that you can keep on hand always.

Drink less alcohol. Do not drink just because everyone else is. You *can* order water at a bar. Do not drink at home with Boy. Just because you made beer doesn't mean you need to drink it all right now. Put the beer in the spare room. Out of sight; out of mind.

Bake. You are good at it. You like it. Find healthy baking recipes. You might just find you like those just as much as your amazing Chocolate Guinness Cake with homemade chocolate icing. Mmmmn.

You can do everything you want to do. You can *not* do everything right now. Make a list. Try something new every week. You can add to the list.

Finish the painting you were commissioned to do *over a year* ago. Not need-needing the money is not a good excuse to finish it. You gave them your *word*.

Stop procrastinating. There really *is* no time like the present.

Stop making excuses. You recognize what they are while you're telling them to yourself. When you notice this happening, you should *stop it*!

Schedule time to spend on yourself. If your health and happiness are not important, what is?

Try new recipes. You have two brand new cookbooks you have never used, plus several other unused ones. You may just find a new favourite meal. Go through favourite cookbooks and try recipes you've never made.

Go through your clothes. Give away or donate the things that you don't like, no longer fit, and are worn out. This includes socks, underwear and bathing suits, which somehow always miss your closet purges. The only clothes that don't fit that you are allowed to keep are the fattest pants you're keeping for your 'after' picture and your two goal dresses. You *will* fit into them again.

Fix the clothes that fit that need fixing. Toss the ones that don't fit (or fix and donate).

Go swimming. Find a time you can get to the pool that isn't busy. You *enjoy* swimming. Use that expensive bathing suit and waterproof watch you bought.

Exercise on weekends. A day off from work is not a day off from everything. Go for a walk or a hike. Rent a bike. Take the frisbee or the football up to the park. Go swimming. Go skating. Walk somewhere you've never been before. Go to a museum or gallery – even walking through the gallery is exercise.

Eat properly on weekends. A day off from work is not a day off from everything. You know you'll feel guilty about it on Monday morning.

Drink more water on weekends. A day off from work is not a day off from everything. You are always so dehydrated by the time Monday morning rolls around.

Brush your teeth more often. It *feels good* and it's *good for you*. Once a day is not enough.

Floss more often. It *feels good* and it's *good for you*. What you are doing is not enough.

Moisturize and sunscreen often. Just because someone thought you were fourteen in August (it doesn't matter that you're 23), does not mean you can do stupid things that will make you look older. You will thank yourself for it one day. If in ten years someone thinks you look a decade younger, you'll be happy. If in twenty years someone thinks you look a decade younger, you will be ecstatic.

Take your vitamins. They are expensive. Allowing them to get dusty is not properly utilizing them and is a waste of money.

Just because Boy is doing nothing doesn't mean you should be doing nothing. Perhaps if you get up and do something he will join you. Suggest going for a walk after dinner not 'what movie do you want to watch?'

Clean more frequently. Sweeping, vacuuming and laundry really don't take that much time. Neither does dishes, cleaning the toilet or wiping down the mirror and counter tops. If you do a little bit every day, it won't take a lot of time all at once.

Set up the treadmill again. Perhaps if you can use it just by jumping on it, you will actually *use it*. If you don't – give it back.

Pay attention to your posture. It makes you feel more alert and makes you look slimmer. Suck in your gut. Not only does it make you look slimmer, it actually exercises the muscles you're so keen on being able to see eventually.

Spark on weekends. If you knew how many calories/grams of fat/whatever you have left for dinner, you can plan around that. Actually track food on weekends. You *can* write it on a napkin or save it into your phone. You always have your phone with you. Just don't spend *all* day on Sparkpeople.

Plan. Make a meal plan. "Fail to plan and you plan to fail." You do not need to stick to this plan *all* the time – but it would help if you had a plan in the first place.

Find a blood donation clinic you can go to with your Mom. She wants to and is scared to go alone. You've been before. It's not scary. Go with her and hold her hand.

Play your instruments. You need the practice.

Say "please", "thank you" and "excuse me" more. Just because there are people who are more rude than you doesn't mean you are actually polite. Hold the door open, help people carry things. "Do unto others..." right?

Smile. Smile all the time. You have a great smile. Smiling can actually put you in a happier mood. It couldn't hurt.

Wear eye makeup more often. You have great eyes. Mascara and eyeliner draw attention to them (and your rockstar eyelashes!) and you know it. It makes you feel more confident and you know that too.

Don't compete with other people. Compete with yourself. Ultimately, you are the only person you are accountable to. You need to make yourself happy. No one will (or can) do it for you (even if they want to).

Keep in touch with friends and family better. You *can* improve your relationships with your cousins, aunts and uncles. You *can* initiate this easily. Write a letter. Make a phone call. Write an email. Hell, even say 'hi' on facebook. Maybe even visit in person (crazy idea, I know).

Go kayaking. You *love* it on the water. You didn't go at all last season and you are still very sad about that. Once you have a vehicle, you can even buy one and go often!

Try harder at work. You are better than this and you hate it. Them not knowing how competent and fast you are is no excuse to take advantage of them by being lazy and you know it.

Expect great things from yourself. No one else's expectations matter. …except maybe your parents, but they already think you're awesome.

Listen to your self talk. Repeat: Don't make excuses. You *know* they are excuses and meaningless justifications as you think them. In the eternal words of Nike, 'Just do it'.

Don't get down on yourself if you slip. Pick yourself up, dust yourself off, and get back on track. Isolated incidents do not need to ruin your whole year, month, week, weekend, day or even morning.






Friday, January 07, 2011
A while ago, when I started being serious about this again and before I joined a gym, I wrote a blog reminding myself of all the reasons why I want to get fit and slim. I feel like it's time I address these again so here goes. Copied from the previous blog:

So I can:
Run painfree
Walk down stairs without being afraid my knees will give out
Walk upstairs without getting out of breath
Wear heels again
Feel sexy in a dress again
Worry less about getting diabetes (runs in the family)
Not get depressed in change rooms
Have an easier time shopping
Keep up with my friends on hikes
Wear my prom dress again (just because)
Feel less self-conscious
Not feel that my family is looking at me like 'what happened?'
Turn heads on the street again
Stop looking at magazine covers and feel like I'm looking at a different species
Not worry about running into people I used to know
Wear a mini skirt without getting dirty looks
Feel like everyone is looking at me - for good reasons
Find boots that fit my calves

I'm not as worried about stairs any more :) With about 20lbs gone, my knees are way less tempramental and it shows, especially walking down hills or stairs. I don't even feel the need to compulsively hold the railings (all the time) on walking down stairs anymore. This is huge! For about two years, I was absolutely convinced that my knees were eventually going to cause my stairs-related accident and subsequent death.

I have worn heels occasionally since. While they still cause me pain it's (back to above) not in my knees. It's regular ol' uncomfortable shoe foot-pain. Now to find some actually comfortable heels!

I talked to my doctor about diabetes. We discussed my family history and my current health. She said that because of my age and that I was already working on losing weight, it shouldn't be a problem. This is definitely a load off my mind.

I am a size 13 again! This makes shopping easier. 15s are just so much harder to find... Looking forward to getting smaller sizes in the future :) The new work pants I bought in November are already too big.

I found proper lace up boots (no cheater-zipper). They were sewn up at the top (made to fit people who have never walked and no calf muscles, I suppose), but with careful examination before buying them, and the help of a seam ripper I now have knee high boots I can actually wear. Granted, this isn't actually what I meant about finding boots that fit my calves, I more meant having my calves shrink, but I am very happy with my new boots and I even bought some skinny jeans to show them off! And my calves have been slowly shrinking - between the last time I measured them and the first time (2 months difference) I lost about an inch of them.

There's still lots of work to be done. Honestly, I haven't even tried to run. I keep considering Couch to 5k but procrastinating it. My overall fitness is better though.

I don't wear dresses that often, but last time I wore one (boy's office Christmas party) I didn't feel that great about it.

Change rooms are still upsetting, but there's more hope in those horrible little rooms too.

I haven't been on a hike since last summer and probably won't again until the weather is nice, but as my overall fitness level seems to be better, I expect it won't be AS hard.

I haven't tried my prom dress again yet. I know it would only upset me and remind me of how far I still have to go (it's a size 5 - and it was a little too big then, I should have got it taken in).

I am still self conscious a lot of the time, but I don't feel as bad. Plus, I have gotten past the mindset that people will judge me for being wasteful if I leave food behind. It was a horrible catch-22. I felt that people were judging me for eating too much AND simultaneously judging me for wasting food if I didn't eat it all...

I still worry about running into people I used to know. Ideally, I'd like to look *better* than they remember when I see people from high school or college or whenever, but in the meantime I can at least remember how far I've come (and that there are reasons why I don't see these people on purpose anyway).

Feeling hot in a mini skirt and feeling like people are checking me out will come with feeling less self-conscious and everything else I'm working towards.

That's it for today - I just wanted to take a look at these reasons and goals again and see what I still have to work on. I'm really happy with myself that I've met some of them. When I wrote the first 'All the Reasons Why' blog back in September I felt like if any of them happened they were a long, long way off.






Wednesday, December 22, 2010
I don't mean hopes, goals, aspirations, etc, but actual night-time sleepy-time dreams. I don't generally remember them. This morning however, just as the alarm went off, I was awoken from a very vivid dream... about my skinny pants.

The dream was one of those searching dreams. You know the one, the one where you're looking for something or someone and never seem to find it, or if you do, it disappears right away... Well, last night I was at my parents' house and my mom was helping me look for my skinny pants. It was very very important (life or death, you know), and we just couldn't find them. In particular, I was looking for all the clothes that I gave away as I outgrew them (sideways, not vertically *sadface*).

We just kept searching and searching. The house was massive in my dream, and we just kept going through bureau after bureau, closet after closet, and chest of drawers after more and more and more drawers. There was nothing to actually suggest the passing of time, but I felt like it was days, weeks, months that we were searching, without pause. But there was lots and lots of 'well, that's not it.'

I guess it's only reasonable that something I've been focussing on so much should seep into my subconscious. I mean, I've been working hard (although not as hard as I could be) on losing weight, getting fit and being, well, smaller, and I'm seeing some pretty awesome results already, but it has a total monopoly on my brainwaves. If I'm not thinking about some aspect of food or exercising, I'm asleep and apparently even sleeping I'm thinking about these things.

Aside from that... I don't like shopping. OK, actually, I do. I don't always feel the need to buy anything and I love to play dress up with the clothes, but I don't like the stigma I've attached to sizes and the depression which seems to inevitably follow finding something awesome and there not being a size big enough for me (or being ashamed of sizes that do fit, and refusing to buy something that size ... and then regretting not buying the item later - no one can read the size on the tag on the inside of my clothing *shakes head at self*).

I really need new pants. I went shopping not too long ago. November maybe? I know going only every few months (sometimes seasonally or biannually) isn't really a lot, but I tend to binge shop. Anyway, so I just bought a bunch of new dress pants in November and now they're all too big. Yay @ the sizes I've lost and all that hard work paying off, but... now I need to go shopping again.

I also need new jeans. My jeans are (way) too big. Not only have a lost a little over 20lbs since I bought them, but these jeans are falling apart. One of the belt loops has actually torn a hole and pulled through - because I keep yanking on it to pull my pants up. And they're faded to nothing and probably stretched completely out of whack from when they were actually too small.

Don't get me wrong, I'm not complaining about the progress I'm seeing. I'm really proud of that, and getting smaller is exactly what I want to do.

I'm complaining because I find jeans shopping to be the singularly most stressing thing I have ever had to do more than once. On top of that, I'm not exactly a fan of malls, and malls at Christmas-time especially (or even just regular Saturdays) stress me out to no end and I get crazy grumpy and can't function...and I assume that is where this dream is coming from. The search for the perfect pants that I'll be able to wear until I have worn them out. But the search is going to be postponed, at least until after Christmas, because I know enough not to do that do myself, which means I'm going to have to grit my teeth through baggy-bummed worn out jeans for another couple of weeks. I really didn't think it was something bothering me so much as to show up in my subconscious though.



1 2 Last Page

Get An Email Alert Each Time NINJA_SMOO Posts