Friday, October 24, 2014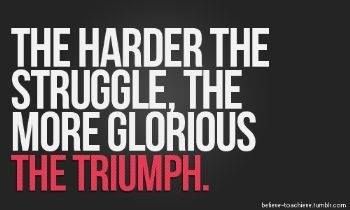 Losing weight is tough, y'all!! It's so much easier to put the weight on than it is to take it off. Grrrr! But, we'll just keep pushing until we get to that glorious triumph. Right?



I took a sanity day from work yesterday & had a nice day. I slept until 8:15. Yay!! I usually get up at 3:30, so that was super nice. I did 2 loads of laundry, made hubby a belated birthday dinner (homemade beef veggie soup) & watched a show on the History channel. My step count for yesterday was 22005.



An update on my Aunt. Some of you have been praying for her for a long time. She had a massive heart attack last September & had been on a decline. We nearly lost her a few months ago & your prayers pulled her back from the brink. She is doing fantastic. She had an LVAD (left ventricle assist device) implanted 8 weeks ago & she was just released from rehab yesterday. She is at home & doing great. Thank you so much for your prayers!

Also, super crazy busy weekend. Hubby & I are attending a church retreat on & off all weekend & I am co-leading a discussion panel on Worship. Sooooo, no blogs until Monday.

Work toward your glorious triumph today!!

Blessings to you!!