Saturday, November 12, 2011
Today I got up at 4:30 to meet up with a friend and my daughter in law to go do a 5k in San Francisco.




This was Michelle's 1st 5k, Veronica's 2nd and my 4th. We arrived at Marina Green in San Francisco at about 7am and checked out the area. At 8am the race began. Michelle would be doing a walk/slow jog and Veronica was going to do her best to run as much as she could. My goal was to complete the 5k without walking. The route would take us up close to the Golden Gate Bridge, along Crissy Field with Alcatraz off in the distance and then back to the finish line near Marina Green. As I approached the 1 mile marker my iPhone with the Runkeeper app told me I had been running for 10 minutes. At this point I knew I was going to have a new personal best time if I was able to keep up with the pace. The Bridge was beautiful, but I didn't have time to stop and take pictures, but was hoping Michelle was going to be able to do it since she was just walking. As I approached the 2 mile marker, I heard that I was at 20 minutes. I was still keeping the same pace. It had rained the day before, so there were many puddles to avoid. I was starting to get tired and was debating walking for a short period, but decided to keep pushing through because I was pretty sure I was ahead of my previous pace back in May. Next was the 3 mile marker and shortly after that, the finish line. I pushed through and crossed the finish line 32 minutes and 3 seconds after crossing the start line - a new personal record - by one minute!

As I was cooling down, I was watching for Veronica to come across the finish line. I figured she would be coming in at about 40 minutes or so. She came in at 42 minutes. She has asthma and has had knee problems in the past and also has weight issues. She was inspired by me to start running and work on getting her weight under control. I bought her a good pair of running shoes. She had been wearing any old pair of inexpensive shoes she could find, but I told her she needed good shoes if she wanted to run and not continue to mess up her knees and feet. She has lost about 30 or so pounds in the past yearand is planning on training more for her next 5k in May 2012. She has set up her goal for that run. I am so proud of Veronica for doing this and working on improving her health.

Next I figured Michelle would be coming through at about 50-55 minutes. I saw her off to the side and cheered her on to get to the finish line. She completed it at a slow jog. I am so happy and proud of Michelle. She is overweight and has a large variety of issues that prevent her from being able to exercise as much as she would like to. She told me as she came across the finish line she wanted to cry. I had told her I had the same feeling 18 months ago as I finished my first 5k. It is such an emotional experience - knowing you had worked hard to attain a goal of participating in and then finishing your first 5k. For me, I am 56 and ran my first 5k at the age of 54 years, 10 months - after just running my first mile EVER just 2 weeks earlier!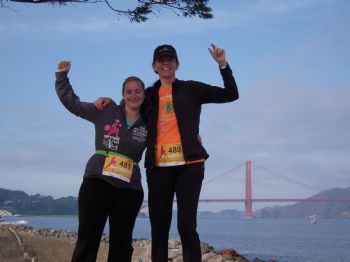 I had a great time and all 3 of us plan on running the next Mermaid run in the East Bay in May 2012. We have all set our goals and will train to help attain those goals