| | |
| --- | --- |
| | NIKKIJ55's Recent Blog Entries |


Monday, September 09, 2013
Today marks 1 year since I received my FitBit. I have worn it every day since I got it and I have taken 4,802,375 steps - traveling 2,502 miles and climbed 3,636 flights of stairs! I have worn it while walking, running and hiking. It has been with me through the neighborhood many times in the past 365 days. It has been with me on hikes to Pleasanton Ridge, Fremont Peak, Mt. Diablo, Yosemite and Sequoia National Park. It has been on hikes on the Big Island of Hawaii and walks in Santa Cruz an Monterey. It's gone on walks in San Diego and walks on the beach in Maryland. It's hiked in Lake Tahoe and gone for walks to the park with my grandson.

I've earned my 10,000 steps badge the majority of the days in the past year and earned the 15,000 steps badge at least one day a week. I've earned the 20,000 steps badge and 25,000 steps badge a few times. I earned the 30,000 steps badge one time a few weeks ago and today earned the 35,000 steps badge so that I could reach 4.8 million steps today.

I've enjoyed earning my steps over the past year and am setting my goal for the next year at 5 million steps!!




Sunday, August 11, 2013
Today I took on a challenge to walk 30,000 steps started by Shelli - MOSTMOM1. I was wondering early on if I was going to make it or not. My husband is going to go hunting in Colorado in October and hasn't been to the shooting range for a while so I thought I would help motivate him to get out there. I told him I would go with him. I was up early this morning, and figured I could get in a short walk before he was ready to leave. He got up and was ready to go at about 9:30. I should have gone out for a couple of miles, but wanted to make sure I was here when he was ready, so I didn't go out. We headed to the range and he taught me how to shot his Henry .22. I got my first 3,500 steps in walking back and forth to the target to see how I was doing.

We got home at about 1:30 and decided to go out for lunch. After lunch, we were back home by 3pm. I debated whether I had enough time to get in the number of steps needed, but decided to give it a try. I needed to get some greeting cards, so I took a the long way to the Hallmark store. It's only about 3/4 of a mile from my house, but I walked the long way through the neighborhood, up and down all the streets. When I reached 5 miles I headed toward the store. By the time I got there, I had walked 6 miles. I picked up 3 cards and took the long way home. I walked 3.2 miles to get home. At this point I had a little over 20,000 steps on the Fitbit. It was 5:45, so I had dinner. I then wrote some checks for DMV registration and headed to the post office. This is normally less than 1 mile one way. I walked through a different part of the neighborhood and reached the post office after walking another 3 miles. I then headed toward home. I was at about 28,000 steps as I got close to the house, so I knew I needed another mile. I walked around the local school (.5 miles) and then around a couple of blocks. When I was within 500 steps of the goal, I headed home. I finally hit the 30,000 goal at about 7:45 pm! Total steps were 30,248, which was just under 17 miles

Will I do this again - probably, but next time will break it up a bit better than this time!





Wednesday, April 03, 2013
Monday I began a new exercise streak. I do exercise every day in the form of walking. I will on a normal basis walk 4 miles or more each day. On Monday I decided it was time to step it up. I recently saw an episode of Dr Oz that featured Shaun T of Insanity fame. They posted a 15 minute workout on the Dr Oz site, so I decided to give it a try. Boy is that ever a good workout! 15 minutes and my heart rate is way up and I am sweating like crazy! Even though it doesn't seem like you are doing much of a core work out, you really are! My sides and stomach muscles are really feeling it! It's been 3 days and I have completed this each day and plan to keep it up the full 5 weeks! Plan on also working more on strength exercises. Well off for another walk....





Sunday, January 06, 2013
A friend and I had planned to go to Big Sur yesterday. When we originally planned it the forecast was for a sunny day but as the day got closer the weather was changing. Forecast for rain was coming at noon. We almost backed out. But after a few more text messages decided to go for it! We left home at 9:30 and reached the Big Sur area around 11:30.

We stopped at Bixby Bridge to take a few photos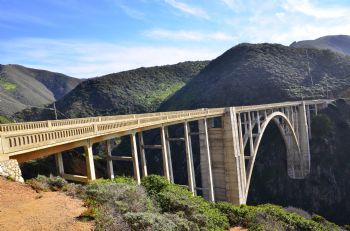 I saw some cool cloud formations so took a photo of that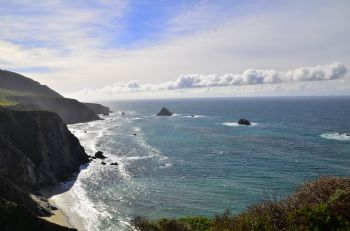 After crossing the bridge we stopped at another spot to look back and get photos up the coast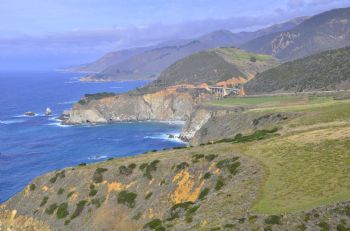 We continued up the coast (or should I say down the coast) and came to the Big Sur camp grounds and decided to pop in and ask about the hike to the falls. They said it was about a 90 minute hike so we decided to go for it. It was a fairly steep hike and Diane needed to stop a couple of times to rest, but we finally made it. Pfieffer Falls was a couple of fairly narrow ribbons. I have never s been hear before so I don't know if it gets fuller with more rain. I guess I will need to come back in the spring to find out, but then there may not be any available parking to allow us to do that!!

After we were done with the hike we headed to Julia Pfieffer Beach. This was our ultimate destination and why we wanted some sunshine. As the sun goes down in late December to early January, it reflects on the back of some of the rocks and through a hole in the rocks. As the waves splash through and over the rocks on the shore the sun lights up the splash and you get what the photographers call "Fire in the Hole". I don't think you can get this well with a point and shoot. You need a tripod and you need to slow the shutter speed. We did get the shot a couple of years ago, but the tide was low and we didn't get much spray. This year it was just the spray through the hole - no "fire"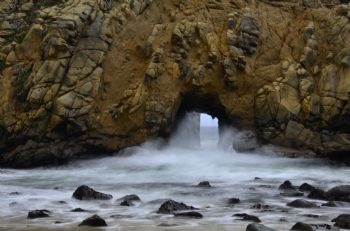 We'll just have to go back next year and hope for better weather conditions!








Sunday, December 16, 2012
This afternoon I ran in the inaugural Santa Run created to help provide funds to keep Christmas in the Park going in downtown San Jose. There were about 2,700 Santa's out there!

Here is the view from in front of me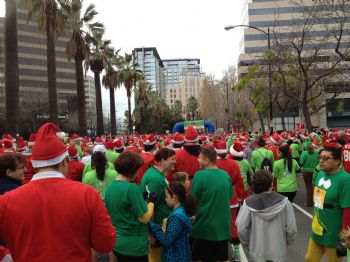 and here is the view from behind me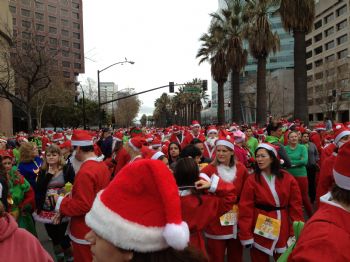 I had my son and daughter-in-law join me. This is my son and daughter-in-law. She has lost 50 pounds in the past year or so. She said she was inspired by me. I am so proud of her!



My son hasn't actually run since high school, so I figured he would just walk the 5k since he was pushing my grandson in his stroller, but he ended up running most of the way and did really well

This is my grandson after a Santa carrying a red bag gave him a candy cane. I was sure he was going to start screaming because he doesn't usually like anyone in a costume, but he did well and was smiling and playing with the candy cane.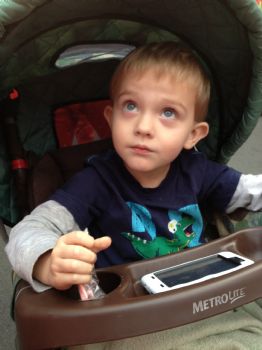 My daughter-in-law wasn't feeling really well and has anxiety, so I told her I would stay with her during the run. We ran parts and walked parts. She told me I could go ahead when she saw that there was lots of police coverage keeping the area safe, but I told her I would stay with her and for her not to worry about me and that I would walk when she walked an run when she ran and I would keep her pace. We finished the 5k in 44 minutes. I was very happy to stay with her. She started to have an issue with her asthma and I didn't want her to be alone if she had a larger issue and needed help.

All in all, we had a great time. I paid for tickets to let Everett ride on the train they had at Christmas in the Park. He LOVES trains. He came off crying though. He was in the car behind the lead engine and the children up there were able to ring the bell. He wanted to be able to do that, but couldn't, so that made him upset. Oh well! Maybe next year

Speaking of next year, the goal of the organizers is to make this the largest Santa Run around. They think they will be able to reach this goal in less than 5 years. I hope I will be able to continue participating in this run until they reach this goal - and beyond






1 2 3 Last Page

Get An Email Alert Each Time NIKKIJ55 Posts