| | |
| --- | --- |
| | NICOLE12-01's Recent Blog Entries |


Friday, March 30, 2012
I know that I've been MIA for a while. My life has been a complete whirlwind since I had Adelyn in September. She is awesome and doing so well. She cracks me up everyday and can't imagine what I did with my life before I had her.

I've been on a roller coaster for the past couple of months that I want to jump off of. February 27, I was diagnosed with breast cancer. It's not something that I ever expected to be dealing with at this point in my life...or ever for that matter. After months of just assuming I had a clogged duct or mastitis from breast feeding, turns out, it was (is) a 6+cm tumor. My official diagnosis is Stage IIIa, Invasive Ductal, Lobular Carcinoma, and DCIS. Yep. 3 different cancers. Hearing the diagnosis was just like a nightmare, but one that unfortunately, I haven't woken up from yet.

I started my chemo on March 13th. I'll have 8 rounds, which will be every 3 weeks. We're praying that my body responds to the chemo. After chemo is finished in August, I'll be having surgery and then most likely radiation. I've done some genetic testing and am awaiting the results to see what surgery will most likely consist of (either having one breast removed or both).

Chemo hasn't been fun. There are okay days, there are days that I feel like I'll never get out of bed, and there are a few good days. I've lost most of my hair and will be getting the rest shaved tonight. I have to admit, I'm having a difficult time dealing with the hair loss. It just seems like such an outward sign of what I'm dealing with.

I'm trying to eat better and fit in a little exercise when I can, because I know it will be good for me during the treatments. It will help give me energy and give my immune system a little boost. So I'm hoping to get a little more active on here again so that I can remind myself how important this part of my health is while I'm dealing with this cancer.

I try to stay positive, but it has been difficult. I'm trying to get into and STAY into "survivor" mode, but there are days that it is rough. So if any of you Spark Friends pray out there, if you don't mind, just say a prayer that this is the right treatment and that my body responds to it.
I've put on the biggest freaking pair of boxing gloves that I can find to fight this battle. It's a battle that I desperately want to win, and I'm going to do my best to win it.





Tuesday, January 03, 2012
I feel like I've finally had enough. I've had enough chocolate, enough ice cream, enough cookies, enough potato chips, enough fast food, and enough pies and cakes. I've been in a complete and total haze of eating whatever and whenever I want for the past year. I found out I was pregnant Jan 4, 2011, and the eating hasn't stopped since then. Over the weekend, I actually told my husband that I'm sick of eating the way I have been I'm tired of feeling nauseous because of all of the sugar flowing through my body. I haven't had a piece of fruit or a vegetable in what seems like months. And in all actuality, it probably HAS been months. Unless of course, you would categorize chocolate covered cherries or raspberry creme filled chocolates a fruit....no? Right. I'm even tired of listening to my own excuses as to why I haven't returned to the once healthy lifestyle I had been living.

So, today, I say "Here I go again". It's a new year, it's a fresh start, and in a lot of ways, it's the beginning of me learning more about myself and rediscovering who I am again. In the past year, I've learned that I'm not the person I thought I was in many ways. This is not a bad thing. Actually, this is a good thing. I've learned that I'm much stronger, much more loving, and much more capable than I ever knew. I also learned that I allow anxiety and fear to paralyze me, which is something I need to work on. I have a lot of "New Years Resolutions" on a list for the year. I want to work on being more patient...with myself and with others. I want to start eliminating some negative influences and relationships in my life. I want to strive to communicate with my husband better. And of course, I want to get back to living a healthy and active life again. A goal inside of that is also to not be as rigid with eating as I had been in the past. I want to be healthy, but not neurotic. I want to find that healthy balance. I want to be able to eat a piece of cake occasionally and it not feel like I've thrown out the entire day. I don't want to focus on a number on the scale. I want to eat healthy and be active so that I can feel alert, energetic, and strong.

I don't know what this year will bring, but I do know that I am going to try to make it a year of self exploration and a return to health. I am not happy with the stats that I'm starting with, but I also know that I'm tired of trying to hide it. Trying to hide it, has just kept me in a state of denial and procrastination. I know I've returned to the category of "obese". Man, I hate that word. But, it's the start. I'm going to try to not let that number define me like it has so many times in the past, But I do feel it's effects. I don't like feeling tired, run down, nauseated, bloated, and sick to the stomach all of the time.

So here's to my start.
Jan 3, 2012
Weight: 195.2
Size 18
I'm excited to see how this year unfolds. I'm excited to peel back the old layers and discover the new ones. I have a feeling this will be a wonderful and memorable year. Bring it on 2012, I'm ready for the challenge...finally.





Wednesday, November 23, 2011
It seems like forever since I've been on here. I'm so sorry that I haven't been checking in and keeping touch with all of my spark friends. Hopefully you'll all forgive me! :)
The past 10.5 weeks have gone by so fast. I have to admit that it's been the most exhausting 10 weeks of my life, but it's also been the most incredible at the same time. For my entire existence, I've been terrified to become a mother because of my experience with my own. I was certain that I just wasn't born with a "mother gene". I never felt comfortable around kids. I never wanted to hold babies, never wanted to play with them, just felt completely awkward and honestly, felt that if I never had kids, I'd be fine with that. And then Adelyn came along. I never knew a love like this could exist. In many ways, I feel like my life didn't truly begin until she came into my world. I now know the meaning of a mother's love. Although this makes me even more angry with my own mother, because having my own daughter, I just can't fathom not telling her I love her everyday, not wanting to know how her day was, or not knowing her favorite bedtime story or lullaby. I can't imagine not caring what her favorite color is, what her favorite ice cream flavor is, or why she's totally in love with the boy who sits behind her in Algebra. I have come to accept that I will never have this with my mother and know that I WILL have this with my daughter.

I came back from my maternity leave this past Monday. Man, it was difficult to leave my little lady bug. Thankfully, my husband had Monday and Tuesday off, so he watched her and brought her to see me during my lunch hour. He's a pretty spectacular husband and is definitely an incredible father. Today was the first day I had to drop her off at Dakar. Those poor Dakar workers. I'm sure I'm not the first mother to sob as she left her child at Dakar, but it definitely felt like it. Thankfully, the Dakar is only a block from my office, so I'll be making regular visits on my lunch hour...and some sneak attacks just so I know they're taking good care of my baby! :)

So, I'm now back at work full time. This of course means that I'll have much more time to Spark and reconnect with my spark friends. This also means that I need to get serious about getting healthy again and getting back into shape. I'm not sure how to get even a sliver of that motivation back that I used to have, but I do hope that by being back on here, that I'll be inspired again. I stopped weighing myself towards the end of my pregnancy, but I'm guessing I ended up around 215. The few weeks following delivery, I had lost about 30 pounds due to the craziness of being a new mother and some medications I was on for the complications I was having. Sadly, all of those 30 pounds didn't stay off. After my appetite returned (as well as the uncontrollable snacking), I have put about 10 back on. I'm sitting around 190. Ugh. I have a long way to go from where I was before I got pregnant. Sometimes it seems like it will take forever and I get so angry with myself that I let it happen. I certainly didn't need to gain 85 pounds during my pregnancy. I look at pictures from before and want to be that person again. I look at pictures from the present and am so sad and unhappy with what I see. But, all I can do is start. I want to feel like I did last summer when I was in the best shape of my life and actually ran a half marathon. I want to feel like I'm healthy again. I want to set a good example for my daughter someday and want to have tons of energy to play with her. I did it before and I know I can do it again.

So I'm asking for some help from all of you. I'm asking that I can reconnect with all of you and get inspired by all of you like I've done in the past. I can't say that it's going to be a perfectly smooth road ahead, but I'm hoping that I'll be able to gain some momentum along the way.





Sunday, September 25, 2011
Wow...it has been a crazy couple of weeks full of highs and lows. On Monday, September 12th, I went to the hospital for a scheduled induction. My midwife wanted to induce due to the fact that they believed Adelyn was going to be a big baby, as well as the other issues of my blood pressure continuing to creep up and yet another illness I experienced on Friday the 9th.

We arrived at the hospital on Monday and my midwife broke my water within a half hour of my admission. Unfortunately, the water was filled with mecomium. My midwife said that she wasn't too surprised due to the fact that I was so sick on Friday. She didn't seem too concerned, so I tried not to be too worried. The Pitocin was started shortly thereafter, and it took about a half hour until the contractions started. I honestly thought that my labor wasn't going to be very long, because when I arrived at the hospital, I was already 2cm dilated and 90% thinned.

Labor progressed A LOT slower than I expected. The contractions were picking up in intensity and the baby wasn't responding very well to them. Every time I had a rather strong one, her heartrate would drop. Eventually, they put me on oxygen and positioned me on my side. When her heart rate continued to struggle, they decided to put fluids back into my uterus and they hooked me up to an internal monitor. I was getting pretty nervous at this point, and I told my husband around 1pm that I believed that we were on the road to a c-section.

I continued to labor and continued to become discouraged every time the midwife checked me. I was dilating ridiculously slow. By 5pm, I was ready for the epidural, and I was only 4cm. I got the epidural and felt relief almost instantly. I admire anyone who can go through labor on Pitocin without an epidural. Seriously, I don't know how anyone does it! By 8pm, my midwife started to talk about how I wasn't progressing as fast as she'd like. I had been sitting at 4cm for almost 3 hours, and they don't like it to go much further than that. Also around that time, the epidural wasn't working as well on the right side of my body. The anesthesiologist came back in, adjusted it, and gave me something else in my IV. I'm not sure what it was, but it made me sick...and I mean SICK. I started vomiting around 8:30pm, which didn't end until after my delivery 2.5 hours later.

Around 9pm, the midwife contacted the perinatologist on staff. He checked me several times and then decided to do an ultrasound. He looked carefully at the images and determined that my little lady was facing the wrong way and the way she was positioned, her head wasn't resting on my cervix enough to dilate. He called for a c-section at 10pm.

I went into the operating room at 10:30pm and my husband met me in there. Adelyn Josephine entered the world at 11:03pm. Not only was she faced the wrong way, but she was tilting her neck back. My midwife told me that even if I would've dilated, I probably would've pushed for 3 hours and would've ended up with a c-section in the end because of her tilting her head back the way it was.

Adelyn was born at 11:03pm, weighing 6lb 9oz, and was 19.5 inches long. So much for her being a big baby! The perinatologist said that most likely, because she was positioned so oddly, the measurements were off. But I was just overjoyed that she was healthy with everything that had happened leading up to the birth and the labor itself. We chose her name to honor some family members. My father, who passed away in 2004, was named Alden. We felt that Adelyn was the closest name we could find to represent him. Josephine was chosen as a tribute to my husband's father, Joseph, as well as his sister who passed away in February. Her middle name was Jo.

We went home on Thursday and started to adjust to life with a newborn. On Tuesday, my incision started bleeding heavily. I went to the ER that evening, where they basically put a bandaid on the Hoover Dam and sent me home. The next day the incision was bleeding heavily again, so I went to my OB office. The doctor ended up having to open part of the incision (without anesthetic...OUCH) and insert some packing. Since then, I've been set up for an appointment at the wound clinic and I have a home health nurse coming to my home twice daily to pack the wound. Apparently, I now have a 6cm tunnel down into my abdomen. It's definitely going to take a lot longer to heal than I anticipated. I'm hoping to be completely healed before I go back to work in 8 weeks.

It's definitely been a rough road with the incision issues, some issues I've been having with breastfeeding, and just adjusting to having a baby, but I can't even begin to express how unbelievably blessed I feel. I was terrified to become a mother for so many reasons. I was so worried that I wouldn't be able to bond with the little being that was inside of me, but as soon as I saw her, my heart grew 100 times it's size. I look at her in amazement and with complete love. Sometimes I just cry when I look at her because she's so precious. I can't believe how lucky I am.

It's getting close to her feeding time, so I'll just end with some pictures!
Right after she was born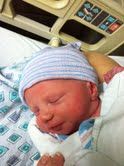 In the hospital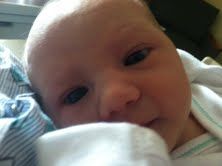 On our way home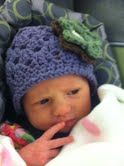 My little sweet pea...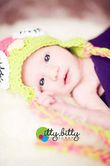 Friday, August 19, 2011
It's definitely been a rough few weeks to say the least. I started having some difficulties with high blood pressure a few weeks ago. As of right now, I'm not on any medication, which is good. I get my blood pressure taken every day and as of recently, I've been getting blood work and non stress tests done weekly. Hopefully my blood work will continue to be good and I won't end up with preclampsia. I only have a few more weeks to go!

My baby shower was on the 7th, and the week before was pretty stressful. Because of some circumstances, I ended up having to do a lot of the planning, the work, and food preparation for the shower. I was beginning to wonder if I could pull it all together! Saturday before the shower we got the hall pretty well set up. We got done around 1pm, and my husband and I decided to separately run some errands. I was starving (of course), so I stopped for some lunch on the way home. I ate my sandwich around 1:30 and about 2 hours later I started feeling a little...off. I was a little nauseated and my stomach started cramping a little. at first, I thought it was braxton hicks contractions and that the nausea was just from the heat.

My husband and I had to attend a Baptism and party afterwards. There was a huge spread of food and I didn't want to touch any of it...not even a CHOCOLATE PEANUT BUTTER CUP CUPCAKE!!!! What? We then went to his parents' house for a short visit and I started getting more cramping and nausea. We left their house so I could go home and just go to bed. Well, around 11pm, I the spasms were coming frequently and I started throwing up with some of them. I honestly thought that I was having contractions. I even started timing them! At one point, they were about 4 minutes apart and ranged from 1min to 1min 30 seconds long, so I thought, "Holy crap, I think I'm in labor"! I called the labor room, told them my symptoms, and they told me to come in and get checked. We got there about 15 mins later. I was hooked up to the monitor, they took some blood, and they checked me. I wasn't dilated and what I thought were contractions weren't "labor contractions". I also had a fever. They looked at the results of my blood work, which indicated I was dehydrated and my white blood cell count was elevated. They gave me some IV fluids, medication for the nausea, and told me it was most likely "something funky with my lunch" that was causing the problems. They monitored me through the night. Although my midwife was thinking about keeping me longer for observation, she allowed me to go home at 10:30 the next morning so that I could attend my baby shower.

I went home and rested for a little while and then pulled myself together to get to my shower. I can not say enough about how my husband stepped up to the plate that morning. He got all of the food ready that I still had to prepare, finished getting the hall ready, and decided to attend the whole shower with me instead of just showing up at the end.

I got to the shower and honestly, don't remember much of it. I was still feeling sick and I was just pretty much out of it. The shower ended around 5, and we were cleaning up (well, not me...I was kind of sitting there praying that I wouldn't throw up in the church hall). We got the gifts home and I pretty much collapsed into the bed. About 3 hours later, I started throwing up again. It progressed to the point that I couldn't keep any fluids at all down and the contraction type pains were back with a vengeance. Around midnight, I couldn't pry myself off of the bathroom floor because it hurt so bad to move. I called the labor room and back I went.

This time, my fever was even higher and I was even more dehydrated. My little girl was having some signs of distress because of my fever. Within minutes, I was surrounded by the big kahuna perinatologist at the hospital, 2 midwives, and a slew of nurses. They were giving me oxygen, putting 2 IV's in my arms, and stuffing me full of IV fluids, anti-biotics, anti-nausea medication, and Tylenol for the fever. Thankfully, she started responding to the treatment! I was still struggling a little though. I started having actual contractions and dilated a little. Thankfully, with all of the interventions, the contractions stopped as well as the dilation.

The perinatologist thinks it actually might have been Listeria. YIKES! I was on round after round of penicillin, ampicillin, and was sent home with 10 days of amoxicillin. Finally, the ordeal was over and I was sent home Tuesday afternoon. I was still pretty sick and exhausted up until this past Tuesday! It definitely has been a struggle over the past couple of weeks, but I'm so lucky that I'm feeling better and the baby is doing well. I just have to keep her in a few more weeks!

I'm still having some difficulties with my blood pressure, which is being monitored carefully. They're guessing that she's going to be a pretty big baby, so I have an ultrasound scheduled for next week to see just how much bigger she's grown since my 32 week ultrasound. I would prefer not to try to birth a toddler, so if she's getting a little too large, my midwife is talking about inducing at 39 weeks. I don't know how I feel about induction. I would definitely prefer to go into labor on my own, but the thought of trying to push out a 10+ pound baby is a little frightening! I guess we'll just see what the ultrasound says next week.

Well, I suppose that's enough rambling for now. I thought I'd attach some pictures of the shower. I'm very thankful that a friend of mine took a lot of pictures, so I can actually see who was all there!

The hall: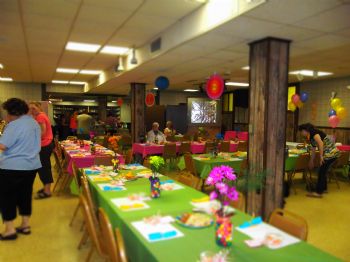 The cake!!!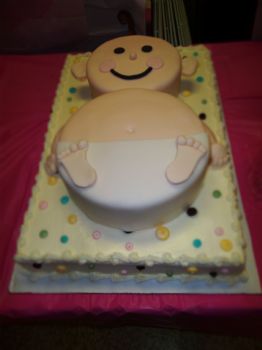 Me with some of my greatest friends: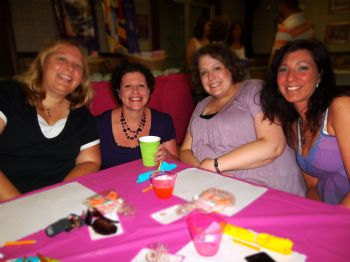 Me with my MIL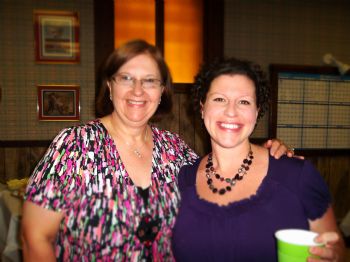 Me and my grandmother (My "Nama") I'm so thankful she was able to make it. My pap isn't doing well, and she was worried about leaving him for the day. I'm so excited for them to meet this little one. They've only been asking me to have a baby for the past 15 years! HA!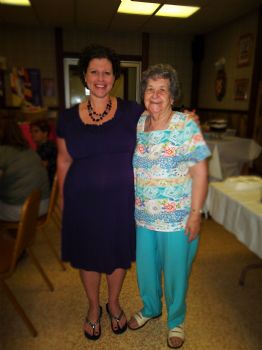 Hopefully these next 3 weeks will go a whole lot smoother than the past 3! As much as I'm still pretty scared about becoming a mother, I'm just as excited to meet this little lady!





1 2 3 4 5 6 7 8 9 10 11 12 13 14 Last Page

Get An Email Alert Each Time NICOLE12-01 Posts