| | |
| --- | --- |
| | NETHERAI's Recent Blog Entries |


Friday, February 11, 2011
I'm sure that statement alone worries and offends some people, but hear me out.

If you believe in a higher power, do you suppose the things that tools and medicines man has created are greater than what the creator created? That we weren't given all the tools we need to survive right from the start? If you don't believe in a creator, if you believe in evolution, what do you suppose might have caused us to evolve into creatures that need a little purple (or yellow or blue or green or pink or white or whatever) pill to survive?

And here is where my opinion comes in. We as a race, have become lazy. We don't hunt, gather, or even farm most of our own food as individuals anymore. We are inactive. Humans used to spend most of their day wandering, on their feet. Now we spend most of the day on our butts usually in front of a TV or computer screen. This can't be helped entirely, for many people their job involves an excess of inactivity.

We spend so many hours a day working (and commuting..in our comfy cars instead of on our feet or even a bike) that we don't feel we have the time to prepare or eat a healthy meal. We skip the gym where we might be able to make up for some of our evolutional inactivity because of the lethargy caused by sitting around most of the day and eating unhealthy meals.

Then, modern medicine comes in to save the day. "Here, take this pill to fix you high blood pressure, no need to eat right or exercise!" (I know the doctors tell you to, but who listens?) "You have a headache, it's ok! Pop an asprin!" (Or, you know, it could be dehydration from all those sodas you drank today--a glass of water might help more) "Your immune system is weak from years of neglecting your body and ingesting foods full of artificial ingredients, here, have a shot to fix that." (Though you usually get the flu anyway, or at least feel crappy for a day or two).

Don't get me wrong, I'm not against all modern medicines. I obviously see the need for insulin, and I ended up having to have a c-section to deliver my daughter and save both our lives.

I just see a world where we rely too heavily on drugs to fix things, and not on our perfectly designed bodies. We use pills to counteract the effects of other pills. We suffer side effects that may be worse than the original symptom--all in the name of "good health" which can usually be achieved with some good old fashioned healthy eats and exercise. What I am observing more and more everyday in our quick fix and "I want it now, and I want it my way all the time" society, is that we are killing ourselves for the sake of invented pleasures.

You have to MAKE the time to live your life better, even if it's hard, even if you don't think you can. Baby steps are a fine way to get there, and then maybe we can slowly baby step our society off the drugs and back into a more natural way of living--the way nature, the creator, or whatever you believe in, intended for us to be.





Sunday, February 06, 2011
I fell off the wagon, straight into a never ending bowl of pasta and a fountain of cheesecake. I'd been doing so good that I gave myself a pat on the back and thought, "Hey, just this once won't hurt." And just that once wouldn't have, but "just this one time" turned into slipping completely back into my old habits and gaining back much of what I'd lost. Stepping on the scale to see all that back patting did not pay off was painful.

At first I couldn't figure out where I'd gone wrong. I made excuses, like I'd let myself slip over the holidays--we all use the holidays as an excuse to overindulge right? I didn't have to let it happen though. I made a conscious decision to overeat every time I did. There was that nagging voice in the back of my head warning me that I was taking things too far, that I was already full and didn't need to go on. I let the other voice win though, the one that said it was too good not to eat all of it now, the voice that said it was unfair that I couldn't eat what I wanted to, the voice that belongs to my own personal demon of self-sabotage.

After a few months off the wagon, I'm just now starting to see just what it's done. Last month, I donned my maternity jeans just to be comfortable because the new, smaller size that I'd gotten into started to feel too tight. I blamed it on bloating then, on water retention, on anything but the truth--that slippery slope of binge eating that I thought I'd made it away from.

It's still true that most of my goals are health oriented. I still want to run a marathon someday. I still want that active lifestyle and to pass it onto my daughter. I also want that smaller jeans size back though. I want to look in a mirror and see my skin glow like it was glowing. I want to see the bags under my eyes start to disappear again. I want to look good in a wedding dress--I want to look at those pictures and maybe not be completely happy with what I see, but know that I was well on my way by that point.

I've got until September to change my habits, though there's the possibility of a 10k in May I'd really like to do (it's still in the planning stage though, and they're not even sure if it's going to be held).

This time when that little demon of self-sabotage starts whispering in my ear, or even screaming, I'm going to take note that that's what's really happening--and I *WILL* squash it like the annoying little pest it is.






Thursday, September 02, 2010
I woke up this morning and decided to climb onto the scale all bleary-eyed, just to see if I'd lost anything(and I was betting I hadn't). I stepped off the scale in shock, rubbed my eyes to clear them and stepped back on. It was true, I've lost over 30lbs since my journey began.

While it made me happy, I realized I hardly ever step on the scale anymore. It used to be that I didn't get on the scale because I was afraid of what I'd see--the same numbers as always, or worse, climbing numbers. Now I don't get on the scale very much because I just don't care. I know I'm working at my goal, and I know I'll get there when I get there. I'm doing the best I can right now, and a number isn't going to change that.

At first this was all about losing weight, and some vague things about being healthy. I didn't quite define what I meant by healthy, but in my head healthy was always an image of a thin me. Now it's not. I no longer visualize myself thin when I visualize what I mean by healthy, I don't see myself at all, I see what's in front of me.

I see myself hiking with my hubby and daughter. I see us camping. I see the river ahead of me as I go white water rafting for the first time. I see a wall of rock climbing high into the sky above me--I want to go rock climbing. I see what seems to be an endless path in front of me as I'm running my first marathon, but then...I see the finish line. I see my grandkids, and my great grandkids. I see the many years ahead, all the things I have to look forward to.

Yeah, I see all that in my future and I'm only 26. Thin? Yeah, that sounds nice. Healthy, active, and a spritely old fart? That's what I'm talking about. I want to be one of those crazy old ladies that's up at the crack of dawn every morning to go for a run. I want to enjoy the sunrise and the smell of morning dew even when I'm old. I have no desire to be bedbound and depressed. Who does want that?

Everytime I get on the elliptical or go for a walk or even lift my daughter (that troublesome little thirteen pound weight that's always with me. lol) I see THAT future. I've finally defined healthy, and it has nothing to do with the size of my jeans.


Edit: Because so many people seem to be interested in health goals instead of weight goals, I've now formed a team that focus's on just that. None of our challenges will have anything to do with the number on the scale. Thank all of you for sparking me to do this!

teams.sparkpeople.com/nomorescale





Monday, August 30, 2010
It happened yesterday.

Nope, I didn't reach my goal weight, I still need to lose over 100lbs.
Nope, didn't finally make that dream trip to Japan.
Nope, didn't run a marathon(or a 5k for that matter).

I got...a new toy!!!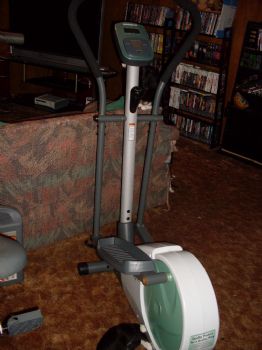 Hubby and I went to K-Mart yesterday to look for a B-day present for his dad. We walked in the door and at the front was a nice model exercise bike and treadmill on clearance for cheap, but still out of our price range. We kind of pouted about it, but decided to wander back to their exercise equipment section to see if there was anything else on sale. There was...oh yes, there was!

Yeah, it's a small elliptical machine, nothing fancy. I got it brand new though, and it's not something I thought I'd ever be able to afford for my home gym...but...K-mart had it on clearance for...get this: $25.

$25! I wouldn't have found one this cheap used at a yard sale or a thrift store! I'm not entirely sure why it's made me so happy. I used to use the elliptical at the gym (before I met hubby, had a baby, and lived too far from a decent gym to go to one), and I hated the thing. Well, actually, I had a love/hate relationship with it. I hated that I couldn't conquer it, that it bested me in ten minutes or so, I loved that my whole body had a pleasant ache to it a couple of hours afterwards.

The whole drive home I kept looking back to the trunk of our tiny car where we had it precariously bungee-corded into the trunk, I couldn't wait to get it home and try it out. I felt like I was carefully carting home my salvation. I *know* that it's just a piece of equipment, but somehow that doesn't make me less happy to have it sitting out in my living room now.

Oh yeah, and hubby has a home gym/weight thingy coming home for him tomorrow. That was a whopping $28. I can't help but think this is all that good karma we've built up coming back to us.





Thursday, August 26, 2010
I was up with my daughter twice to feed her last night (I breastfeed, so there's no "make hubby do it" option), so I let myself get up at seven instead of six this morning. I was dressed and out the door by ten after seven, and honestly surprised I hadn't found some reason not to go. I've gotten to the point in my life where I HATE being up early, and being up early to exercise when I could be sleeping in? You've got to be kidding.

I didn't expect to do much running, I'm well aware that I'm too out of shape to do much more than a few sprints here and there right now. I was going to power-walk and maybe do a couple of sprints at a good interval between them. I'd just finished my first sprint when the sudden urge to turn the opposite direction and go at a full run as fast as I could towards my house hit me.

Nope, this wasn't a surge of energy due to me working towards a goal or anything like that. It was the rustling in the trees by my side and the movement of something big and shaggy that made me run. I'm mostly a city girl at heart, I love living out here in the country, but I'm just not used to such a rural area. So when I saw something big crashing through the brush towards me, my brain said, "BEAR!! RUN!!!" and I did. What I was supposed to do if I encountered a bear slipped my mind and I only ran faster, though I was sure running wasn't what I was supposed to do.

I ran like a chicken, I'm sure I looked silly. My body doesn't remember how to run. My arms flail and my feet move at odd angles, completely out of sync with each other. At that moment though, I could have cared less, my mind was telling me that I was running for my life. In retrospect it was probably just a dog, but hey, it gave me a good workout.

I was exhausted after my heart rate returned to normal and ended up laying down for a while. I'm now experiencing actual muscle fatigue. It's been a while since I got in a good enough workout to feel both tired and sore afterwards. That just goes to show that running is exactly what I needed to do.


1 2 Last Page

Get An Email Alert Each Time NETHERAI Posts