| | |
| --- | --- |
| | NEECOLE09's Recent Blog Entries |


Tuesday, September 30, 2014
Ok, so technically a week would have been yesterday, but adjusting to life as a new-ish mom (again) to a newborn and a toddler has been a little hectic, to say the least.

Since bringing Amber home, I have had a bout of the stomach flu, lots of lost sleep, very little quality time to spend with my husband, learning to breastfeed and pump in order for little one to get back up to birth weight, and lots of laundry and housework to do. My husband was home for 12 days and went back to work today, so now it's up to me to get it all done. Quite the challenge, yes, but the day is half over and both babies are still alive. :) I will forever appreciate other stay-at-home moms and the hard work they do. It isn't easy, it isn't glamorous and it's a 24/7 gig, but absolutely worth it. I know my situation is temporary because if all goes well, I'll be in nursing school this time next year. However, when that time comes, I know sometimes I'll look back and wish I could still be home with my babies, even though I'll finally be pursuing my career.

Anyway, the weight loss journey begins again. I have lost 23 lbs. so far (since the 22nd) and am about 10 pounds from pre-baby weight. Breastfeeding and eating better have helped me lose weight so far and I'm looking forward to being able to exercise again. Walking will have to suffice for now while I'm healing up.




Monday, September 22, 2014
Our daughter Amber arrived today at 9:42 am! She was 7 lbs. 7.5 oz and 21" long!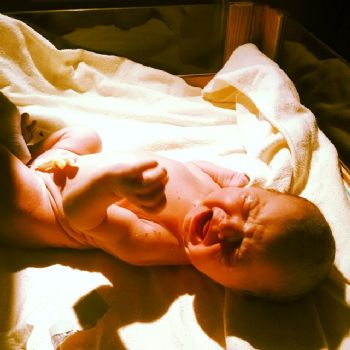 Wednesday, September 17, 2014
Oh, hi there! Yes, I am still alive but much, much bigger than the last time I posted (still 5 pounds lighter than my heaviest weight ever, and most of it is baby! Score!) I just wanted to jump on here and reacquaint myself with the site since I plan to jump right back onto the weight loss wagon as soon as this child decides to make her appearance (Any day, kid!)... Yes, baby is a girl (Girl #2 for hubby and I!) and her name is Amber. I am very ready to meet her and very ready to resume my weight-loss and pursue all the goals that I had set for myself before getting pregnant. One of them is doing Couch to 5K. I REALLY want to be a runner. Still. It's something I was starting to do right before I found out I was expecting, and the urge to do it has only gotten stronger. It might be difficult getting out there and doing it with a 2-year-old and a newborn, but dang it, I want to do it! Anyway, hopefully this last 8 or 9 months has treated everyone well. Looking forward to reconnecting with my SP buddies and making new ones as well. Thanks for the birthday wishes also. 28 is going to be a good year. :)





Thursday, January 23, 2014
I am pleasantly shocked and surprised to say that I found out that my husband and I are expecting baby #2!!! We wanted another child but couldn't decide when with me being in school, our current living situation, etc. so I guess God stepped in and decided for us! According to the calculators my due date is September 18th, 2014 and I'm about 6 weeks along. We're really surprised, delighted and a little nervous too! Needless to say, I will not be using SP again for losing weight for quite a while, but am still going to use it to make sure I don't gain too much during pregnancy like last time.











Sunday, January 05, 2014
Happy Sunday! It is my last day of Christmas break from school and I am looking forward to going back tomorrow. Mostly because I am ready to keep progressing toward getting my degree but also because I have been ultra lazy the last few weeks. According to FitBit, some days I didn't even walk a mile... In a whole day... The good thing is that I have a jogging class that I am taking this quarter so not only does my body depend on moving and working out but so does my grade. I had a 3.5 gpa last quarter and want to do even better this quarter, so any number of A credits that I can get, I will take!

We got an Xbox 360 and I started playing the Sims again on the computer, so I know I was vegging out more than working out. However, there were a few times, like yesterday, where I just had to get out and move. My family and I went for a pretty good walk along the river and it was such a nice day. I think we might do it again today if it's not too cold out. It's kind of hard on the little one when it's so windy and cold.

On another note, my husband and I swore off fast food and deli food for a whole year! I am so excited to do this! I think we will both benefit immensely. I know he doesn't eat very well either, and I think once we both realize how good it feels to not be weighed down by junk, we will probably never go back.







1 2 3 4 5 6 7 8 9 10 11 Last Page

Get An Email Alert Each Time NEECOLE09 Posts