| | |
| --- | --- |
| | NDMOMOF4's Recent Blog Entries |


Sunday, January 03, 2010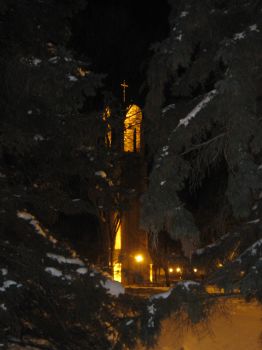 I took this picture this evening after dropping my daughter back off at college. I thought I was no longer sad that she is no longer at home but I found tears in my eyes as I drove away so I guess I am not completely used to having her gone. It was a strange having her home, we clashed much more than we ever have, she is used to being independent and I am used to being her mom. I hope in time that we learn to mesh the two.

So about my mini-goals...
This is what I had wanted to do:
Sunday 1/3/10 - 20min exercise, go to church with kids, get kids clothes ready for the week, return to spark & blog, drink all of my water for the day, set mini-goals for next week.

Well, I didn't quite stay on track. I woke up too late for church and felt out of sorts watching my daughter finish up her laundry and gather her things to leave back to school. We ended up spending the time before she left watching a movie together. I have drank my water for the day but have also drank soda which although I didn't write it down I was hoping to avoid. I am not a big soda drinker so it isn't a huge deal but thought I would mention it. Also, laundry still isn't done but I do have kids clothes ready for school tomorrow so I will work on laundry while they are at school. I did get in my exercise, I walked around the mall and also on my daughter's campus which included trekking her stuff up a flight of stairs. Since it wasn't focused exercise I am only counting the 2 hours of misc. walking as part of my exercise goal. I then came home and rode my stationery bike while reading the intro to The Spark book which I picked up at Barnes and Noble on my way home. Not quite what I wanted to get done for the day but overall I am satisfied with my day.

I am here on Spark and blogging so that is a plus because my main goal this month is to log into Spark every single day. I am not obsessing over the details, right at this moment in time, any small action is a huge action compared to all that I haven't done for the past year.

I haven't blogged here about what detoured me from Spark and kept me from returning for so long, I will do so soon, for right now I just want to focus on my goals for the coming week.

Monday 1/4/10 - 20 minutes exercise, water, 1 hour of paperwork that I have been putting off, laundry, spark blog, read chapter 1 of The Spark, listen to Tony Robbins cd, weigh myself and reset Spark data which is still where I left it from over a year ago

Tuesday 1/5/10 - 20 min resistance band video, water, spark/blog, read chapter 2 of The Spark, listen to Tony Robbins cd, make "Procrastination" list of things I have been avoiding or putting off, laundry

Wednesday 1/6/10 - 20 minutes exercise, water, spark/blog, read chapter 3 of The Spark, listen to Tony Robbins cd, take 60 minutes to pack up as much of Christmas as possible, do one thing from the procrastination list, laundry

Thursday 1/7/10 - 20 min resistance band video, water, spark/blog, read chapter 4 of The Spark, do one thing from the procrastination list, listen to Tony Robbins cd, plan one fun thing to do on Sunday, laundry

Friday 1/8/10 - 20 minutes exercise, water, spark/blog, read chapter 4 of The Spark, listen to Tony Robbins cd, do one thing from the procrastination list, take 60 minutes to pack up as much of Christmas as possible, laundry

Saturday 1/9/10 - spark/blog, water, read chapter 5 of The Spark, do two things from the procrastination list, finish putting away Christmas, finish laundry, clean out/organize closets give away clothes that aren't worn, start dream board

Sunday 1/10/10 - spark/blog, water, read chapter 6 of The Spark, go to church with kids, do something fun, make menu for next week, go grocery shopping, set goals for next week

Besides the mini-goals I also want to do monthly resolutions. This month my resolutions are:
Start tracking water drank daily
Weigh myself every Monday morning
Limit diet soda drank to weekends only if at all
Go to bed earlier, since John passed away I tend to have a hard time sleeping and am often still awake well after midnight, I hope to reverse that gradually. For this month, my goal is to be in bed by midnight or earlier if possible.
No computer after 11pm.

Well, that is it for now, I am excited to have a plan for my week and looking forward to setting and accomplishing achievable goals.




Sunday, January 03, 2010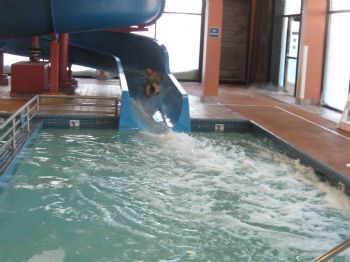 The above picture was taken last night at the Ramada. The kids had so much fun swiming and going down the water slide. We even got up early this morning so they would have time to swim before we had to check out. It felt great to get away, we definitely need to do that more often.

So day 2 of the new year and I have not yet completed the mini goals I have set. The old me would give up, throw in the towel and forget about it. Well, first of all I am not setting myself up to fail... notice in my prior blog that there are no food goals set. I am not yet focusing on food so there is no reason to freak out. I will not accept the fact that I am a bit behind in my mini goals as a sign that I can not do this. Instead I am looking at it as a test, how determined am I to accomplish my goals and make a huge change in my life? Extremely determined..... so to my procrastinating, chicken-little self I say..

"This is a test. This is only a test. For the next 90 days, your brain will conduct a test of the Emergency Body System. If this had been an actual emergency you would have been instructed to self-destruct. Because this is a test, please be aware that the HCC (Health & Caring Center) asks that you carry on as normal, do not ditch your normal activity, do not head for the nearest cheesecake, instead take note of your plan of action and proceed to the nearest self-motivating activity center (for a list of these activities please refer to sparkpeople.com). This concludes this test of the Emergency Body System, please have a glass of water and take a few deep breaths."

Whew... that was close... almost panicked but I have it under control. :)
So here were my goals for today:

Saturday 1/2/10 - Return to Spark and blog, find a Spark group to join, organize around the house (laundry!), drink all of my water for the day, complete and seal time capsule.

So here is where I am at:

* I have returned to Spark and am now blogging
* I have joined a new Spark team which I am excited about. I have been wanting to do a photoblog - I started one after John died but then my computer left me in the lurch and I never started back up when I got a new one. Having a team here focused on taking pictures has me very excited because I am really hoping it will help me engage with others and also give me something new to keep me busy with. :)
* I have had 6 glasses of water so far today, am now working on glass 7, will drink the rest before bed
* Have completed most of time capsule but will seal tomorrow when teenagers are finally home
* Organize around the house & laundry.... not happening. After the hotel last night which was FUN the kids and I went out to eat and by the time we got home we were all lazy and spent the evening playing Wii and card games. Since my oldest will be heading back to college tomorrow I decided to just enjoy the time we have left with her and I will worry about the laundry on Monday while the kids are at school. But in keeping with the spirit of my mini-goals I am going to set a timer and commit to organizing around the house for 15 minutes before I head to bed.

I guess that is it for now. I am planning on going to the 2nd church service so that I have no excuse to not get my 20minute workout in tomorrow morning. I am also leaving myself a pep-talk reminder note on the computer (first place I tend to go in the morning) so that I can't accidently "forget" it. I have a stationary bike that I will be using for my workout tomorrow while I watch the morning news. Since none of my goals for tomorrow had to do with house cleaning I can hopefully squeeze in some laundry as well! Hard to believe that the kids are done with break and will be back at school tomorrow! Time goes by way too fast. :)








Friday, January 01, 2010
Well, another year past and more weight gained instead of lost. I have no idea how much I weigh, and I really have no desire to check today. 2009 was definitely not a good year but I am ready to work towards putting it behind me and moving forward.

One of my commitments to myself this year is to get back to writing regularly, things seem to work so much better for me when I take the time to write out my thoughts/feelings. I also plan to re-commit myself to Spark... I believe with all my heart in the mission here and know that if I can get on track I can achieve all my goals. I always tend to set myself up to fail by doing way too much too fast and burning out. I don't want to go there so here are a few mini goals that I am setting:

Friday 1/1/10 - Have fun with my family today, work on family time capsule project to be opened in 10 years, relax and for today let go of worries/stress. Start photo blog for the year.

Saturday 1/2/10 - Return to Spark and blog, find a Spark group to join, organize around the house (laundry!), drink all of my water for the day, complete and seal time capsule.

Sunday 1/3/10 - 20min exercise, go to chruch with kids, get kids clothes ready for the week, return to spark & blog, drink all of my water for the day, set mini-goals for next week.

I guess that will work for now. Mini-goals, baby steps... whatever it takes to get me moving in the right direction which is better than no direction which is where I have been lately.

Well time to get ready, taking the kids to the Ramada for a mini-vacation. Going to escape the winter blahs, hang out at the pool, and bring in the New Year as a family. Yes I know we are a day late, but teenagers both had plans last night so looking forward to spending time together. Also, hoping there will be less people there than there would have been last night! lol

Hope you all had a fun and safe New Year's Eve and wishing everyone an even better New Year!! Here's to an amazing 2010!




Saturday, November 22, 2008
Another weekend, weekends can mean many things but for me they always seem to be two days of overeating as a last ditch effort to cram in all the things I love to eat before Monday. Monday is always the day to start a new diet plan so why not just eat what I want to eat on the weekend because after all I will be giving it all up on Monday?

So here's the problem, Monday rolls around and I feel bloated and guilty and tell myself why bother? I feel horrible, I look horrible so I self-talk my way into another self-defeating cycle of giving up. Because that is what it all comes down to giving up on myself, giving up on a healthy life, giving up on experiences that I won't allow myself to enjoy because I am overweight.

When John was alive I used to nag him about his smoking, how he was making his bad habit more important than his health, not to mention the expense of, in my mind, literally burning up hundreds of dollars a year. When we found out John had lung cancer he was devastated that his habit contributed to this disease that would take him away from us. At that point he was ready to quit smoking forever but he passed away less than a week after his diagnosis.

I realize that my overeating is just as destructive as John's smoking, I am teaching my kids unhealthy eating habits, when I buy fast food or too much junk food I am needlessly eating and wasting hundreds of dollars a year. Not to mention the expense I am going to have someday if I develop health issues such as diabetes which will take away money that could be better spent elsewhere. I don't want to get serious about being healthy before it is too late to do anything about it.

I know how devastated I felt when John died of lung cancer, I don't blame him for smoking I know that he was addicted well before the education was there as to how harmful smoking was. But I am angry that I didn't have more time with him, that he will never get to see our kids grow up or know his grandchildren. I am angry that his life was cut short when he had so much more living to do.

I don't want my kids to feel that devastation, I don't want them to see me die before my time and think that I didn't love them enough to take care of myself to make sure that I was there for them as long as possible. I don't want them to look back and wish that I would have done more with them because I didn't allow myself to live because of my weight. I want to be here not just to see my kids grow up, but to be there to see my grandchildren be born and do all of the things that grandparents do. And although it is hard to think about at this point, I know that someday I will be ready to meet someone else, if I am lucky enough to find someone as wonderful as John I want to be sure that I don't cheat them out of a long life together because I didn't take care of myself.

Life is too short to waste. So this weekend is going to be the start of a new lifestyle, I can't control what happens in the future but I can control this moment in time, I can eat food that will make me healthy and I can cut back on foods that don't contribute to my goals. I know that I can't do it all in one weekend, one month or even one year. The habits I have were learned throughout a lifetime and just as I wouldn't expect John to have quit smoking overnight I need to be just as understanding and patient with myself.

So today I am not going to set up goals that will self-sabatoge me into feeling overwhelmed and giving up. I am going to take baby steps towards the first step in this life changing goal, I am going to be kind to myself because I have enough pain in my life as I deal with the loss of John. And I am not going to wait until Tomorrow to start getting healthy... as John used to always say Tomorrow never comes because it is always Today.. so I am going to forget about Tomorrow and focus on Today.

Today I am going to:
1. eat a healthy, filling breakfast
2. spend 2hours cleaning... hard to feel like you are making a new start when you feel unorganized
3. look into finding an exercise bike... it is way too cold here to walk outside right now
4. plan & shop for a weeks worth of meals... eat at home before going shopping!
5. take time away from the computer, do something active with the kids.





Thursday, November 20, 2008
First I want to apologize for being gone for so long. I have had a hard few months, as the one year mark of my husbands death approaches I find myself falling into grief as if it just happened yesterday. On top of that I have been dealing with health issues, after several abnormal pap smears I finally had a procedure which looks to have removed all of the bad cells. My next appointment won't be until March so hopefully when I go back things will still look good.

It has been a busy month. I have been attending a support group for people who have lost a spouse to either divorce or death. After my 10week session was over I attended a weekend event last weekend. It was very hard but very amazing... I was able to really feel some of the grief for John that I have been holding in and I also realized that I have other issues that I need to work on that will put me in a better place to finally grieve for John. When you spend years keeping stuff in (and shoving it down with food) it doesn't go away over night and in my case I realized that I needed some help.

Yesterday was my first appointment with a counselor which I have never had the courage to do before but it went very well and I am actually looking forward to going back next week. It helps to have someone tell you that the things you are feeling are ok and that you aren't losing your mind.

I have been very lonely and my first instinct was to find something (sex, food, etc..) to fill that emptiness but I realize that I would only feel worse afterward and it is obvious that the emptiness can only be filled by myself regardless of how tempting it is to find someone or something to fill it for me. So I have lots to work on and most of what I hate about myself is tied to this empty feeling I have a hard time shaking.

My room is a mess because to face it means facing memories of John and how alone I feel without him, I over eat mindlessly because I am trying to fill the empty space that is overwhelming, I waste time doing useless tasks in the hope that the mind numbing activity will prevent me from feeling. All of those things seem to be tied together and while the first step is realizing this the next step is doing something about it. Which is one of the reasons why I am here. I need to get back on track with my goals which will get me back in control of what goes in my mouth and how much activity I do.

So here I am again... back to square one... but hopefully it won't take long to get back in the swing of things. :)



1 2 3 4 Last Page

Get An Email Alert Each Time NDMOMOF4 Posts