| | |
| --- | --- |
| | NANCYANNE55's Recent Blog Entries |


Thursday, April 07, 2011
I promised another Sparker that I would post about how I exercised during the 12-week Transformation Challenge with my gym. I feel an obligation, however, to point out that my changes came mainly from how I ate, not how I worked out. As I have said a ba-zillion times before, you can put on all the beautiful muscle in the world, but if it is covered by fat, no one is going to see it. AND, I might add, if you aren't eating right you aren't going to put on muscle that is as plentiful OR as beautiful.

Before I started the Challenge I was doing three sets of 15 reps per body part, for the most part. To elicit maximum growth and change during the 12 weeks I knew changing things up was going to be key.

My program:

Before lifting I always did/do 5-10 minutes of moderate paced cardio to warm up my muscles. Often I follow these few minutes of cardio with light stretching to further warm and lube everything up.

I followed every lifting session with thorough stretching, often my 15-minute stretch routine.

The first four weeks:

- The first set for a body part was about 12-15 reps with a moderate weight, just to make sure blood was pumping to the area. Then is was time to get down to business.....

- Three exercises per body part, three sets of 8-10 per exercise, aiming to max out by the last rep of the last two sets. This is a good range for building muscle, and I was still in building phase.
----------The exception to this was light leg day, where all sets were 15 reps. I felt two heavy days was risking injury. This doesn't mean it was easy, though. After the first set I still tried to make the weights heavy enough that I maxed at 15 reps. "Light" day is a harder workout than "heavy" day, and "light" day leaves me sorer after.

PLEASE NOTE!!!!!!: I do NOT recommend that beginners start out with trying to max out their weights! You have to condition yourself into this kind of intensity.

- My split was something ike this:
Mon- Light Thighs (2 exercises multi-joint, 3 ham/glute specific, 2 quad specific, 1 inner-thigh for a physical therapy reason), Cardio
Tues- Chest (5 exercises- needed to build)), Tri's (2 exercises- already built), Abs (3 exercises)
Weds- Back (3 exercises), Bi's (3 exercises), Calves (2 exercises- they already got hit pretty good with legs), Cardio
Thurs- Abs (5 exercises- mainly weighted), Cardio
Friday- Heavy Legs (2-3 multi-joint, 2-3 each quads and hams, 1 inner thigh), Delts (4-5 exercises- can always use wider shoulders!) Didn't do cardio this day-Longer lifting day and there was nothing left in me after heavy legs!

- Short rests between sets- Just long enough to feel the muscle normalize somewhat, then on to the next set.

- For cardio I did either 25 minutes of HIIT cardio (20 minutes HIIT with a 5-minute cool down), or 40 minutes of steady-state.

Weeks 5-7:

- I went to my favorite workout style, which is modified pyramids, doing reps of 12-8-4-12, aiming to max out on all but the first set, then immediately (no rest) switch to another exercise for the same body part and crank out 12-more reps, maxed. If I chose my weight wrong and couldn't get 12 out, or could get more reps out, I rested a few seconds, adjusted the weights, and did another set of 12.

-I kept the same split, for the most part, but added an abs session at home on Saturdays, usually Kari Anderson's "Curl" DVD.

-During this time my (former) nutritionist had me doing tons of cardio (I believe I was up to about 10 hours a week) on very low carbs. Because of this, I was compromised muscularly with so little glycogen in my cells and pulled a muscle in my scapula that put me out of commission for a week at week 7. That is why I only did this split for 3 weeks instead of the intended 4. When I was ready to go back to the gym I came in with phase 3, which was......

Weeks 8-12. It was time to go into fat burning mode:

- I started getting 1 hour of cardio first thing in the morning at home on an empty stomach.

- Mondays was a whole-body boot camp class at my gym. Multiple sets with lighter weight.

- Rest of the week I did sets of 20-25, with minimal rest in-between. 2 sets per exercise, I started with 3, but I felt the volume was going to become too much on my joints after my injury, so dropped it to 3 sets. Plus it was taking me too danged long to get out of the gym.

- Minimal rest (20-25 seconds) between sets.

- Roughly the same split Tues-Sat and number of exercises per body part I'd been doing the weeks prior. Leg day was also 20-25 reps, but I added in more glute-specific exercises.

- In addition to 6x/week early AM cardio, I kept up the hour of Wednesday evening cardio and added in 1/2 hour cardio on Tuesday nights while my daughter was at dance. I would have got more cardio in yet during these last weeks, but my shoulder was still not feeling 100% and I didn't want to further injure myself, so I took it a little easier than I would normally at the end of a cut.

My final weigh-in with the gym was Sunday morning at the end of week 12. By my scale I showed an 18 1/2 pound loss, by theirs just over 16. BUT I had gained about 8 pounds in water retention right before the initial weigh-in, so really it was about a 10 pound loss overall. Which isn't bad for 12 weeks. Again, if I'd of been doing it on my own the whole time instead of with help from a nutritionist who's instructions and meal plan actually set me back the first 7 weeks, I believe I could have been down further yet.

But it is what it is. That fact is that I gave it my best effort all along and did the best I could with what was dealt me.





Tuesday, March 29, 2011
Okay, here it is..... The way I ate to get my size to come down 9 pounds in 5 weeks. (Remember, the first 7 weeks no progress was made with help of a professional, so I "wung it" on my own after that.)

After a good, hard, panicked cry at being solo and a deadline to reach I started reading a lot on cutting diets. It was all pretty confusing and much of it was contradictory. Finally I had enough of the madness and just got out my book The Leanness Lifestyle by David Greenwalt. It's my fitness and nutrition bible! I turned to the section on the last few weeks before a competition and implemented his macro-nutrient suggestions along with a few things I'd learned about leaning in from my own experiences.

I will say this wasn't really a "cutting diet". It was more a weight-loss diet with moderatly low carbs.

Here's what I did:

1. I figured I wanted to eat about 1600 calories a day, This was what I thought would be enough to propel me through my workouts and still leave me at a level where I could lose fat. My BMR is about 1450, so this kept me well away from going into starvation mode, which my body had been on for the past 7 weeks.

2. I chose 150g of carbs because I had learned from my own experience AND from the studies of a good friend who is taking nutritional classes that below about 130 was putting one's body into ketosis. Since I had been below 130 for the entire 7 weeks prior (I had been misinformed by another source that ketosis didn't occur until you were down in the 20's for carbs- me thinks my source was off by about 100grams. Had I realized I was putting myself into ketosis I would never have agreed to be on low carbs for that long), I felt my internal organs needed a break and brought my carbs to 150. This would be 600 calories a day from carbs. (1g carbs=4 cals)

And for the record, I was having typical ketosis symptoms, the biggest of which was very blurry vision. This was so unusual for me that I remarked to my friend, who then had a little red light go off in her head when she read the level for ketosis along with symptoms in her textbook. I'm so glad this happened, or else I'd of kept myself on too-low carbs unwittingly.

2. I made 20% of my calories from fat (320 calories, or about 35g/day. 1g fat=9 calories.)

3. I took the remaining amount of calories (680) and divided them by four to determine my protein. (1g pro=4 cals) This came out to 170g protein, which is pretty much- on track, because cutting diets are typically higher in protein than other nutrients to preserve muscle and promote fat loss.

4. I made all of my foods clean (nothing processed) choices. Everything was as close to the way mother nature made it as possible, except for protein powders.

5. I was already off of dairy, so I kept that out of my diet for the most part. Although David says you don't have to be scared of dairy and doesn't recommend cutting it way back until the last week or so before final pics or competition.

6. I was already off of wheat products, so I kept it that way, also, although David also says that same thing about wheat that he does dairy. He says the idea of wheat increasing estrogens is false, but I didn't see any point in adding something back I was already accustomed to doing without.

7. I continued to drink, at minimum, 1 1/2 gallons (yes, that's 24 cups) of water a day. And yes, I pee a lot. Most people on a cutting diet drink anywhere from a gallon to two gallons a day.

8. I tapered my carbs down during the day. Breakfast was carb heavy- 3/4 C of dry oatmeal, cooked (that's a huuuuuuuge bowl of oatmeal, BTW), with a tablespoon of peanut butter in it, a piece of fruit, and a whole egg with 3/4 C egg whites. But trust me, I was so hungry that I was able to eat it (you'll see why when you got to what I had for dinner). This was my biggest meal of the day, and my body appreciated it after the carb depletion it had gone through for the 7 weeks prior. After my workout I had 1/2 C of natural unsweetened applesauce with a scoop of protein powder in it and two rice cakes. Lunch was typically 4 ounces chicken breast with quinoa, brown rice, beans, and queso fresco. Afternoon snack was tuna with egg white on a rice cake OR protein powder and a rice cake. Dinner was 5 ounces lean meat or fish with 1 C of steamed non-starchy veggies, a teaspoon of olive oil, and a tiny bit of grated Parmesan. And before bed I have 1 1/2 scoops casein powder. This was pretty much the food I ate, day in and day out, for four weeks. Why? I knew the macronurtients worked for me.

9. For the last week I followed David's suggestions to drop a bit more fat and reduced my calories to about 1450. I knew this was cutting it close to my BMR and I couldn't get away with it for long, but it was crunch time. Of this, I ate about 60% of calories from protein, 30% from carbs, and lowered my fats to about 10% of calories. This was the hardest part to transition, because it meant cutting out the peanut butter, egg yolk, queso with lunch, and oil. Breakfast wasn't as big because oatmeal went down to 1/2 C before cooking, and I lost the piece of fruit. No more rice cakes after workout. Lunch carbs amounts reduced slightly. Dinner couldn't change much more than it already was, except I no longer got the olive oil. I got an extra ounce of meat for both lunch and dinner. Casein powder never did change.

10. The last week I tried to get 2 gallons of water a day, except for the very last day before my final weigh-in, where I only had a single gallon, which was pretty much done by dinner. On the last day I just lightly salted my food. I didn't want to create unnecessary bloat, but I wouldn't say my sodium level was what anyone would call low that day.

The honest truth is that had I dehydrated and carb depleted the day before weigh in I probably could have come in at least 2 pounds lighter. But I was so over extreme measures after all I had been through that I just couldn't bear to do that to my body. The next morning I was thrilled to get on the scale and see a final number of 148.2.

Not bad for a gal who did it on her own, I'd say!

These are changes you can implement any/all of without destroying your health, although I would suggest that unless you are actually on a "cutting" diet or have an intolerance to dairy or wheat that you feel free to implement these foods into your macro nutrients.

I hope this benefits someone!







Sunday, March 27, 2011
Today is the day my final pics and measurements in the 12-week challenge with my gym. While it will be a long time before I hear the results of the contest, I wanted to share my own progress pics with my Spark Friends.

When I did a 12-week cutting diet a year ago with a nutritionist, my final pictures were taken dehydrated, and sodium depleted. I felt weak and frail and like a good wind would knock me over. I am none of those in these final pictures. Yesterday I drank well over a gallon of water, got plenty of carbs (and fat and protein), and refused to compromise my health in any way for the end result.

I attempted to work the the nutritionist for the first 7 weeks of this challenge and it simply was not working- I was gaining both scale weight and size. So we parted ways and I managed the last 5 weeks on my own. So virtually all of the weight loss I showed was actually accomplished in 5 weeks, not 12. And I am really proud of what I managed to accomplish by myself!

My weight at the end of the cutting diet last year was 147.8. My weight this morning was 148.2. I have been lifting very heavy for the past year and feel I can safely make a modest assumption that I gained 4 pounds of muscle (In all reality it was probably twice that). At any rate, with four pounds extra muscle on me, it doesn't take a mathematician to be able to deduce that I am leaner this go-round than I was last. Last time I was 10.89% body fat by 7-site calliper test, and doing some quick math that would put me at about 8% body fat right now. This doesn't surprise me, since I came out at 9.93 by 7-site caliper not long ago. Of course, caliper tests can be off by as much as 3%, I think it is, so these numbers are simply a gauge, not a be-all end-all.

I took measurements this morning. My hips are down to about 39 3/4 inches, which is low for me, and my waist was 25 1/4 inches held normally, but I can suck it down to 24, which is both fascinating and weird at the same time! Especially on someone who is 5'9".

In one week I get professional photos taken with Doug Jantz. I won't be dehydrating or carb depleting for those, either. I never want to do that to my body again!

Start Front: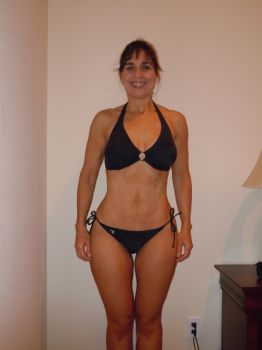 March 27 Front: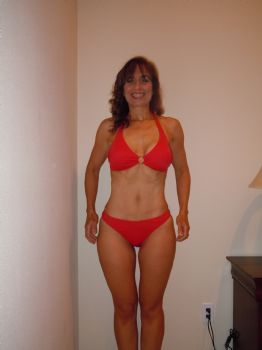 Start Right: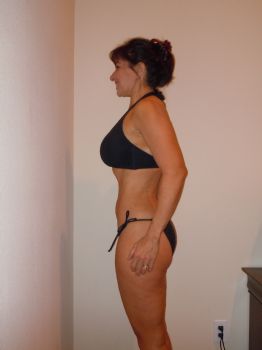 March 27 Right: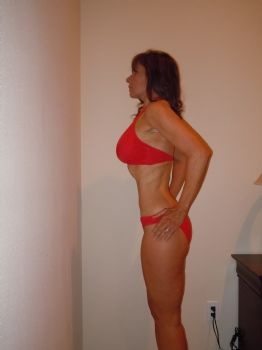 Start Rear:



March 27 Rear: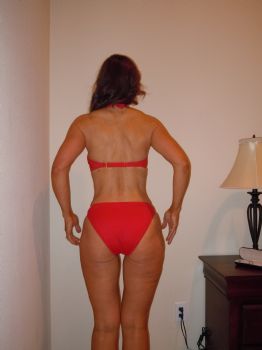 Start Left: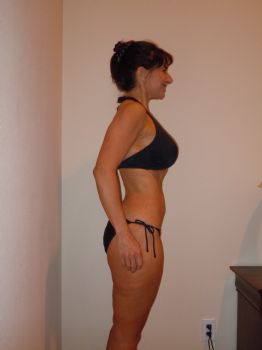 March 27 Left: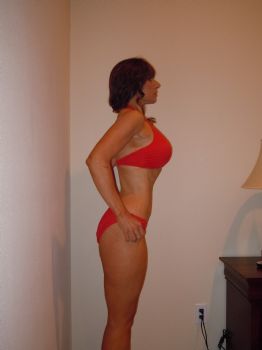 Start Close up:



March 27 Close-up Front (no hiding in this one!):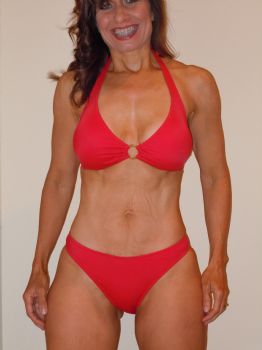 March 27 from a little farther away: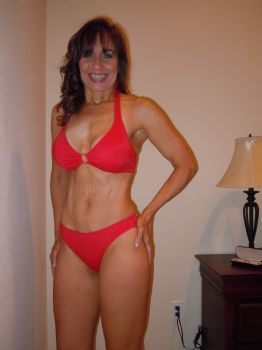 Thursday, February 24, 2011
Warning! A lot of pictures ahead!



As anyone who read my blog from yesterday knows, this past week I both injured my back and was rendered unable to work out AND my nutritionist and I broke up 7 weeks into a 12 week cutting diet. It's been quite the stressful week. Despite that, I have been able to lose 3 pounds of scale weight (157 last week, 154.2 this week- and I did NOT dehydrate) and drop my measurements back down. My hips are back to 41 1/2, and my waist is at right about 26". I'd love for my thighs to shrink more (24". Sigh.), but that will come with time.

The other significant change is that the size 6 pants I bought in anticipation of getting fairly slender during the cutting diet (so that I would have SOMEthing to wear at the end- last time my pants were falling off of me!) are actually zipping up fine and getting closer to being something I can wear outside and not look like I painted my jeans on. So despite all the setbacks, I HAVE managed to make progress.

My method to get things moving downward again was pretty simple: As I said in my blog yesterday, my calories were coming in on average at about 1500/day. I had a gut feeling this was simply not enough for me, followed my instinct, did some quick math, and raised the average to just over 1600 calories a day. I didn't stop there, though- I started to cycle my calories, making the daily number swing widely from day to day, keeping the 1600 or so average. I also started eating (slightly) more carbs than I had been with the nutritionist. I'm guessing it was these little changes that were enough to get my fat loss going again, but it could very well be that it was for some other reason that didn't have anything to do with my food. Only time will tell. I will raise my calories a tad more when I get back into the gym if need be.

So this is all good news...... I guess stress didn't play into it as much as I was hearing it did, because this all happened when I was totally stressed out. Praise God! (No sarcasm, there- I really am giving Him the credit!)

Okay, so now for the plethora of photos:

Start Front: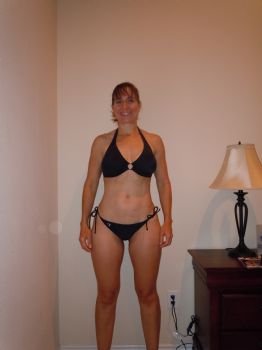 11 Weeks Front: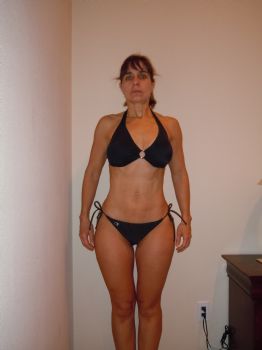 12 Weeks Front: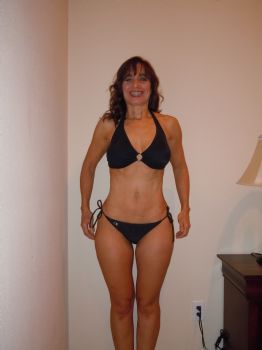 12 Weeks Front, Legs apart (to closer match week 1 for fair comparison):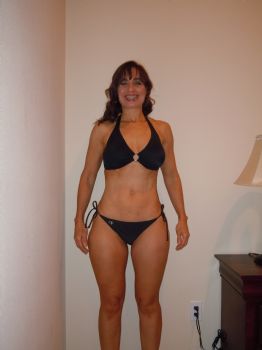 Start Right: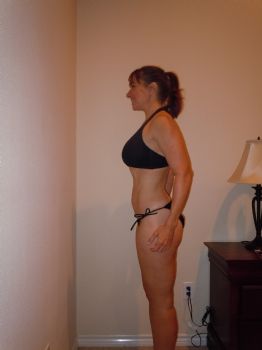 11 Weeks Right: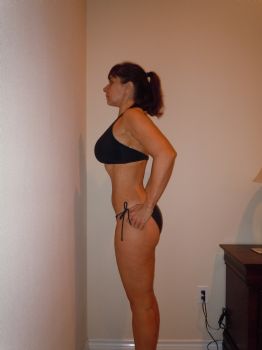 12 Weeks Right: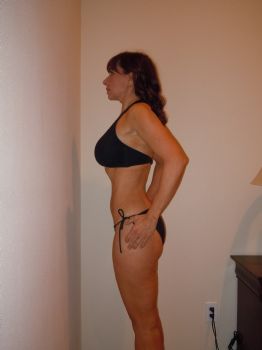 Start Back: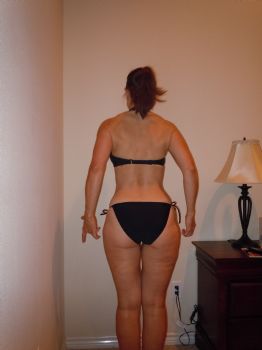 11 Weeks Back: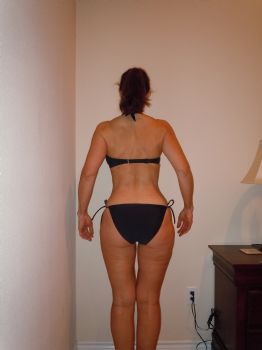 12 Weeks Back: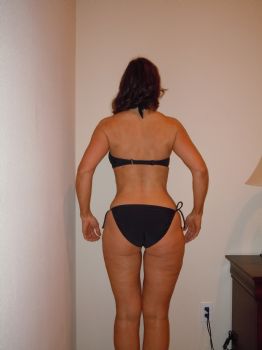 Start Left: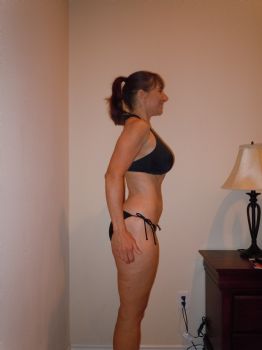 11 Weeks Left: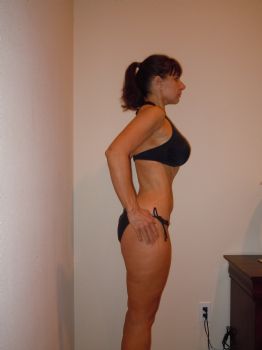 12 Weeks Left: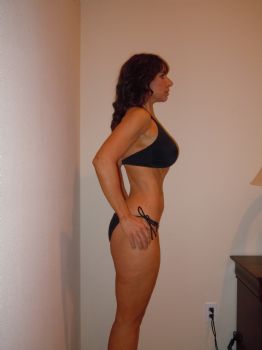 Close up, Week 4 (12/30/2010- The earliest close-up pic I have during the challenge):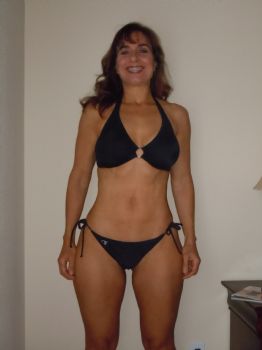 Close-up 12 Weeks: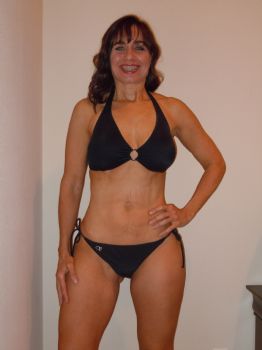 Just for fun, I also took pics in what I consider one of my two "real" swimsuits (The other one is the red one in my photos). As you can tell, I am not ashamed to be a HUGE Oakland Raiders fan, even living so close to Dallas. (Vallejo California, my hometown, was called "The Little Oakland", and growing up Oakland was just a stones throw away). I like this swimsuit because it gives me more coverage and the racer-back-style ensures the top stays on when I swim. Sting bottoms were NOT designed for high activity, let alone in the water!

First, I took pics from the angle I've done all of my progress pics: With the camera on self-timer, sitting on top of my jewelery box at about upper-ab level (the highest I could get it and still get my whole body in):

Raiders Suit: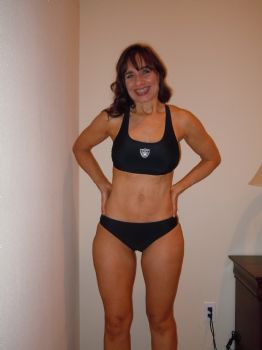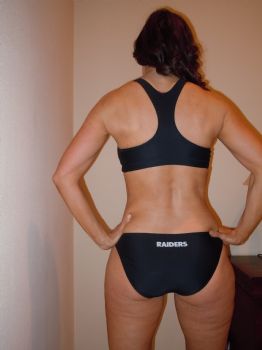 Then, I went out to the kitchen and asked my 5'10 1/2" 14-year-old daugter, Lane, to take my pics. Look at the difference a higher angle makes- I look less bottom-heavy. This makes me have even more admiration for those figure gals who have photos taken from below stage level, which isn't exactly lower-half-flattering:

Raiders Suit, 5'10 1/2" person perspective: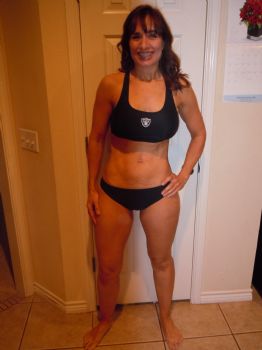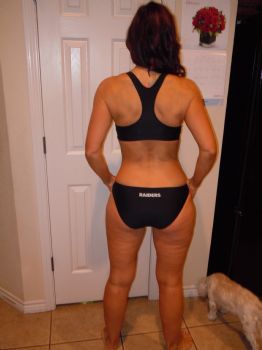 Lane, uber tall daughter (this is one truly great kid. As a bonus, I get to live my dream of being 5'10" or taller vicariously through her):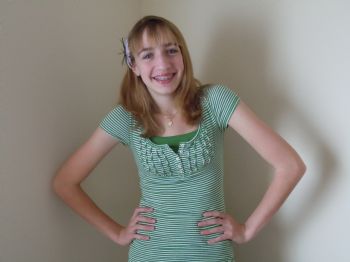 Can't wait to wear this suit this summer! Should be fun in Cowboys territory! (Insert evil grin here.)

I want to thank everyone sincerely for the kind words and encouragement that was left on my blog yesterday. This has really helped me to pull myself up by the bootstraps and forge ahead. This is a pretty awesome group of people, here on Spark. I am grateful for all of you!






Sunday, February 13, 2011
My belief is that, after Squats, lunges are the best exercise out there for the lower body- Especially the butt! If yours is flat, lunges will help round it out. If it's too round, lunges will help it look more compact. The folks I've seen who do lunges religiously have nice firm backsides and hamstrings, and flared hips with reduced saddlebags.

But a lot of people are afraid to lunge and never realize the benefits of this compound move. And with good reason- Lunging wrong can cause some serious damage to knees. I avoided them for a long time, then started to do some experimenting and discovered a few very simple things that finally made lunging possible for me again:

1. Do walking lunges ONLY! Forget stationery lunges or back lunges- both types seem to aggravate the knee of my forward foot when going into the backwards part of either motion. (This would be pushing back into start in the case of front lunges, and lowering down in the case of back lunges). The tendency when going backwards is to stabilize with the toes, and my experience is that when I am stabilizing with the toes my knee will instinctively go in front of my toes to balance my body, which stresses it. Walking lunges enable me to leave my toes out of the equation entirely, if I really concentrate on pressing through my heels.

Also, in my opinion, walking lunges simply do a better job of shaping the lower body, since they use all the muscles together through the entire range of motion.

2. Push through the heel of the front foot! Just as with squats, I make a mindful effort to think "heels, heels, heels" when I am lunging. When I push through the toes of the front foot, there goes my knee too far forward again and I feel that old familiar twinge for the next few(or more) days.

3. Take a big, "This-feels-way-too-long" step forward. The farther out you step, the safer the position is for your front knee because it's as far away as possible from being over the toes.

4. When following through with your back foot (bringing it forward), pause slightly, touching your foot to the ground, when your feet come even to regain-your balance and center yourself, before bringing that back foot forward. This will help keep you from landing on your toes when that foot moves to the front position.

One added note- I hate those short lunges people do to better hit quads. They just look to me to be a knee disaster waiting to happen. If you want to do a multiple-joint exercise that focuses mostly on quads, do front squats.

And that's it! In a nutshell, do walking lunges with big, wide steps, pause before you bring the back foot forward, and stay in your heel on the front foot. You'll feel these the next day, and your backside will thank you!



First Page
1
2
3
4
5
6
7
8
9
10
11
12
13
14
15
16
17
18
19
20
21 22 23 24 25 26 27 28 29 30 31 32 33 Last Page

Get An Email Alert Each Time NANCYANNE55 Posts