| | |
| --- | --- |
| | MYREALANA's Recent Blog Entries |


Tuesday, October 08, 2013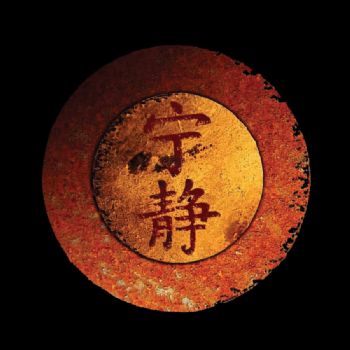 The Chinese characters on my Spark background have a meaning - Serenity.

Serenity is a state of mind. Calm. Peaceful. Tranquil. Unruffled.

Well, I'm not calm. I am decidedly ruffled right now.

The people we have elected to govern our country are playing a dangerous brinksmanship game with our national economy, and it has to end.

So, here is my simple prayer.

Lord, give our elected leaders in Washington the wisdom to set aside their petty games an do their jobs.
Grant me the serenity to let go of the fear and worry their actions have put on my heart, and trust that my family will thrive, no matter the political landscape.
Amen.





Thursday, October 03, 2013
Here's the thing. I believe that in a first world country, every citizen deserves a certain base level of healthcare. Not a certain basic level of health - that's up to individual choices, genetics and random chance - but a certain basic level of healthcare. Everyone should have access to a doctor's office when they feel sick, a hospital when they're injured, ongoing care for chronic conditions, immunizations against preventable diseases, and treatment for catastrophic diseases and events. The USA is supposed to be this shining beacon for the rest of the world, and yet many of our citizens are unable to afford basic health services. People won't go to the doctor because a diagnosis of cancer isn't a death sentence - it's a LIFE sentence. A lifetime of debt paying for treatments insurance refuses to cover.

You want to stop abortions? How about we cover single women's health care when they get pregnant? Guarantee they won't lose their jobs when they take time off for their child? Guarantee they can afford to pay for all those doctor's visits and the delivery? How about we give women free access to whatever birth control they choose and prevent that surprise pregnancy in the first place?

You want to see America REALLY be the land of the brave, self-made man? Tell the guy who is tired of his corporate job he can quit it and start that small business he's always dreamed of, even though his wife has a chronic condition that requires medical care. Don't tell him he has to keep his corporate insurance because her pre-existing condition prevents him from buying private insurance while he starts a new business.

The free market simply doesn't work for health care. If your child has leukemia, you can't go shop for the cheapest treatment. You don't have time to negotiate for the lowest rate on the best chemotherapy. You don't look at your health insurance lifetime limit and decide maybe your kid only needs half the treatment. You give the child what they need and you pay with your credit cards, your house - Hell, you'd sell your soul if you had to.

The Affordable Care Act isn't perfect, but at least it's something. At least it gives that young entrepreneur the chance to start a business in spite of his family's health issues. It gives that parent the breathing room to let their child get the treatment he needs without forever capping his healthcare expenses. It gives women the chance to control their own fertility choices.

But if you want to make America a true beacon of freedom and innovation to the rest of the world for the centuries to come, then let's institute a true single payer system. Let the world's largest economy negotiate with healthcare providers for the best rates. Let's prove to the world that EVERY American is worthy of a standard of care that would be the envy of every other country.

We can do it, so why don't we?





Friday, August 16, 2013
From my friend SUNSHINE65:

1: You're irate over the president taking so many vacation days on the taxpayer's dime (61 thus far), but you thought George W. Bush earned every minute of his leisure time (196 days at the same point in his presidency).

2: You're happy with your 40 hour work week, paid vacations and company-provided healthcare, but you're strongly anti-union, because those commies haven't done anything for you lately.

3: You strongly support the First Amendment and its guarantee of religious freedom to all, but you don't think Muslims have a right to build an Islamic Community Center in Manhattan.

4: You believe Ronald Reagan was a devout Christian, even though he hated going to church, but any president who spends twenty years going to the same Trinity United Church in Chicago must be a Muslim.

5: You believe when a Republican governor creates a healthcare package with an individual mandate for everyone in his state, that's a good idea. But when a Democratic president does it, suddenly it's unconstitutional.

6: You're so enthused about demonstrating your Second Amendment rights, you can think of no finer place to brandish your pistol in public than at a presidential rally.

7: You believe Bill Clinton was responsible for Osama bin Laden's escape ten years ago, but thankfully George W. Bush caught up with him and killed him in Pakistan.

8: You believe in putting American jobs first, except when president Obama rescued 1.5 million GM and Chrysler autoworkers, because that was socialism.

9: It angers you that you can't communicate with the Mexican busboy at your local Olive Garden, but when you took a vacation to San Francisco's Chinatown, you thought it's quaint that so many Chinese-Americans are holding fast to their traditional language. Because that's America!

10: You deny that the lunatic who tried to murder Gaby Giffords was a conservative, even though he targeted a Jewish, pro-choice, pro gay rights, Democratic Congresswoman.

11: You thought it was perfectly normal that every president in history had an untethered right to raise the debt ceiling when warranted, but when Obama asked the GOP held congress to do it, you thought it only natural that it be tied to cutting Social Security and Medicare.

12: When the new 112th Congress was sworn in, you swooned as they promised to focus on "Jobs, jobs, jobs." But when they pivoted, and went after NPR, Planned Parenthood and gay rights, you cheered.

13: You accuse president Obama of raising your taxes to the highest point ever, even though they're lower today than at any time since 1950.

14: You believe the wealthiest Americans are "job creators," but it doesn't bother you that all the workers in those positions are in India, China and Malaysia, and they're doing the jobs that our fathers once did.

15: You believe gays are anti-American, because their lifestyle is a threat to the children. Unless they're married to Tea Party-backed presidential candidates from Minnesota.

16: You strongly defend individual freedom, but that freedom doesn't include a woman's right to decide her own healthcare needs.

17: You believe corporations are people too, and are deserving of the same rights as the rest of us. Just not the same obligations to pay personal income tax free of corporate loopholes, or penalties for massive criminal behavior and tax evasion. In these matters, corporations are deserving of special rights.

18: And since corporations are now people too, you must believe in their right to a driver's license, the right to marry, to adopt children, etc. These rights shall not be denied to Exxon, Halliburton and BP (but still immune from the right of the People to try, convict and sentence to death any corporation that conspires to commit a felony, because at that point, they're suddenly not people again.)

19: You still believe Climate Change is a myth, and the recent record highs, lows, floods and droughts around the world coinciding with climate scientist's predictions are all an amazing coincidence. Oh, and Al Gore is FAT!

20: You believe when George W. Bush took the national debt from $5 trillion to $11 trillion, it was necessary for him to do so to keep America safe. But when Barack Obama added to it by trying to rescue the country from a second Great Depression, he was deliberately trying to destroy America!

21: You believe America is a God fearing country, and that the Almighty protects those who believe just as you do. But it's never crossed your mind that the majority of tornados, hurricanes and floods all occur in the Bible Belt.

22: You believe that no matter who's in the White House, the office, if not the man himself is deserving of your respect. The only exceptions to this rule, are if his middle name sounds Muslim, and if he's not at least as white as that black guy who works down in the mailroom at the office.





Monday, August 05, 2013
As posted on the book's Amazon.com page:
www.amazon.com/Zealot-Times-Jesus-Na
zareth-ebook/dp/B00BRUQ7ZY/ref=tmm_kin
_title_0?ie=UTF8&qid=1375704489&sr=8-1
---
An intriguing and well-written supplement to what The Bible teaches about the man named Jesus, August 4, 2013
--
****
I heard Aslan interviewed on NPR a couple of weeks before the Fox News debacle hit the press, and put it on my Library list. When the idiots hit the fan, I changed my mind and bought it on Kindle to read immediately.

As a Christian, one of the things I find most intriguing about the story of Jesus is the inherent conflict between Jesus the man and Jesus the son of God. In the Gospels, Jesus himself struggles with his burden. Up to the last minute before his trial, begging "Father, if you are willing, take this cup from me; yet not my will, but yours be done." (Luke 22:42 NIV)

Yet, in most Bible-based teachings, and indeed in the books of the New Testament following the Gospels, that aspect is ignored in favor of Jesus the God. Jesus the man is forgotten.

Reza Aslan's book resurrects Jesus the man - Jesus the human person, born of Mary, nailed to a cross, killed for his people. Whether you believe those people are all believers of his time and those yet to come, or you believe those people to be the Hebrews locked in conflict with the Roman Empire, that doesn't change the courage and conviction with which he acted.

I find Jesus the rebel troublemaker so much more appealing than the glowing holy infallible Jesus burned into stained glass windows and untouchable by the masses.

If you love Jesus and want to understand the story of the man before he was known only as Jesus the God, this book is well worth your time. I also recommend you check out Kissing Fish: Christianity for People Who Don't Like Christianity for a refreshing viewpoint on the religion of Christ.

www.amazon.com/Kissing-Fish-christia
nity-people-ebook/dp/B00CY19H0W/ref=sr
_1_2?ie=UTF8&qid=1375704563&sr=8-2&key
words=Kissing+Fish
----

In a nutshell, I liked it. The right wing fervor over Aslan's Muslim faith is completely unfounded. This book is in no way an anti-Christian book. It's an examination of how a man from a poor Jewish family in 1st Century Palestine would have lived, preached and died, based on a reconstruction of the times from such written histories as exist of the time.

If your faith is so fragile that it can't stand the existence of this book, that's not Reza Aslan's problem - it's yours.






Monday, May 20, 2013

They called him worthless.

They said he didn't belong in school. He would never be like other kids.

He would never pick up social cues. He would never be able to make friends.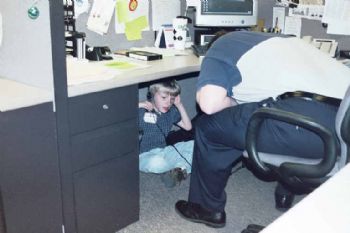 He hid under desks. He hit. He bit other kids. He had tantrums.

Autistic kids don't get better. Maybe we can manage the symptoms, but he'll never be one of the "normal" kids.

He can't go on field trips. He won't be able to make his own decisions.

"He'll never learn to ride a bike. He doesn't have that kind of coordination."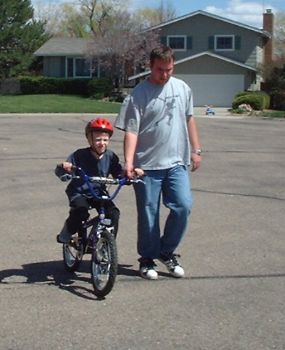 They tried to kick him out at Kindergarten, 1st grade, 4th grade, 5th grade, 6th grade and 8th grade. His counselors tried so hard to manage expectations.

"Don't expect him to take hard classes. Focus on life skills. He won't do well in Calculus (B+); he won't be able to do Physics (A); Don't let him sign up for Organic Chemistry (B+)."

"He won't get into college." -- He starts his Biochemistry program in August.

"When he finishes high school, celebrate his Certificate of Attendance - he won't graduate." -- They're all invited to his graduation this Thurdsay.

He'll never go to prom.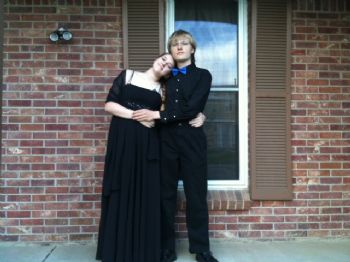 They gave me lots of nevers. Never expect too much. Never push too hard. Never fight.

I'll give them two more.
I will NEVER give up.
And they will NEVER be right.



1 2 3 4 5 6 7 8 9 10 11 12 13 14 15 16 17 18 19 20 21 22 23 24 25 26 27 28 29 30 31 32 33 34 35 36 37 38 39 40 41 42 43 44 45 46 47 48 49 50 51 52 53 Last Page

Get An Email Alert Each Time MYREALANA Posts